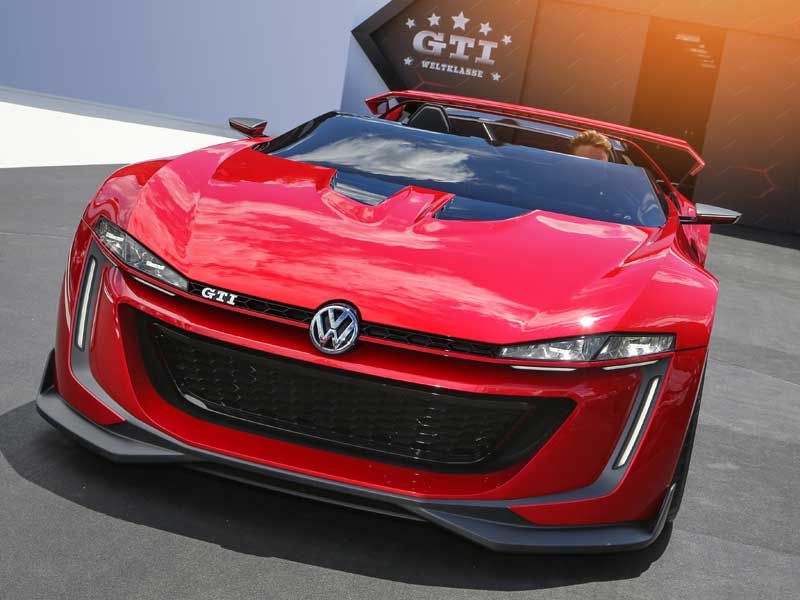 2014 LA Auto Show volkswagen gti roadster vision gran turismo
Concept cars are the lifeblood of the auto show circuit, and while you may never be able to buy one of these stunning works in metal and glass – most are one-offs that won't make it to showrooms – you can still marvel in their splendor and get a hint of where the future lies for a given automaker. Concept cars have spawned some of the most exciting automobiles in history, and a few have even managed to leap directly onto the street almost unchanged in production form. See if you can guess which L.A. Auto Show concept cars might be able to bridge that gap in 2015.
Unveiled in Los Angeles: MINI Superleggera Vision Concept
The MINI Superleggera Vision Concept takes the British brand's styling in an Italian direction, with input from Milan's Touring Superleggera design house.  The two-seat convertible shape of the Vision Concept prefigures what could be a new production roadster from MINI, formed out of aluminum and given a somewhat retro feel.  Although MINI tells us that there's an electric drivetrain nestled in there somewhere, the company hasn't provided any details concerning power, battery size, or driving range.
 The MINI Superleggera Vision Concept is all-new.
  It's not for sale.
  See above.
Unveiled in Los Angeles: Audi Prologue Concept
The most astonishing reveal at the Los Angeles auto show was on the Audi stand, when the German automaker pulled the covers off the Prologue concept car. Like the naming of Hyundai's Genesis, calling this car the Prologue is a sign of things to come for the brand. The two-door coupe is Audi's battle cry into the field recently reinvigorated by the 2015 Mercedes-Benz S-Class Coupe.
 The Prologue concept, which we expected to be dubbed A-something, is a marked departure for Audi in terms of styling direction and concept. Although it's nearly the size of a full-size A8 sedan, the two-door coupe looks much smaller, thanks to relatively slab-sided design. The headlights comprise futuristic laser technology, even as Audi avers that the Prologue also looks to past designs for inspiration. A 4.0-liter V-8, a mainstay of modern big Audis, is standard.
The Prologue is intended to showcase the future of Audi design and technology, so it won't be available immediately. Should it go into production, it's a safe bet that the Prologue is still a few years away.
Pricing for this concept car was not announced.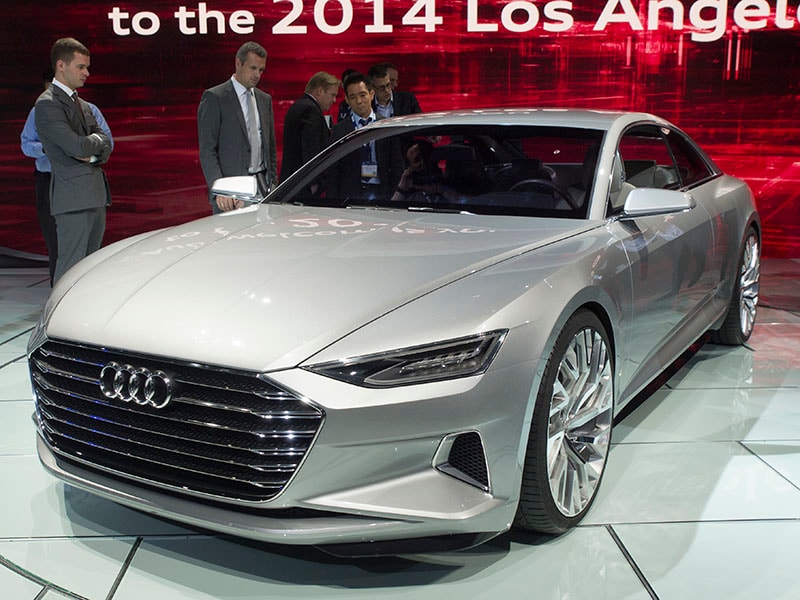 Unveiled in Los Angeles: Bentley Grand Convertible
The Bentley Grand Convertible Concept does what many of us wish we had the means to do: chop the top off of a Bentley Mulsanne to create one of the largest, and most opulent open air cars in the world.  Sharing its platform with the stylistically-similar Mulsanne sedan – the two are virtually identical from the A-pillar forward – the Grand Convertible Concept benefits from the same 6.75-liter twin-turbo V-8 that produces an earth-shaking 530 horsepower and 811 lb-ft of torque.  Inside, the Grand Convertible concept is decked out in the same hand-built elegance that the industry has come to expect from Bentley.
 The Bentley Grand Convertible Concept is all-new.
 The Concept isn't for sale, but it should spawn a production model with one to two years.
The Convertible can't be bought – yet.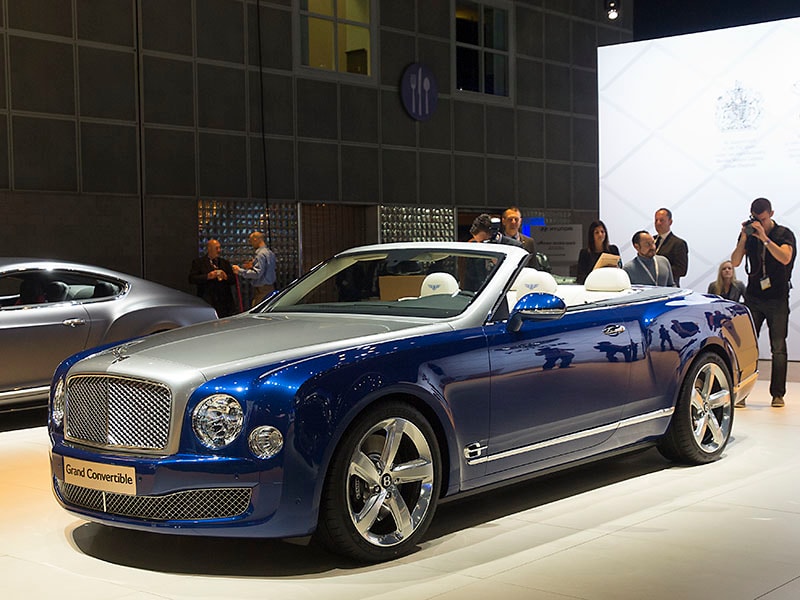 Unveiled in Los Angeles: Scion iM concept
Scion will make a concerted effort to reinvent itself over the next three years, introducing a trio of fresh products that will start with a production model of the Scion iM Concept that premiered in Los Angeles. As for the name of the new compact hatch, Scion say the "i" stands for "Individuality, Intriguing, and a good fit for customers' Incomes," while the "M" is for "Modern, Multifaceted and Magnetic."
The iM is based on a Corolla-esque hatchback offered by Toyota globally, with tuning partner Troy Sumitomo (of Five Axis) drawing his inspiration from European road racers to create a more aggressive look for Scion. Highlights include a body kit, lowered stance and sport-tuned suspension.
A production version will debut in 2015.
"Under $20,000," according to Doug Murtha, vice president of Scion.
Unveiled in Los Angeles: Volkswagen Sportwagen HyMotion
Is a clean-diesel Volkswagen Golf TDI not efficient enough for your ecologically minded tastes? For even lower emissions, Volkswagen has advanced its hydrogen capabilities in an ever-growing segment with the Golf Sportwagen HyMotion. The Sportwagen takes on the same look as the Europe-only Golf Variant R, but the two couldn't be more different in their respective missions as wagons.
The Golf Sportwagen HyMotion is a brand-new take on efficiency for Volkswagen. A fuel cell replaces a traditional internal combustion engine, giving the estate car an estimated range of 310 clean-as-it-gets miles. Volkswagen claims that there were no compromises to interior space, even with the addition of the sizable fuel cell. Unlike the petrol and diesel-powered Golf models, the only emission from the Sportwagen HyMotion is water.
If the Golf Sportwagen HyMotion sees production, expect it to preceded by several years' development time. This, at the same time as Hyundai and Toyota have running
Pricing for this concept car was not announced.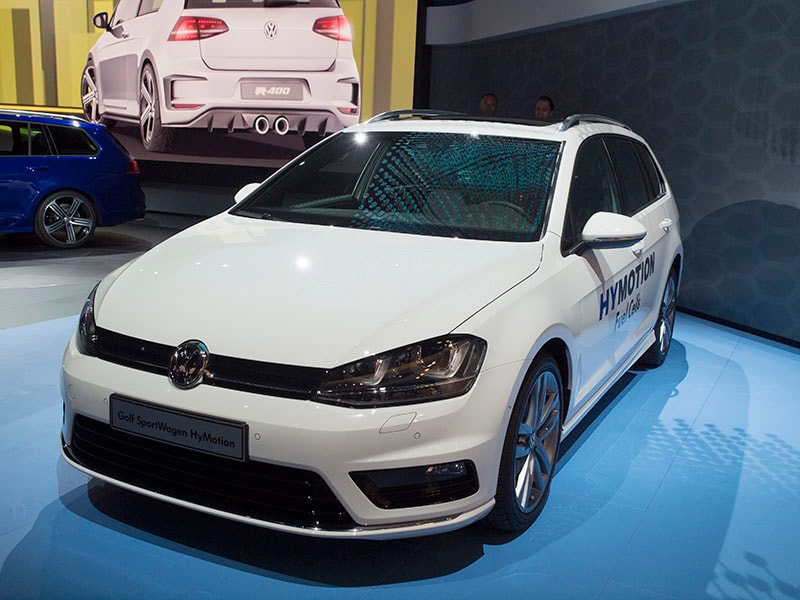 Unveiled in Los Angeles: Mitsubishi Concept XR-PHEV
With the current Outlander Sport compact crossover helping to drive a 30 percent year-to-date sales gain through the end of October, Mitsubishi is exploring ways to follow up that kind of success with the high-tech XR-PHEV plug-in hybrid.
The thinking of Mitusbishi's design and engineering departments, which have put together a dramatically shaped crossover with all of the latest connectivity and driver-assistance technologies. But the real difference-maker with the XR-PHEV is its powertrain, which combines a 1.1-liter, three-cylinder, 134-hp turbo engine—featuring both direct injection and Mitsu's MIVEC valve-timing tech—with a 14-kWh battery pack and 120-kW electric motor. In theory, the setup would deliver a +50-mile all-electric driving range backed by hundreds of more miles at more than 65 mpg.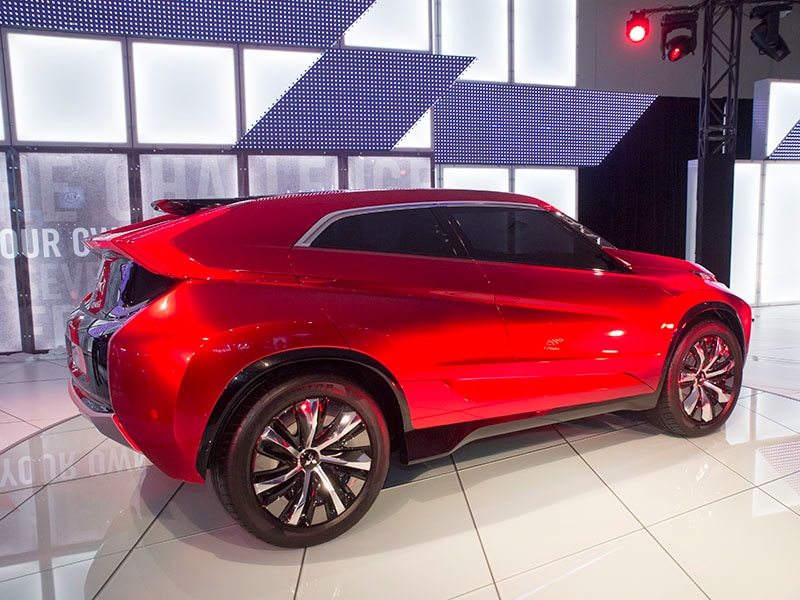 Unveiled in Los Angeles: Lexus LF-C2 Concept
Lexus' relentless pursuit of lux credibility continues with the incredible LF-C2, which sets a new, more dramatic styling direction for the brand. The party line according to Jeff Bracken, Lexus group vice president and general manager: "This concept shows consumers around the world Lexus' devotion to emotional designs as well as our passion for an exceptional driving experience."
The all-new Lexus LF-C2 is all about design, with a dramatic take on the brand's hallmark "spindle" grille and a deeply sculpted front fascia, as well as more sculptural cues at the rear and just in front of the rear wheels. Those efforts complement an otherwise flowing shape that--without a top--was meant to provide a thrilling open-air driving experience.
The LF-C2 is a pure styling exercise and not meant for production.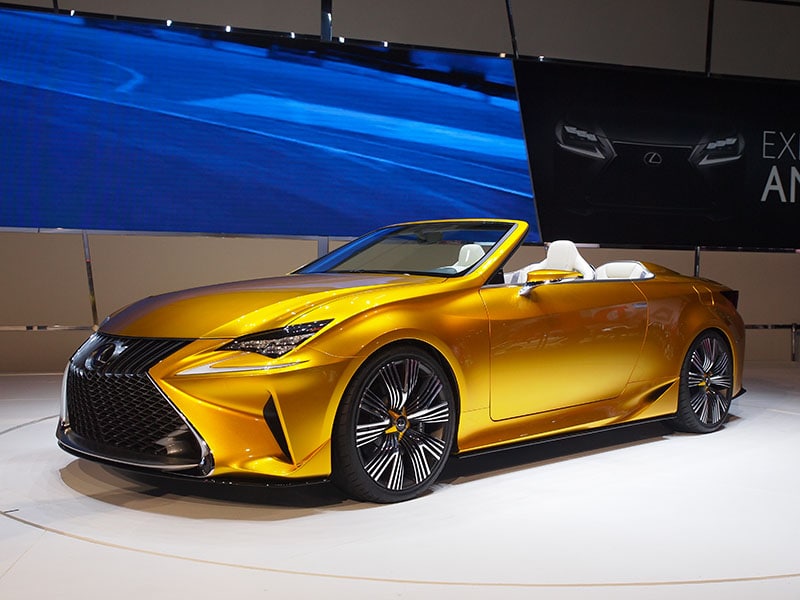 Unveiled in Los Angeles: Golf GTI Concept Car
For its penultimate trick at the Los Angeles auto show, Volkswagen is bringing back the Golf GTI Roadster that it showed off at the Wörthersee festival earlier this year. With no serious intention of producing the GTI Roadster, it's a pure concept car—something seriously lacking from this auto show. Instead, it's a 503-hp answer to a question that no one was really asking.
The Golf GTI Roadster debuted earlier this year as a design study, and has not changed since that debut. It still features video game-esque styling cues, a cut windshield, a huge rear wing, and the same chance of production: zero. Were the GTI Roadster concept to enter production, it would be the most off-the-wall convertible that Volkswagen has produced since the Rabbit.
The Golf GTI Roadster is purely a concept design study, and Volkswagen has not announced any plans for series production.
It is difficult to procure a car that is not for sale.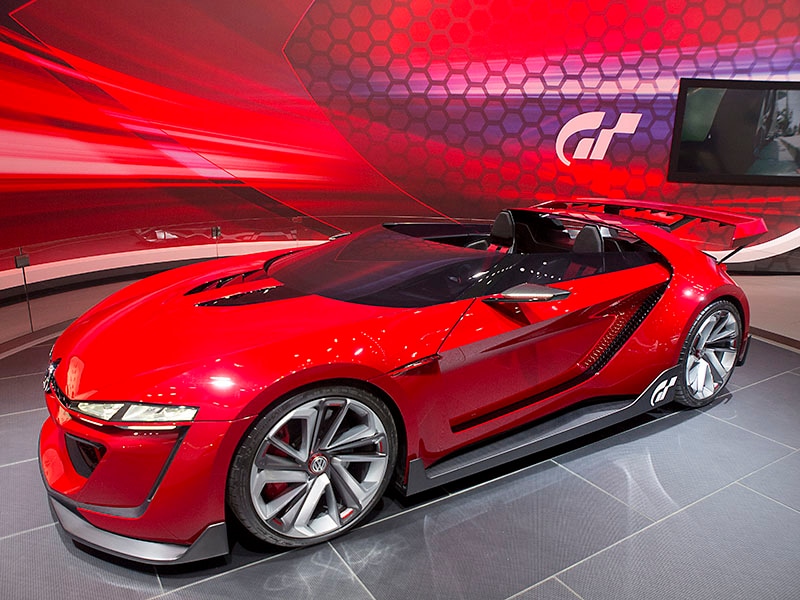 Unveiled in Los Angeles: Nissan BladeGlider Concept
Leveraging what they learned from the innovative Nissan DeltaWing racecar—with its distinctive triangular shape—Nissan designers have created their concept of a road-going version, but with an all-electric powertrain.
Well, what will change will be folks' perception of EV performance, since Nissan claims the BladeGlider actually previews a production model of some sort. As for the concept, it showcases an extremely narrow front track of about 40 inches and a more traditional setup at the rear, with those proportions echoed in a 1+2 cabin configuration and a centered driver's seat. Except that that rear track really isn't so traditional, since the rear-wheel-drive BladeGlider relies on in-wheel electric motors. Also notable are the BladeGlider's flight-inspired cues, from a glider-esque carbon-fiber reinforced-plastic body to yoke-style steering controls.
"The not-so-distant future," according to Nissan.
No plans for production.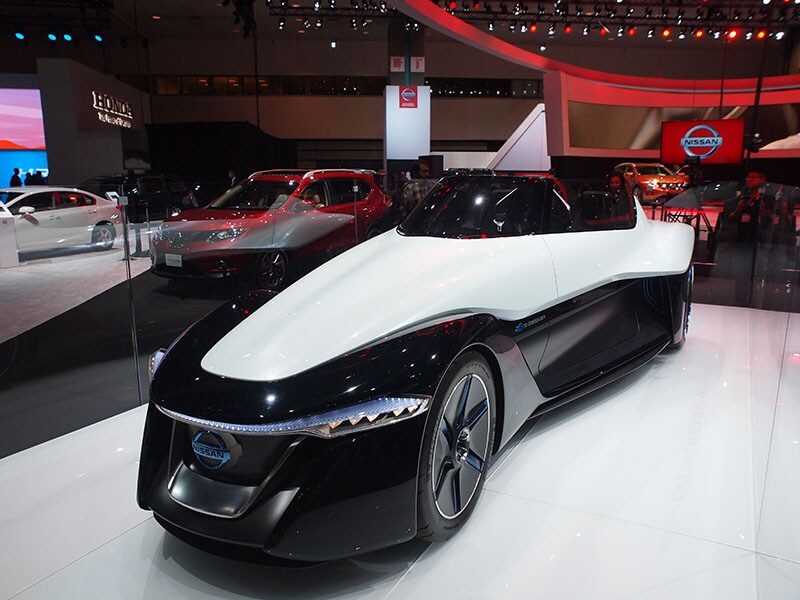 Unveiled in Los Angeles: Audi A7 H-tron Concept
The same hydrogen technology that wowed on the Volkswagen stand made its way to the Audi booth, with a slightly different name. Using the beautiful body that is the A7 as a guinea pig for hydrogen fuel-cell technology, Audi is showing that it has a green conscience.
The internal combustion engine is out, and electric motors produce 170 kW of power. That's nearly enough to keep parity with acceleration on the base A7. In addition to the fuel cell hydrogen power, the A7 H-tron is also a plug-in, and its battery can store additional energy. To top it all off, Audi estimates that a full hydrogen refueling will take just three minutes' time.
Right now, the A7 H-tron is simply a concept, and there are no firm plans for production. The race is heating up quickly in the hydrogen luxury segment.
Pricing for this concept car was not announced.