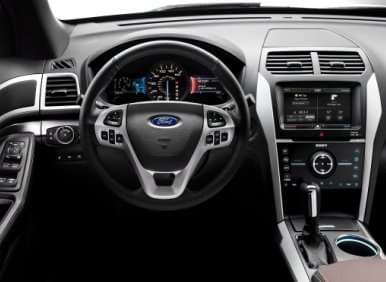 The Computer History Museum—located, naturally enough, in California's Silicon Valley—is home to the largest collection of historical computer artifacts in the world, from a working replica of Charles Babbage's "difference engine," a proto-computer designed in the 1840s and weighing more than five tons, to a comprehensive exhibit spotlighting Apple founder Steve Jobs. And recently, the Museum's commitment "to preserve and present for posterity the artifacts and stories of the information age" expanded to include Ford's breakthrough SYNC system, which was added to its permanent collection.
"As cars have transformed into mobile platforms for consumers' communication and entertainment needs, the intersection of automotive and computing developments is becoming an increasingly important area for the museum to consider," according to Alex Bochannek, curator and senior manager of the Computer History Museum. "Ford Motor Company's collaboration with Microsoft on SYNC technology is an example of this changing landscape.
"The Computer History Museum is pleased to add a first-generation Ford SYNC module to its permanent collection in support of our continued efforts to document the effects of computing on society at large."
Ford SYNC: Facts and Figures
Since its debut in 2008 as a $395 option on the Ford Focus, the SYNC software platform—which provides voice-activated control of key vehicle systems as well as cutting-edge connectivity features—has become a hallmark of Blue Oval products. It's now available in every member of Ford's U.S. lineup and can be found in more than 4 million vehicles that are on the road today. And by 2015, as the system continues to reach more global markets, Ford expects that total to more than double.
But Ford isn't just planning to grow the number of SYNC systems it sells; the company also will continue to grow the number of features the SYNC system offers, adding to a portfolio that currently includes:
911 Assist, which can detect an airbag deployment and then automatically connect with local 911 operators
Vehicle Health Report, providing on-demand access to vehicle diagnostics via the SYNCMyRide.com web portal
SYNC
Send to SYNC, allowing drivers to send turn-by-turn directions from MapQuest or Google Maps to their SYNC-equipped vehicles
SYNC Services, capable of leveraging a driver's smartphone for voice-activated access to weather reports, business searches, stock quotes, sports scores and more
SYNC AppLink, the industry-first technology for enabling drivers to use voice controls for smartphone apps like Pandora and Stitcher
 Said Paul Mascarenas, chief technical officer and vice president of Ford Research and Innovation: "We are honored [to be inducted into the Computer History Museum]. SYNC has helped us move faster than what is usually assumed of an automaker, providing a new level of openness and access that has forever changed how we look at our business and respond to our customers. Ultimately, SYNC embodies what Ford is all about: going further to transform innovative ideas into products that are affordable, attainable and valuable to millions of people."