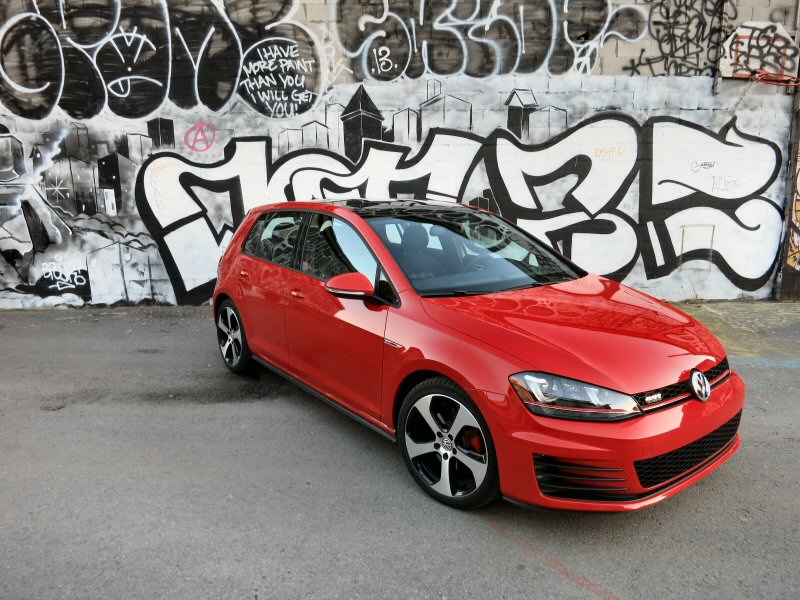 2015 Volkswagen Golf GTI SE ・ Photo by Benjamin Hunting
2015 marks the complete redesign of the Volkswagen Golf, one of the most popular vehicles in the entire VW lineup, and to many the defining German compact car in terms of build quality and driving dynamics.  For the first time in a long time the entire Golf line-up has gone turbo, with every model from the base TSI to the TDI to the performance-oriented GTI boasting a four-cylinder, forced induction engine under the hood.
This leaves those shopping for a gas-powered Volkswagen Golf are faced with an intriguing conundrum: do they stick with the Golf TSI's 1.8-liter motor and load up on luxury features, or do they trade in some comfort in favor of the Golf GTI's more robust 2.0-liter mill?  I had the chance to drive four-door versions of both a fully-loaded Golf TSI SEL and a well-optioned Golf GTI SE back-to-back in an effort to answer the question that I think a lot of high-end VW Golf shoppers will be facing throughout 2015.
Pricing And Equipment
From the outset, there's not nearly as much of a price gap between the 2015 Volkswagen Golf TSI SEL four-door and the Volkswagen Golf GTI four-door as one might expect.  The TSI SEL starts at $26,995, which is a $2,000 premium over the Golf GTI S' entry-level MSRP of $24,995.
What does the Golf TSI SEL bring to the table to justify its premium position over the more powerful Golf GTI S?  Essentially the full might of the Golf's options sheet, included as standard: a six-speed automatic transmission, a touchscreen navigation system, Fender audio, heated front sport seats with imitation leatherette upholstery and power adjustments, a leather-wrapped steering wheel and shift knob, keyless entry, a panoramic sunroof, Bluetooth connectivity, power windows and door locks, automatic headlights and rain-sensitive windshield wipers, fog lights, dual automatic climate control, and a cooled glovebox.  The version I drove also came with the Lighting package (HID headlights and LED running lights), which boosted the total MSRP to $27,990.
The Volkswagen Golf GTI comes in three trim levels - S, SE, and Autobahn - with the S model including many of the above features, with a few notable exceptions.  You won't get leatherette seating surfaces, rain-sensitive wipers, an auto gearbox, a sunroof, Fender audio, a navigation system, or dual climate control with the GTI S right out of the box like you would with the SEL.  If this gear is important to you, expect to open up your wallet, as moving up to the Golf GTI SE that I drove bumps the hatchback's price by $3,000 (MSRP $27,995) in order to add rain-sensing wipers, a sunroof, Fender audio, a rearview camera, a push-button starter, and genuine leather seats (not available with the TSI SEL).  The top-tier Golf GTI Autobahn introduces navigation, more power adjustments for the driver's seat, and dual automatic climate control for an MSRP of $29,595.
Winner: For those who are willing to pay more for features than pure performance, the 2015 Volkswagen Golf TSI SEL is the clear winner.  If you want a version of the GTI that's nearly as well-equipped you're looking at paying a not insubstantial additional sum for the GTI Autobahn trim plus extra charges for adding safety equipment like forward collision warning or the same Lighting package that's available with the SEL.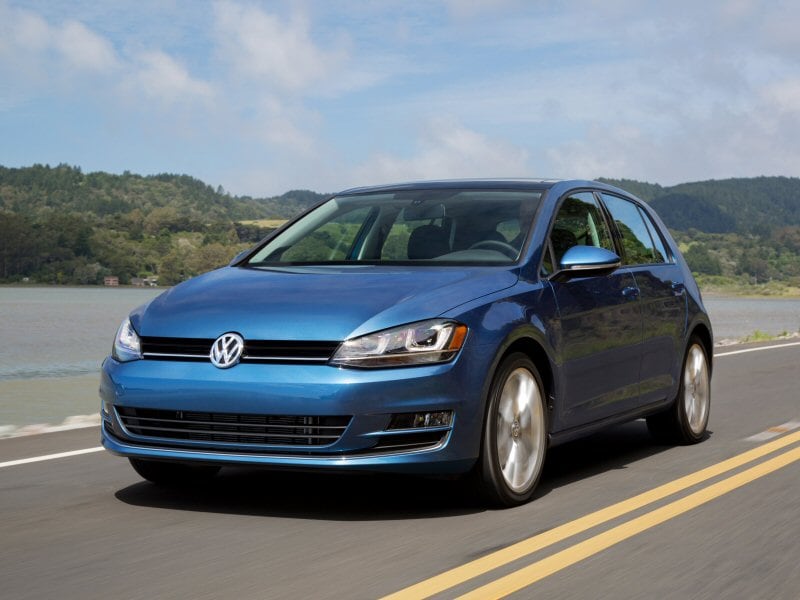 Photo by Volkswagen of America
Design
The 2015 Volkswagen Golf TSI SEL and 2015 Volkswagen Golf GTI SE offer two similar, yet subtle attitude adjustments of the basic Golf hatchback body style.  The four-door cars are better proportioned as compared to the two-door option, and your preference for either the TSI SEL or the GTI SE is going to depend largely on personal taste.  When both cars are outfitted with the Lighting package you get nicely jeweled HID emitters up front, which come across as sporty when matched with the GTI's more aggressive front bumper treatment or classy on the TSI's smoother approach to the Golf concept.  Concerning wheel choice, however, even though both feature 18-inch units the GTI is style-first winner with its new 'Austin' rims that offer a large bladed spoke.  The GTI also gains a slight ride height advantage as compared to the TSI, sitting low enough to accent its width.
The cabin of each respective model is equally identical in all important respects.  Passenger room is good front and rear, and cargo space tops out at 52.7 cubic feet for both cars with the back seat folded flat.  VW fans will go gaga for the traditional plaid upholstery that covers each of the GTI S' seating positions, but if you find the pattern too busy Volkswagen will happily sell you leather wrappings in the SE and Autobahn models, which is nicer to the touch than the leatherette found in the TSI SEL.
Winner: It's a draw.  The GTI narrowly wins on exterior styling, but unless you are willing to pay a lot more for leather, the TSI SEL's interior is just as nice and comfortable as the quicker of the two Golf models.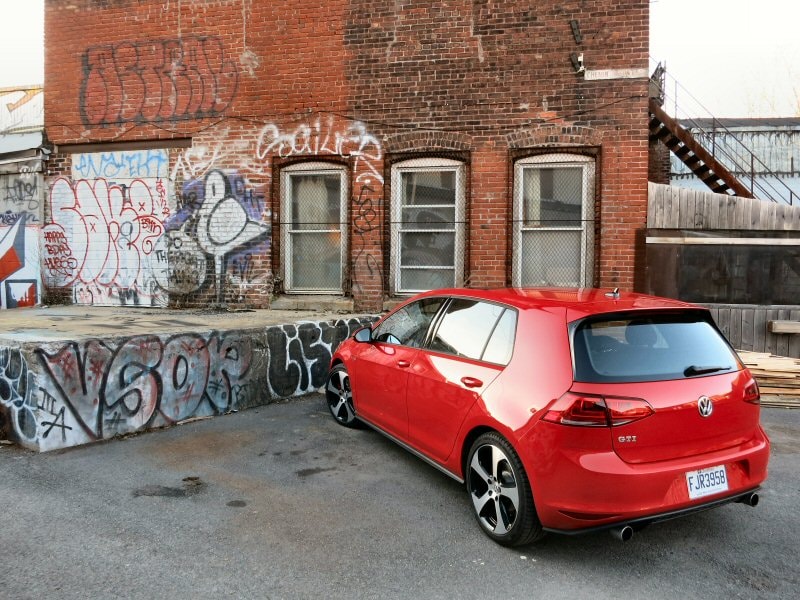 Photo by Benjamin Hunting
Features and Comfort
It's a slam-dunk for the 2015 Volkswagen Golf TSI SEL when it comes to features.  Even the more expensive GTI SE model that I drove didn't offer the navigation system or dual automatic climate control found in the TSI SEL, which trumps every GTI trim level except the pricy Autobahn model in terms of equipment.  One item that's irritatingly absent from either car, however, is a USB port: Volkswagen still makes you use a clunky iPhone adapter with the car, which is great if you own said Apple product but fairly useless for anything else, including charging your various mobile devices.  The company claims USB is eventually coming to the Golf platform, but since it's already everywhere else in the compact segment the oversight is impossible to ignore.
VW has done a very good job of ensuring that the 2015 Golf GTI doesn't sacrifice day-to-day comfort in favor of all-out performance when it comes to its chassis setup.  That being said, the Golf TSI isn't designed to emphasize performance at all, preferring instead to substitute a smooth motoring at all speeds that will have passengers at all five positions perfectly content even on rough roads.  As a daily driver, it's a better choice for those who have zero interest in stalking back roads on the weekends in pursuit of adrenaline-fuelled thrills.
Winner: The Golf TSI SEL takes this one.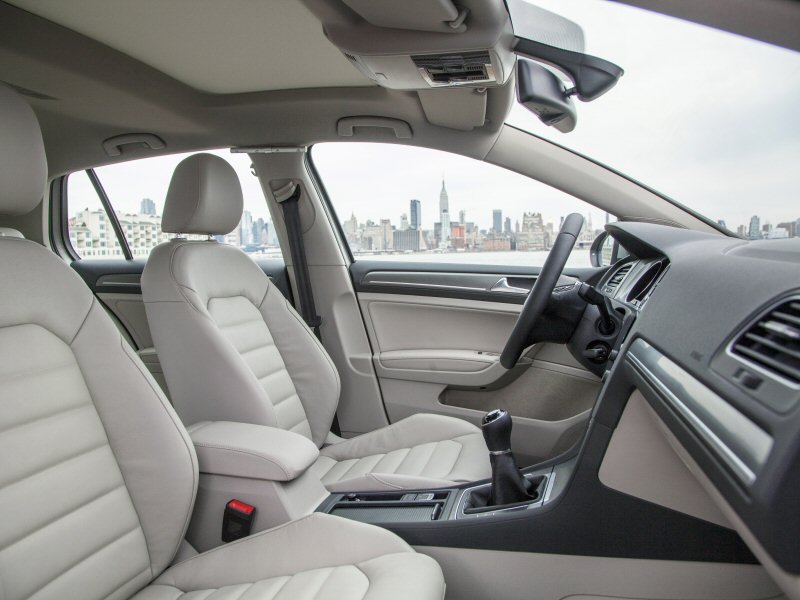 Photo by Volkswagen of America
Safety and Ratings
Volkswagen has outfitted its entire Golf family with the same range of standard safety gear and options packages, but even though there's no competition between the two models here I think it's worth mentioning what you get with each car.  All versions of the Golf TSI and Golf GTI come with dual forward airbags, side impact airbags up front, and side curtain airbags, as well as a knee airbag for the driver.  Electronic stability control and traction control is also included free of charge with the hatchback (and is multi-stage in the GTI), and both models offer a Driver Assistance package that installs parking assistance and a forward collision warning system.
Year Make Model Crash-Test Ratings: The 2015 Volkswagen Golf has yet to be rated by the NHTSA for crash safety, but the IIHS awarded the compact car a score of 'Good' in each important crash test.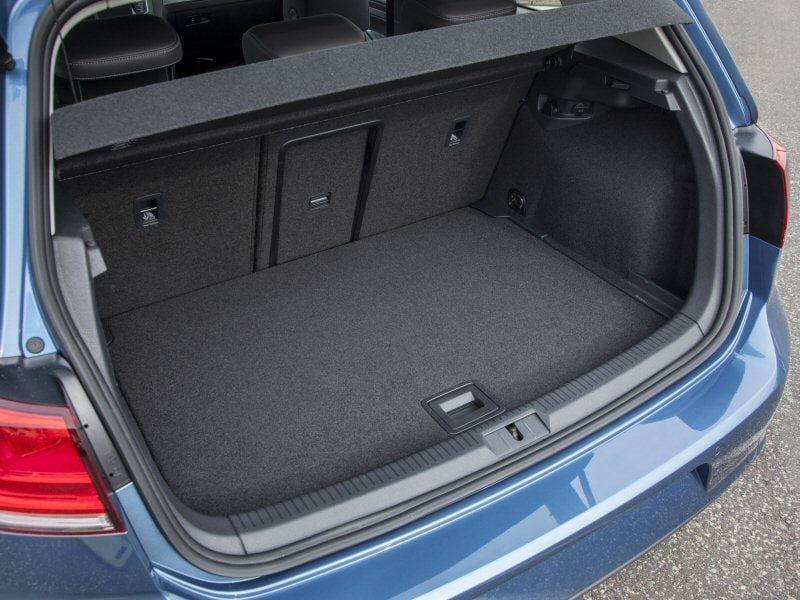 Photo by Volkswagen of America
Engines and Fuel Economy
The 2015 Volkswagen Golf TSI SEL trades in last year's unpleasant-to-drive 2.5-liter five-cylinder engine in favor of a turbocharged 1.8-liter, four-cylinder unit that boosts both efficiency and output.  Capable of generating 170 horsepower and 200 lb-ft of torque, the unit is exclusively offered with a six-speed automatic transmission in the TSI SEL model (although base Golf hatchbacks can be had with a five-speed manual).  Fuel mileage for the 1.8-liter shows as 25-mpg city and 36-mpg highway.
The 2015 Volkswagen Golf GTI SE features a 2.0-liter, four-cylinder turbo mill that's good for 210 horses and 258 lb-ft of torque, with the latter figure representing a worthy bump over last year's similarly-sized engine.  A six-speed manual transmission was outfitted to my tester, but one can also order a six-speed dual-clutch automated manual gearbox with the GTI.  Fuel economy for the more robust engine is remarkably similar to that of the Golf TSI SEL's drivetrain, with official figures reported as 25-mpg city and 34-mpg highway.  I can vouch that in real world driving the efficiency of the two cars is quite close.
Winner: Is this really fair?  As good as the TSI SEL's motor is, compared to the more powerful and equally-thrifty GTI's engine it's no contest.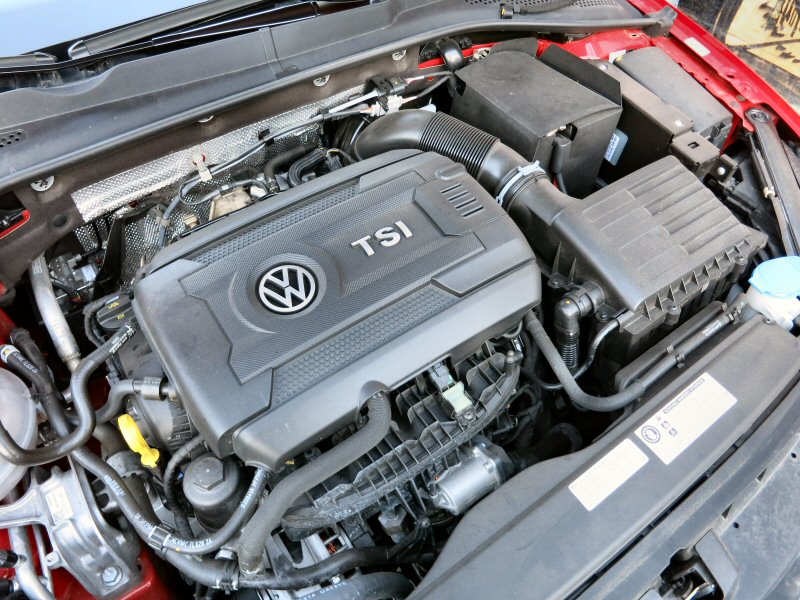 Photo by Benjamin Hunting
Driving Impressions
Remember earlier when I mentioned that Volkswagen had gone out of its way to civilize the 2015 Golf GTI to present buyers with a comfortable daily driver that could still deliver reasonably sharp handling when pushed hard?  The company has been so successful in this area that the only reason the GTI feels harsher than the TSI SEL in certain situations isn't because the former is too stiff, but rather because the latter is so soft.  I wouldn't describe the TSI SEL as out of its element on a twisty road, but it's not particularly fun to drive in that environment either: the key attribute of this hatchback is its confident composure across the board, rather than any hint of athleticism.
The Golf GTI, however, offers both.  True, it's not as precise as I would like as compared to a hot hatch like the Ford Focus ST, and it doesn't feature the same all-wheel drive grip that the (now) sedan-only Subaru WRX brings to the table, but as a daily driver there are few compacts that are as quick and nimble as the GTI.  It doesn't rattle the change that you've got sitting in the cup holder all that much either, even here in Montreal where roads resemble an unfinished jigsaw puzzle assembled in the dark by blindfolded civil servants two days from retirement.
The GTI's killer app isn't its handling, though - it's the broad torque band of its turbocharged four-cylinder engine, and how easily it allows you to shift through the six-speed manual's cogs without having to over-rev from light-to-light.  The Golf GTI is a very pleasant car to drive as a result, especially compared to Golf TSI SEL's automatic gearbox which proved rough at low speeds and in fact had the shifter and brake pedal shaking at idle on numerous occasions.  I like the 1.8-liter motor quite a lot for the price, and it's infinitely better than the five-cylinder unit it replaces, but VW is still working through some bugs in the engine and transmission management of this first-year (in North America) car.
Winner: The Golf GTI trounces the TSI SEL by being just as comfortable while offering drivetrain smoothness that is absent from its good, but not great sibling.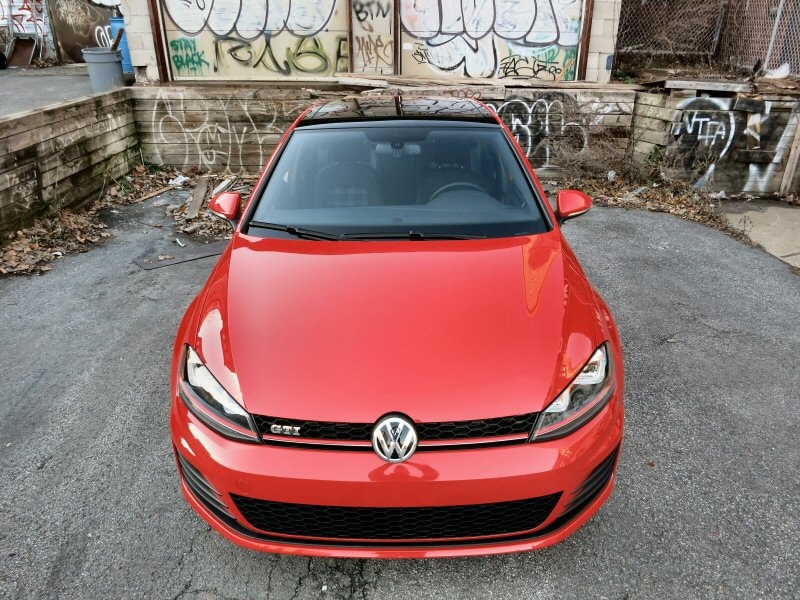 Photo by Benjamin Hunting
Final Thoughts
Tallying up the categories, it appears as though the 2015 Volkswagen Golf TSI SEL and the 2015 Volkswagen Golf GTI SE are neck and neck.  The TSI SEL wins on value and features, while the GTI SE walks away with dominance under the hood and in its driving experience. 
Two notable draws (in the safety department as well as design) show just how close these two vehicles really are, which should be no shock given the fact that they share the same platform.  I must admit that I am personally surprised that the GTI didn't emerge as more of a clear winner, given its performance pedigree and cult following.  Upon further reflection, however, the Golf TSI SEL's combination of features for the money and excellent practicality make every bit the equal of its quicker cousin until it comes time to put the hammer down.  Given that most Golf buyers will be perfectly happy with the TSI SEL's more modest handling and acceleration, if you want to maximize your car's equipment but stay within budget then this less-than-hot hatch would seem to be a strong option.  If driving matters more than gizmos and cross-branded audio systems, then the GTI steps to the fore.
Volkswagen USA and Volkswagen Canada supplied the vehicles for this review.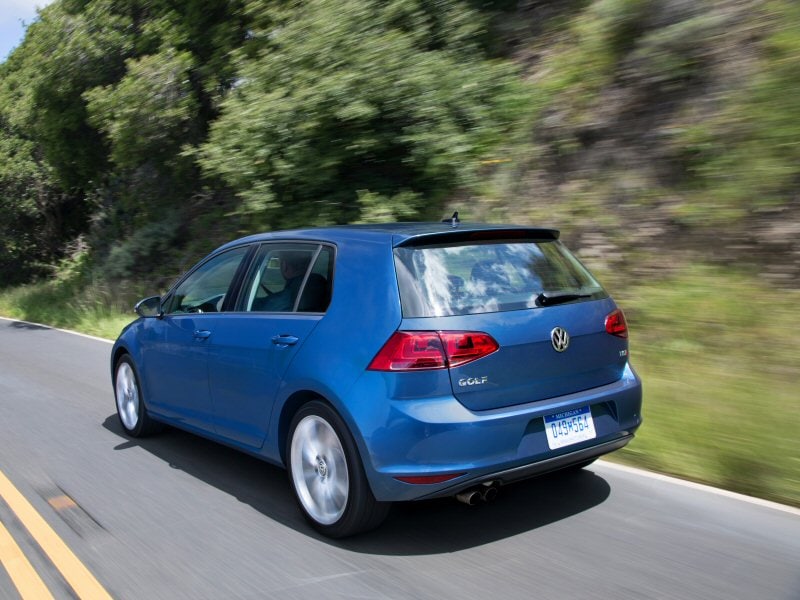 Photo by Volkswagen of America