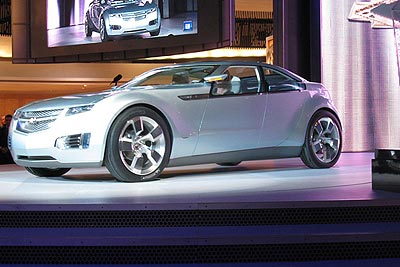 Chevrolet Volt Concept Preview – 2007 Detroit Auto Show: Company pitchman, Bob Lutz, calls it his company's own little "inconvenient truth." Referring to the recent environmental flick, GM's most recognizable executive implied that the Chevrolet Volt concept car, which runs primarily on electricity with flex-fuel engine assist only after the 40-mile range has been exceeded, might be an inconvenient truth for those who demonize companies like his. In a best case scenario, commuters could travel to and from work without ever needing the engine's assistance, meaning they wouldn't need to buy, or burn, any fossil fuel. That's a claim which should sound like music to the ears of commuters everywhere, and maybe even Al Gore.
Why it Matters
As a concept, the Chevrolet Volt is more significant in what it represents versus what it actually offers. The Volt, and cars like it, show a desire to study alternative vehicles, to invest in the technology, and to wrap the whole package in a style that reaches past just Ed Begley, Jr. In particular, the Volt is significant because it blends the best of an all-electric vehicle (operation requiring no gasoline) with a hybrid model (gas engine as assist, in this case when the battery runs out of juice). According to GM's Bob Lutz, the Volt's powertrain would actually allow it to travel like a regular car, meaning it wouldn't crap out as soon as you crank up the a/c on a three-percent grade.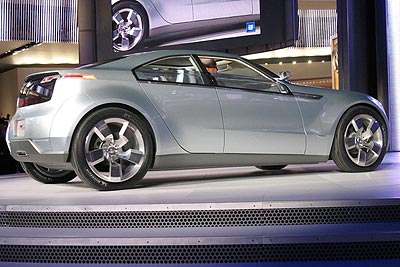 What's Under the Hood
Under the Volt's hood is a three-cylinder turbocharged engine that is used to provide power when the massive 400-lb. lithium-ion battery peters out, which is estimated to be after 40 miles or so. When that occurs, the little three-banger allows the Volt to motor on, and works to recharge the depleted battery, though the engine never powers the vehicle – it simply recharges the battery for electric propulsion. After the day is done, the Volt plugs into a regular 110-volt outlet and is good to go after six hours of current refreshment. Furthermore, Chevy's juiced ride is designed to run on E-85 ethanol, the new E-Flex system is designed to also accommodate diesel or hydrogen, and in some cases, coal or natural gas.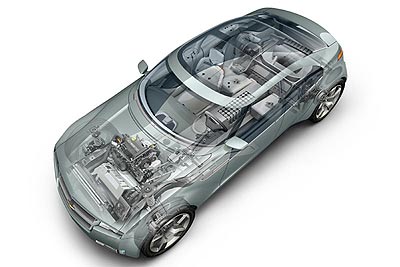 What it Looks Like
Nothing beats a Hot Wheels toy car in terms of efficiency – if you've got a finger to push it with, there's no need for gas, hydrogen, or even electric power. It's one of those overstyled little gems that comes to mind when viewing the four-passenger Chevrolet Volt, with its oversized alloy wheels, aggressive stance characterized by bulging wheel wells and nearly nonexistent overhangs, its crimefighter-ish cropped roofline, and its chiseled face. In totality, the Volt appears as a precursor to future sports or muscle cars, and may be the last thing people expect when they hear electric vehicle or hybrid. The Volt is based on a modified version of the Chevrolet Cobalt architecture.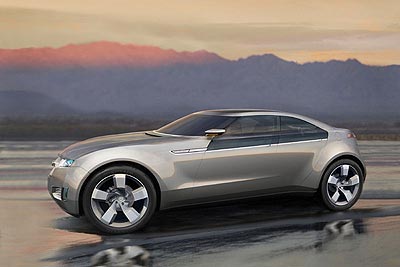 What Chevrolet Says
GM's Larry Burns had this to say about the Chevy Volt: "Whether your concern is energy security, global climate change, natural disasters, the high price of gas, the volatile pricing of a barrel of oil and the effect that unpredictability has on Wall Street – all of these issues point to a need for energy diversity. Today, there are more than 800 million cars and trucks in the world. In 15 years, that will grow to 1.1 billion vehicles. We can't continue to be 98-percent dependent on oil to meet our transportation needs. Something has to give. We think the Chevrolet Volt helps bring about the diversity that is needed. If electricity met only 10 percent of the world's transportation needs, the impact would be huge."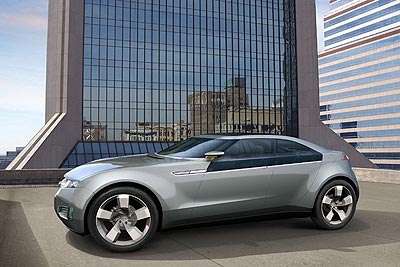 What We Think
We applaud GM for having the foresight to not only invest in hybrid and electric powertrains, but also to develop the E-Flex system, which could accommodate multiple fuel sources, such as bio-diesel and hydrogen. We're not crazy about a 40-mile range, or 400 pounds of curb weight dedicated to the lithium-ion battery, but those figures would likely improve before anyone mentioned production, which is more than a few years out. We're betting that unless the range is extended, the masses may be quick to praise but slow to pay for the E-Flex technology because whether it's real or perceived, "40-mile range" would likely lead people to wonder if they'll be left stranded when the odometer clicks over to 41.
Photos courtesy of General Motors