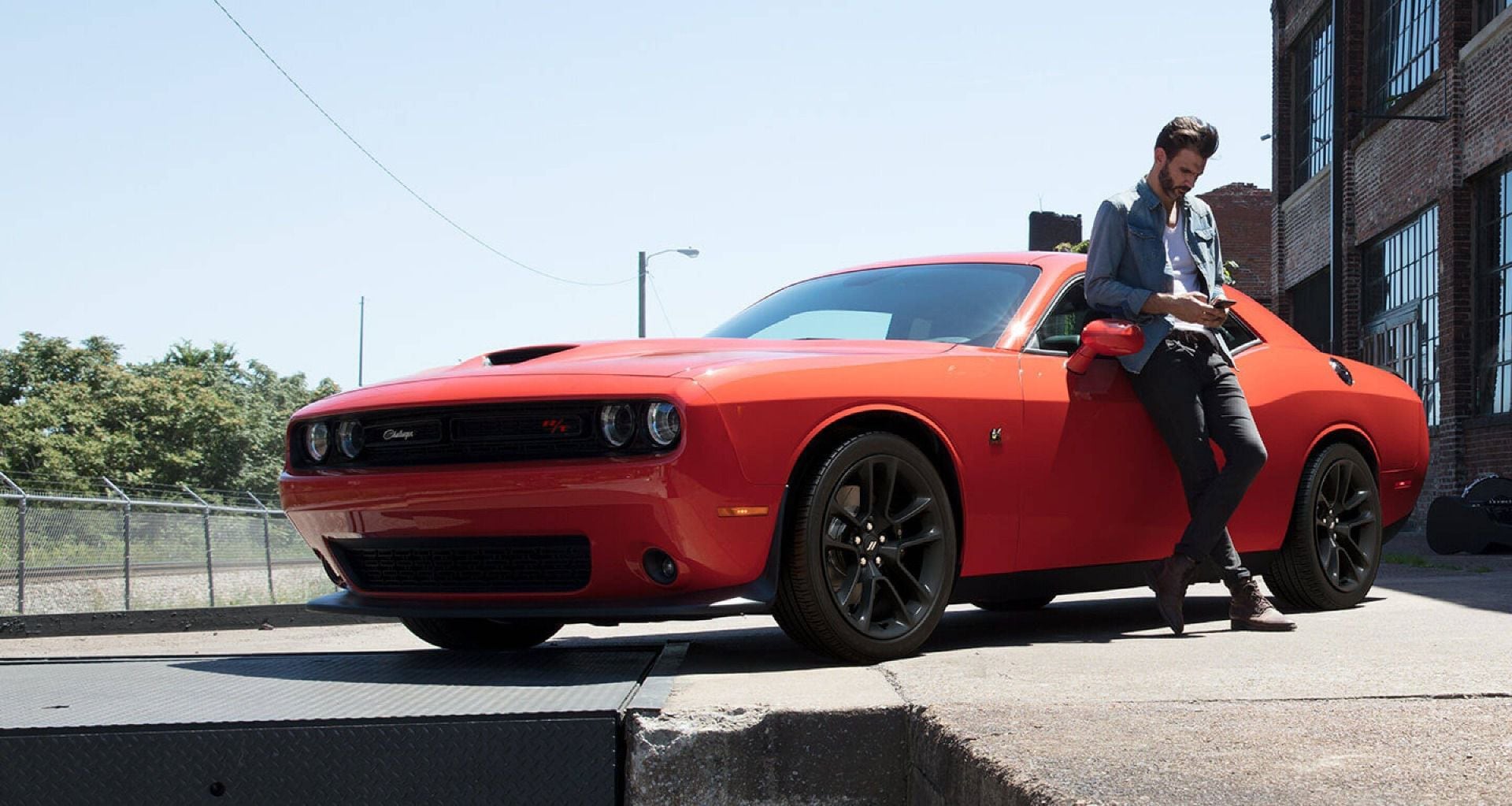 Dodge Challenger, a classic, never failing sport dream. ・ Photo by Dodge
One of the most profound car company spots to run during Super Bowl XLIX offered sage advice from a robust group of centenarians and nonagenarians. Viewers were offered guidance such as;  "Live for now because life is good!"  "Don't complain!" "Tell it like it is!" "Hesitate, and you'll lose!" "Put the pedal to the metal!" "Live fast!" "And, never—ever—forget where you came from."
These sound recommendations are solidly reflected in the current lineup of automobiles from an equally venerable automaker. Currently celebrating 100 years of building cars, the Dodge Brothers Company was founded in 1900 as a parts supplier concern before moving into building its own cars in 1914. Perhaps tellingly, every model in the company's contemporary lineup can trace a line directly to a predecessor in the Dodge family.
Dodge Challenger
Today's Dodge Challenger is one of the most recognizable performance cars on the road. While the model can trace its history all the way back to the limited edition 1958 Dodge Silver Challenger, the Challenger everyone thinks of is the 1970 Dodge Challenger R/T 440 Magnum from the film Vanishing Point.
While at first glance appearing to be a direct competitor to the Camaro and Mustang pony cars from Chevrolet and Ford, Challenger was actually positioned more upmarket in line with Mercury's Cougar and Pontiac's Firebird. Having outlived both of those cars (and the companies building them for that matter) today's Challenger offers a broad range of exceedingly powerful engines ranging from a 305-horsepower V6 to a 707-horsepower supercharged V8.
Dodge Charger
The first Dodge to be fitted with a Charger nameplate was a 1964 concept car, boasting 600+ horsepower from a 426 cubic-inch V8. As cool as all of that is, it's hardly the most famous Charger in terms of popular culture. That honor goes to Bo and Luke Duke's General Lee—based on the 1969 Charger from which the current model takes many of its styling cues. Known for flying through the air with the greatest of ease, the "General" firmly cemented the Dodge Charger's notoriety in popular culture.
Today's Charger, while still very much a muscle car in every sense of the phrase, is also a gentleman's express; featuring four doors, a broad range of comfort and convenience features, and outstanding performance potential. Like the Challenger, engines range from the 305-horsepower V6 to the 707-horsepower Hellcat. The quickest, fastest, and most powerful production four-door automobile for sale today, the Dodge Charger is capable of a top speed of 204 miles per hour.
Dodge Dart
The Dodge Dart nameplate originally appeared in 1957 on a Ghia-bodied show car. Three years later, the model went into production as a more economical full-size Dodge model. While positioned as a full-size car, the Dart actually rode upon a shorter wheelbase and was redesignated as a mid-size offering in 1962, before being declared a compact in 1963. Performance became a part of the Dart equation in 1962, with addition of the 415-horsepower Ramcharger engine. With it, Dart became a regular fixture in the winner's circle at drag strips everywhere. Today's Dodge Dart, while still a compact, is a more well rounded in nature. The sleek styling, willing engines, and agile suspension make it more of a driver's car for the open road than an out-and-out quarter miler. The most European-inspired model in the current Dodge lineup, the contemporary Dodge Dart offers a great deal of style, and it does this pretty well too…
Dodge Durango
While known today as Ram trucks, Dodge trucks also have a history going all the way back to 1914. One of the most iconic Dodge trucks of all time was the four-wheel drive Power Wagon based on a design the company produced for the military for World War II. Further, Dodge was among the first truck manufacturers to introduce car-like features, with its Adventurer package during the 1960s. Another distinctive element of Dodge truck lore is the "Big Rig" styling language applied to its 1994 light-duty pickups. The spiritual successor to all of those vehicles is today's Dodge Durango SUV. If you look closely, you'll still see vestiges of the Big Rig styling language evident in the contemporary model. Further, four-wheel drive powertrains and abundant comfort and convenience features are brand touchstones as well. And yeah, it's got a glovebox too...
Dodge Grand Caravan
While the Dodge Caravan is often mistakenly referred to as the world's first minivan, what is absolutely correct is the Grand Caravan is the oldest surviving minivan nameplate—and it was one of the first minivans to market. Introduced in 1984, it is also credited with playing a significant role in saving the Chrysler Corporation from oblivion. Currently in its fifth generation, the Grand Caravan has been in continuous production since its launch.
The contemporary Grand Caravan is just as versatile as its forebears. Its wide variety of trims, include the R/T package, which emphasizes performance and handling—while sacrificing none of the everyday usability expected of a minivan. Versatile seating and cargo configurations are coupled with a broad array of useful features as well as an affordable price.
Dodge Journey
Just as it did back in 1962 when it introduced the Dart as a smaller alternative to full-size cars. Dodge took advantage of an overlooked niche in the marketplace with the in-between sized Journey in 2009. A bit larger than a compact crossover SUV, and yet smaller than a mid-sized crossover, the Dodge Journey performs admirably in both spaces. Adults will fit in its second row, children will fit in its third row, and there are built-in child booster seats to save parents the time and expense of fitting aftermarket units to the vehicle. Offered in six different levels of trim with a choice of two engines—as well as front- and all-wheel drive—configuring a Journey to your precise needs is a rather simple matter. What's more, like all other Dodge models, Journey represents an excellent value for the price.
Summary
As it begins its second century, Dodge is a company with one eye firmly on what got it to where it is in the first place—even as it innovates its way into the future. From that first 1914 Dodge Model 30, which both pioneered and incorporated features taken for granted on today's cars, to today's pavement-shredding Hellcats, Dodge has consistently offered more car than people expect to get for the money. What's more, the people at Dodge have never forgotten where they came from. Every car they make is built upon the successes of the cars that came before them.