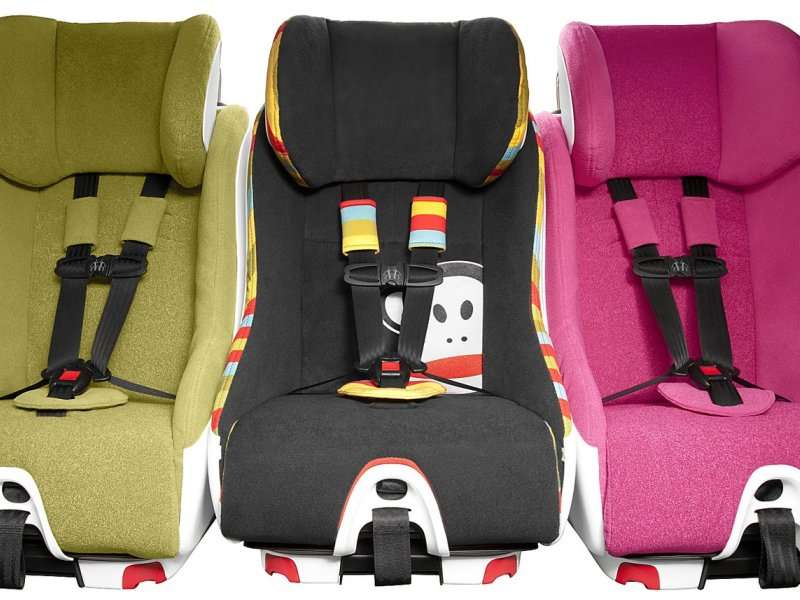 carseat
With its vaguely Ikea-like name and sleek, space-age appearance, you might assume the Clek Foonf convertible car seat is a Swedish creation. In fact, this oddly-named seat is designed and manufactured right here in North America, specifically in Ontario, Canada. The Foonf is truly eye-catching. During just a few days driving around with it in my car, multiple strangers in parking lots stopped to ask me, "Wow, what kind of car seat is THAT?" Of course, looks aren't everything, so here are a few more things to consider once the Foonf stops you in your tracks.
Clek became a pioneer in 2013 when the Foonf was brought to market. While most car seats currently allow for rear-facing to a maximum child weight of 40 pounds, the Foonf has a 50-pound rear-facing weight limit. Those extra 10 pounds can make a huge difference to parents who understand the importance of extended rear-facing for maximum safety, but have children who are very large for their age. Just a few years ago, these parents may have had to choose to turn their kids forward-facing before they were developmentally ready, or import a rear-facing seat with a higher weight limit from Sweden at huge expense. For these parents, the Foonf remains a great alternative. At this time, there are still only a handful of other car seats available in the United States that can be used rear-facing over 40 pounds.
Even if your kids aren't gigantic, the Foonf is certainly worth a look. In addition to the high weight limit (and corresponding high rear-facing height limit of 43 inches), it is currently one of only two convertible seats in the United States to include an anti-rebound bar to limit a rear-facing seat's rotation toward the rear of the vehicle in a crash (the other being Clek's new convertible, the Fllo). For forward-facing, it is unique in providing rigid LATCH connectors. These make forward-facing installation a breeze, and may provide some safety benefits as well. It is also the only convertible that allows, in forward-facing mode only, the use of both the lower LATCH anchors and the seat belt at the same time (virtually all other car seats require that you use only the lower anchors OR the seat belt, NOT both).
A lot of people think the Foonf looks huge when they first see it. It is indeed tall, and sits high up in the car. This can obstruct visibility for the driver, especially when placed in the middle seat of a smaller car. But on the other hand, many children enjoy sitting up higher so that they can see better out the window. And while it is tall, the seat is actually quite narrow and surprisingly compact front-to-back as well. It was not at all cramped to install rear-facing behind the driver's seat in my small hatchback.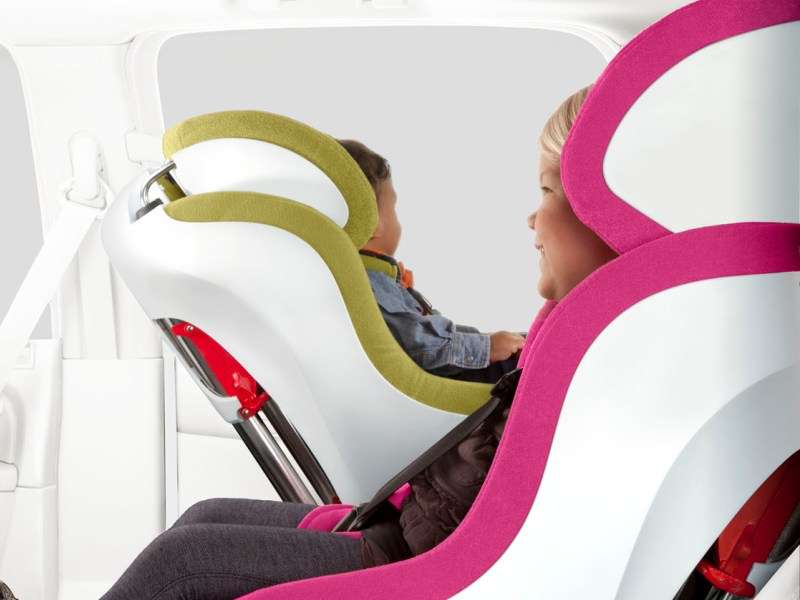 Like any other car seat, the Foonf has its drawbacks. Just to address the elephant in the room: it is very expensive. With a starting retail price of $450, it is simply not in the budget for many families. It is also quite heavy, weighing in at a little over 30 pounds. Unlike most other high-end car seats, it does not have a no-rethread harness, so you have to disconnect the straps from the back to raise or lower them. While most convertible seats can accommodate small infants, children must weigh at least 14 pounds and be at least 25 inches tall to sit in the Foonf (an infant insert is in the works that will allow it to be used starting at 5 pounds; it should be available in early 2015). Finally, installing the Foonf can be tricky. It installs quite differently from other convertibles, and the various features may require practice to use them correctly. Like any seat though, it's intuitive once you get used to it.
Overall, the Foonf is a unique choice and is definitely worth considering if you are in the market for a convertible car seat. With its high height and weight limits, it's a dream come true for anyone committed to extended rear-facing. It's very safe, seems comfortable, offers several features not found on any other seat in America…and well, it's just plain cool.
The Clek Foonf is available from various online retailers or via clek.com.