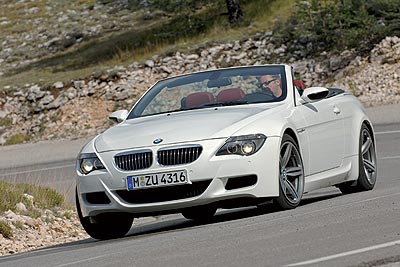 BMW M6 Convertible -- Preview: It's a little known fact that car manufacturers are quietly courting procrastinating executives who love convertibles. Think about it – what better way to catch a few extra winks before cranking up a 500-horsepower luxury beast in the garage, the one that catapults you to 60 mph in 4.5 seconds, dropping the top on the drive in to put some color in your cheeks, and arriving just in the nick of time to kick off your company's annual meeting? Mercedes-Benz, Jaguar, Porsche, and others target this niche, as does BMW, most recently with the launch of the 2007 M6 convertible. Due to arrive in showrooms later this year, the newest BMW drop-top will carry a sticker price of $105,095 including destination charges.
Why it matters
In life, there are occasions when skill, personality, or status can make up for a case of the uglies. Likewise, cars can often compensate for unpleasant styling with functionality, efficiency, aggressive pricing, or in the case of the BMW M6 convertible, lotsa power. Indeed, that's the name of the game, as well-to-do shoppers looking for a new performance convertible can choose from models such as the 420-horsepower Jaguar XKR, the Mercedes-Benz CLK63 AMG and SL550, and 355-horsepower Porsche 911 Carrera 4 S among others. To attract buyers seeking such premium rides, BMW needs to offer a drop-top like the 500-horsepower M6 convertible, offering top-notch materials and a 0-60 mph time of 4.5 seconds.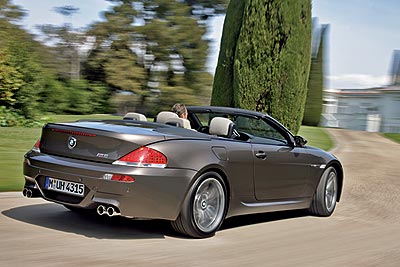 What's under the hood
Any BMW model bearing the M designation is bound to be immensely powerful, and this example is no different. Just like the M5 and M6 coupe, the M6 convertible is equipped with a 5.0-liter, 40-valve V10 with double-VANOS variable-valve timing that puts out 400 horsepower in normal mode or 500 ponies when a power button is activated. A seven-speed Sequential Manual Gearbox (SMG) automatic transmission delivers the good to the rear tires, which like those up front, measure 19 inches. With all 500 horsepower on tap, the 2007 BMW M6 convertible reportedly reaches 60 mph in only 4.5 seconds and tops out at an electronically-limited top speed of 155 mph, figures that are synonymous with those of the M6 coupe.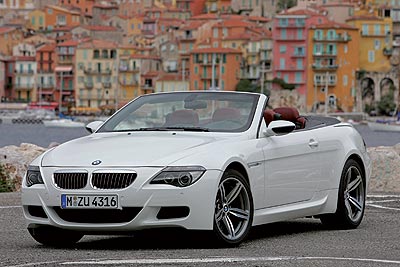 What's inside
The interior of the BMW M6 convertible is proof positive that luxury and performance can co-exist. In addition to M logos and special stitching on the seats, there are white-on-black gauges; an M button on the steering wheel that connects to various engine, suspension, and transmission settings; and an MDrive function within the standard iDrive central-control system. Standard features are plentiful, and include park-aid technology, Bluetooth connectivity, a navigation system, and enrollment in the BMW Assist program, complete with a full day of driver training at the BMW Performance Center in South Carolina. That's where new owners will learn to exploit their new M6 convertible's Electronic Damping Control suspension, specially calibrated stability control system, and oversized cross-drilled brakes.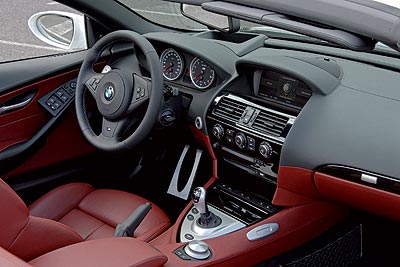 What BMW says
Upon its official debut, BMW noted, "The M6 convertible has all of the performance capabilities of the M6 coupe in addition to the styling cues that clearly identify this car as the work of BMW M," including a front air dam and rear diffuser. Those functional design elements are coupled "with the elegance and functionality of the 6 Series Convertible – the luxurious 2+2 seating, the generous trunk (12.4 cubic feet) and the multi-layer (3) soft top. This rare combination will provide the open-air enthusiast with one of the most unique driving experiences on the road."
Photos courtesy of BMW