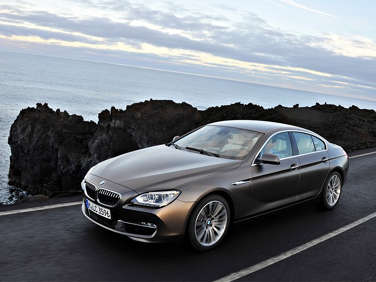 BMW is joining the full-size four-door "coupe" club with the all-new BMW 6 Series Gran Coupe. The styling trend, which was kicked off by the Mercedes-Benz CLS-Class in 2004 aimed at upscale luxury buyers who need the convenience of four doors but who would prefer the sweeping, plunging roofline of a traditional two-door coupe.
The 2013 BMW 6 Series Gran Coupe continues the German brand's plan to scoop up as much market share as possible by manufacturing a vehicle intended for every conceivable niche. The BMW 6 Series Gran Coupe shares its shark-like snout with the recently redesigned 6 Series coupe and convertible, but from the front fenders back its unique sheet metal has no analog in the current BMW lineup. A family resemblance exists between the 2013 BMW 6 Series Gran Coupe and the automaker's other large sedans, including the BMW 7 Series and BMW 5 Series, but this familiarity is expressed primarily through horizontal creases and other subtle styling cues. Even the vehicle's short rear deck and trunk are more reminiscent of its coupe namesake than any current BMW sedan.
The BMW 6 Series Gran Coupe rides on a stretched version of the 6 Series coupe platform, offering an additional 4.4-inches of length and more generous accommodations for rear passengers thanks to its 4.5-inch wheelbase extension. The 6 Series Gran Coupe, which is longer and lower than the 5 Series sedan, is marketed as a four-seat, four-door coupe with the ability to seat a fifth passenger in the middle rear position over short distances. The vehicle comes with a full complement of high end driving technologies including iDrive, a full-color head-up display and safety gear such as night vision, blind spot detection and a lane departure warning system.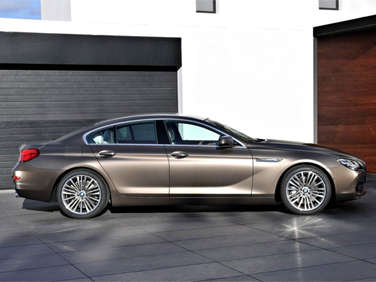 The Gran Coupe's handling is enhanced through the availability of features such as active roll stabilization and integral active steering, with the latter offering four-wheel steering for improved cornering. SPORT and SPORT+ dynamic driving modes are also on tap in order to sharpen throttle response, back off the electronic nannies and adjust shift points and suspension tuning in order to accommodate more aggressive driving. Should buyers wish to advertise the sporty character of the automobile the BMW 6 Series Gran Coupe can be ordered with the M Sport package, which not only dresses up its exterior with a performance-inspired body kit and 19-inch M wheels but also adds leather sport seats and a special steering wheel to the vehicle's passenger compartment.
The 2013 BMW 640i Gran Coupe will hit showrooms this summer, offering up 315 horsepower and 330 lb-ft of torque from a turbocharged, 3.0-liter six-cylinder engine. Capable of hitting 60-mph from a standing start in just 5.4 seconds, the 640i Gran Coupe will be paired with an eight-speed automatic transmission and an automatic engine start / stop feature in order to help improve fuel economy. The 640i Gran Coupe will eventually be followed by the GMW 650i Gran Coupe, which swaps in a twin-turbo 4.4-liter V-8 that churns out 445 horsepower and 480 lb-ft of torque. The sprint to 60-mph is accomplished almost one second faster in the 650i when compared against the 640i, and BMW's xDrive all-wheel drive system is also available with the V-8 motor in order to not only enhance grip but also knock another tenth of a second off its acceleration time.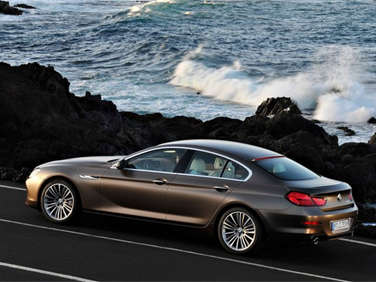 The 2013 BMW 6 Series Gran Coupe arrives on the market at a time when Euro four-door coupes are achieving maximum luxury segment saturation. The BMW 6 Series Gran Coupe is not only up against the previously-mentioned Porsche and Mercedes-Benz offerings, but also vehicles like the Audi A7. A more affordable four-door coupe can additionally be found in the form of the redesigned Volkswagen CC. BMW will undoubtedly accentuate the engaging driving experience associated with its automobiles in order to differentiate the 640i Gran Coupe and 650i Gran Coupe from its competitors, but it will be interesting to see how many enthusiasts choose the extended-wheelbase 6 Series "coupe" over the well-received Porsche Panamera which has already demonstrated exceptional performance for a four-door automobile.