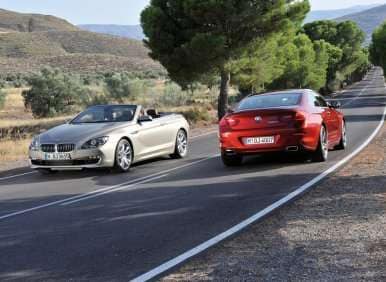 Behind each and every full-size luxury flagship on the market there lurks its little brother - the more affordable, yet in many cases almost as impressive mid-size coupe. The premium market is rife with these kinds of family connections, lineups that feature such competent options that really the only questions that need to be asked when pulling out your wallet is how much of a driver's car are you looking for, and how decadent do you need your high end features to be?
Let's take a closer look at four little brothers and their big brother luxury siblings.
1. 2012 Jaguar XK
The 2012 Jaguar XK is clearly aimed at fans of traditional grand touring automobiles, those comfortable yet capable coupes that can eat up the miles with ease while still offering exceptional performance when the loud pedal is pushed to the floor. The Jaguar XK's passenger compartment is elegantly turned out with top-grade leather upholstery, a navigation system, a full range of power equipment and the availability of safety features such as adaptive cruise control. It can also be ordered in the XKR sport model, which comes with a stiffer suspension system, a more aggressive-looking aero package and bigger brakes.
The 2012 Jaguar XK starts out with a 5.0-liter V-8 under the hood that is good for a substantial 385 horsepower and 380 lb-ft of torque. The XKR upgrades to a supercharged version of the same engine that offers up 510 horses and 461 lb-ft of torque. Both motors are matched with a six-speed automatic transmission, and the XKR can hit 60-mph from a standing start in just 4.5 seconds.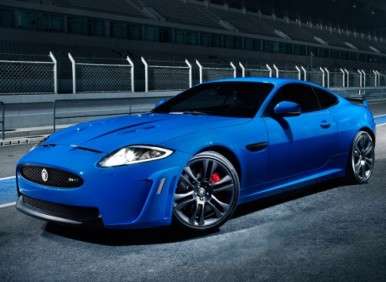 2. 2012 Jaguar XJ
The 2012 Jaguar XJ certainly looks far more modern than its predecessors on the outside, and underneath its metal skin the vehicle's aluminum chassis and advanced suspension system are also definitely 21st century-grade. Inside, however, the Jaguar XJ (which can also be had in the XJL extended-wheelbase edition) brings one back to the glory days of British luxury. Almost every conceivable amenity has been considered for the Jaguar's equipment list, including such niceties as flip-down trays for rear passengers and a massage feature for the vehicle's heated and ventilated leather seats.
The 2012 Jaguar XJ shares its base engine with the XK, also benefiting from the 5.0-liter eight-cylinder unit's 385 horsepower and 380 lb-ft of torque. The Supercharged model offers up 470 ponies and 424 lb-ft of twist thanks to the judicious application of a blower, while the Supersport steals the XKR's more aggressive supercharger tuning in order to match its 510 horsepower and 461 lb-ft of torque. Six-speed automatic transmission are standard all around.
3. 2012 BMW 6 Series
The 2012 BMW 6 Series coupe has been completely redesigned for the current model year, and the stylists scalpel has worked hard to reveal a more svelte look for the large two-door automobile. The BMW 6 Series manages to remain surprisingly nimble for a two-ton automobile, and it offers an impressive list of high tech features including active roll stabilization, an active steering system, night vision and a head-up display.
The 2012 BMW 6 Series coupe is initially offered with a twin-turbo, 3.0-liter inline six-cylinder engine that puts out 315 horsepower and 332 lb-ft of torque. The 650i provides an upgrade in the form of a 4.4-liter, twin-turbo V-8 engine that churns out 400 horsepower and 450 lb-ft of torque, allowing it to sprint to 60-mph in a brief 4.9 seconds. All-wheel drive is available with the more potent 6 Series, as is the choice of either an eight-speed automatic transmission or a traditional six-speed manual. The base 6 Series is restricted to the auto tranny.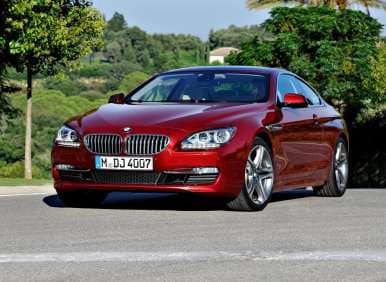 4. 2012 BMW 7 Series
The 2012 BMW 7 Series sits at the pinnacle of the German automaker's lineup, and it does a solid job of combining reasonably engaging driving dynamics with the mission to provide the utmost in comfort to all vehicle occupants. Like most models in its class the BMW 7 Series can be had in standard and long-wheelbase models, and it also makes available an incredible list of premium features including cutting edge safety equipment, heated and ventilated leather seats, a heated steering wheel and a camera system that can provide a complete video representation of the environment immediately surrounding the car.
The 2012 BMW 7 Series matches the BMW 6 Series in terms of its first two engine options: a 315 horsepower, 3.0-liter inline six-cylinder and a 4.4-liter, 400 horsepower V-8, both of which are turbocharged. The range-topping BMW 760Li comes with a twin-turbo V-12 that squeezes a staggering 535 horsepower and 550 lb-ft of torque from its 6.0-liters of displacement. Six-speed transmissions are standard for the six and eight-cylinder editions of the 7 Series (with the latter also available with all-wheel drive), while the 760Li gains an eight-speed auto.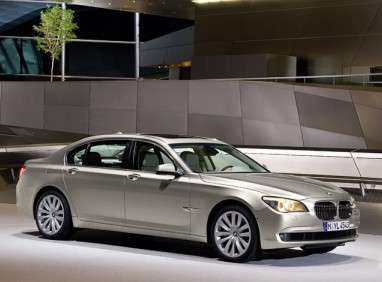 5. 2012 Audi A5
The 2012 Audi A5 has gained a reputation as one of the most attractive luxury coupe designs on the market - both inside and out. The Audi A5 is somewhat smaller than the other touring cars on this list, but it does provide an impressive amount of road holding ability when ordered with the Audi Drive Select system, which includes an adaptive suspension system as well as the ability for owners to fine tune several aspects of the automobile in order to match road conditions and the desired level of performance,
The 2012 Audi A5 comes with a 2.0-liter, four-cylinder engine that is turbocharged to provide 211 horsepower and 258 lb0-ft of torque. Transmission choices include either a six-speed manual or an eight-speed automatic gearbox, and quattro all-wheel drive is listed as standard equipment. 60-mph arrives in a respectable 6.3 seconds with the self-shifter installed in the A5.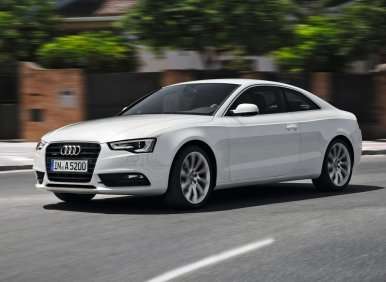 6. 2012 Audi A8
The 2012 Audi A8 is an interesting alternative to the standard 'BMW or Mercedes-Benz' question faced by those shopping for a top-tier Teutonic sedan. The full-size Audi A8 is sure-footed handler thanks to an aluminum chassis, standard quattro all-wheel drive and the availability of a torque-vectoring rear differential which can give the automobile an almost rear-wheel drive pivot without sacrificing all-wheel drive traction. This is of course on top of features such as night vision with pedestrian detection, stop-and-go adaptive cruise control and the integration of Google Earth with the vehicle's navigation system.
The 2012 Audi A8 standard and long-wheelbase models both start out with a 4.2-liter V-8 engine that develops a respectable 372 horsepower and 328 lb-ft of torque. The A8 L long-wheelbase model gains the extra option of a 500 pony, 12-cylinder mill that also produces 463 lb-ft of torque. An eight-speed automatic transmission handles the gear shifts for both power plants.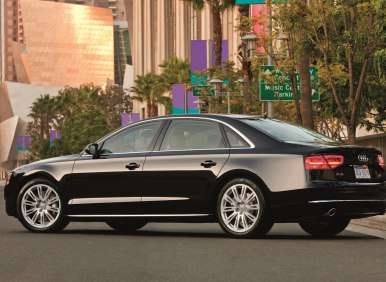 7. 2012 Mercedes-Benz E-Class Coupe
The 2012 Mercedes-Benz E-Class Coupe is a touring two-door that emphasizes comfort over pure performance. The Mercedes-Benz E-Class Coupe also offers the automaker's classy and restrained styling, which makes it the GT of choice for buyers interested in avoiding the flash of the 6 Series or the XK. The Coupe can be equipped with features such as heated leather seats, a navigation system, a lane departure warning system and adaptive cruise control, as well as paddle shifters for the vehicle's automatic transmission.
The 2012 Mercedes-Benz E-Class Coupe provides the choice between V-6 and V-8 power. The former is represented by a 3.5-liter unit that pushes out 302 horsepower and 273 lb-ft of torque, while the latter takes the form of a twin-turbo, 4.7-liter engine that is good for 402 horses and 443 lb-ft of torque. A seven-speed auto tranny helps to ensure that the V-8 edition of the Coupe is capable of reaching 60-mph in 5 seconds.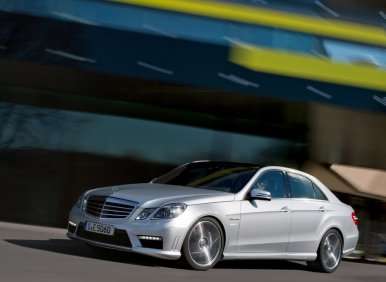 8. 2012 Mercedes-Benz S-Class
The 2012 Mercedes-Benz S-Class is an iconic fixture on the full-size luxury scene, and the automobile's long list of configurations, options and drivetrains make it one of the more versatile choices within its segment. The Mercedes-Benz S-Class, when fully decked out, includes equipment like four zones of automatic climate control, heated and ventilated seats front and back, night vision, a lane departure warning system, a full leather interior and front massaging seats.
The 2012 Mercedes-Benz S-Class can be had with a diesel engine (a 240 horsepower, 3.0-liter turbocharged V-6 that also offers 455 lb-ft of torque), a twin-turbo 4.7-liter V-8 that surpasses the E-Class Coupe's specifications (429 horsepower, 516 lb-ft of torque) and even a twin-turbo V-12 (510 ponies and 612 lb-ft of twist from 5.5-liters of displacement). All-wheel drive is standard with the diesel mill and optional on the V-8, while a seven-speed automatic transmission is found with both options. A stout five-speed auto is matched with the V-12.