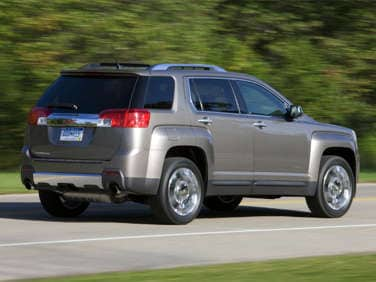 Go big or go home isn't always the best advice to take when choosing which luxury SUV would be the best fit for your particular lifestyle and driving needs. There's a long list of competent compact and full-size premium sport-utility vehicles out there, with bigger not necessarily equaling better when it comes to capability. Whether you need the maneuverability of a shorter wheelbase or the cavernous interior storage and stout towing capacity of a full-on truck-based vehicle, there are enough options on the market to give you plenty to test drive before making your final decision.
Let's take a look at five compact luxury SUVs and five of their premium big brothers.
01. 2011 GMC Terrain
The 2011 GMC Terrain is a five-passenger compact SUV that features the availability of items such as a navigation system that responds to voice commands, heated leather seats, parking assist and a sunroof. The GMC Terrain is also capable of handling up to 63.7 cubic feet of cargo behind the front row.
Two engine choices can be had with the 2011 GMC Terrain. The base motor is a 2.4-liter, 182 horsepower four-cylinder unit that also generates 172 lb-ft of torque and offers a fuel economy rating of 22-mpg city and 32-mpg highway. Moving up to the Terrain's optional 3.0-liter V-6 nets drivers 264 horsepower and 222 lb-ft of torque, although fuel mileage for this motor drops to 17-mpg around town and 25-mpg on the highway. A six-speed automatic transmission is standard with each engine, and all-wheel drive can also be ordered with the SUV.
02. 2011 Lexus LX 570
The 2011 Lexus LX 570 straddles both the luxury and off-road worlds thanks to the fact that it shares its platform with the extremely capable Toyota Land Cruiser. In addition to its long list of comfort features and high tech systems (including a heated steering wheel, heated and ventilated leather seats and adaptive cruise control), the Lexus LX 570 also features a height-adjustable suspension system and a rugged full-time four-wheel drive system. The full-size SUV is also capable of seating seven passengers across three rows, and can swallow up to 83 cubic feet of gear.
The 2011 Lexus LX 570 is exclusively motivated by a 5.7-liter V-8 engine that churns out 383 horsepower and 403 lb-ft of torque, managed by a six-speed automatic transmission. Fuel mileage for the big sport-utility vehicle checks in at 12-mpg city and 18-mpg highway, and the LX can also tow up to 8,500 lbs.
03. 2011 Infiniti EX35
Some might call the 2011 Infiniti EX35 a "tall wagon", but the Japanese luxury brand insists that this vehicle be classified as a compact SUV. Indeed, the Infiniti EX35's comfortable passenger compartment (which can handle up to five adults and just under 50 cubic feet of total cargo room) makes it a practical daily driver, and those behind the wheel will also appreciate its responsive chassis and exceptional handling - two unusual attributes in the crossover suv segment.
The 2011 Infiniti EX35 benefits from the installation of a 3.5-liter V-6 engine that is good for a healthy 297 horsepower and 253 lb-ft of torque. Rear-wheel drive is standard, but all-wheel drive can be added as an option, with either configuration featuring a seven-speed automatic transmission as its only available gearbox. Fuel mileage for the EX35 shows as 17-mpg in stop and go driving and 24-mpg on the highway.
04. 2011 Cadillac Escalade
The 2011 Cadillac Escalade is a big, brutal slab of an SUV, an enormous luxury model that overwhelms in terms of passenger room (up to eight), cargo space (as much as 108.9) and sheer presence. Inside, the Cadillac Escalade manages to impress with an extensive range of available premium features, including a DVD entertainment system for those riding out back, three zones of automatic climate control, an active suspension system and a full leather interior.
All versions of the 2011 Cadillac Escalade come with a 403 horsepower, 6.2-liter V08 engine. Also capable of generating 417 lb-ft of torque, this unit's output is managed by a six-speed automatic transmission that sends power to the rear or all four wheels (if all-wheel drive is selected as an option). Fuel mileage for the heavy SUV is rated at 14-mpg in city driving and 18-mpg during highway cruising.
05. 2011 BMW X3
Completely redesigned for the current model year, the 2011 BMW X3 is a bit larger in almost every dimension than it used to be but it still fits snugly in the compact luxury SUV category. The five-passenger BMW X3 can carry up to 63.3 cubic feet of luggage with the rear row folded forward, and it also offers a very sedan-like driving experience thanks to the fact that it shares much of its platform with the respected BMW 3 Series automobile.
The 2011 BMW X3 offers the choice between a pair of 3.0-liter, inline six-cylinder engines. The first is a naturally-aspirated mill that generates 240 horsepower and 221 lb-ft of torque, while the second is turbocharged to produce 300 horses and 300 lb-ft of twist. All-wheel drive is standard across the board - as is an eight-speed automatic transmission - and fuel mileage for the two motors is remarkably similar, with the turbocharged six-cylinder squeaking out one extra highway mile per gallon (19-mpg city, 26-mpg highway).
06. 2011 Audi Q7
The 2011 Audi Q7 can be thought of as a hybrid between full-size domestic SUVs and their more driver-oriented European cousins. The Audi Q7 is definitely imposing, and it can handle as many as seven passengers, tow up to 6,600 lbs and transport as much as 72.5 cubic feet of cargo. Its brawny nature is more than balanced out, however, by one of the industry's best-appointed interiors as well as a smooth driving experience that makes it a viable sedan replacement.
The 2011 Audi Q7 starts out with a supercharged 3.0-liter V-6 under the hood that produces 272 horsepower and 295 lb-ft of torque. A more robust version of this power plant is additionally available, and it pushes out 333 horses and 325 lb-ft of torque. Fuel economy for either of these similar engines checks in at 16-mpg city and 22-mpg highway. A turbodiesel edition of the Q7 is also in the cards, and it comes with a turbocharged 3.0-liter motor that is good for 225 horsepower and a substantial 405 lb-ft of torque. Fuel economy for the diesel unit is reported as 17-mpg city and 25-mpg highway. All three engines are bundled with Audi's quattro all-wheel drive, and each is shifted through an eight-speed automatic gearbox.
07. 2011 Mercedes-Benz GLK
The 2011 Mercedes-Benz GLK is the most affordable SUV available from the Stuttgart-based automaker, but that doesn't mean it skimps on luxury. The Mercedes-Benz GLK can be had with panoramic sunroof, a navigation system, heated leather buckets and a surround sound audio system. The SUV also seats five passengers and offers a respectable 54.7 cubic feet of total cargo space with the second row of accommodations out of the picture.
The 2011 Mercedes-Benz GLK is sold with a single engine option, a 3.5-liter V-6 that has been tuned to provide 268 horsepower and 258 lb-ft of torque. Fuel economy for the modest V-6 checks in at 16-mpg in stop and go driving and 21-mpg on the highway when found in rear-wheel drive trim. 4MATIC all-wheel drive can be specified as an option, and a seven-speed automatic transmission handles the shifting duties for the SUV.
08. 2011 Lincoln Navigator
The 2011 Lincoln Navigator provides enormous interior room that ensures maximum comfort no matter which of the three rows passengers are seated in. Able to haul up to eight occupants, the Lincoln Navigator also comes with 128 cubic feet of total cargo space and a stunning 9,000 lb towing capacity. This is of course in addition to features such as high end leather seats, the Sync vehicle interface and a navigation system.
The 2011 Lincoln Navigator's single engine option is a 5.4-liter V-8 that acquits itself well with a rating of 310 horsepower and 365 lb-ft of torque. Four-wheel drive provides the Navigator with a modicum of off-road capability, while a six-speed automatic helps it achieve fuel mileage figures of 14-mpg city and 20-mpg highway.
09. 2011 Acura RDX
The 2011 Acura RDX is a scrappy handler that provides considerable enjoyment when pushed hard through the corners. This is especially true when the premium Acura RDX crossover SUV is ordered with its optional Super-Handling All-Wheel Drive system, which makes use of torque vectoring to distribute power to the wheels that need it most in order to maintain stability and offer maximum grip while turning. 61 cubic feet of total interior storage space, an intriguing list of high end features accessible through the vehicle's Technology package and seating for five help to round out what the RDX has to offer.
The 2011 Acura RDX's SH-AWD system is put to excellent use by the vehicle's standard turbocharged four-cylinder engine. The 2.4-liter unit puts out 240 horsepower and 260 lb-ft of torque, and a five-speed automatic transmission allows for manual shifting through the use of steering wheel-mounted paddles. Fuel economy for the RDX is advertised as 19-mpg city and 24-mpg highway.
10. 2011 Land Rover Range Rover
The 2011 Land Rover Range Rover is the quintessential merging of traditional SUV capability and modern ultra-luxury. The Land Rover Range Rover can be had with features such as a rear locking differential, an adaptive suspension system and a number of electronic driver's aides designed to make off-road trail-breaking a relatively simple enterprise. The five-passenger vehicle also offers top-shelf premium equipment, including four zones of automatic climate control, leather seats and trim, adaptive cruise control and even a heated windshield, as well as 74 cubic feet of cargo space.
The 2011 Land Rover Range Rover comes standard with a 5.0-liter V-8 engine that generates 375 horsepower 375 lb-ft of torque. An supercharged edition of this impressive power plant is also available, and it grinds out 510 horsepower and 461 lb-ft of torque. Surprisingly, both versions of the Range Rover turn in the same fuel efficiency numbers (12-mpg city and 18-mpg highway). A six-speed automatic transmission is standard, and the SUV can tow up to 7,700 lbs.