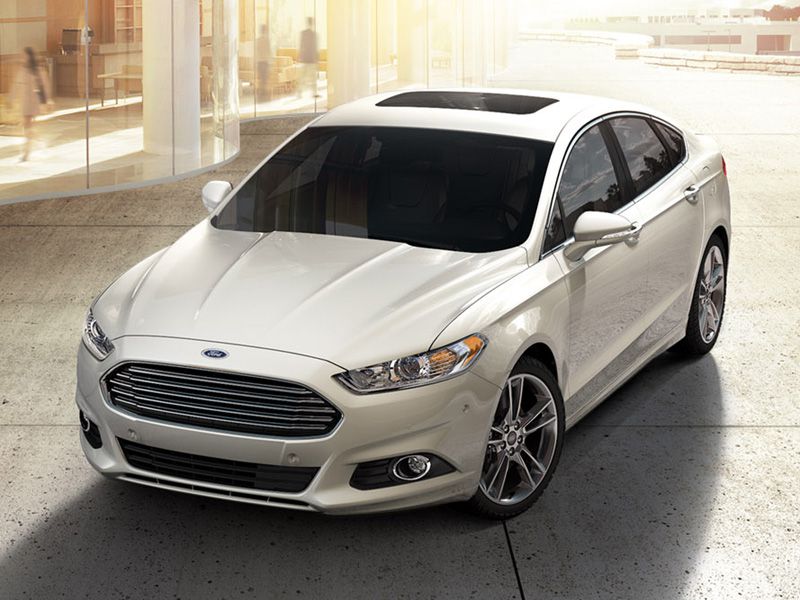 ABTL 2016 Ford Fusion Titanium Photo ・ Photo by Ford
Even if you live in an area of the country that sees a heavy dumping of snow and ice each winter, it's not necessary to ride out the frigid temperatures behind the wheel of a crossover or an SUV. There are a number of passenger cars out there that offer the all-wheel drive traction and winter credibility needed to brave the elements and emerge unscathed in the spring  Not only are all-wheel drive cars easier to maneuver than SUVs, they are also typically more comfortable and more fuel efficient, which makes them well worth investigating. Let's take a look at 10 of the best winter cars currently available on the market.
1) 2016 Subaru Impreza
The 2016 Subaru Impreza is in a long line of compact sedan and hatchback efforts from the Japanese brand that have won over the hearts of those living in the northern United States. The Subaru Impreza hatchback kicks in a very usable amount of cargo space, and both body styles come with the standard all-wheel drive that has become a Subaru trademark. A 148-horsepower, 2.0-liter four-cylinder is the only engine offered with the Impreza, and when equipped with its optional continuously variable automatic transmission, the vehicle delivers fuel mileage of 28 mpg city and 37 mpg highway. A five-speed manual is also available with the Subaru.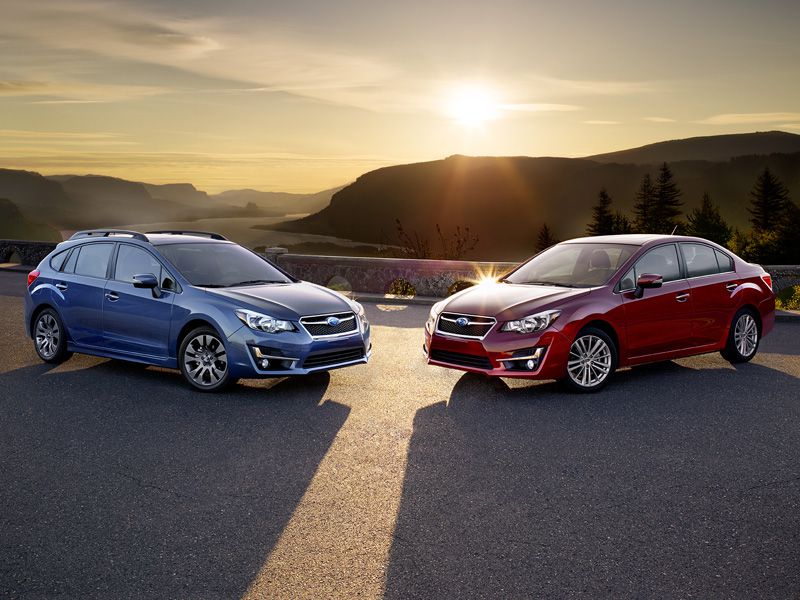 2) 2016 Ford Fusion
The 2016 Ford Fusion is an ultra-stylish take on the mid-size family sedan concept, offering not just striking exterior looks but also a passenger compartment that is head and shoulders above that of the previous-generation Fusion in terms of quality. All-wheel drive is available when ordering the top-tier Titanium trim level of the Ford Fusion, which comes with a 2.0-liter, turbocharged EcoBoost four-cylinder engine. This unit, which is rated at 231 horsepower and 270 lb-ft of torque, provides respectable fuel economy of 22 mpg in stop and go driving and 31 mpg on the highway. A six-speed automatic transmission is the sole gearbox available with the 2.0-liter engine, which is also the most powerful engine available with the sedan.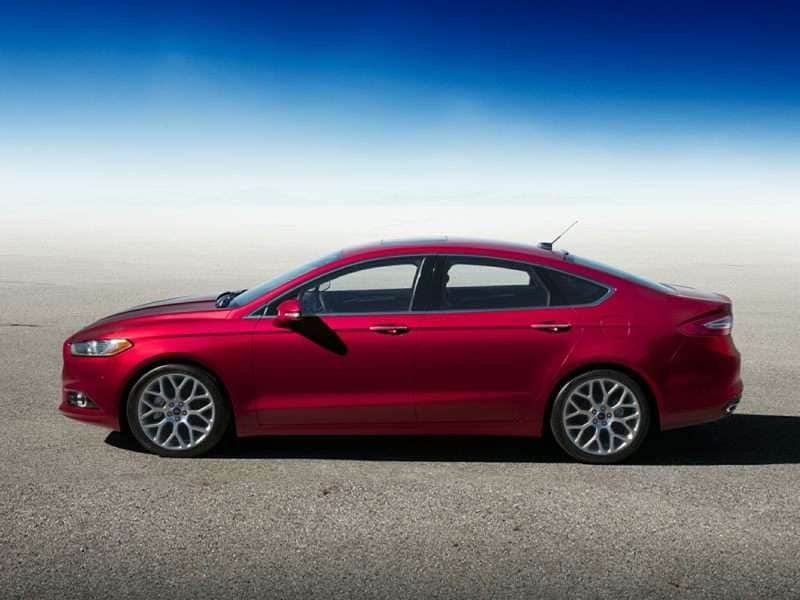 3) 2016 Jaguar XF
The 2016 Jaguar XF, totally redesigned for this year, is offering something unusual to fans of luxury performance sedans: an all-wheel drive system. The Jaguar XF AWD is motivated exclusively by a supercharged V-6 engine, one which displaces 3.0 liters and which provides 380 horsepower. The all-wheel drive system provided with the XF (which is shifted via an eight-speed automatic transmission) comes with a Winter Mode that automatically pre-loads the front axles when pulling of the line, but when left to its own devices,100 percent of engine torque is shuttled to the rear wheels in order to preserve the automobile's impressive handling dynamics during the summer months.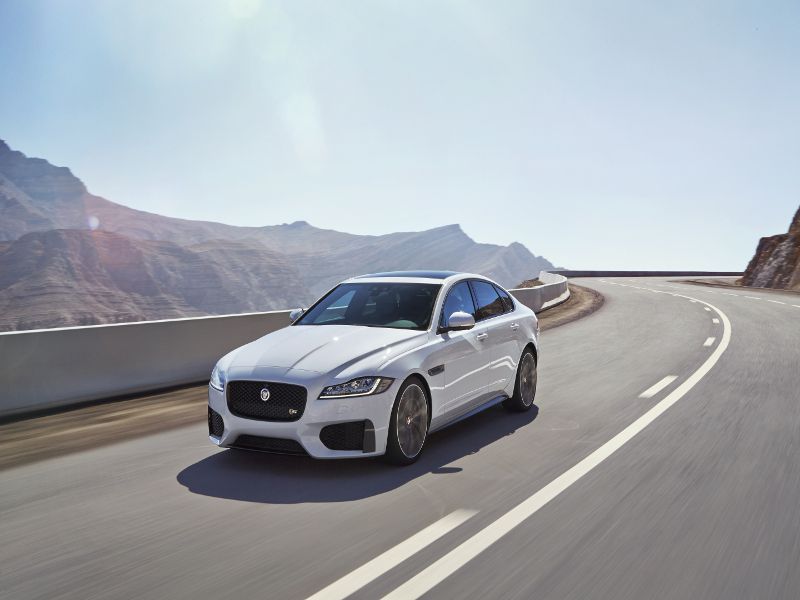 4) 2016 Dodge Charger
The 2016 Dodge Charger is a full-size American sedan that provides all-wheel drive availability across the board. This means that it's possible to order either the base 292-horsepower, 3.6-liter V-6 and the Charger's fire-breathing 5.7-liter Hemi V-8 (that generates 370 horsepower and 395 lb-ft of torque) and benefit from the added traction that all-wheel drive brings to the table. Both are mated to an eight-speed automatic that help the V-6 turn in the best fuel mileage of the pair: 19 mpg around town and 31 mpg on the highway. The Dodge Charger's aggressive looks and muscle car reputation help to set it apart from other family fare on this list.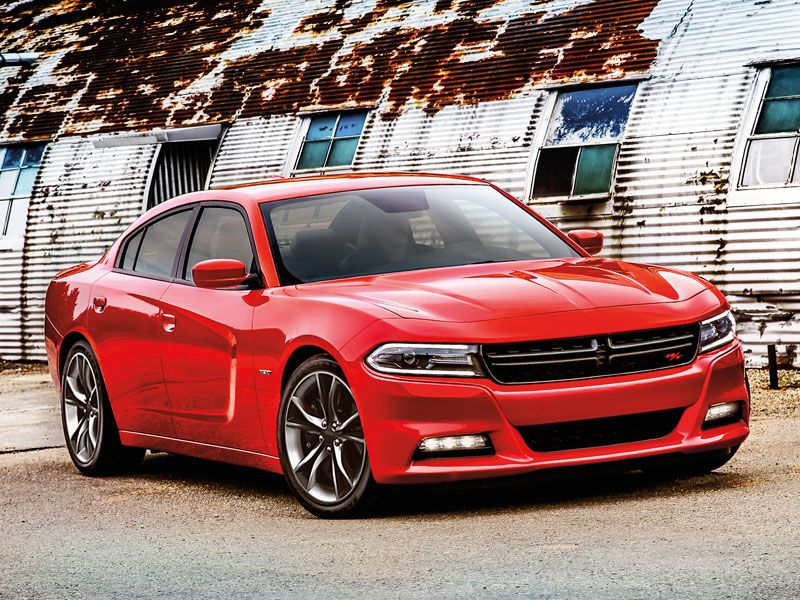 Photo by FCA Media
5) 2016 Mitsubishi Lancer
The 2016 Mitsubishi Lancer is a versatile four-door compact option, and in addition to its value-oriented entry-level model, it is also available with all-wheel drive as long as you're willing to splurge for the optional drivetrains. The Lancer's 2.4-liter four-cylinder engine produces 168 horsepower and 167 lb-ft of torque, and comes paired to a five-speed manual or a continuously variable automatic transmission. Fuel economy for an all-wheel drive Lancer equipped with the CVT checks in at 23 mpg city, 31 mpg highway.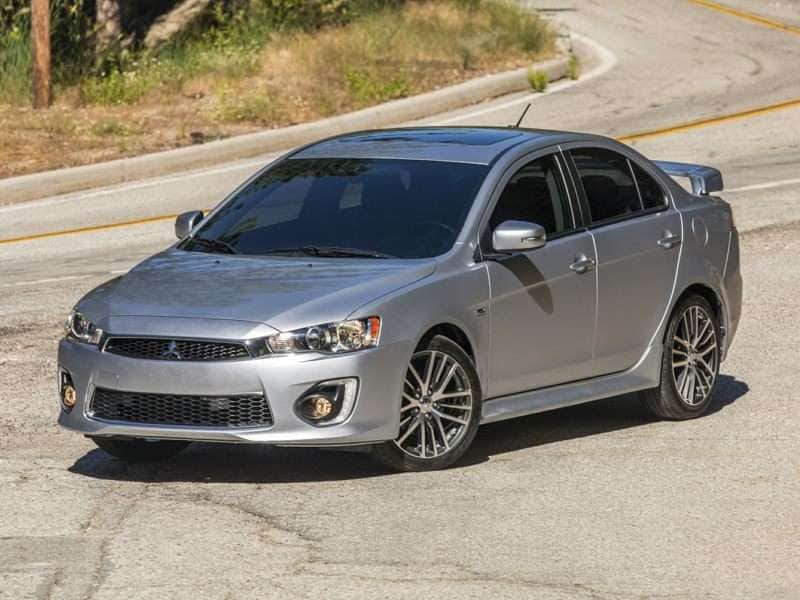 Photo by Mitsubishi Motors North America
6) 2016 Volkswagen CC
The 2016 Volkswagen CC provides mid-size Euro shoppers with a dramatically-sloping rear roofline that is intended to give the vehicle the "four-door coupe" look that has blossomed in popularity over the past several years. Selecting the most expensive version of the Volkswagen CC - the VR6 4MOTION Executive model - doesn't just bring with it all-wheel drive, but it also installs a 280-horsepower, 3.6-liter six-cylinder engine that is managed by a six-speed automatic transmission. The CC's extra ponies give it lively acceleration, and the V-6 puts up 17 mpg in city driving and 25 mpg on the highway.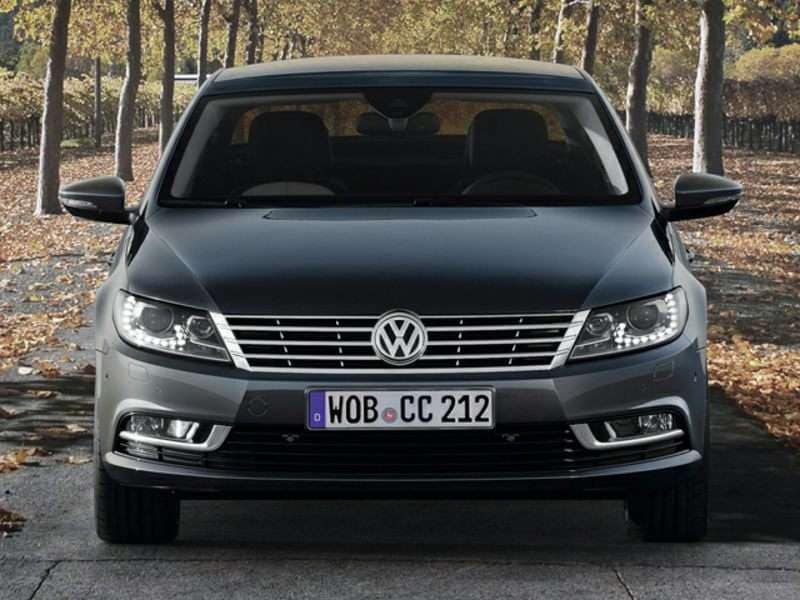 7) 2016 Subaru Legacy
Subaru's second entry on this list is the 2016 Legacy, a larger sedan than the Impreza that comes with more traditional styling, a spacious interior, and a smooth, comfortable ride. The Subaru Legacy features all-wheel drive as standard regardless of whether it is found in four- or six-cylinder form. The entry-level engine offers up 175 horses from 2.5 liters, while the more robust 3.6-liter six-cylinder puts down 256 ponies and 247 lb-ft of twist. A surprising number of trim levels are available with the Legacy, but only two transmissions can be ordered with the car: a six-speed manual (four-cylinder) and a continuously variable automatic (either motor). The CVT helps the four-cylinder provide fuel mileage of 26 mpg in stop-and-go driving and 36 mpg on the highway.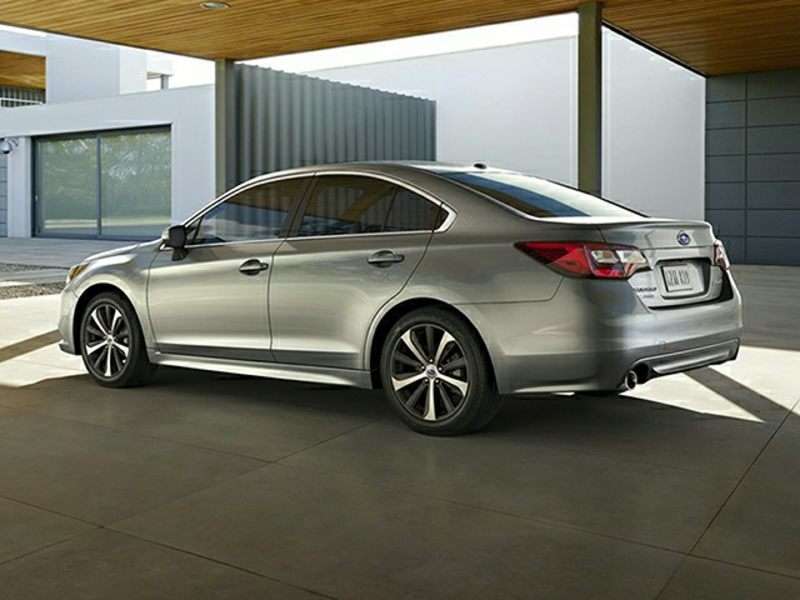 Photo by Subaru Media
8) 2016 Ford Taurus
The 2016 Ford Taurus presents two very different all-wheel drive personalities for those seeking a winter ride. The full-size Ford Taurus can be had with its base 288-horsepower, 3.5-liter engine and optional all-wheel drive, or it can be kitted out with a startlingly quick twin-turbo version of this same motor that produces 365 horses and 350 lb-ft of torque (under the hood of the Taurus SHO). Both engines come with a six-speed automatic transmission, but the best news for performance-hungry shoppers is that the SHO model's fuel economy - 17 mpg city and 25 mpg highway - is only one mile per gallon lower than that offered by the entry-level mill.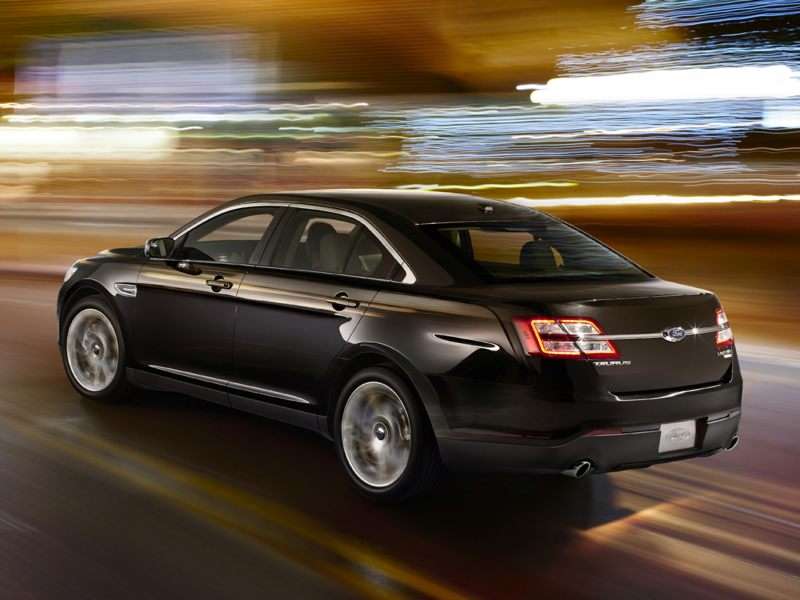 Photo by Ford
9) 2016 Chrysler 300
The 2016 Chrysler 300 rides on the same platform as the previously-discussed Dodge Charger, and it also shares the same drivetrains and similar fuel economy figures. This means that the Chrysler 300 benefits from the choice between a 292-horsepower, 3.6-liter V-6 and a 363-horsepower 5.7-liter V-8, each of which is available with all-wheel drive. Why opt for the 300 over the Charger? The Chrysler is much more luxury-oriented, which can be seen not only in its somewhat conservative exterior styling but also in its elegant interior, which is as large as that offered by Dodge but trimmed out with higher quality materials.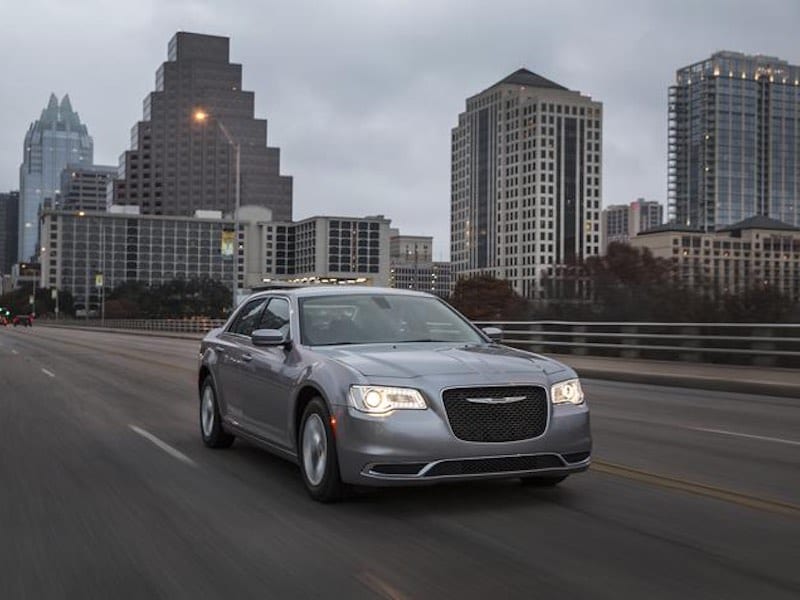 10) 2016 Volvo S60
The 2016 Volvo S60, a five-passenger luxury sedan, offers plenty of people-pleasing options. There's a strong list of available engines and plenty of available equipment on order. The base model S60 comes standard with front-wheel drive, but Volvo's all-wheel drive system is one of the brand's biggest strengths and helps make the vehicle a strong performer in all kinds of weather. All-wheel drive can be paired with with the S60's available turbo five-cylinder or six-cylinder engines, both of which are matched to a six-speed automatic transmission that helps maximize fuel mileage. The S60 also offers up Volvo's extensive list of standard and optional active safety systems.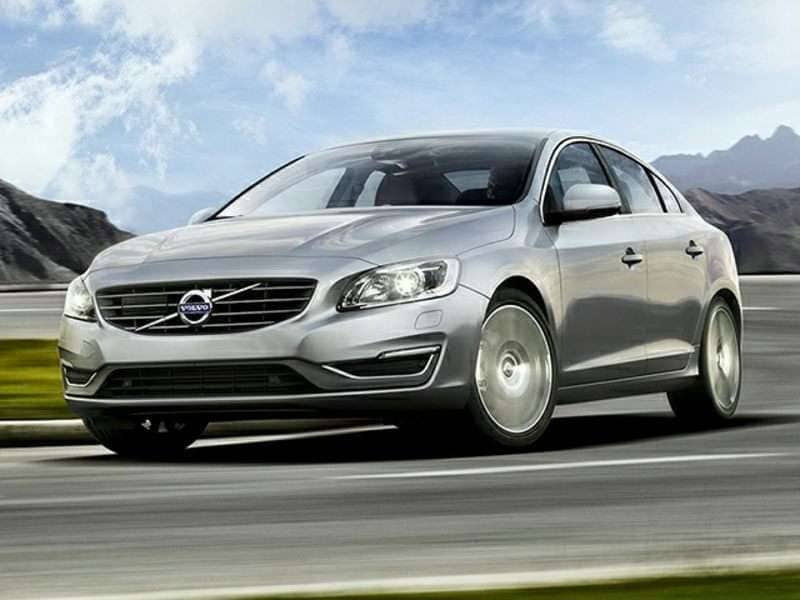 Photo by Volvo Cars