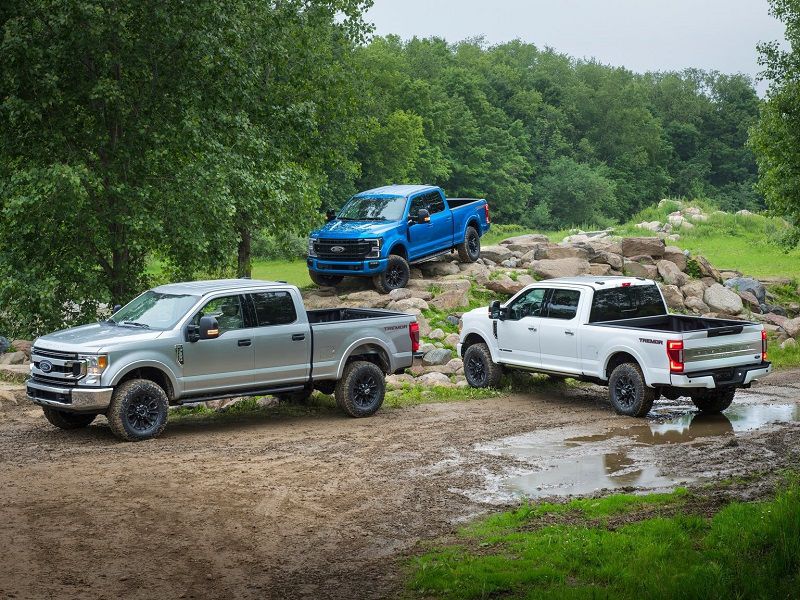 2020 Ford Super Duty Tremor ・ Photo by Ford
Most families of six are going to opt for an SUV or a minivan so they can spread out among three rows of seats. But those are not the only options. If you choose a pickup truck with a front bench seat, you can squeeze everyone inside: three in the front, three in the back, and all your stuff in the bed or a trailer. 
Every full-size pickup today — including half-ton models and heavier-duty trucks — is available with a front bench seat, at least on certain trim levels. You won't find the option on modern mid-size trucks, but some of those would already be a tight squeeze for a family of five, much less six. Big pickups not only have more room and more capability, but each available model has other notable pros and cons as well. Let's discuss the six best trucks for a family of six, which we have listed alphabetically.
1. 2021 Chevrolet Silverado
The Chevrolet Silverado isn't the fanciest truck on the market. Some critics have blasted the Silverado for its interior decor, ride quality, crash-test scores, technology, and spec-sheet performance. And it's true that you can indeed find a competitor that does better in each of those areas — just not all simultaneously. This is a well-rounded truck overall, and a solid choice for a family of six. 
Both the Silverado's half-ton and heavy-duty versions are available with roomy bench seats, and even the extended-cab models have decent space in the back. What's more, if you're interested in a higher-end experience, a newly revealed 2022 Silverado introduces an all-new interior and the option for GM's hands-free-driving Super Cruise system.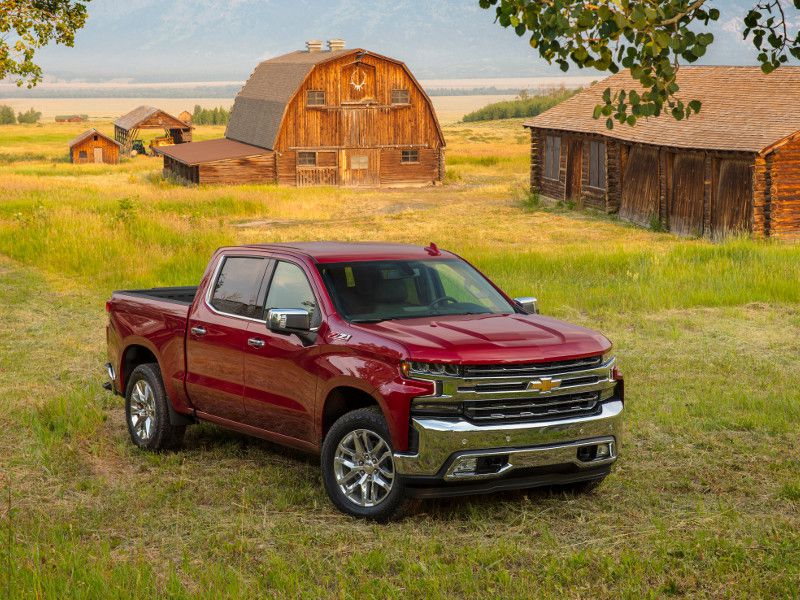 Photo by Chevrolet
2. 2021 Ford F-Series
The Ford F-Series is the best-selling pickup — or any type of vehicle — on the market today. And it's available with a front bench seat either in the half-ton F-150 model or its Super Duty line of bigger, more capable trucks. 
With lightweight aluminum body panels and advanced turbocharged engines, the F-150 has taken bold risks to improve its fuel efficiency. There's also a gas-electric PowerBoost hybrid model, which is the most economical pickup available in stop-and-go driving. It can also serve as a generator to power your house during an electricity outage. The F-Series isn't an overwhelmingly luxurious vehicle, but it's a high-tech workhorse with plenty of room for the whole family. A long list of standard safety features is another valuable perk.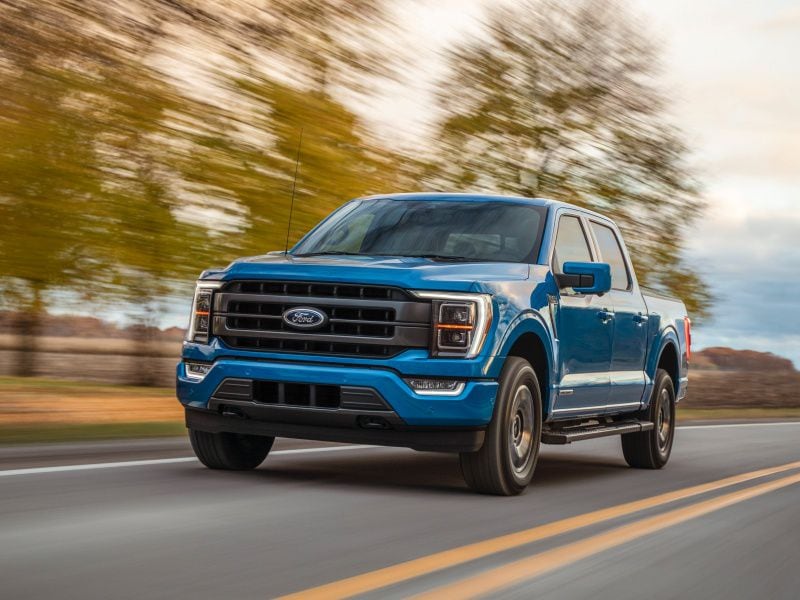 Photo by Ford
3. 2021 GMC Sierra
The GMC Sierra is a mechanical twin to the Chevrolet Silverado, and the two models have similar pros and cons. The main difference is cosmetic: The Silverado has a sportier, more aggressive front end with small pinched headlights, while the Sierra has bigger, blockier headlamps and a more upright, rectangular grille. Like the Silverado, it's available as a half-ton truck as well as an assortment of heavy-duty models. 
The Sierra is also available in GMC's Denali trim level, which is General Motors' closest name to a Cadillac. The Sierra Denali doesn't actually have features you can't find on a top-trim Silverado, but no other high-end trim level has the same name recognition as Denali. And an exclusive extra-chromed grille makes it clear you bought the top-of-the-line model.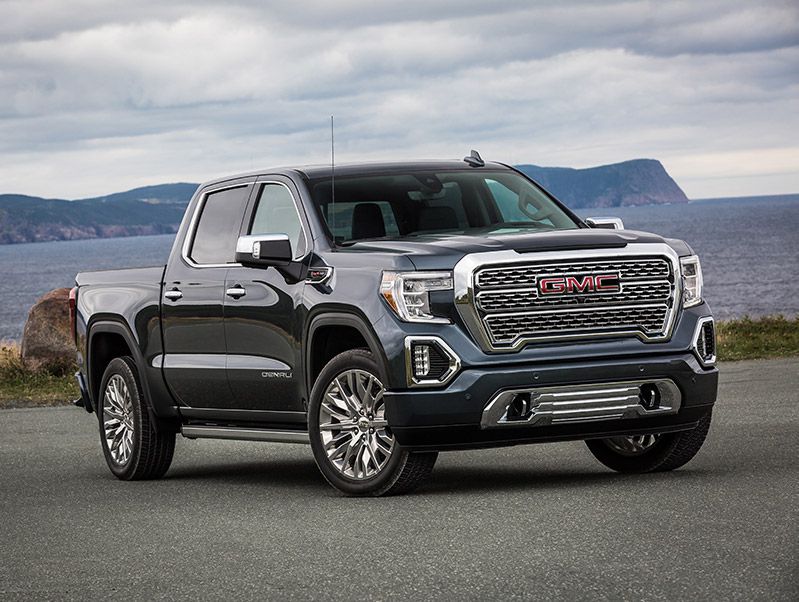 Photo by General Motors
4. 2021 Nissan Titan
The Nissan Titan was once the coolest truck in town, a firebreathing import that roared onto the scene in 2004 with muscular performance and brawny styling. These days, it has faded into anonymity, but it remains a spacious and solidly built truck. 
The Titan doesn't have as many available body styles or engine options as its American rivals, and its spec sheet hasn't kept up with the modern pickup wars. And depending on the options you'd like, it's not even especially inexpensive. We're not surprised that it's the slowest-selling truck in its class. Still, if you find one at a good price, there's nothing fundamentally wrong with the Titan. It'll carry your family of six in safety and comfort, and still handle a decent load of cargo by most standards — even if it can tow less than a Ford F-150 or Chevy Silverado.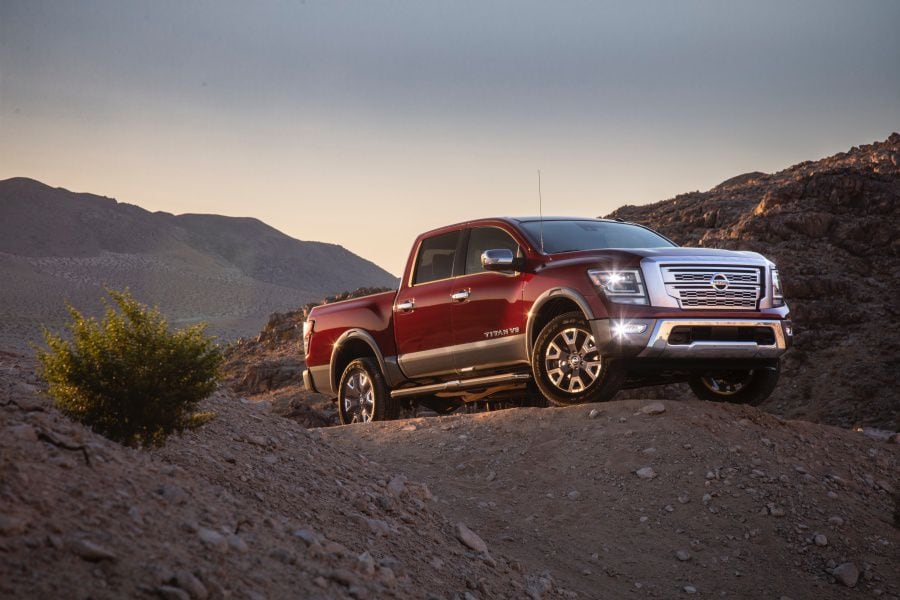 Photo by Nissan
5. 2022 Ram Pickup
The Ram is the most luxurious truck on the market today. Previously known for its powerful "Hemi" V8 engines, the Ram has largely ceded its claim on raucous performance and brash styling in favor of a gentle ride and beautifully detailed cabin. The exception is the recently introduced 702-horsepower Ram TRX, but it doesn't have a bench seat for six-passenger capacity. Our pick is the extra-efficient EcoDiesel V6 anyway, especially for a family car. 
The Ram has fewer standard safety features than some of its competitors, but it did well in crash tests and has plenty of advanced crash-avoidance technology as optional equipment. If you're looking for a quiet, smooth-riding pickup for your family, the Ram stands ready — especially if you choose a high-end model with the available air suspension.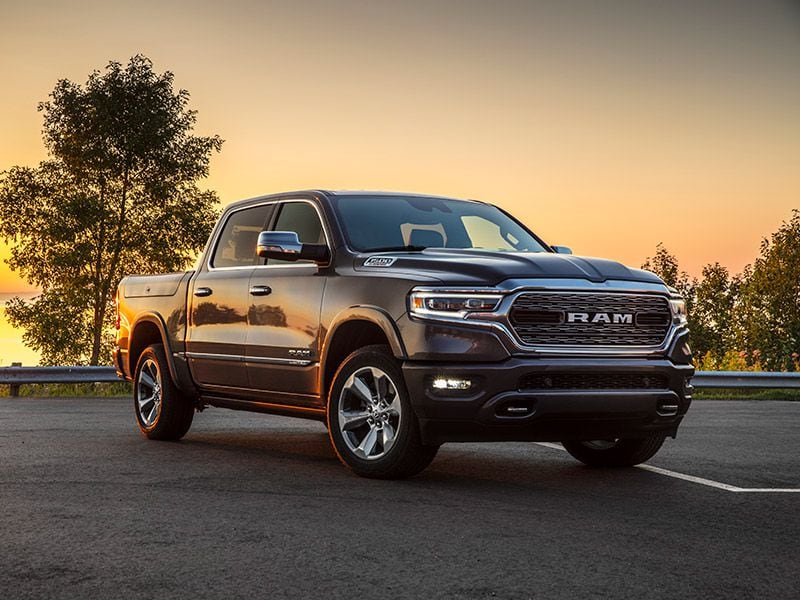 Photo by Fiat Chrysler Automobiles
6. 2021 Toyota Tundra
The 2021 Toyota Tundra is the oldest pickup still on sale today, dating back to 2007 since its last full redesign. The result is a truck with terrible gas mileage and some weak crash-test scores, which may sound like a lousy choice for a family. 
Still, there's a lot to like about the old Tundra — especially if you're on a budget. That's because the Tundra offers a lot of features for the money, including a long list of advanced safety and driver-assistance features like automatic emergency braking, lane-keeping assistance, and adaptive cruise control that are pricey options on many other trucks. A roomy cabin is another valuable pro for a family of six, as long as you don't mind dated decor and a modest 8-inch infotainment screen. However, as we'll discuss on the next page, the current Tundra is in its final months on the market.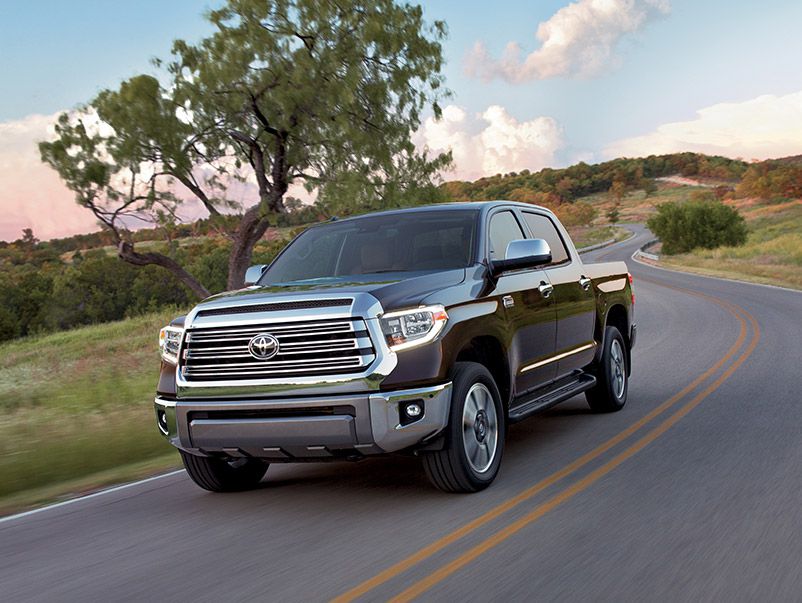 Photo by Toyota
6a. 2022 Toyota Tundra
Toyota recently unveiled a fully redesigned 2022 Tundra, which goes on sale in December 2021. This brashly styled truck ditches its gas-guzzling V8 engine in favor of two more economical V6s: a turbo and a gas-electric hybrid. 
The new Tundra promises a smoother ride along with improved capability and reduced weight — the benefits of a platform developed 15 years later than the outgoing Tundra's. And the new interior has an available 14-inch touchscreen, along with familiar spacious accommodations and an available front bench seat. There are even more standard safety features before, and we'd be shocked if Toyota doesn't turn in top-notch crash-test scores. We don't expect the new Tundra to be cheap, but you'll get what you pay for.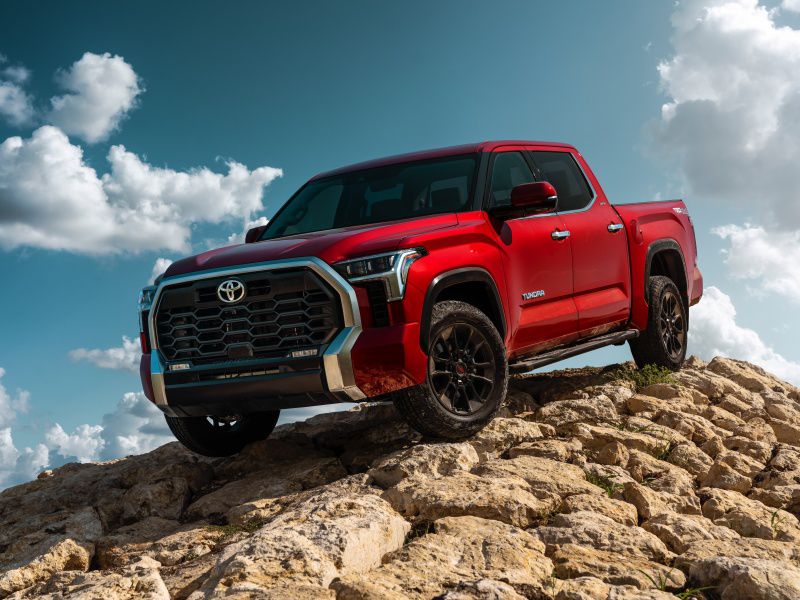 Photo by Toyota