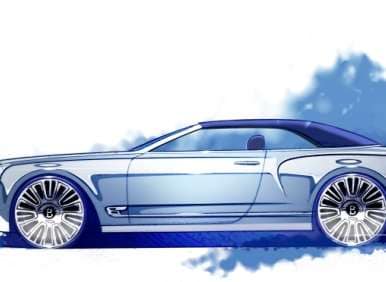 The annual Pebble Beach Concours d'Elegance in California has become a pre-eminent showcase for some of the rarest, fastest, most luxurious and most expensive vehicles in the world—which made it the ideal setting for the debut of the Bentley Mulsanne Vision Convertible Concept. The four-place open-air Bentley was revealed to just a select handful of international journalists at the recent Pebble Beach gathering, but it will no doubt be garnering plenty of publicity in the near future when it joins the Mulsanne lineup as a production model.
Well, truth be told, the party line from the brand is that the Bentley Mulsanne Vision Concept Convertible only provides a "glimpse into the potential future of the marque's flagship family," but the company's chairman and CEO, Wolfgang Dürheimer, was a bit more forthcoming.
"The modern, luxurious, high-tech Mulsanne [sedan] provides a perfect foundation on which to create the world's most elegant convertible," according to Dürheimer. "The Convertible Concept will extend the appeal of the Mulsanne family, while enhancing the profile of the Bentley brand, particularly in new and emerging markets."
Bentley Mulsanne Vision Convertible Concept: In Context
Since breaking away from Rolls-Royce in the late 1990s and becoming a part of the Volkswagen Group, Bentley has been steadily working to recapture its position as pre-eminent purveyor of luxury vehicles. And because VW has taken a relatively "hands-off" approach to ownership, while still providing a much-needed influx of resources, the results have been increasingly impressive. Thus, the current flagship—the Bentley Mulsanne, introduced at Pebble Beach in 2009—is almost 220 inches of handcrafted elegance, wrapped around a twin-turbocharged V8 that makes 505 hp and 752 lb.-ft. of torque. It also makes short work of the ol' 0-60 benchmark by accelerating to a mile a minute in just 5.1 seconds, then reaches 100 mph in 11.5 seconds, and tops out at 184 mph.
But while that may be the starting point for the new convertible concept, the Bentley Mulsanne Vision is more than just the sedan with two fewer doors and a new roof. Designers carefully adjusted the proportions of the vehicle to provide a unified and more aggressive look that's enhanced by particularly strong wheel-arch lines, a much less vertical windshield, a higher waistline and shorter windows. The overall appearance is notably more sinister and dynamic than that of the sedan.
Further details are sketchy, so to speak, but the cockpit is said to deliver an "unrivalled combination of chic, contemporary design, sumptuous materials, painstaking attention to detail and supreme refinement."
As far as when Bentley may begin delivering a Bentley Mulsanne convertible to customers, stay tuned.