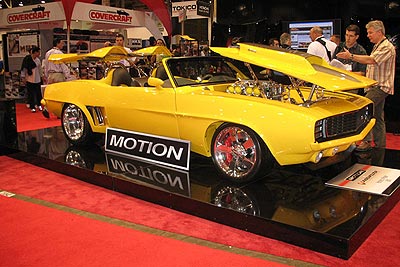 Baldwin Motion SuperSpeedster – Photo Gallery: Las Vegas – While walking through the halls of the 2006 SEMA show, I came across one of the most beautifully executed Camaros built for visual consumption and visceral pleasure. As I snapped photos, a gentleman over my shoulder asked, "So, what do ya think?" "Should be red, but other than that, it's a smokin' ride," I responded. "Ah, resale red, eh? Well, if you have any questions, let me know – I'm the company president," said none other than Joel Ehrenpreis, chief hoo-ha of Baldwin Motion, before going on to describe possibly the most impressive Chevy at this year's show. Phrases like "more than 700 horsepower" and "full tube chassis" rolled off his tongue, as did the price – "about $500,000."
Baldwin Motion SuperSpeedster - Creators
Soon after its initial launch in 1967, the Camaro became a favorite car for modifying. Chevy's famous muscle car is currently on hiatus, so until the newest version arrives, companies like Baldwin Motion are keeping the flame burning with hot iterations of their own, such as the 1969-based SuperSpeedster unveiled at SEMA. Those responsible include Joel Ehrenpreis, Larry Jaworske, Joel Rosen, and Marty Schorr.
Baldwin Motion SuperSpeedster – Phase III
What you see here is one of Baldwin Motion's Phase III Camaros. The basic package starts with a 1969 Chevrolet Camaro donor car (most useful for its original vehicle identification number, or VIN) and a 540 cubic-inch big block V8 engine. Along with that comes Baldwin's promise of superior build and materials quality, which based on a close inspection of the SEMA SuperSpeedster, we can attest to.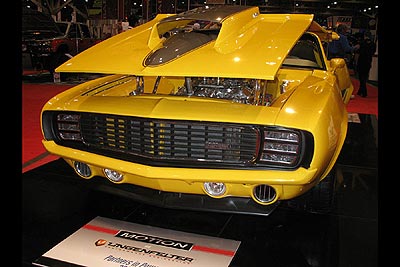 Baldwin Motion SuperSpeedster - Engine
Under the hood of the Baldwin Motion SuperSpeedster showcased by Meguiar's at the 2006 SEMA show in Las Vegas, is a 540 cubic-inch big block V8 engine. In standard Phase III form, the engine pushes 600 horsepower, a figure that would sit just fine with the vast majority of enthusiasts. However, this particular car's buyer wanted something with a bit more punch, so Baldwin tweaked the 540 enough to crank out more than 700 ponies.
Baldwin Motion SuperSpeedster - Transmission
Charged with putting this Baldwin Motion SuperSpeedster's 700+ horsepower to the ground is a Tremec five-speed manual transmission, which is controlled by the driver via a drilled shift lever and cue-ball knob.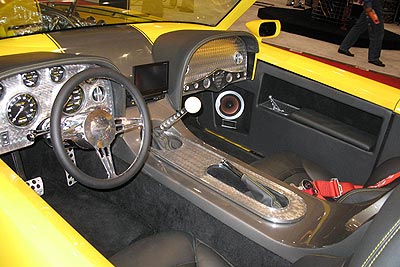 Baldwin Motion SuperSpeedster - Lids
Modern minivans have their power sliding doors, SUVs and wagons have their power opening tailgates, and various luxury sedans feature power opening and closing trunks. However, none of them offer the custom power hood and tonneau cover found on the Baldwin Motion SuperSpeedster. Both automatically open and close with drilled, chrome arms, allowing for a peek at the 540 big block or the highly detailed trunk area.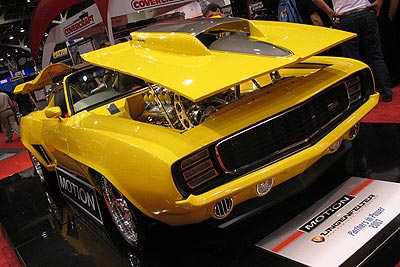 Baldwin Motion SuperSpeedster - Interior
Like the SuperSpeedster seen here, every Baldwin Motion Phase III Camaro is specifically built for its future owner. The interior of this example was designed around the buyer's physical dimensions, providing for a perfect and personalized fit. The layout is rather simple, accented by thickly-padded leather buckets, stainless steel trim, clearly legible gauges, and a center-mounted DVD screen.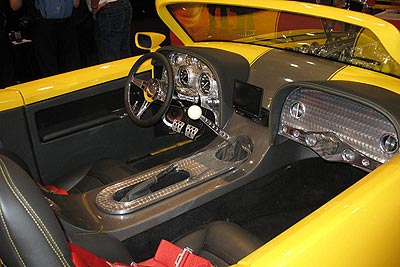 Baldwin Motion SuperSpeedster - Wheels
Michelin Pilot Sport tires wrap around the SuperSpeedster's custom Baldwin Motion alloy wheels, behind which are red calipers embossed with the Motion logo and huge drilled discs. Vents in the flared rear quarter panels allow cool air to reach the brakes.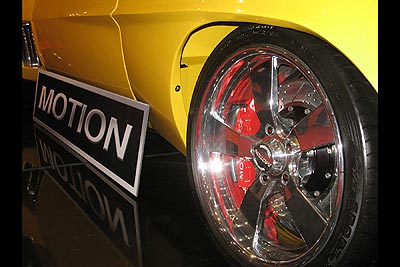 Baldwin Motion SuperSpeedster - Chassis
Each Baldwin Motion Phase III Camaro is built on a custom full-tube chassis. The 540 cubic-inch engine is set back 13 inches, making this SuperSpeedster more of a front/mid-engine ride, and when considering the placement of the battery in the trunk, should provide for a decent overall weight distribution. Tucked underneath is also a 16-gallon fuel cell and spotless quad exhaust tips.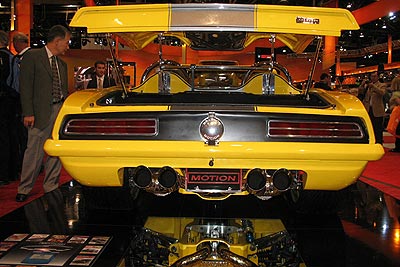 Baldwin Motion SuperSpeedster – Exclusivity
According to Baldwin Motion's Joel Rosen, each Phase III Camaro "will be custom built to order and showcase unmatched quality, fit, finish, and performance." Furthermore, only 12 will be created, each performance tested and bearing Rosen's signature. That's enough to separate this Chevy from most every bow-tied ride at any car show, but if you want to virtually guarantee your own one-off, Baldwin Motion will add more power or technology to satisfy your desires. As they say, the limits are set "only by the purchaser's imagination and finances."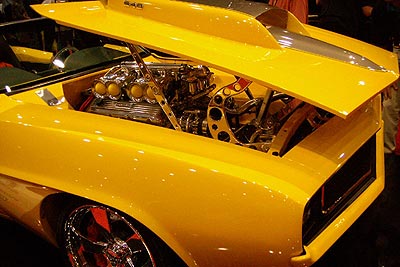 Baldwin Motion SuperSpeedster - Pricing
Though Baldwin Motion's Joel Ehrenpreis suggests that the SuperSpeedster seen here sold for about $500,000, the Phase III Camaro starts at $189,000. That may sound like a lot of green, but consider that it buys a custom-built vehicle personalized specifically for its new owner, the style of an automotive icon blended with contemporary technology, at least 600 horsepower, and the promise that no more than 11 other enthusiasts can claim a duplicate car as their own.
Photos courtesy of Thom Blackett and Brian Chee