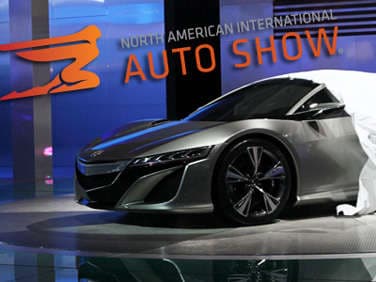 The annual North American Auto Show in Detroit was surely an exciting and sunny surprise for 2012 and the Autobytel editors and writers were there in full force. The atmosphere was buzzing with press members from around the world as many car makers revealed their ideas of what they are expecting consumers to want in 2012 and beyond. The theme appeared to be the global platforms that will appeal to the bottom lines and needs manufacturer and buyer alike. International design studios were in full swing to present examples of cars that represented models that fit both needs and expectations.
As the press days at the auto show have peeled away to the public days, emabargos have passed and the examples have been examined. The editors at Autobytel have chosen the examples, by category, of the cars seen at the 2012 North American Auto Show that we think deserve attention in the coming months and years. While some may never make it to the dealership lots in the form in which they were presented at the show, all of them were exemplary in their class and elements of their designs will be seen on roads for years to come.
Read on to see which we liked.
Autobytel's 2012 NAIS Fave Compact Car: 2013 Dodge Dart
In the immortal words of James Todd Smith, "Don't call it a comeback." Though the first iteration of the Dodge Dart was killed in 1976, the fun-to-drive lineage was survived by efforts from Dodge's notorious Mopar and SRT divisions. The latter eventually spawned the Dodge SRT-4, a turbocharged variant of the popular compact Neon, which instantly won tuner hearts until it too was phased out in 2005. Since then, Dodge has struggled to maintain a presence in the "pocket rocket" segment – until now. The 2013 compact, athletic 2013 Dodge Dart is yet another jewel in Chrysler's recently reclaimed crown, and its breathtaking fit-and-finish promises to offer a serious challenge to other C-segment players.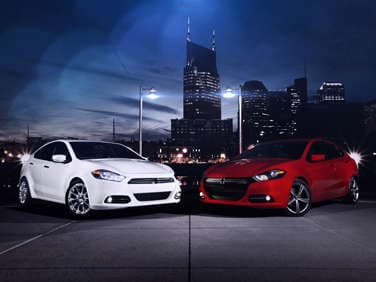 Autobytel's 2012 NAIS Fave Convertible: 2013 Mercedes-Benz SL
The 2013 Mercedes-Benz SL, though appearing to lack any dramatic differences from the previous generation, is nonetheless one of the most impressively executed variations in the 60-year history of the nameplate. Unlike its predecessors, the 2013 SL will be constructed entirely of ultra lightweight aluminum, dropping an approximate 275lbs of curb weight. Also debuting will be MB's BlueDirect injection technology, which is expected to achieve a noted reduction in emissions without any corresponding decrease in performance. On the contrary, the SL550's 4.6L twin turbo V8 churns out 429 horsepower and 516 lb-ft of torque, all while surpassing the coveted 0-60mph mark in 4.5 seconds. It's an impressive salute to heritage, and the new SL more than maintains its performance and engineering pedigree.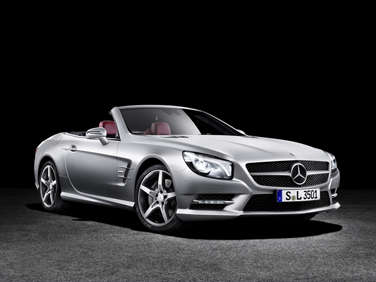 Autobytel's 2012 NAIS Fave Sedan: 2013 Ford Fusion
Since its debut in 2005, the Ford Fusion has proven a formidable opponent in the mid-size segment. Market relevancy has never been a problem, which would explain why Ford elected to set their sights a little higher. Borrowing unmistakable design cues from former supercar subsidiary Aston-Martin, the 2013 Ford Fusion marks a bold move away from the familiar Ford-centric slanted grille and aggressive front fascia. Ford claims the new design language was extensively studied to gauge its international appeal – fitting as it will become the next vehicle inducted into the "Global Ford" line-up – which surprisingly did not result in a homogenization of popular structural cues. Apart from visual aesthetics, the 2013 Fusion further promises to offer cutthroat competition with a dizzying array of fuel-efficient engine options and the promise to achieve 47-mpg.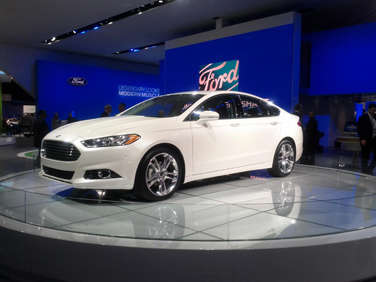 Autobytel's 2012 NAIS Fave Luxury Sedan: 2013 Cadillac ATS
One does not typically associate premium luxury with bloodlust, but that's nevertheless the motivation behind the 2013 Cadillac ATS. Riding on a brand new rear-wheel-drive platform with promises of a diesel engine pending, the ATS is a direct challenge to German compact luxury. Exterior design is remarkably reminiscent of the elder CTS, but GM maintains the real one-two punch is beneath the hood anyway. The ATS comes with four available engines: a 200-horsepower 188 lb-ft 2.5L inline 4, a 2.0L turbocharged four, and a 3.6L V6. The latter two are rated at 270-horsepower and 318-horsepower, respectively, mated to either a six-speed manual or automatic transmission. Bottom line: it's a strong initial showing for an automaker previously lacking any dog in the proverbial fight.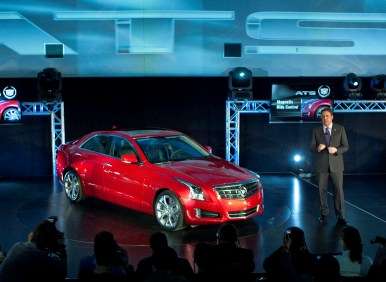 Autobytel's 2012 NAIS Fave Crossover: Audi Q3 Vail
Though only a concept, the Audi Q3 Vail concept managed to generate a considerable amount of buzz despite offering little more than a heady promise. Circling dangerously around the utilitarian territory already well-claimed by other (if not entirely "luxury") automakers, the Q3 Vail is an interesting glimpse into Audi's future. The interior is marked by soft-touch, premium surfaces and cutting-edge technology, keeping in step with the young, adventurous, and trendy group that Audi works so aggressively to court. Elements like AllRoad-esque body cladding and a 314-horsepower 2.5L turbocharged 5-cylinder hint at a crossover equipped for heavier duty than hauling trendy furniture – something perhaps poised to take a direct shot at luxury suv manufacturers with established off-road lineage. Even more ominous: Audi's projected launch date in late 2012. Though tentative, such an accelerated timeline and aggressive engineering suggests the Q3 Vail is built as much for the warpath as it is for the slopes.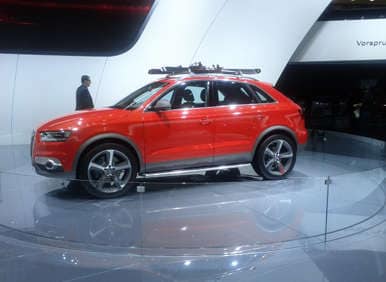 Autobytel's 2012 NAIS Fave SUV/Truck: Nissan Pathfinder
The Nissan Pathfinder debuted at the 2012 North American International Auto Show is a far, far cry from the Titan-based, full-bodied SUV of years past. Its proportions are sleeker and svelter, utilizing new unibody construction that achieves a noticeable reduction in clunky weight and visibility issues. Despite this, Nissan claims the Pathfinder's convenient interior capacity remains unaffected and the new suv can still comfortably seat seven. Intentionally engineered to capitalize on aerodynamics, Nissan claims the new Pathfinder – equipped with a new V6 and next-gen CVT – will achieve a 25% increase in combined city/highway mileage. Though Nissan was quick to stress the model seen in Detroit was purely a concept, many of the exterior components are expected to remain the same, indicating the next-generation Pathfinder will be a bold new contender.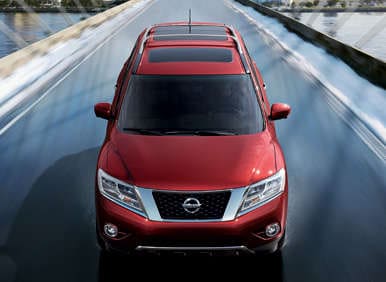 Autobytel's 2012 NAIS Fave Luxury SUV: Maserati Kubang
The Maserati Kubang initially unveiled in 2003 was met with a tepid reception, but the second time appears to be the charm. Underpinned by the staggeringly popular current-generation Jeep Grand Cherokee, the Kubang is an amalgamation of Fiat, Ferrari, and Chrysler engineering. It will be marketed under a different name when it's readied for sale in 2014, but it's expected to structurally differ very little. The V8 engine was borrowed from Ferrari, the 8-speed transmission from Fiat, and the suspension and steering assembly were supposedly developed by Maserati. Though no official comment was offered on the matter, rumors suggest the Kubang's various components will be shipped and assembled at the Grand Cherokee's Jefferson North Assembly Plant. With such an all-star cast, if the production timetable holds true, it will certainly be an interesting vehicle to watch.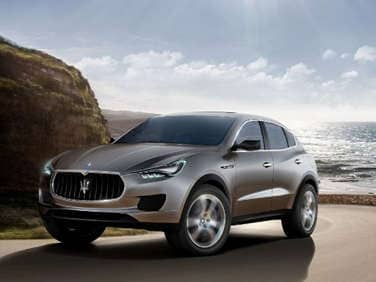 Autobytel's 2012 NAIS Fave Wagon: Audi A4 Allroad
Much like the Q3 Vail concept, the new Audi A4 Allroad presents a much sportier aesthetic for the luxury German automaker. What's more, given the distinct shortage in this particular arena, the A4 Allroad serves not only a serious contender within the luxury wagon segment but potentially the only contender. The resurgence of the A4 Allroad was one of the few pieces missing in Audi's offensive line of all-wheel-drive wagons, and its utilitarian nature offers a surprisingly perfect complement to the dizzying list of creature comforts. Unfortunately, the introduction of the Allroad comes at the expense of the A4 Avant, which is a loss that enthusiasts are likely to lament. We, however, are more interested in the Allroad ahead.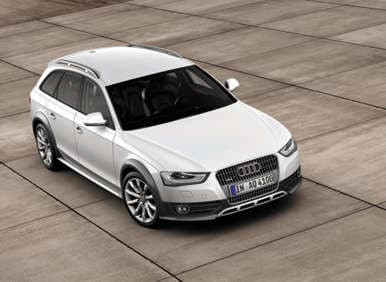 Autobytel's 2012 NAIS Fave Alt Fuel: Volkswagen e-Bugster
The Volkswagen e-Bugster is, unfortunately, a concept – but that doesn't diminish the buzz, literally. Powered by a 144-horsepower (85kW) motor and a 695lb lithium ion battery, the e-Bugster supposedly boasts a range of 100 miles and a relatively brief 30-minute recharge time. Half a nod to futuristic design, half to aerodynamics, the flattened roofline and windshield lend the e-Bugster a decidedly "slammed" aesthetic. Though it seems to bear a striking resemblance to similar offerings from other pint-sized manufacturers, the e-Bugster does not appear to pose any significant threat. VW did not disclose any production intent, but based on VW's stated intention to make the Beetle progressively more "masculine," it doesn't seem far-fetched to expect a few of the design cues to translate elsewhere.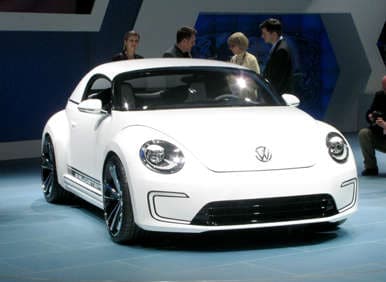 Autobytel's 2012 NAIS Fave Sports Car: Acura NSX Concept
A mid-engine hybrid isn't necessarily what some NSX purists may have expected, but that does surprisingly little to diminish the impact made by the international debut of the new Acura NSX concept. Specific output figures were absent, but Honda Motor Co CEO Takanobu Ito (who himself played a large part in the development of the original NSX), spoke of high expectations for the direct-inject V6 and its three assisting electric motors. Functioning as a hybrid, Acura claims the NSX will be able to utilize regenerative braking to boost performance – all of which will likely be seen in the race-spec edition, also rumored in the works. Production of the street-legal sportscar is still a few years off, but the slick creature seen in Detroit is enough to sate even the most voracious appetite until then.