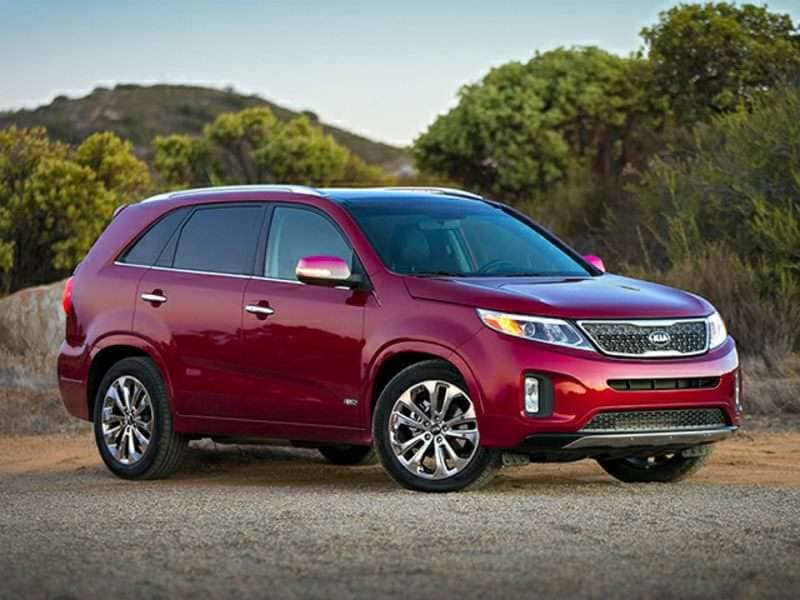 Let's face it, downsizing to a smaller vehicle simply isn't practical for some drivers, particularly those who spend significant amounts of time traveling with a crowd—which is why evaluating today's best 7-passenger crossovers is so important. Despite their size, they're more efficient than their truck-based SUV rivals—and more comfortable, too—and they also offer a different approach to styling than is found in the much-maligned minivan segment. Further, these 7-seater crossovers aren't limited to bus duty. The same big cabins provide gobs of easy-to-access cargo space for owners who need to occasionally haul plywood instead of people. Even better, this year's best 7-passenger crossovers include a number of fresh faces, as automakers continue to bring next-gen technologies to these family-friendly vehicles.
1) 2015 GMC Acadia
The Buick Enclave might get more attention, and the Chevrolet Traverse may get more sales, but it's the third member of GM's full-size CUV triumvirate—the GMC Acadia—that gets the nod as one of Autobytel's best 7-passenger crossovers. Something else the Acadia gets? Plenty of standard features and equipment, such as exterior styling that showcases LED accent lighting, a Color Touch infotainment system with available MyLink connectivity technology, safety innovations like an industry-exclusive front-center airbag, and more premium ride and handling, courtesy of retuned transmission controls as well as new dual-flow damper shocks and struts. The tale of the tape for the first of our best 7-passenger crossovers includes engine outputs of 281 horsepower and 261 lb-ft of torque from a 3.6-liter V-6 engine, and EPA marks of up to 17 mpg city/24 mpg highway/19 mpg combined.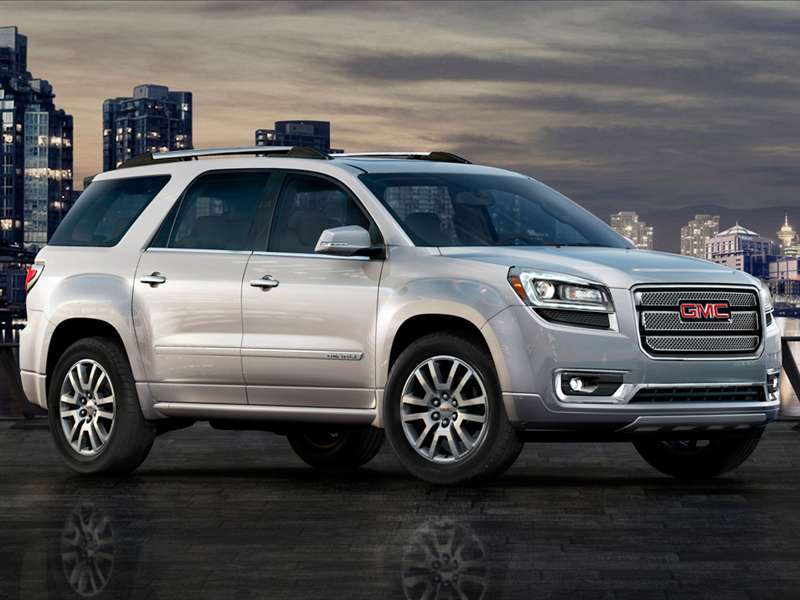 2) 2015 Dodge Durango
Looking for the same aggressive approach to driving as provided by the Dodge Charger, but need a little extra room? Sort of the sport sedan of today's 7-seater crossovers, the Durango even offers a 5.7-liter Hemi V-8 capable of making 360 horsepower and 390 lb-ft of torque. Yet because that mighty mill also incorporates Dodge's Fuel Saver cylinder-shutoff system, the Hemi-holstering Durango can still reach 22 mpg on the highway. At the same time, the vehicle supplies 30 storage areas, 50 seating configurations and almost 85 cubic feet of rear cargo capacity. And the Durango's standard powerplant is no slouch, either; it's the award-winning 3.6-liter Pentastar V-6 that supplies 295 horsepower, 265 lb-ft of torque, and excellent marks for both driving range (more than 550 miles) and towing (6,200 lbs).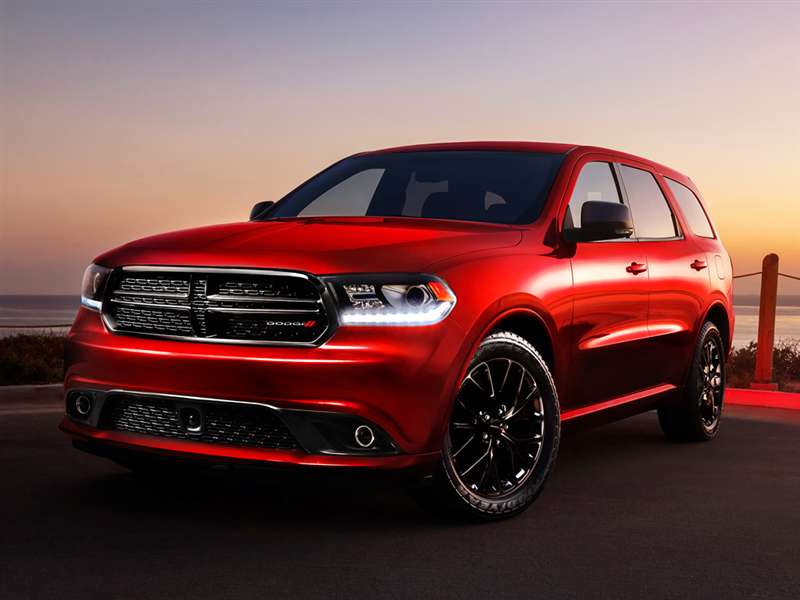 Photo by Dodge
3) 2015 Ford Explorer
The 2015 Ford Explorer brings high levels of high technology to our roster of best 7-passenger crossovers, including the latest SYNC with MyFord Touch system, industry-first inflatable seatbelts, Curve Control technology, and driver-assistance features like active park assist, blind-spot warning with cross-traffic alert, adaptive cruise control, collision warning with brake support, and lane-departure warning and lane-keeping tech. The standard engine is an advanced 3.6-liter V-6 with twin-independent variable cam timing that puts out a robust 290 horsepower and 255 lb-ft of torque, while enabling an EPA line of 17 mpg city and 24 mpg highway.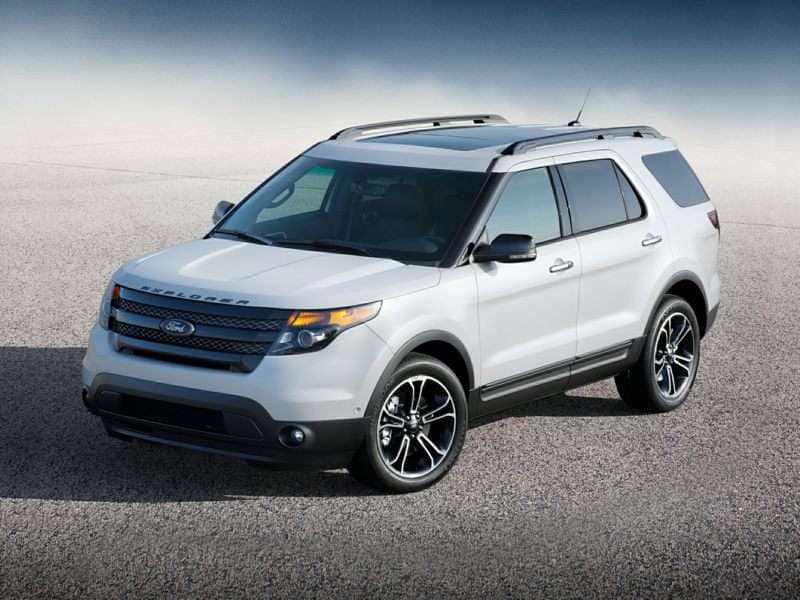 Photo by Ford
4) 2015 Ford Flex
Boasting an immediately recognizable exterior design that wraps around an incredibly versatile interior, the 2015 Ford Flex joins the Ford Explorer among Autobytel's selection of 7-seater crossovers. The Flex offers many of the same advantages found in the Ford Explorer, including the latest SYNC system, advanced driver-assistance and safety features, and an available EcoBoost engine—in this case, the 3.5-liter V-6 that delivers 365 horsepower and 350 lb-ft of torque. The standard powerplant is the Blue Oval's similarly sized but naturally aspirated V-6, packing 287 horsepower and 254 lb-ft of torque.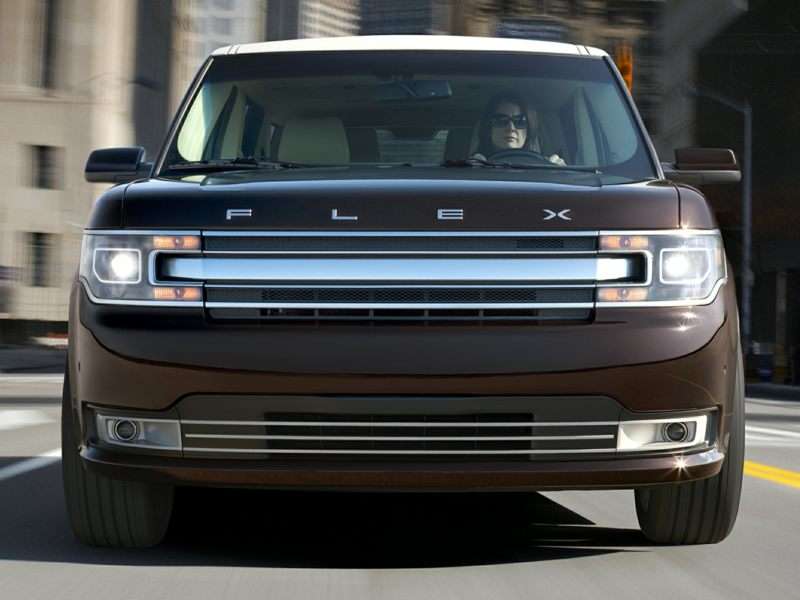 5) 2015 Toyota Highlander Hybrid
The Toyota Highlander has long been a favorite of shoppers and looks ready to build on its success with a variety of options. The 2015 Highlander Hybrid is powered by a 3.5-liter V-6 engine paired to three electric motors and a continuously variable transmission, and Toyota's Hybrid Synergy Drive helps the vehicle earn fuel economy marks of 27 mpg in stop-and-go traffic and 28 mpg in highway cruising. A total of 280 horsepower and 215 lb-ft of torque are on tap. And remember, that's with a standard intelligent all-wheel drive system, as well as plenty of standard comfort and safety features.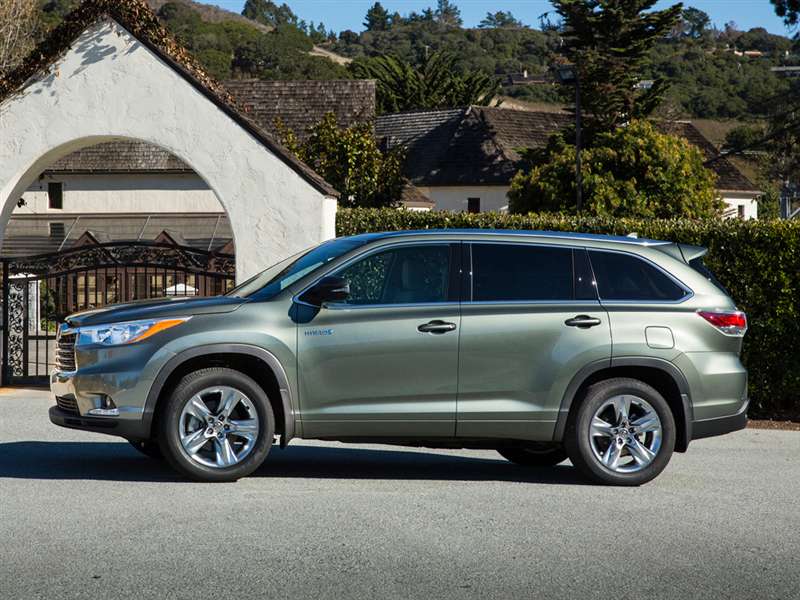 6) 2015 Infiniti QX60
The most luxurious of our 7-seater crossovers is likely the 2015 Infiniti QX60. Cabin versatility is bolstered by excellent passenger and cargo space. It also earns better fuel economy marks than some of the luxury competition. The standard 3.5-liter V-6 engine, with an output of 265 horsepower and 248 lb-ft of torque, can get up to 21 mpg city and 27 mpg highway. The Infiniti QX60 Hybrid, which is powered by a combination of a supercharged 2.5-liter inline-four and a couple of electric motors, yields 250 horsepower and 243 lb-ft of torque, as well as fuel economy ratings of 26 mpg city and 28 mpg highway.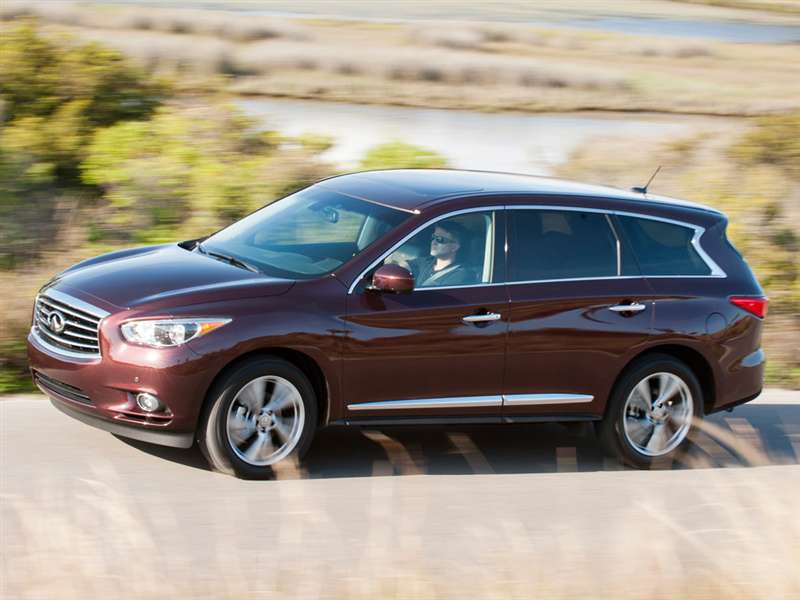 7) 2015 Nissan Pathfinder
The 2015 Nissan Pathfinder, which used to be a traditional SUV, is making strides as an urban-friendly full-size crossover that does a much better job of hauling both people and cargo. The revised Pathfinder is lighter than before, which, combined with its continuously variable automatic transmission, gives it significantly better fuel mileage when compared to the previous model. It also comes with a second row that can be folded forward for rear access even with a pair of child seats installed. All versions of the 2015 Pathfinder come with a 3.5-liter V-6 engine and a continuously variable transmission, putting down 260 horsepower and 240 lb-ft of torque.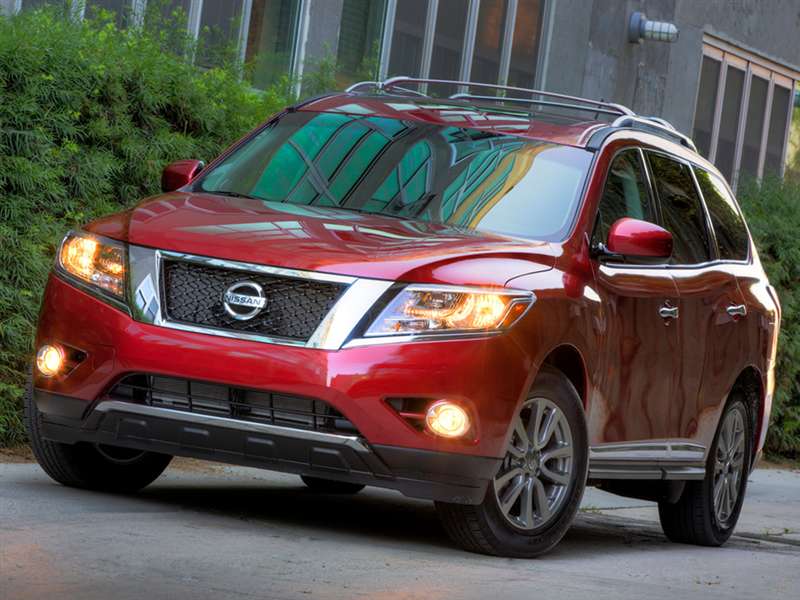 Photo by Nissan
8) 2015 Honda Pilot
The 2015 Honda Pilot is the last year of this model's second generation, making way for an all-new iteration in 2016, but the vehicle has been so successful it's hard to guess what might change. Not quite as big on the outside as some of its competitors, the Honda Pilot offers a surprisingly roomy interior that can easily handle 7 passengers, and even as many as 8. The 2015 Pilot features a five-speed automatic transmission and puts down 250 horsepower and 253 lb-ft of torque from its 3.5-liter V-6.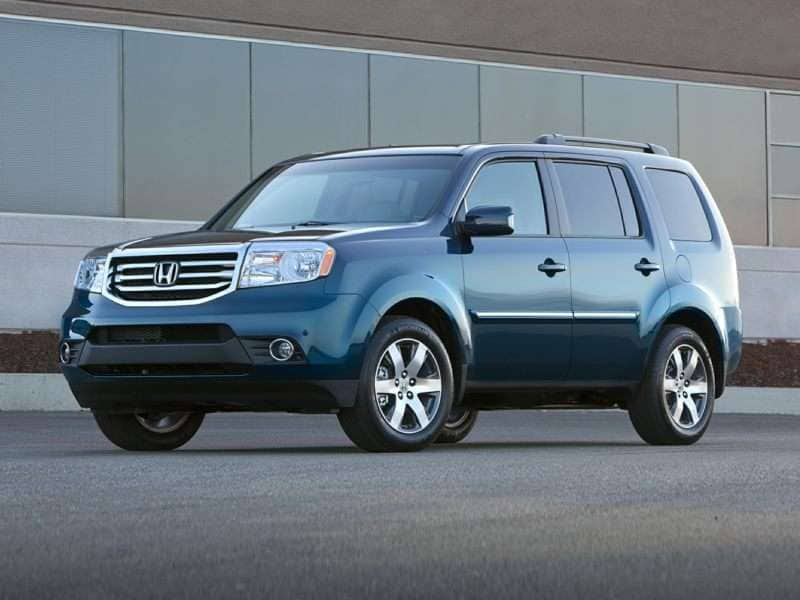 Photo by Honda
9) 2015 Hyundai Santa Fe
The 2015 Hyundai Santa Fe comes with a well-styled interior that imparts a more premium experience than one would expect given its affordable price point. All versions of the Santa Fe are equipped with a 290-horsepower, 3.3-liter V-6 engine. Also capable of generating 252 lb-ft of torque, this motor's fuel economy is rated at 18 mpg city, 25 mpg highway when found in front-wheel drive trim (thanks in part to its six-speed automatic transmission). All-wheel drive versions give up only a single highway mpg to the front-puller, and 80 cubic feet of total cargo space help all 7 passengers stow their gear.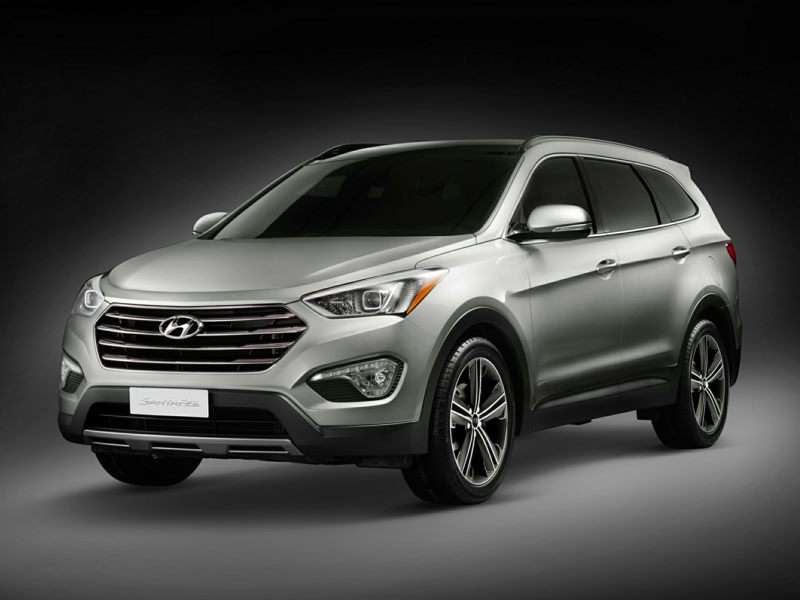 10) 2015 Kia Sorento
The final name on Autobytel's list of best 7-passenger crossovers is the 2015 Kia Sorento. The 2015 Kia Sorento, which will be the last model year before the vehicle's third generation is introduced, stands out via its affordable pricing and its configurability, as it's possible to order the crossover in a number of different configurations and with several different options packages. There's plenty of room for passengers older than the age of 12 in the Kia's back row, which makes it an appealing, budget-friendly family choice. Buyers can opt for the standard 2.4-liter four-cylinder engine or upgrade to a 3.3-liter V-6.