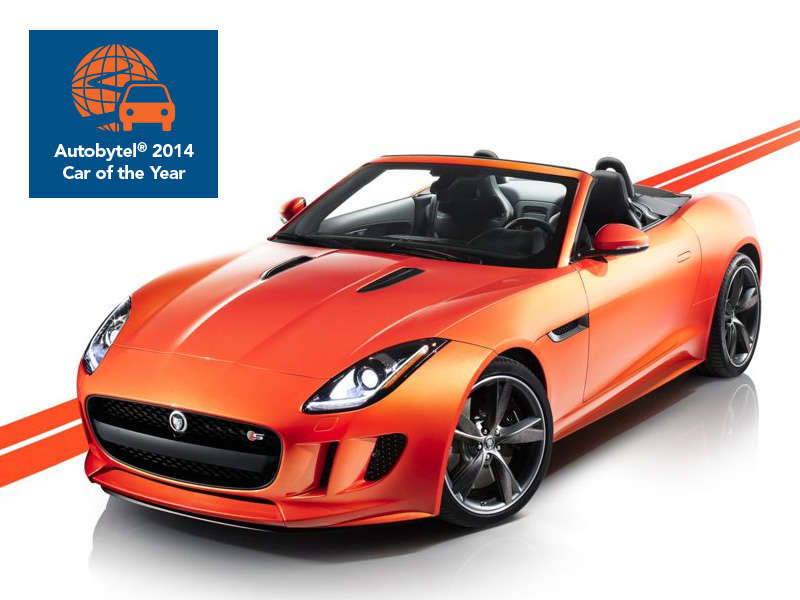 While the 2014 Jaguar F-Type handily won the Autobytel 2014 Convertible of the Year honors this year, it has to be the admitted that the imminent arrival of the F-Type Coupe sibling is also responsible for bolstering the Autobytel editors' votes that resulted in the Jaguar F-Type being named the Autobytel 2014 Car of the Year.
This award isn't just based on how the Jaguar F-Type drives or looks. A recurring theme seems to also be how the F-Type sounds as well. Here's what we have had to say about the romantic return of Jaguar to the top of the heap:
- Christian Wardlaw, 2014 Jaguar F-Type Quick Spin Review
- T.J. Keon, 2014 Jaguar F-Type V8 S Roadster Video Review
- Benjamin Hunting, 10 Things You Need to Know About the 2014 Jaguar F-Type
More of the Autobytel 2014 Car, Truck and category of the Year winners can be found by browsing the collection below.
 Autobytel 2014 Car of the Year
 Autobytel 2014 Truck of the Year
 Autobytel 2014 Compact Car of the Year
 Autobytel 2014 Convertible of the Year
 Autobytel 2014 Sedan of the Year
 Autobytel 2014 Luxury Car of the Year
 Autobytel 2014 SUV of the Year
 Autobytel 2014 Luxury SUV of the Year
 Autobytel 2014 Crossover of the Year
 Autobytel 2014 Sports Car of the Year
 Autobytel 2014 Alternative Fuel Car of the Year
 Autobytel 2014 Pickup Truck of the Year
 Autobytel 2014 Minivan of the Year
 2014 Jaguar F-Type
 2014 Land Rover Range Rover
 2014 Ford Fiesta ST
 2014 Jaguar F-Type
 2014 Mazda6
 2014 Audi S8
 2014 Jeep Grand Cherokee
 2014 Land Rover Range Rover
 2014 Subaru Forester
 2014 Chevrolet Corvette Stingray
 2014 BMW i3
 2014 Ram 1500
 2014 Honda Odyssey