Even if you have a regular need to haul a respectable amount of cargo from point A to point B, not everyone wants to park a full-size pickup in their driveway.  Some drivers are turned off by the size and fuel mileage offered by a large truck while others don't want to give up any passenger room or comfort in a daily commuter.  Whatever your reason for avoiding big pickups, fear not - there are a healthy number of practical substitutes that will see you bringing home your flea market treasures and loads of mulch with ease.
Let's take a look at 8 alternative haulers that provide ample room for all of your cargo needs.
01. 2012 Honda Ridgeline
The 2012 Honda Ridgeline might look like a pickup - and even be marketed as one - but it's got a secret: it's actually a crossover.  The Honda Ridgeline is based on a unibody platform that gives it similar handling and ride comfort to a large sedan (as well as seating for up to five passengers), but it comes with a substantial five-foot open truck bed that also contains an 8.5 cubic foot 'trunk' that can be locked to protect precious items from would-be thieves.  Throw in a 250 horsepower V-6 engine and standard all-wheel drive and it's easy enough to see why the Ridgeline is the pickup of choice for buyers who don't really want to be behind the wheel of a pickup.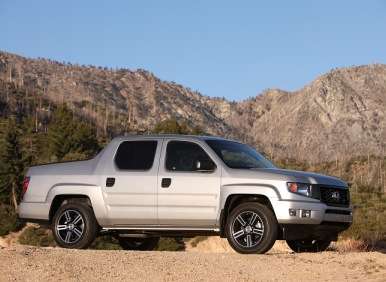 02. 2011 Dodge Dakota
The 2011 Dodge Dakota might sport big truck looks but this mid-size pickup isn't quite as hefty as its full-size siblings.  The Dodge Dakota offers Extended or Crew Cab body styles, with both offering room for an additional three passengers behind the front seating positions, and the truck can be had with either a five-foot, four-inch cargo bed or a six-foot, six-inch bed.  The Dodge Dakota's reasonably-sized dimensions make it more palatable for inner city parking and it can be had with either a 210 horsepower V-6 or a 302 horsepower, 4.7-liter V-8 under the hood.  Four-wheel drive is also offered as an option for those who need the ability to haul their gear off of the beaten path.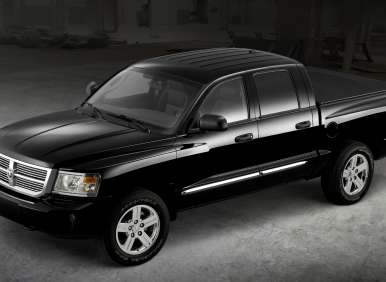 03. 2012 Cadillac Escalade EXT
The 2012 Cadillac Escalade EXT is definitely big - there's no denying that.  The Cadillac Escalade EXT shares its platform with the Chevrolet Avalanche, which in turn cribs most of its underpinnings from the Silverado full-size truck.  So why is this behemoth on our list?  Simply put, the Escalade EXT is sumptuously appointed, making it an exceptionally comfortable driver.  The Escalade EXT also offers seating for up to five (accessible via four full-size doors) as well as the Midgate feature, which allows for the extension of the five-foot open cargo bed into the passenger compartment so that longer items can be hauled around with ease.  The Cadillac's impressive 403 horsepower, 6.2-liter V-8 engine gives it a hefty 7,600 lbs of towing capacity, and all-wheel drive comes free of charge with the beast.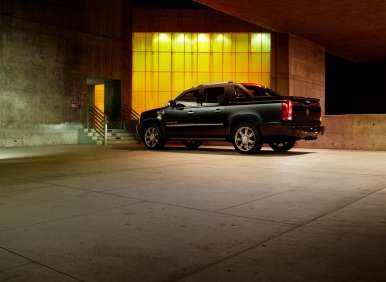 04. 2012 Jeep Wrangler
Not everyone would consider the 2012 Jeep Wrangler to be a practical choice for hauling gear, but think outside the box for a moment.  The Jeep Wrangler is the only vehicle on this list that qualifies as a convertible, thanks to its available soft and hard removable tops.  Once you take the roof off of an SUV you are suddenly facing a considerable amount of leeway for carrying bulky items such as surf boards, flatscreen television sets or even potted trees.  Add the fact that the Wrangler is a certified off-road warrior that can be had with one of several different four-wheel drive systems and suddenly you'll be carrying your kayaks to drop-off points never before accessible to more conservative modes of transportation.  The Jeep also provides a stout 3.6-liter V-6 that offers up 285 horsepower, which is more than enough to tackle whatever obstacles you might encounter out on the trail.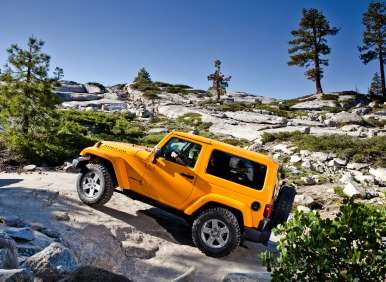 05. 2012 Dodge Grand Caravan
The 2012 Dodge Grand Caravan is a minivan - there's no way to avoid that definition.  The thing is, minivans are good for carrying more than just human cargo as their cavernous interiors and rectangular dimensions help them to boast some of the best luggage-swallowing capacity on the market.  Take the Dodge Grand Caravan, for example, which offers up a notable 143.8 cubic feet of storage space with the second and third row of accommodations out of the picture.  The Grand Caravan also has enough muscle to handle the extra weight of a full load, as it comes standard with a 283 horsepower, 3.6-liter V-6 engine under the hood.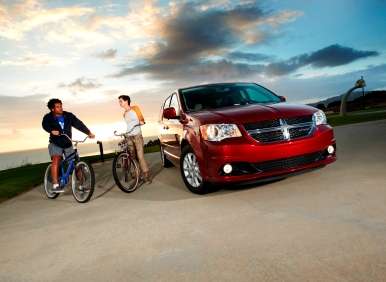 06. 2011 Chevrolet Colorado
The 2011 Chevrolet Colorado is another mid-size truck worthy of consideration by urbanites.  The Chevrolet Colorado comes in the full range of pickup body styles (regular, extended and crew cabs), and it also offers five and six-foot cargo beds.  The Colorado is smaller than the Dakota, which makes it a more practical choice for navigating tight city streets and heavy traffic, and it can be had with four-cylinder (2.9-liters, 185 horsepower), five-cylinder (3.7-liters, 242 horsepower) and V-8 (5.3-liters, 300 horsepower) drivetrains.  Four-wheel drive is also optional with the Colorado to give it additional traction in foul weather.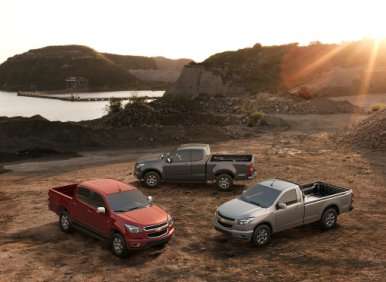 07. 2012 Subaru Forester
The 2012 Subaru Forester is a small crossover that delivers big when it comes to interior room.  The five-passenger Subaru Forester offers a tall roofline that makes it relatively easy to cram larger items into its generous rear hatch, and folding down the backseat in the crossover expands its 33.5 cubic foot trunk into a generous 68.3 cubic foot cargo area, which puts the crossover on par with a number of mid-size SUVs.  The Forester starts out with a 170 horsepower, 2.5-liter four-cylinder engine between the front fenders, but it can be upgraded to a turbocharged edition of the same motor that generates 224 ponies.  As with the majority of Subaru models, every edition of the Forester comes with all-wheel drive.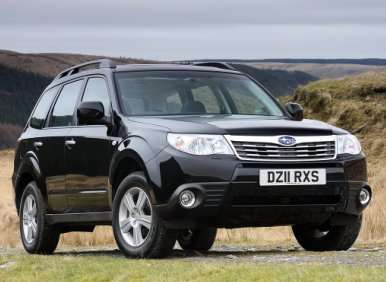 08. 2011 Chevrolet HHR
The 2011 Chevrolet HHR is a compact crossover wagon that can be had in either passenger or cargo (Panel) configurations.  The latter deletes the rear windows from the equipment list - along with the second row of seating - to offer up 63 cubic of total hauling capability.  This substantial storage space is presented alongside a driving experience that is very much like that of a small sedan, thanks to the Chevrolet HHR's low ride height, comfort-focused suspension system and choice of two different four-cylinder engines generating 155 (2.2-liter) and 172 (2.4-liter) horsepower respectively.