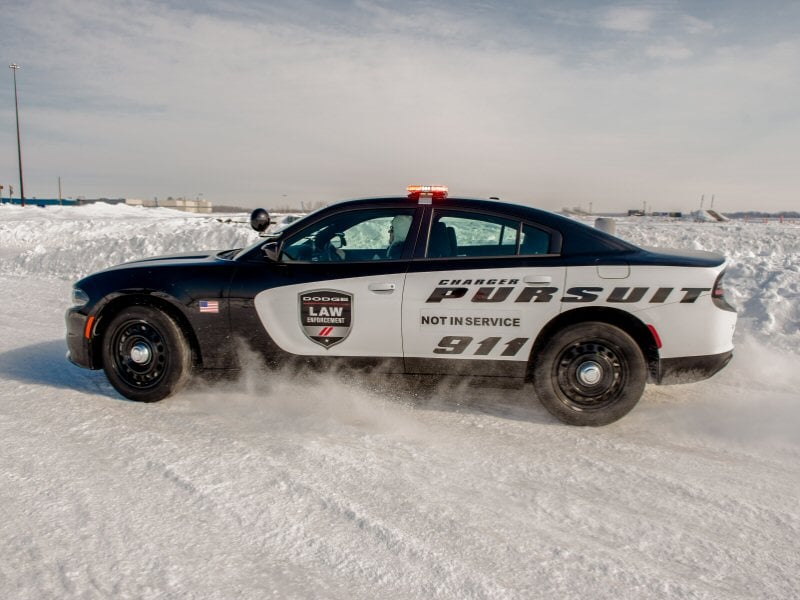 2015 Dodge Charger Pursuit AWD snow drift ・ Photo by Benjamin Hunting
Chrysler's entire SUV line-up was on-hand at the ICAR winter driving facility just north of Montreal, Quebec, Canada, where I had the opportunity to put each and every all-wheel drive and four-wheel drive model through its paces on a snowed-in off-road course specifically designed to test the limits of these vehicles.  With so many different models in its line-up capable of spinning all four wheels, Chrysler was eager to show off what even some of its most affordable vehicles could accomplish in these challenging conditions, with a mix of products including Jeep and Ram demonstrating their all-terrain chops.
2. 2015 Jeep Renegade
The newest addition to the Jeep four-wheel drive family is the 2015 Jeep Renegade.  Based on a platform borrowed from corporate cousin Fiat, the Jeep Renegade manages to maintain the brand's reputation for off-road ruggedness by way of the Trailhawk model.  The Renegade Trailhawk starts out with the same four-wheel drive system available in every edition of the subcompact SUV - one that automatically disconnects the rear axles when not needed, so as to improve fuel mileage - but it adds a creeper first gear that locks the system into place and multiplies torque 20.1:1 at low speeds.  The Renegade Trailhawk also benefits from a slightly taller ride height as well as the Selec-Terrain system that automatically adjusts electronic driving aids, transmission settings, an0064 throttle response to best deal with a wide range of different driving surfaces.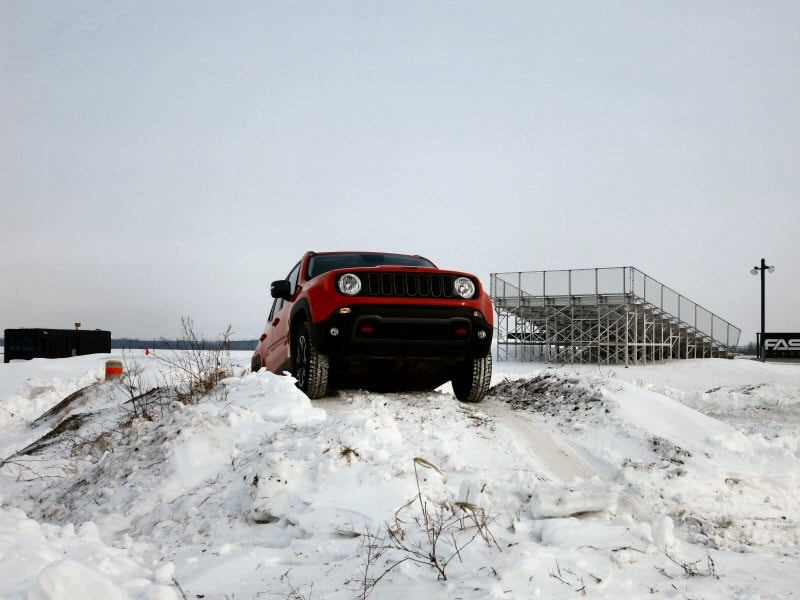 Photo by Benjamin Hunting
3. 2015 Ram 2500 Power Wagon
Moving from smallest to biggest, I was impressed by the raw, uncompromising nature of the 2015 RAM 2500 Power Wagon, a three-quarter ton pickup that has been outfitted with an off-road suspension package that includes the ability to remotely disconnect the front swaybar - resulting in the articulation you can see here in this photo.  In addition, The Ram Power Wagon comes with three locking differentials - front, center, and rear - to complement its low-range four-wheel drive system.  It also doesn't hurt that the Power Wagon is motivated by a 6.4-liter Hemi V-8 engine that's good for 410 horsepower and a whopping 429 lb-ft of torque.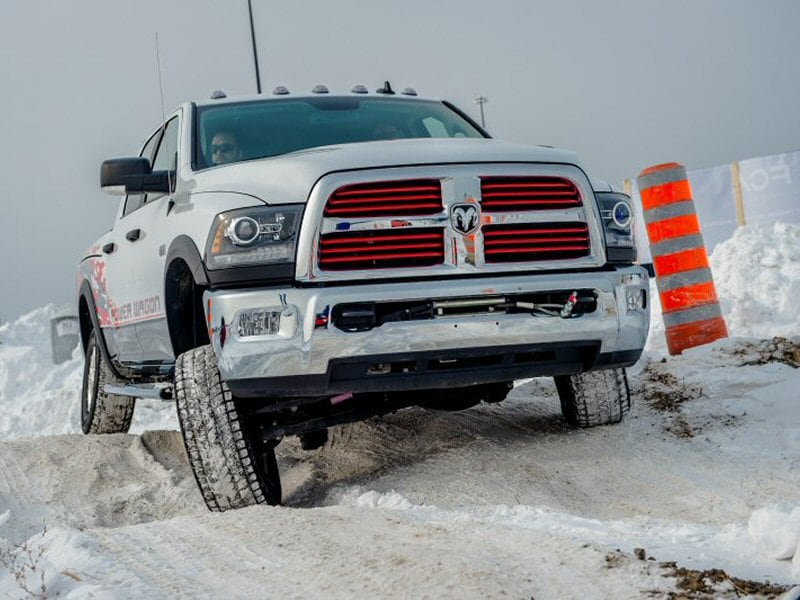 4. 2015 Jeep Grand Cherokee
Although some might dismiss the 2015 Jeep Grand Cherokee as a suburban-bound soft-roader, nothing could be father from the truth.  The Jeep Grand Cherokee actually makes four 4x4 systems available, ranging from the mild Quadra-Trac 1 to the Quadra-Drive II, which features the ability not just to lock the SUV in low-range four-wheel drive but also adjust its the Jeep's ride height in order to afford it increased ground clearance in more extreme situations.  Like the Renegade, the Grand Cherokee benefits from the Selec-Terrain system to further hone its off-road chops, and provides a useful hill descent control feature.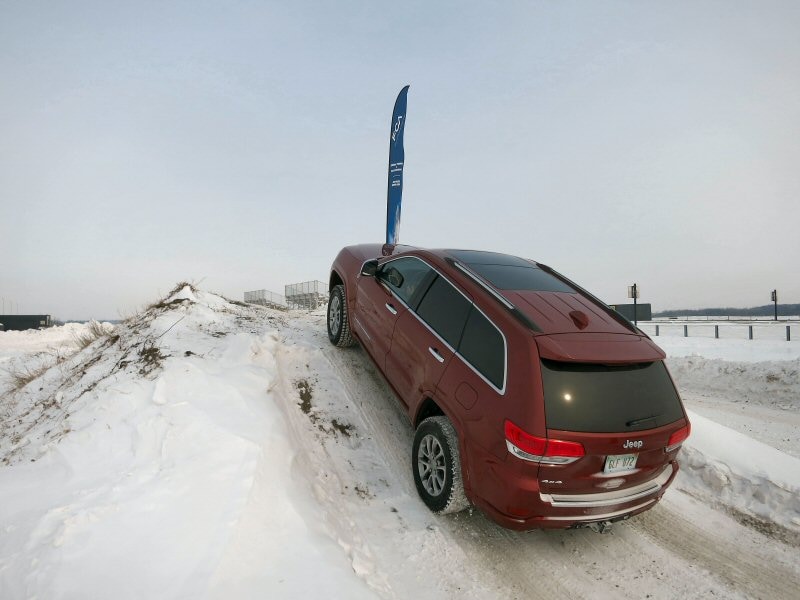 Photo by Benjamin Hunting
5. 2015 Jeep Cherokee
The 2015 Jeep Cherokee is another small SUV from Chrysler that leverages a Fiat platform, as well as the same four-wheel drive system found in the pint-sized Renegade.  Once again, it's the Trailhawk edition of the Cherokee that will get you through the toughest driving conditions you are likely to encounter, as its low-range locking four-wheel drive, hill descent control, and Selec-Terrain system team up with its additional ground clearance over the standard edition of the Cherokee to make short work of off-road obstacles.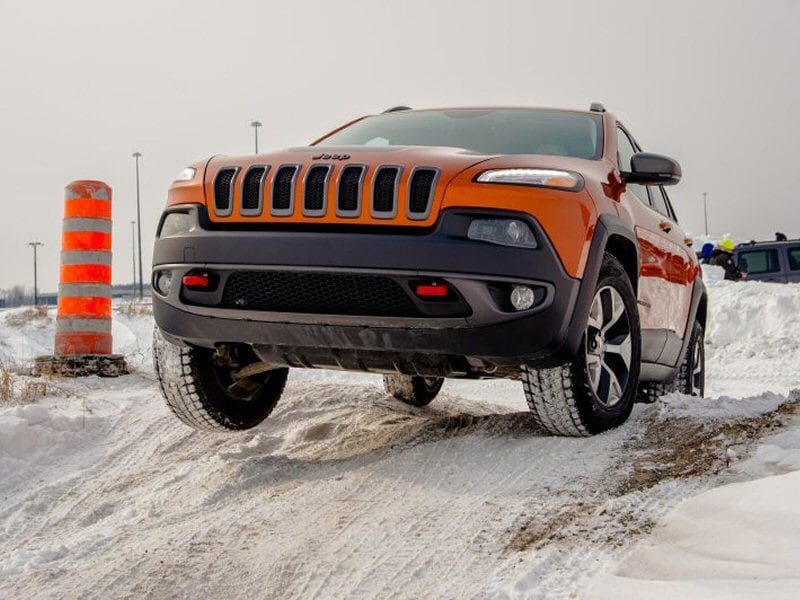 6.  2015 Jeep Wrangler / Wrangler Unlimited
It's impossible to discuss Jeep's off-road-ready fleet without mentioning the Trail Rated 2015 Jeep Wrangler and its four-door sibling the Wrangler Unlimited.  The Wrangler allows you to choose between a 'regular' low-range four-wheel drive system or the Rock-Trac system that is standard with the hardcore Rubicon model (which also features a pair of locking Dana 44 solid axles).  The Jeep Wrangler's simple construction, excellent ground clearance, and hard-to-kill design gives it a serious advantage not just in the snow but also in the mud, on the sand, and in the mountains.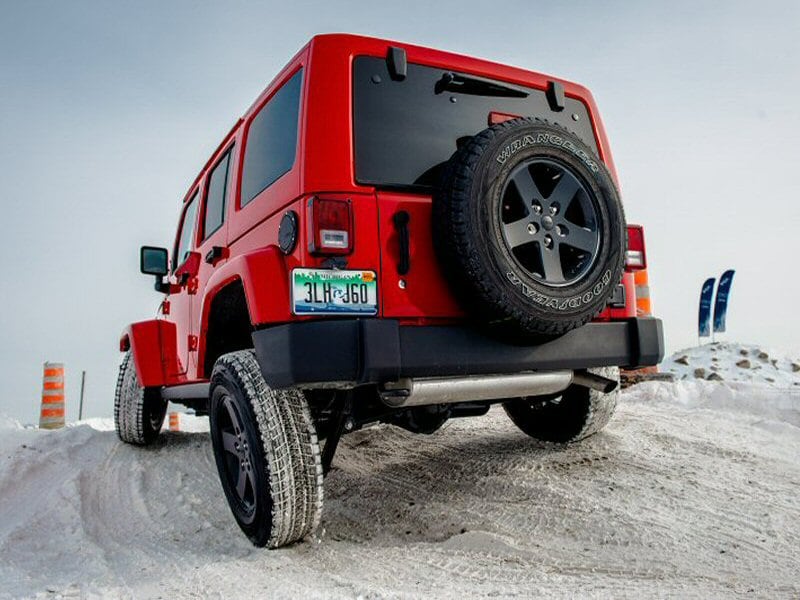 Photo by Jeep
7.  All-Wheel Drive Drift Time On ICAR's Snow Track
 Of course, all-wheel drive and four-wheel drive systems aren't solely restricted to off-road use, which is why Chrysler had also set up an icy, snow-covered drift course for me to sample behind the wheel of one of the brand's many sedans, trucks, and crossovers gifted with four-wheel traction.  There was also a slalom and a skid pad available to help demonstrate just how much help an advanced drivetrain featuring four-wheel traction can be when dealing with dangerous driving conditions.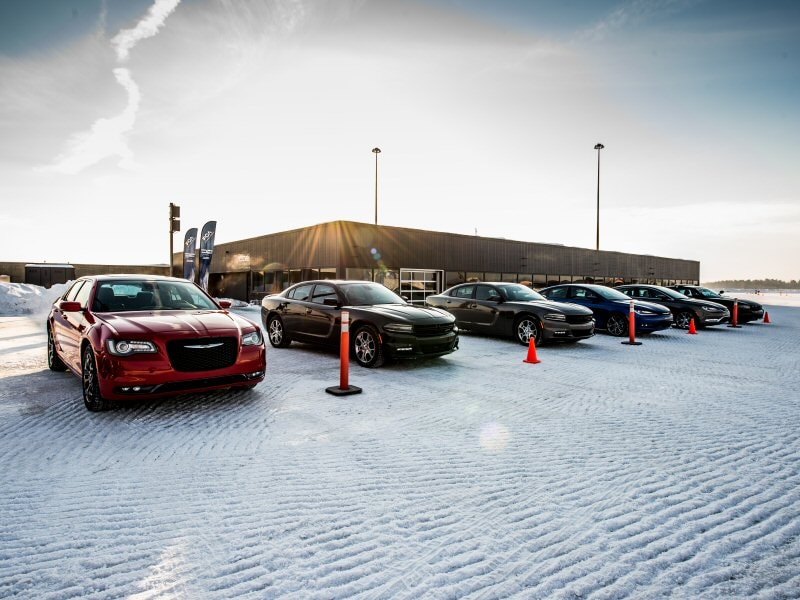 Photo by Chrysler
8.  2015 Chrysler 200
The 2015 Chrysler 200 offers the option of all-wheel drive when ordered with its available 3.6-liter Pentastar V-6.  The system isn't designed to enhance performance, but rather to improve stability in the wet and on the ice, which means that torque is only shuttled to the rear axle when wheel spin is detected up front.  The rest of the time the Chrysler 200 remains nominally a front-wheel drive vehicle, helping to reduce its fuel consumption.  On the snow track I discovered that the 200 actually handled better with its traction and stability control systems fully armed, which is the opposite of what you usually encounter when pushing a sedan hard on a slippery surface.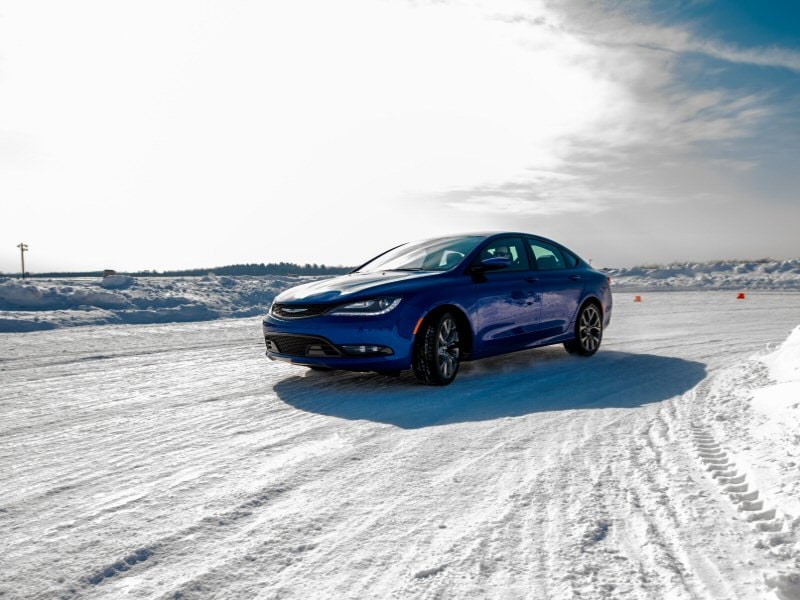 Photo by Chrysler
9.  2015 Dodge Charger
The 2015 Dodge Charger - and its platform twin, the Chrysler 300 - see their all-wheel options reduced for the current model year, as both vehicles have undergone a redesign that has eliminated the availability of four-wheel traction when ordering the 5.7-liter Hemi V-8 engine.  Blame an extremely low take rate amongst buyers for the absence of eight-cylinder all-wheel drive fun in the Chrysler and Dodge family of sedans.  Still, the 3.6-liter Pentastar worked well in tandem with an all-wheel drive system that prioritizes rear-axle torque delivery until wheel spin summons engine output to the front wheels to enhance stability.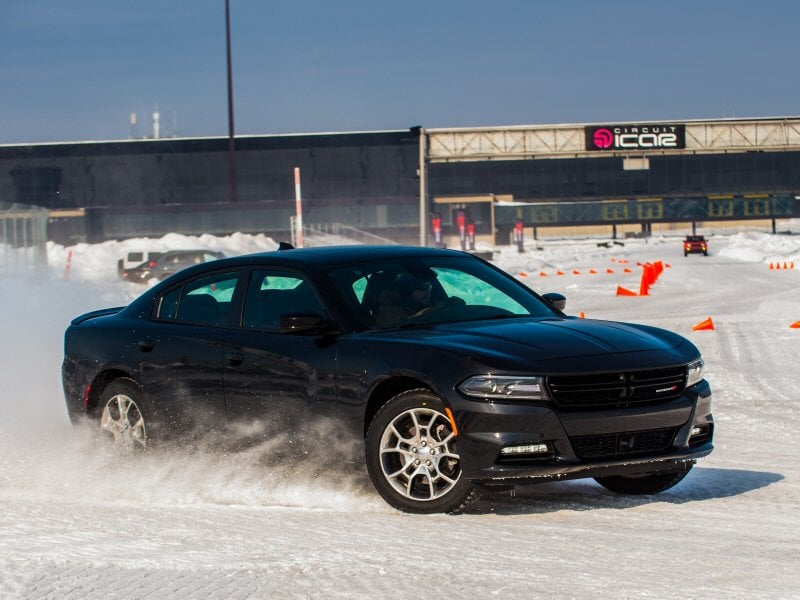 Photo by Benjamin Hunting
10.  2015 Dodge Durango
You'll have to step up into a 2015 Dodge Durango if you want to drive home in an eight-cylinder Dodge featuring all-wheel drive, as this big bruiser of an SUV can be had with two-different versions of the traction-adding feature (including one with a low-range option).  Surprisingly, given the similarities between the Jeep Grand Cherokee and the Durango under the skin the larger of the two sport-utility vehicles wasn't nearly as fun to push down the snowy track, as its all-wheel drive system introduced significant understeer and made it hard to pivot the seven-passenger vehicle.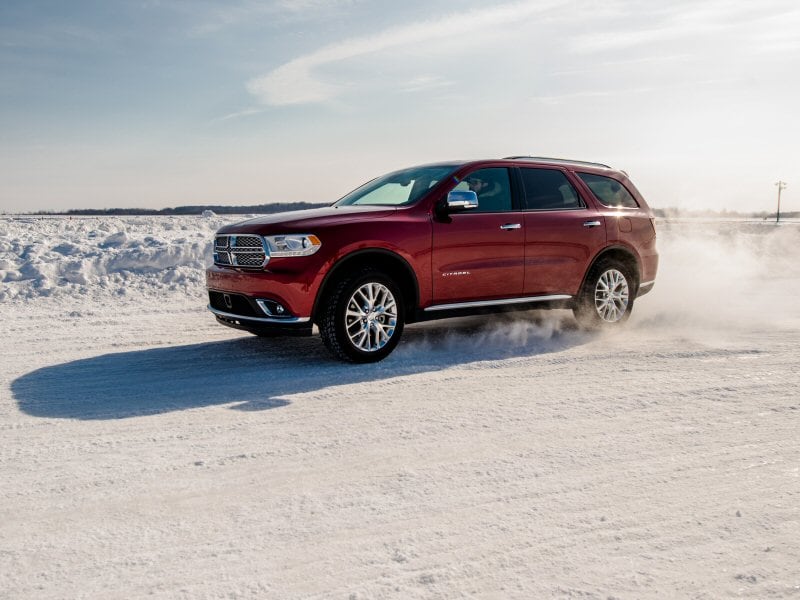 Photo by Chrysler
11.  2015 Ram 1500 EcoDiesel
The 2015 RAM 1500 EcoDiesel doesn't just swap the Power Wagon's big V-8 engine for a torquey, efficient turbodiesel V-6 - it also sheds significant weight to present a half-ton pickup package that forgoes the Ram 2500's locking differentials in a favor of a more street-friendly system.  The Ram 1500 EcoDiesel offers the ability to set its four-wheel drive system to 'auto,' which engages the front axles when things get a little too much for the rear wheels to handle (a feature not present in the Power Wagon).  Even still, it preserves the ability to shift into four-wheel drive low if you need to tackle trickier terrain.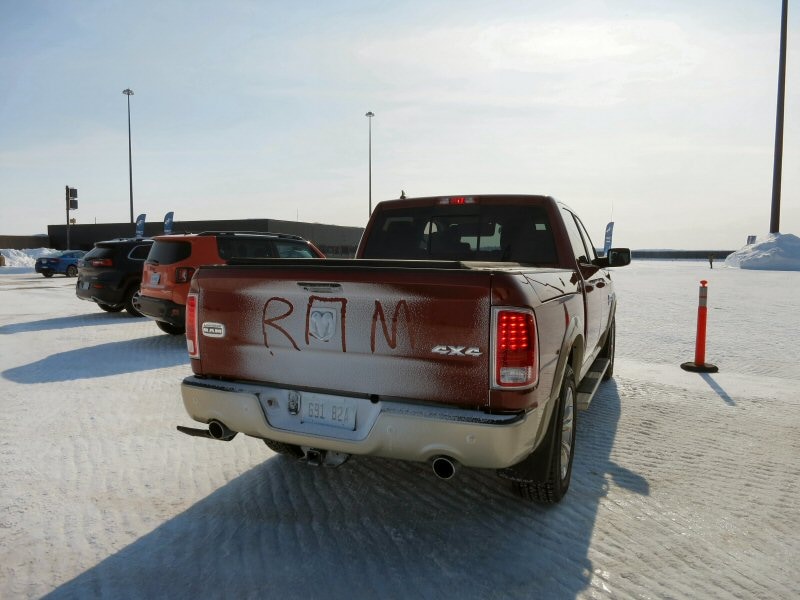 Photo by Benjamin Hunting