The phrase multi-dimensional luxury is intended to come to mind when you hear the acronym "MDX". Offered in the United States since 2001 by Acura (AKA Honda in much of the rest of the world) the Acura MDX was Honda's upscale Acura division's entry into the by-then exploding SUV market. Prior to the MDX, the company had a rather lackluster offering called the SLX, which was really nothing more than an Isuzu Trooper festooned with Acura badges.
When the company decided to do its own SUV, it tapped more into the legendary engineering prowess for which Honda is known and came up with what many consider to be one of the first SUV models more attuned for street usage than trail. Rather than the body on frame construction most SUVs inherited from their pickup truck predecessors, the clean-sheet MDX was instead based on the four-wheel independent suspension platform underpinning the Honda Accord of the day.
This strategy created a fun-to-drive, highly fuel-efficient (relative to other SUVs) vehicle capable of mild off road and soft road duty, with the driving characteristics of a car. This meant easy handling and parking, as well as a more comfortable ride on pavement. Folding in the distinctively angular styling of the Acura MDX created a crossover SUV before most of the world even knew what a crossover SUV was.
BTW, if you're someone who is still unfamiliar with the phrase, a crossover SUV is an automobile with the high seating position and overall profile of a SUV, but is based on a passenger car, rather than a truck. This endows it with all of the carrying capacity and outward visibility enjoyed by SUV drivers, but the road manners of a car. In the MDX's case there was a downside though — towing capacity was limited to 3,500 pounds.
Still, this was pretty novel back in 2001, when the hottest selling SUV of all was the Ford Explorer whose body-on-frame architecture saddled it with unalienable truck-like characteristics. Whether Honda recognized people wanted their SUVs to act more like cars, or if it simply fell back on one of its strengths to create the MDX and got lucky, is open for debate. What is unarguable though is the vast majority of successful SUVs on the market today are patterned after the MDX's crossover utility vehicle strategy.
If, by now you've arrived at the conclusion the Acura MDX was basically nothing more than a really nice tall station wagon, you're correct. However back then, anything labeled "station wagon" died an ignominious death on the floor of the showroom to which it became all but permanently affixed.
There have been two generations of the Acura MDX offered since the model went on sale in the U.S. in late 2000, as a 2001 model.
2001 – 2006 Acura MDX
2001 – 2006
Introduced as an all-new model at the 2000 New York Auto Show, the Acura MDX went on sale in October of that year as a 2001 model. While, the MDX also shared much with Honda's Odyssey and Pilot (also underpinned by the Accord). In fact, those looking to save money, but still get as close as they can to an Acura MDX, should consider an up level equipped Honda Pilot of similar vintage. It won't have the cachet or the angular styling of the Acura, but it will have the same powertrain, much of the same equipment, and eight-passenger capability. Meanwhile, the Acura seats only seven.
2001
Powered by a 240-horsepower, 3.5-liter V6 generating 245 ft.-lbs. of torque, the first generation Acura MDX debuted with an automatic four-wheel drive system called Variable Torque Management (VTM-4), which was capable of shifting its primary drive force from the front wheels to the rear wheels if conditions warranted it. Unlike similar systems, the VTM-4 setup was capable of predicting the need to shift and did so before actual slippage occurred.
The four-wheel drive system featured a locking mode, which provided the MDX with the equivalent of a locking differential to ensure the Acura stayed in four-wheel drive if the driver were traversing particularly challenging terrain. While not a true off-road intended SUV, that first MDX did offer considerable off-road capability. Under normal driving conditions, the 2001 Acura MDX cruised down the highway and around town as a front-drive automobile.
A five-speed automatic transmission shepherded the engine's output.
Offered in two levels of trim; Base and Touring, the 2001 Acura MDX was nicely equipped. Standard features included seventeen-inch alloy wheels, second- and third-row seats that split and folded flat into the floor to create a rather cavernous cargo hold.
Being a product of Honda's upscale Acura marque, wood-grained trim was employed to add a touch of elegance to the interior treatment. Buyers also found eight-way power and heated front seats, with leather surfaces (in the first- and second-row), and the front passengers were treated to a set of side airbags. Other luxury features included keyless entry, a power-operated moonroof, an automatic climate control system, and a multi-function digital trip computer.
To all of that, the Touring model added seat memory linked to individual remote key fobs, enabling the MDX to set itself up for two different drivers automatically. A 200-watt Bose audio system was paired with an in-dash six-disc CD changer. Optional for the Touring model was a DVD-based navigation system.
Safety features included ABS, traction control, electronic brakeforce distribution, and disc brakes all around.
2002
All new for 2001, the 2002 model added only two additional paint colors; white and red.
2003
Engine output was increased to 260 horsepower and 250 ft.-lbs. of torque for 2003, with no increase in displacement or cylinder count. The automatic transmission, while still a five-speed was reengineered, ostensibly because of a number of reported transmission failures in the 2001 and 2002 models. Further, the 2003 Acura MDX got a new stability control system, a strengthened chassis, a retuned suspension and stronger brakes.
Voice recognition was added to the navigation system, enabling it operation via voice command, and a rearview camera on the tailgate transmitted video to the nav systems screen when the MDX was put in reverse.
For 2003, if you wanted both nav and a DVD-based video entertainment systems you could have them together, prior to '03 they were mutually exclusive — you could have one or the other, but not both.
2004
Another power increase for the 2004 model year put the MDX's engine output at 265 horsepower and 253 ft.-lbs. On the safety ledger, tire pressure monitoring and side curtain airbags were installed.
The 2004 Acura MDX also got a cosmetic update, which ushered in a new front end, a pair of exhaust system tips, revised headlights and taillights, plus more chrome trim and a rear spoiler.
The Touring model got a new wheel-set, as well as new Bose audio system.
Both versions got leather armrests, auto-on/off headlights, ambient lighting for the footwell, a brushed metal treatment for the center stack, and the second row seat was changed to make it easier to get into the third row.
2005
A flood of new tech washed over the MDX for MY'05. Satellite radio, Bluetooth telephony, the six-disc changer became video capable, and OnStar debuted (on Nav-equipped models only). Additionally, the MDX got a bigger fuel tank and the stability control system was improved.
2006
Victimized by the SAE's recalibration of its horsepower ratings quoting system, the MDX's stated output dropped to 253 although actual engine performance did not change. In Touring package MDX models, ebony colored Zebrano wood trim supplanted the Burl wood trim. This was paired with a brushed satin chrome accent treatment, replacing the bright chrome used previously.
2007 – Current (2012) Acura MDX
2007 – Current (2012)
Unveiling it in April of 2006, as a 2007 model at the New York Auto Show, Honda had gone all-out to turn its upscale Acura MDX crossover into a true luxury contender. The styling was redone completely, wheelbase and track width were increased, and wheel size was upped to eighteen inches. Additionally, a new engine, along with an innovative new drivetrain motivated the MDX.
Further, the Acura's tech quotient was upped significantly as well.
Under the hood, a 300-horsepower 3.7-liter V6 sporting a stratospheric 11:1 compression ratio churned out 275 ft.-lbs. of torque. This enabled the MDX's tow rating to be increased to 5,000 pounds. The transmission was a five-speed automatic, but it offered a manual shift mode and fed Honda's new "super handling" all-wheel drive system (SH-AWD).
In addition to shifting torque from front to rear the way VTM-4 did, SH-AWD would also shift it from side to side, as well as optimize torque transfer selectively to either of the rear wheels. In cornering situations, this enabled the outside rear wheel to turn faster than the other three wheels, helping the MDX to pivot into a curve more readily, improving its handling performance.
Thus, the system was dubbed super-handling all-wheel drive.
Standard comfort and convenience features included a tri-zone climate control system; an eight-speaker 253-watt audio system driven by satellite radio, an auxiliary audio input jack for personal media devices; a moonroof; Xenon headlights; and Bluetooth connectivity. Real-time traffic reporting, a surround sound audio system capable of playing DTS-encoded audio discs, and a rear-seat video entertainment system were also available with the MDX's new navigation system.
Standard safety equipment included front seat-mounted side airbags, full-length side curtain airbags, active front head restraints, stability control with a stabilizing feature for trailering, a tire-pressure monitoring system, and antilock disc brakes with brake assist.
2007
While technically there was only one trim line of the Acura MDX offered for 2007, it was nonetheless outfitted with three specifically orchestrated pre-packaged option bundles. These were designated "Technology", "Entertainment" and "Sport".
Ordering the 2007 Technology package fitted a navigation system with voice recognition and real-time traffic, in addition to a 410-watt surround-sound audio system, a rearview camera, and a solar-sensing climate control system.
Going with the Sport package, got you everything from the Technology package along with Acura's Active Damper System sport suspension package featuring magnetorheological shocks, a unique to the sport package set of five-spoke alloy wheels, and a more upscale-looking perforated leather trim upholstery kit for the seats.
The Entertainment package could be paired with either the Technology package or the Sport package. Ordering Entertainment, equipped your MDX with a rear-seat DVD-based video entertainment system, heat for the second-row seats, a power tailgate triggered by the remote key fob, and a 115-volt power outlet.
2008
MY'08 saw no significant changes for Acura's newly revised crossover utility vehicle other than an auto-dimming rearview mirror.
2009
The power tailgate feature was offered with the Technology and Sport packages, in addition to the Entertainment package.
2010
Acura's MDX got a six-speed transmission for the first time, a mild facelift both inside and out, and even more tech. A new option package was also added called "Advance". In 2009, Acura adopted a new front grille treatment christened "Power Plenum". Debuting to mixed reviews, it became the face of the brand nonetheless, and was fitted to the MDX in 2010.
The Advance package consisted of Adaptive Cruise Control, a blind spot monitoring system, the magnetorheological Active Damper Suspension, nineteen-inch wheels and tires, ventilated seats, and paddle shifters for the six-speed transmission.
This was accomplished with a bit of rejiggering of features, so for 2010, the Acura MDX option packages were configured as follows:
The standard feature set consisted of eighteen-inch wheels, Xenon HID headlights, a power liftgate, a sunroof, an auto-dimming rearview mirror with an integrated rearview camera, a tri-zone automatic climate control system, a power-actuated tilt-and-telescoping steering column, heated eight-way power front seats, a 50/50-split-folding third-row seat, leather upholstery, a trip computer, and Bluetooth.
The basic audio system was an eight-speaker stereo situation, driven by an in-dash six-disc CD changer, along with satellite radio and an auxiliary audio input jack for portable media devices.
To all of that, the Technology package added upgraded leather trim, an automatic phonebook-downloading feature for the Bluetooth system, a multi-angle rearview camera, a voice activated hard-drive-based navigation system, which provided Zagat restaurant ratings, weather information, and real-time traffic reports with rerouting capability.
The Tech package's climate control system was GPS-linked and solar-sensing. Its audio system was a ten-speaker Panasonic/ELS surround-sound system with digital music storage and capable of playing DTS-encoded audio discs.
The Advance package included all the Technology package items, plus Adaptive Cruise Control, a blind spot monitoring system, Acura's Collision Mitigating Braking System, the magnetorheological Active Damper Suspension system, nineteen-inch wheels and tires, perforated leather upholstery with contrasting stitching for the ventilated seats, a sport steering wheel, and paddle shifters for the six-speed transmission.
As before, the Entertainment package added heated second-row seating, a 115-volt power outlet and a rear-seat DVD-based video entertainment system to either of the other two packages.
If you wanted a rear monitoring video camera system, but didn't care to spring for the expense of the navigation system, Acura offered the 2010 MDX with a monitor located in the rear view mirror.
2011
After all the attention lavished upon it for 2010, the MDX went into 2011 unchanged.
2012 (Current Model)
See 2011.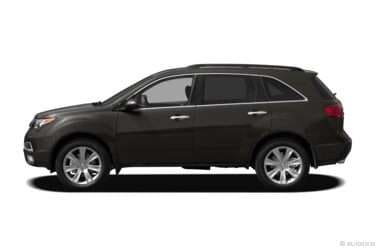 Summary
Without question, the Acura MDX represents one of the best crossover utility vehicle choices out there. The Acura is comfortable, versatile, suitably powerful and fun to drive. It is also remarkably reliable (as long as you steer clear of 2000 – 2002 models with the early automatic transmission). Comprehensively equipped, the newest MDX you can afford will be the most technologically endowed MDX you can acquire as well.
While Acura has fallen off its game in terms of updating the MDX over the past few years, it can be argued its feature set is still more than competitive within its segment. If you're getting the impression we really like the MDX, you're quite astute. That doesn't mean we suggest you overlook the usual used car buying caveats however.
A vehicle history report run against the VIN will provide you with valuable background information on the vehicle, its service history, and any untoward incidents in its past. There have been a few recalls too, so you'll want to research those with an Internet search. And lastly, a pre-purchase inspection by a trusted professional Honda mechanic will ensure you a solid choice of your Acura MDX.