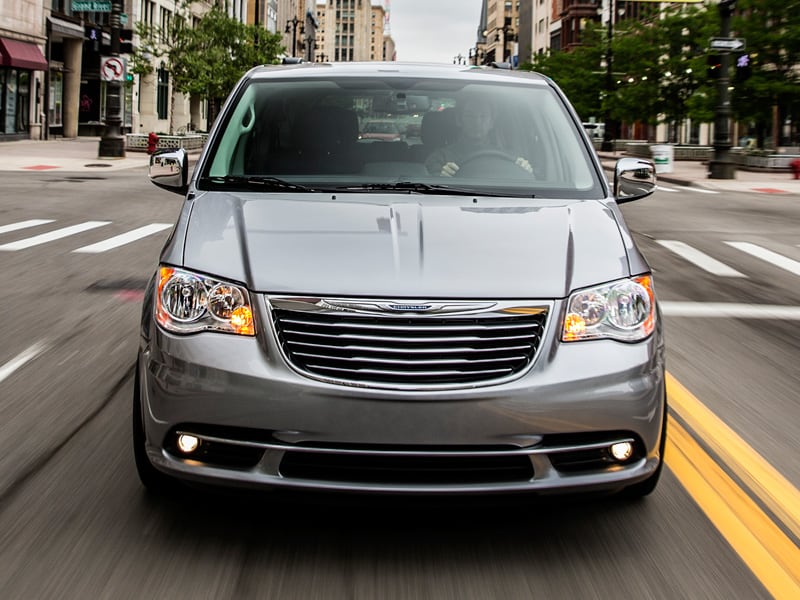 2015 Chrysler Town and Country front head on driving
Minivans usually mean families, and families usually mean limited budgets. If the cabin's going to fill up with half-eaten Cheerios and upturned juice boxes, it makes little sense to buy an expensive car, right? What we need most is practicality and safety.
As it happens, the minivan world is in a changeable state at the moment, with some being discontinued and others morphing into new generations. This might work in a buyer's favor, throwing up the chance to negotiate a sweet deal. "Cheapest" is also a relative term here. It's possible to spend $40,000 on a new minivan, but the ones in this list are the more affordable entry level models. Prices include destination charges.
1. 2015 Chrysler Town & Country LX $32,380
LX is a new entry level trim for the 2015 Town & Country, but it still has leather seating, power sliding doors, power tailgate, heated side mirrors, 17-inch alloy wheels, touchscreen, 115-volt outlet, rearview camera and the popular Stow 'n' Go seat-folding system. Then again, it's the priciest minivan on this list.
A 3.6-liter V6 makes 283 hp and 260 lb-ft of torque while supping gas at a rate of 17 mpg city, 25 mpg highway, and 20 mpg combined. That's more than enough muscle for pleasing progress, but refinement is not at the same high level as the Japanese competition. A new generation is expected for the 2017 model year, possibly featuring a plug-in hybrid, which would be a first in this segment unless another manufacturer beats Chrysler to the punch.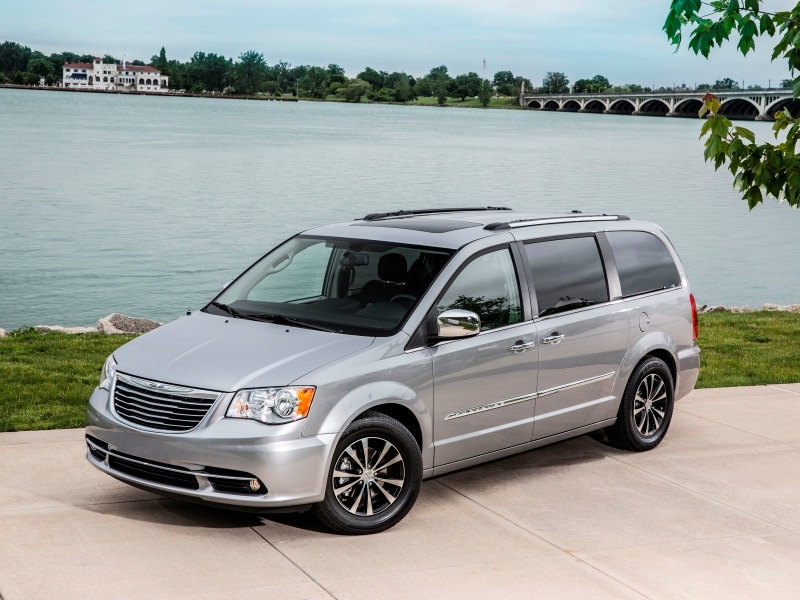 Photo by FCA Media
2. 2015 Dodge Grand Caravan American Value Package (AVP) $22,790
The Grand Caravan is sister to the Chrysler Town & Country, and notably less expensive than most other minivans, especially in this basic form. Yet it still packs 283 hp and 260 lb-ft of torque from a 3.6-liter V6. Mileage is 17 mpg city, 25 mpg highway and 20 mpg combined. Safety equipment includes a driver knee airbag, full-length side curtain airbags and active front head restraints.
However, Dodge/Chrysler's excellent Stow 'n' Go system — where the second-row seats can fold into the floor — is an optional extra in the AVP version (or standard in higher trims). Cabin quality and overall refinement also suffer in comparison to Japanese rivals. Nor did it score well in the recently introduced small overlap crash test. And it's probably going to be discontinued, perhaps in 2016.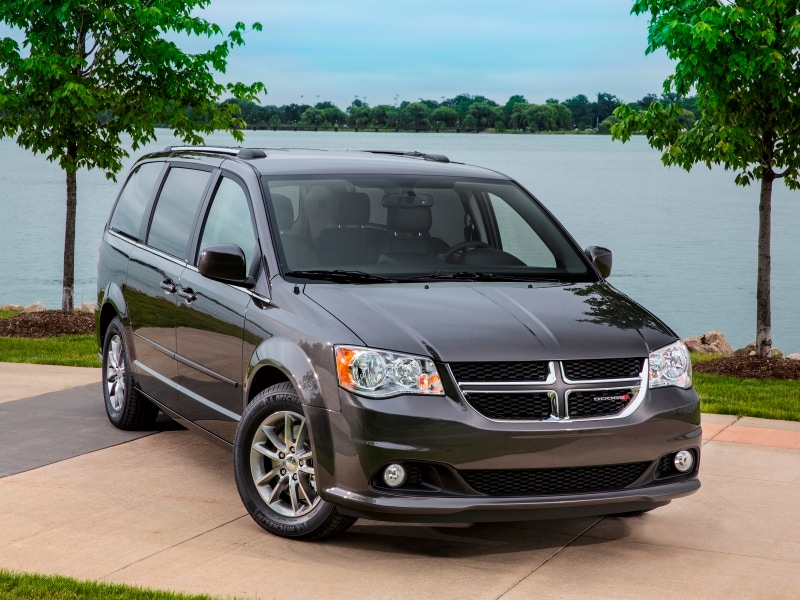 Photo by Fiat Chrysler Automobiles
3. 2015 Ford Transit Connect Wagon LWB XL $26,180
Sure, the larger Ford Flex is available from $30,095, but since we're supposed to be checking out cheaper options, how about this? The Transit Connect Wagon occupies a smaller footprint than a regular minivan, but still does well with interior space, offering seven seats in the long-wheelbase version. Those seats in the second and third rows can also fold flat.
Ford excels at chassis tuning, even in something as utilitarian as this, so some degree of driving fun is a bonus. The basic power unit is a 2.5-liter four-cylinder with 169 hp and 171 lb-ft of torque (a turbo 1.6 is an option), while fuel consumption is quoted as 20 mpg city, 28 mpg highway and 23 mpg combined. Handy features include sliding side doors and even a choice of liftgates. The TCW also scored the maximum five stars in federal crash tests.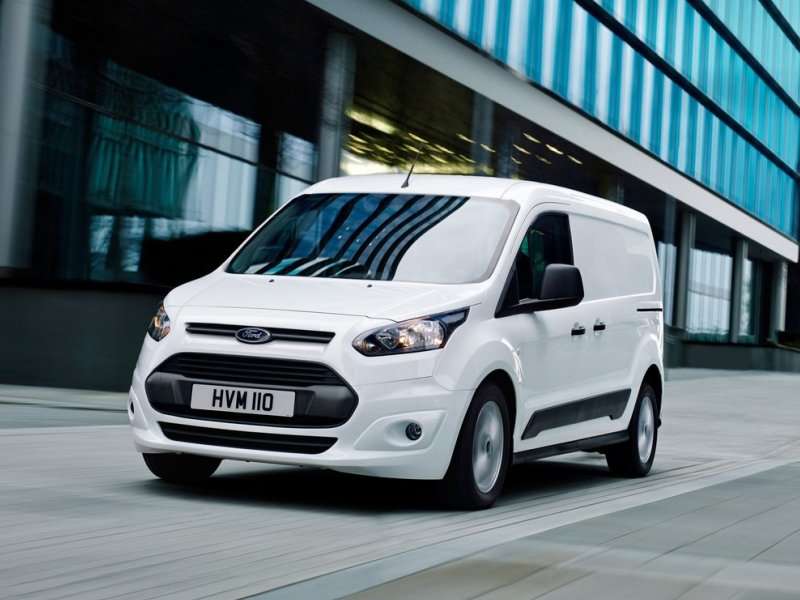 Photo by Ford
4. 2015 Honda Odyssey LX $29,855
Here's an interesting fact: the Odyssey was found by the Insurance Institute of Highway Safety (IIHS) to be the safest in its class, with zero driver deaths per million vehicle miles registered. So although it's far from the cheapest minivan, it is quite possibly a smart investment. The Institute states: "Honda is ahead of many of its competitors in building state-of-the-art crashworthiness into its vehicles."
Neither is the Odyssey a slouch on the road, since it's endowed with handling talents that match an executive sedan's, with low noise levels to match. A 3.5-liter V6 whirrs away to the tune of 248 hp and 250 lb-ft of torque, while achieving 19 mpg city, 28 mpg highway and 22 mpg combined — as good as this class gets. A rearview camera is standard, the two rows of back seats can slide for extra flexibility, and there's a chiller compartment plus easy-clean cabin surfaces. The base LX level only offers seating for seven, however. The Odyssey is recognized as one of the best minivans around, which will also contribute to strong resale values. So it could turn out to be a bargain in the long run.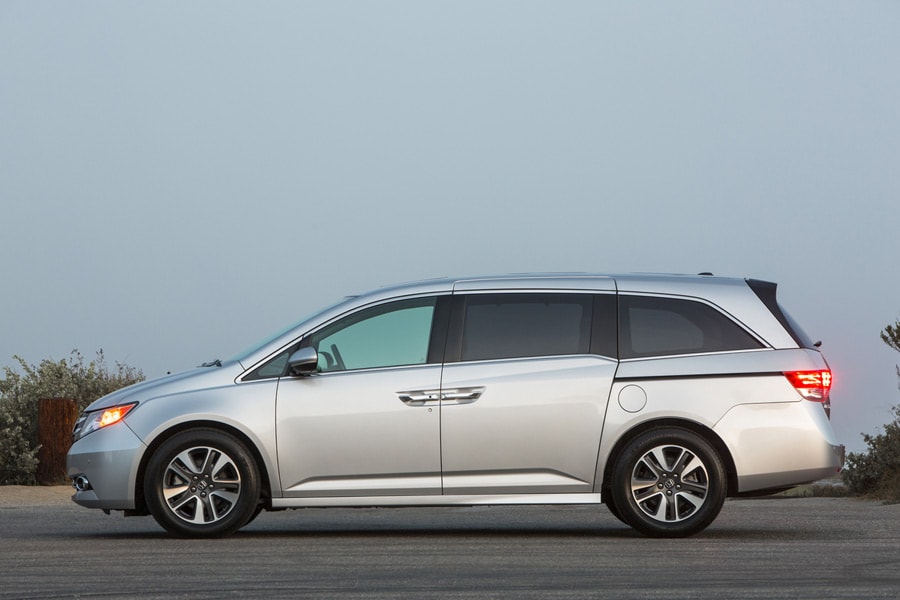 5. 2016 Kia Sedona L $27,295
This current generation of Sedona was all-new for 2015. Kia is still something of a budget brand, but offers equipment at this price point many others don't, such as 17-inch alloy wheels (some pricier rivals have steel wheels on their lower trims), the seats are covered in anti-soiling fabric, and all models come with hill start assist. A rearview camera is optional, though, and seating is only for seven.
Despite a 3.3-liter V6 delivering a healthy 276 hp and 248 lb-ft of torque, the Sedona is not a driver's choice like a Quest or an Odyssey. At this basic L trim level, fuel consumption runs to 18 mpg city, 24 mpg highway and 20 mpg combined. Please note: the third-row seats fold down most of the way to the floor, but not quite flush with it. And the second row seats can slide forward and back, but cannot be removed.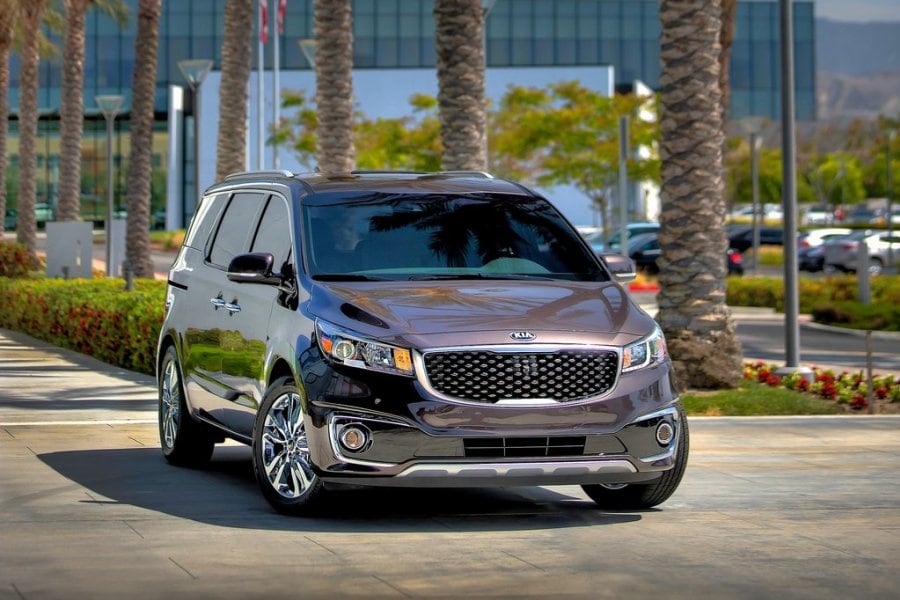 6. 2015 Mazda5 Sport $22,060
Smart packaging means a smaller, more parking-friendly van than usual, but still with the ability to seat six. And still pretty good at carrying cargo. This vehicle is based on the Mazda3, so it's actually quite fun to drive. The 2.5-liter four-cylinder engine provides 157 hp and 163 lb-ft of torque, and returns a respectable 21 mpg city, 28 mpg highway and 24 mpg combined.
On the plus side, the sliding side doors have nice wide apertures, while the second row reclines and slides. On the minus side, the third row is cramped, the engine struggles when fully laden, and the car has not been great in crash tests. It's not entirely surprising that the 5 will be deep-sixed after the 2015 model year.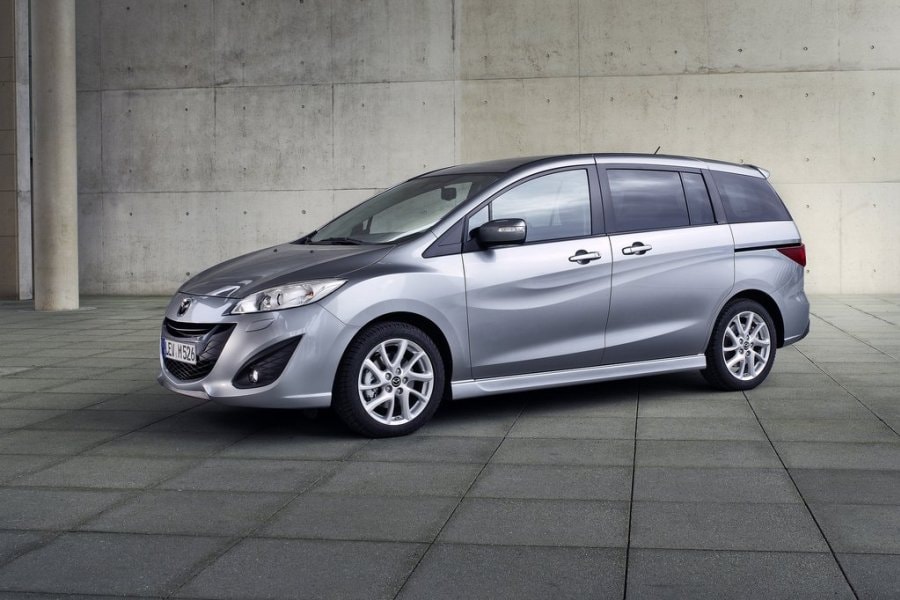 7. 2016 Mercedes-Benz Metris $33,495
Not a minivan as such. And not that cheap, but it is at least a cost-effective way of getting more than five people into a Mercedes-Benz. The company does not intend to market passenger versions of the Metris commercial vehicle as minivans — it doesn't offer the usual types of family friendly features such as rear seat entertainment systems — but it's not such a stretch of the imagination to look at one of these and imagine doing the school run in it.
It's a pleasant drive, similar to a crossover with that slightly elevated driving position. The second- and third-row seats can be removed (kind of cumbersome, though), a sliding side door is standard, and the 2.0-liter, four-cylinder turbo engine makes 208 hp and 258 lb-ft of torque. No EPA figures yet, but an average of 25 mpg is possible.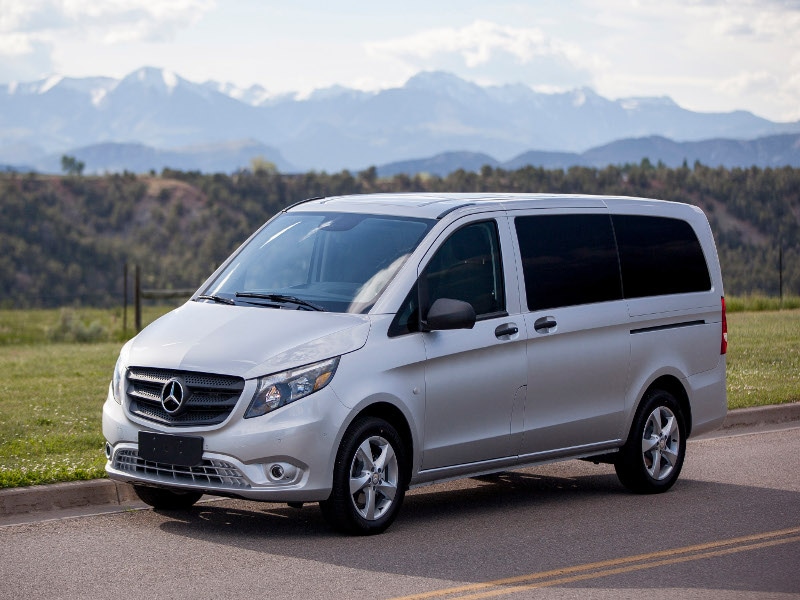 8. 2015 Nissan Quest S $27,415
If it matters, this is one of the better minivans from the driver's seat, with a chassis making good use of the 250 hp and 240 lb-ft of torque from a 3.5-liter V6 engine. Fuel consumption is pretty good too: 20 mpg city, 27 mpg highway and 22 mpg combined.
But there are compromises. The Quest doesn't have the same interior space as some rivals and its seating layout is not so flexible. Although the front row is spacious, the second-row seats are captain's chairs and so restrict total seating to seven, whereas some competitors can handle eight.
The current Quest is in its fourth generation, which debuted in 2010. So a new wave — or at least some sort of revamp — is imminent, probably for 2016 as a 2017 model.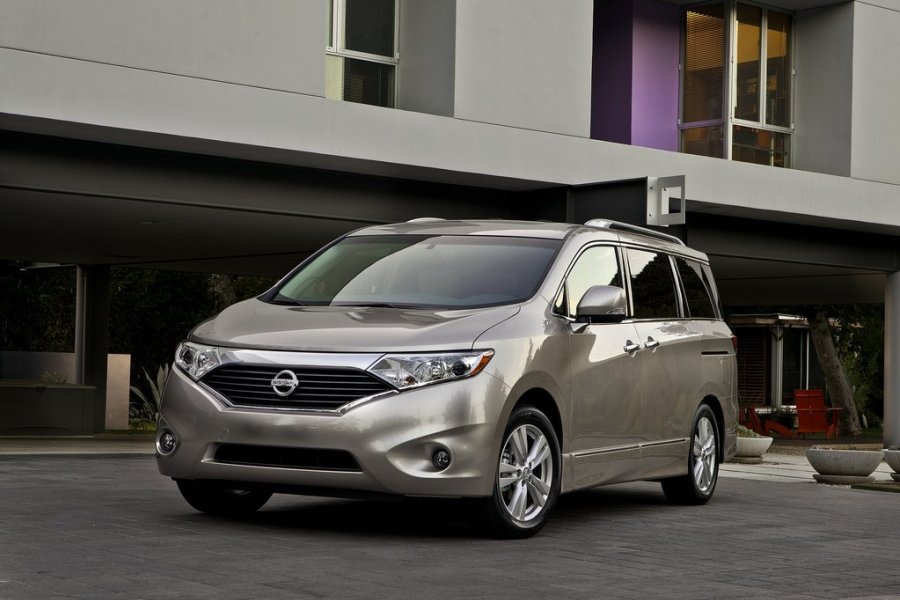 9. 2015 Toyota Sienna L $29,585
The whole Sienna range has received a slight facelift for this model year (grille, tail lights), while also being updated suspension-wise, structure-wise and cabin materials-wise. This is the only true minivan to offer American buyers the option of all-wheel drive, but it has to be in a trim level higher than the L, which is also a "seven seats only" deal.
We're still talking about one of the major minivans, though. Toyota's build quality and reliability is usually a given, and even though the L is the lowest trim, it comes with 17-inch alloy wheels, rearview camera, and three-zone automatic climate control. Propulsion is courtesy of 266 hp and 245 lb-ft from a 3.5-liter V6. Fortunately, 18 mpg city, 25 mpg highway and 21 mpg combined isn't much of a thirst.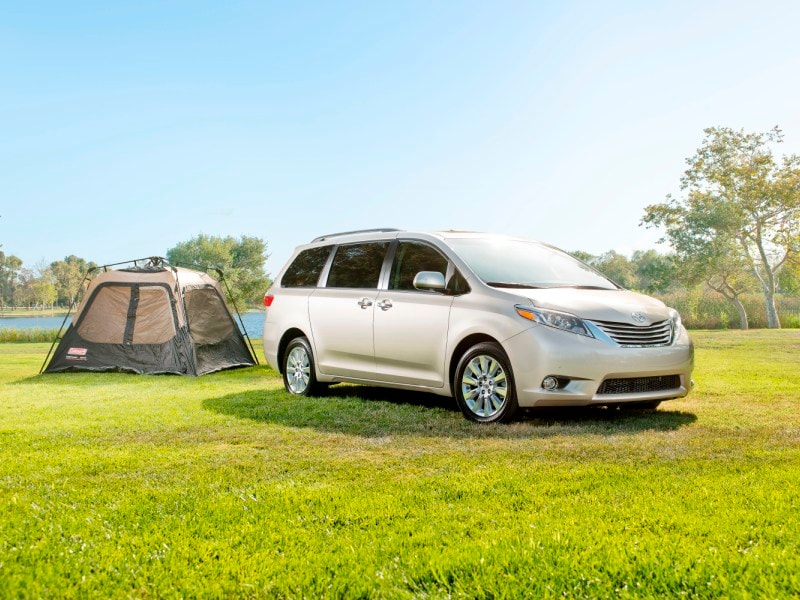 Photo by Toyota