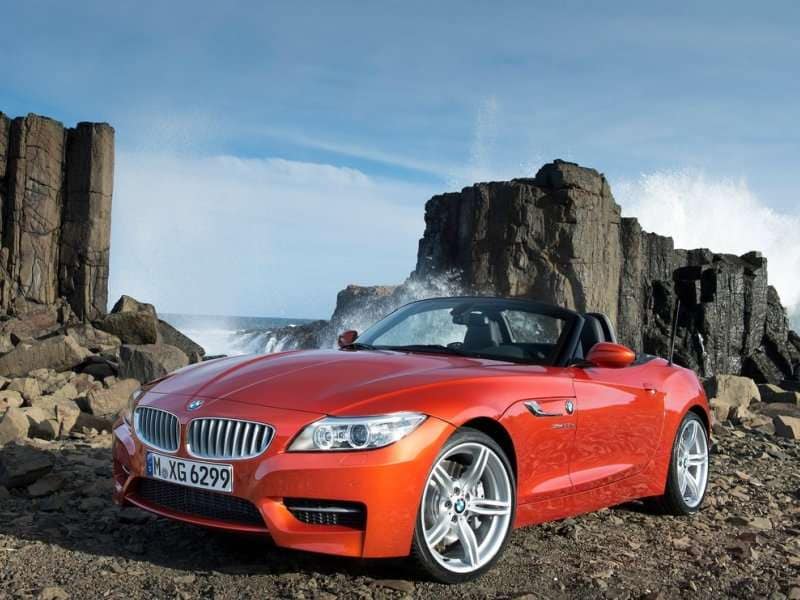 The best small convertibles are those that let you feel the wind whip through your hair - or lack thereof - without taking up a lot of space in the driveway.  Most small convertibles are weekend cars intended for summertime fun, although there are a few out there that can also double as daily drivers due to their decent cargo space and reasonable fuel efficiency.  That being said, good times are the order of the day when considering which small convertible is best for you, and there's no shortage of solid options of there in this category at a wide range of prices.
Let's take a quick look at nine of the best small convertibles available in 2014.
9 Best Small Convertibles for 2014 - 01 - 2014 Fiat 500c Abarth
The 2014 FIAT 500C Abarth is the perfect small convertible for those who like it loud.  The retractable cloth roof on the Fiat 500c Abarth might leave the subcompact car's steel side frames in place, but it provides ample space for the unmitigated exhaust note of the vehicle's turbocharged engine to fill the cabin.  The 500c Abarth is the most spirited drop-top in the Fiat family, featuring a sporty suspension system, a six-speed manual transmission, and a 1.4-liter, 160 horsepower four-cylinder engine that is also good for 170 lb-ft of torque.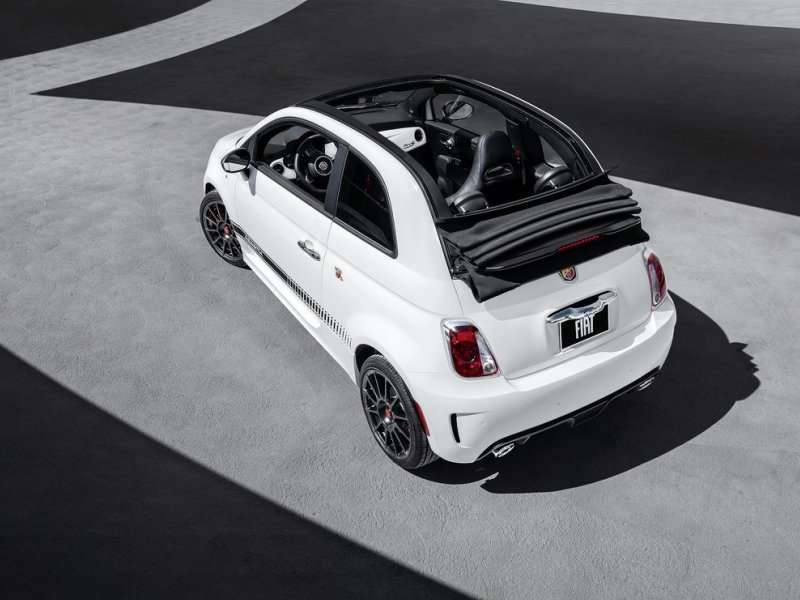 9 Best Small Convertibles for 2014 - 02 - 2014 Mazda MX-5 Miata
The 2014 Mazda MX-5 Miata is the best small convertible for fans of pure driving pleasure.  With a lightweight design and a simple rear-wheel drive layout, the Mazda MX-5 Miata cements its status as the world's most popular roadster by way of its exceptionally engaging driving dynamics.  Available with either a cloth roof or a retractable steel hardtop, the Miata features a 2.0-liter, four-cylinder engine that produces 167 horsepower and 140 lb-ft of torque when matched with one of its two manual transmission options (five and six-speeds), and a little bit less power if the vehicle's six-speed autobox is specified.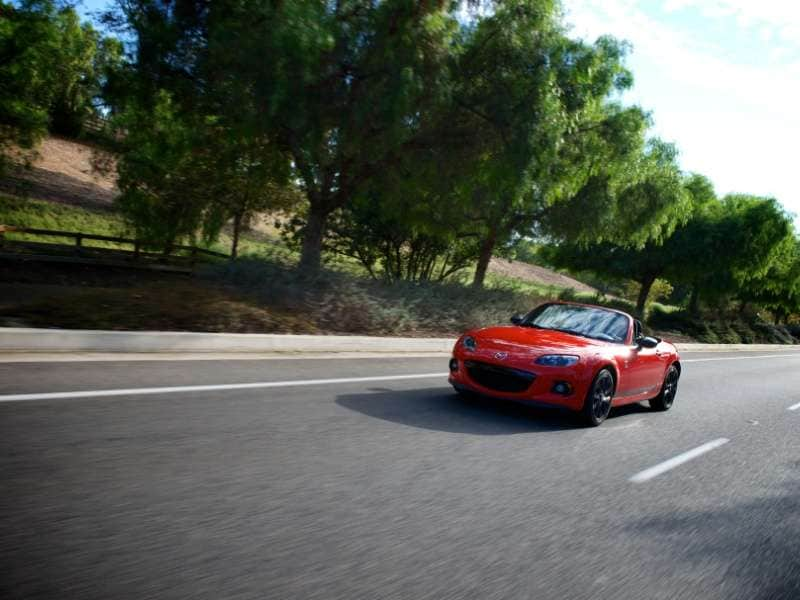 9 Best Small Convertibles for 2014 - 03 - 2014 Audi TTS Roadster
The 2014 Audi TTS Roadster is aimed squarely at small convertible lovers who also happen to be fashionistas.  The highly stylish Audi TTS Roadster is a barrel of monkeys on a twisty road thanks in no small part to its turbocharged, 2.0-liter four-cylinder engine that delivers 265 horsepower and 258 lb-ft of torque.  Buyers also get standard quattro all-wheel drive with the two-seater, as well as a six-speed dual-clutch automated manual transmission.  Look for a 0-60-mph of roughly 5.5 seconds with the Audi, which puts it in good sports car company, and its all-wheel drive traction also gives it an edge during the winter months.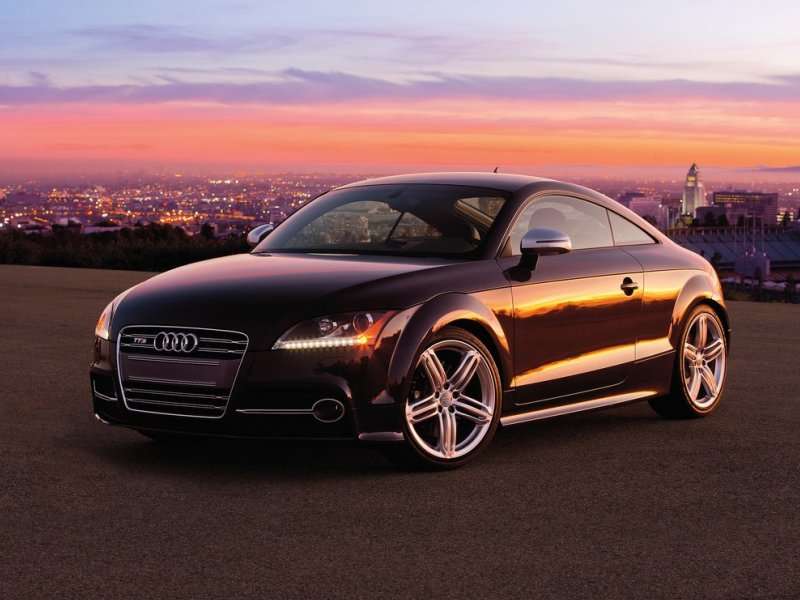 9 Best Small Convertibles for 2014 - 04 - 2014 Smart Fortwo Passion Cabriolet
At the other end of the performance spectrum is the 2014 smart fortwo Passion Convertible, a two-passenger city car that some would consider more of a novelty than a daily driver.  Who should be driving the Smart Fortwo Passion Convertible?  Anyone whose parking situation precludes anything other than the smallest of four-wheeled vehicles, as the Smart is so tiny it can actually be tucked away with its rear wheels touching the curb and still not protrude into the roadway.  The convertible's 1.0-liter, three-cylinder engine sips fuel on its way to generating 70 horsepower and 68 lb-ft of torque, and a unique automated manual five-speed transmission comes free of charge with the Smart.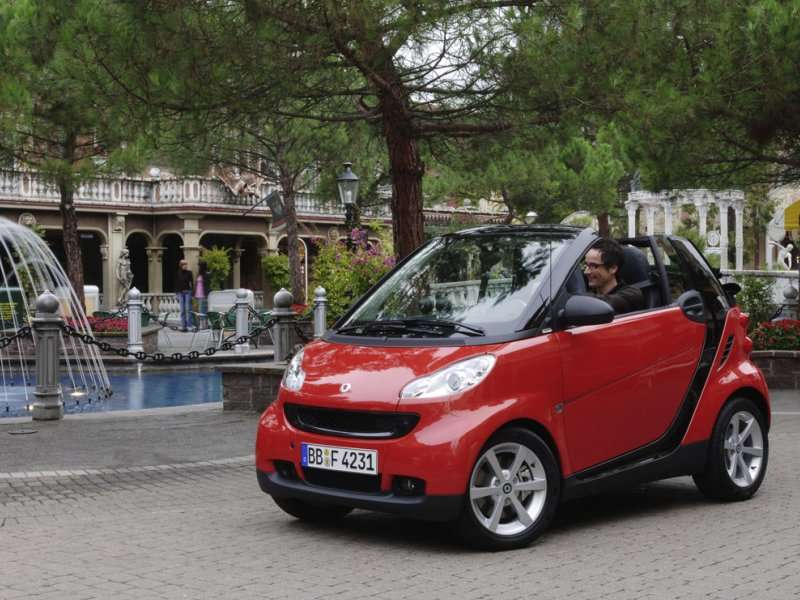 9 Best Small Convertibles for 2014 - 05 - 2014 MINI Cooper Convertible
The 2014 MINI Cooper convertible is another fashion-forward choice for open air fans, and one that also appeals to Britphiles as much as it does city dwellers seeking a compact option.  The MINI Cooper convertible is notoriously fun to drive, with its wheels-at-each-corner platform and available 181 horsepower, 2.0-liter turbocharged four-cylinder engine (found in the Cooper S).  Ostensibly a four-passenger model, you'll be hard pressed to find anyone willing to squeeze behind the front row in the Cooper convertible, but don't let that stop you from sampling its corner-friendly handling and remarkable styling.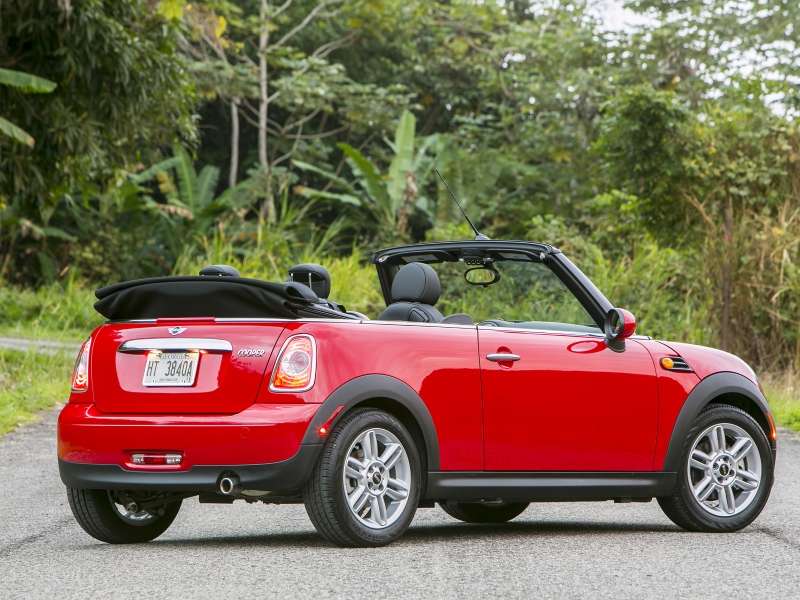 9 Best Small Convertibles for 2014 - 06 - 2014 BMW Z4
The 2014 BMW Z4 straddles the coupe and convertible worlds thanks to its standard power retractable hardtop.  The BMW Z4 is also renowned for its ability to combine small roadster performance with a hint of GT luxury, making it adept at longer road trips as well as the occasional track day.  The sDrive28i model is motivated by a 240 horsepower, 2.0-liter turbocharged four-cylinder engine while the sDrive35i graduates to a 3.0-liter six-cylinder mill that is turbocharged to produce 300 horsepower and 300 lb-ft of torque.  There's even a sDrive35is model that squeezes and additional 35 ponies and 32 lb-ft of torque out of the same six-cylinder engine.  Transmission choices for the BMW Z4 include a six-speed manual, an eight-speed automatic, and a seven-speed dual-clutch automated manual.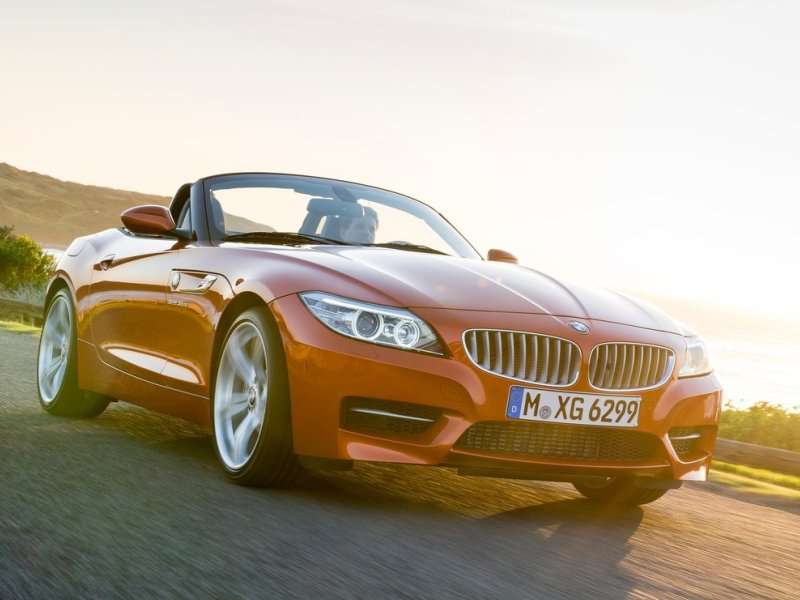 9 Best Small Convertibles for 2014 - 07 - 2014 Volkswagen Beetle Convertible
The 2014 Volkswagen Beetle convertible has been given a renewed lease on relevance thanks to its recent restyling effort.  More aggressive and modern looking that before, the 2014 Volkswagen Beetle convertible is also capable of transporting up to four passengers in a pinch.  Unlike any other vehicle on this list, it's possible to order a turbodiesel engine under the hood of the Beetle convertible, a 2.0-liter, four-cylinder unit that's good for 140 horsepower, 236 lb-ft of torque, and 41-mpg on the highway.  If you are more interested in value, there's always the base 170 horsepower 2.5-liter five-cylinder motor, while performance fans can sample a 2.0-liter, turbocharged four-cylinder that generates 210 horsepower and 207 lb-ft of torque.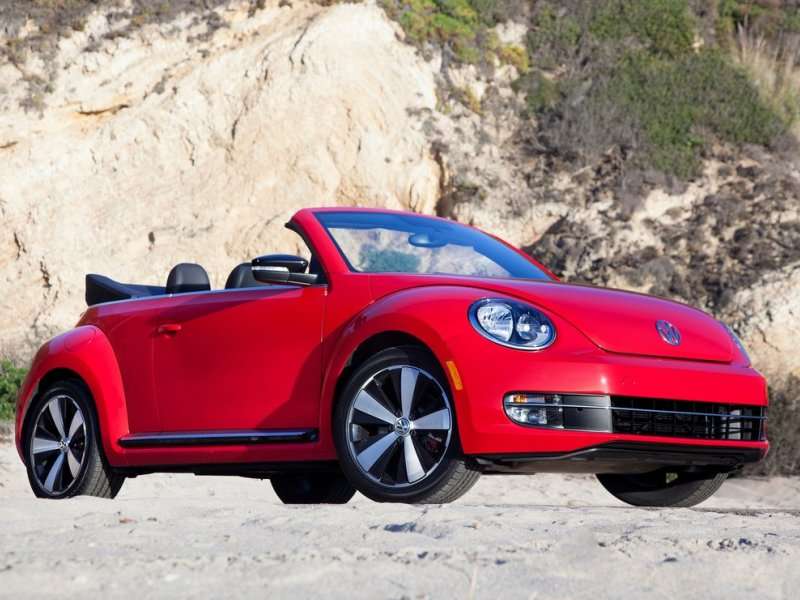 9 Best Small Convertibles for 2014 - 08 - 2014 Mercedes-Benz SLK-Class
The 2014 Mercedes-Benz SLK-Class is another GT car masquerading as a sporty runabout.  Eating up highway miles with the roof open - a retractable steel roof, to be precise - is one of the best ways to sample the many charms of the Mercedes-Benz SLK-Class, whether you're behind the wheel of the SLK250 (1.8-liter turbocharged four-cylinder engine pushing out 210 horsepower) or the more robust SLK350 (302 horsepower, 3.5-liter V-6).  Muscle fans will want to order the SLK55 AMG's obscene 415 horsepower, 5.5-liter V-8, a motor that also produces 398 lb-ft of torque and reduces the roadster's 0-60-mph time to a mere 4.5 seconds.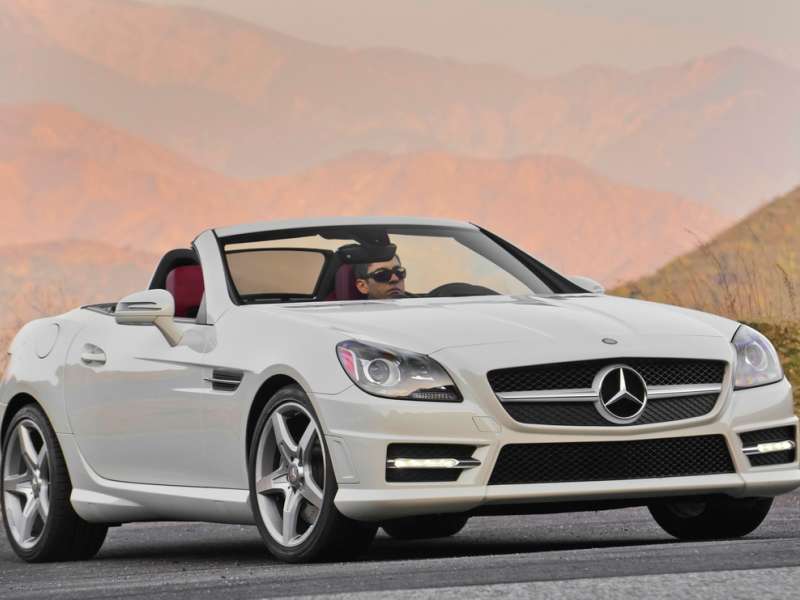 9 Best Small Convertibles for 2014 - 08 - 2014 Porsche Boxster
The 2014 Porsche Boxster can be thought of as one of the ultimate track day weapons, or perhaps the best back roads toy to have ever been built.  With a mid-engine design, the rear-wheel drive Porsche Boxster is perfectly balanced, and its chassis dances with the best of them when pushed to the limit by a long set of interconnected corners.  The base Boxster's 2.7-liter six-cylinder engine develops a perfectly acceptable 265 horsepower and 206 lb-ft of torque, but even more fun is to be had from the Boxster S' up-sized 3.4-liter unit that is good for 314 horsepower and 266 lb-ft of twist.  A six-speed manual transmission or a seven-speed dual-clutch automated manual handle the gear-shifting duties for the Boxster.