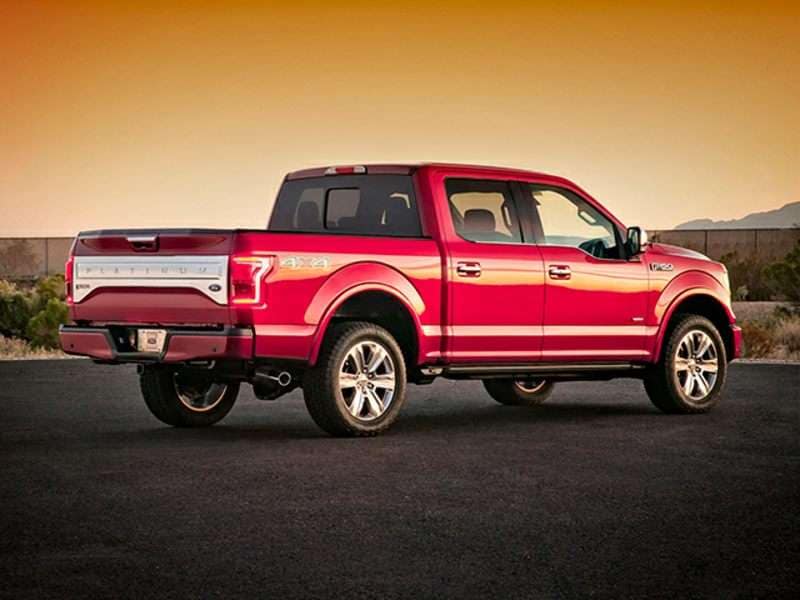 There are a number of reasons why the Ford F-150 is America's best-selling automobile. Chief among them is the fact that Ford's product planning team knows its customer very well. Much has been made of late about how today's pickup trucks are infinitely more comfortable, and equipped far more nicely than their predecessors from even 10 years ago. And frankly, this is absolutely true. With more and more pickup truck buyers pressing them into service as their daily drivers, focus group studies have informed auto manufacturers of the need to infuse pickups with more comfort and greater versatility. Thus, the 2016 Ford F-150 is a brilliant illustration of this fact. With easier handling and an outstanding array of comfort and convenience features, as well as better fuel efficiency, smoother operation, and a wide variety of choices, in many ways Ford's F-150 is more like a car than a truck.
8) Availability of Ultra-Luxury Trim Packages
Among the myriad of ways the Ford F-150 is more like a car than a truck is the availability of a number of ultra luxurious trim packages. At the summit of the F-150's model structure are no less than three exceptionally luxurious models. These are F-150 King Ranch, Platinum, and the absolute top-of-the-line Limited (which is new for 2016). In many respects, King Ranch and Platinum are virtually identical save their design themes. As their names suggest, the King Ranch offers more of a western appeal, while the Platinum is more urban oriented in its décor. Features include remote engine start, heated exterior mirrors, power adjustable pedals, high-powered multi-speaker audio systems, dual-zone automatic climate control, plush leather upholstery with heated and ventilated seats, headlights with automatic high beam control, lane keeping assist, smart cruise control, and automated parking. Features specific to the 2016 Ford F-150 Limited include "fiddleback" eucalyptus wood interior trim, heated and cooled Mojave leather seats with a massage function, and ice blue backlighting for the doorsill scuff plates.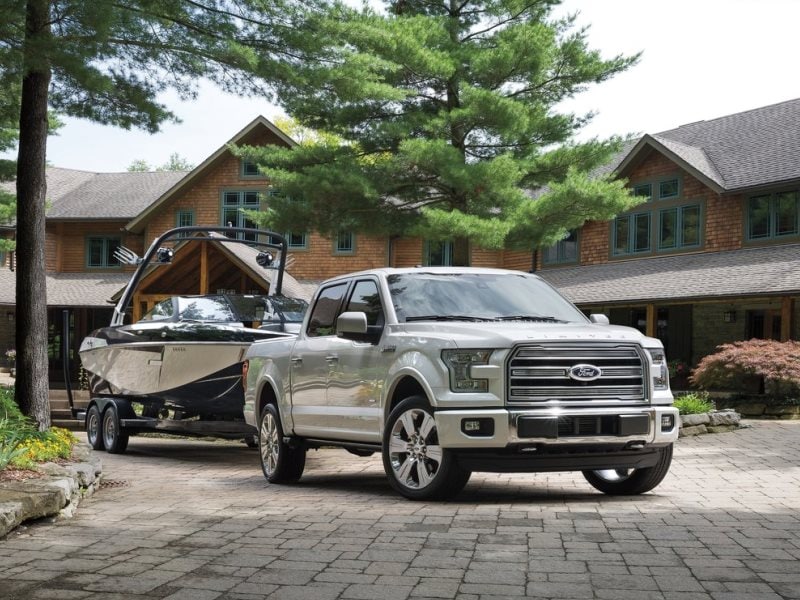 7) Outstanding Comfort and Convenience Options
In addition to the exceedingly high-end luxury models we just mentioned, you can equip the more basic versions of the 2016 Ford F-150 with luxurious touches, too. Options for the more affordable versions include an eight-inch touchscreen to provide more intuitive control over infotainment features. It's also equipped with physical volume and tuning knobs for the radio to make it easier to dial in the audio system. Other available luxury-oriented features include 10-way power adjustable seats upholstered in leather with both heating and cooling, smart cruise control, a heated and power adjustable steering wheel, second row-heated seats, a 10-speaker Sony audio system, as well as keyless entry and start. Yes, these are items you quite rightfully would expect to find on a Lincoln feature list. Well, guess what? They're also on the F-150's options list.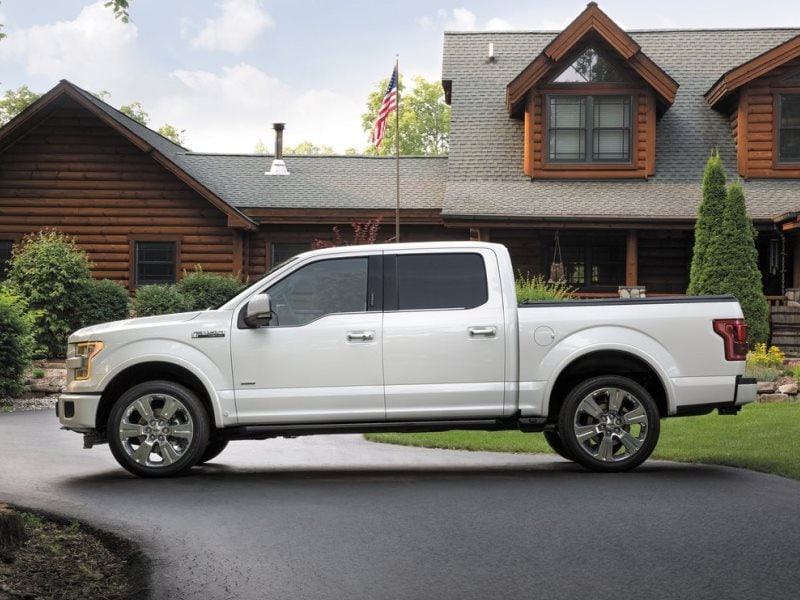 6) Easy Handling and Smooth Driving Characteristics
That whole full-boat-next-best-thing-to-a-Lincoln plushness thing also applies to the way the F-150 feels going down the street, even when unladen. Old-school pickup trucks rode notoriously rough when driven without a load. The proverbial empty wagon syndrome applied heartily to those machines of yore. Meanwhile, the 2016 Ford F-150 could care one whit whether you're approaching its max payload, or driving around with a totally empty cargo box. Further, thanks to the significant reduction in curb weight, the F-150 feels more agile, lighter on its feet, and, dare we say, more car-like than ever before. The suspension system is calibrated to provide a smooth ride, the steering is nicely responsive, and the brakes are exceptionally resolute. And, lest the size of the F-150 give you pause regarding taking it into the city for fear of being unable to park it, the Ford's automated parking feature completely frees you of this concern. The F-150 can park itself.
5) A Roster of Remarkable Tech Innovations
The tech quotient is another way the Ford F-150 is more like a car than a truck. Just as has happened in today's cutting-edge luxury cars, the 2016 Ford F-150 offers a broad array of amazing technological features. The adoption of Ford's new SYNC 3 communications and entertainment system has brought enhanced voice recognition, high-speed computational performance, a capacitive touchscreen interface, and easier-to-understand graphics to the monitor in the F-150's center stack. For towing, the F-150's all-new Pro Trailer Backup Assist makes it easier to back a trailer up to launch a boat or park in a driveway. This remarkably innovative system helps the driver steer a trailer instinctively by turning a knob left or right to indicate direction. The truck then controls its steering just as it does when employing the automated parking function. However, the F-150 Trailer Assist function also regulates speed automatically. Ford has earned five patents for this technology with 10 additional pending.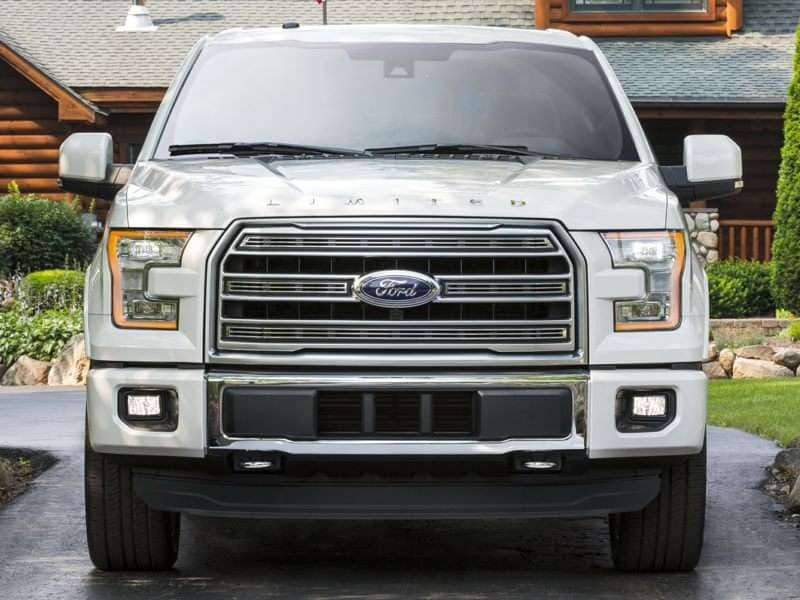 4) Thoughtful Interior Design
Closely mirroring the details you'll find in a carefully considered passenger car, the interior of the 2016 Ford F-150 offers an environment with a look and feel quite realistically described as being, well, chic. The fit and finish, the look, and the feel of the materials employed are readily comparable to what you'll experience in a number of highly celebrated premium sedans. Thoughtful ergonomic considerations are also wholly apparent throughout the interior of the F-150. Additionally, the generous employ of soft-touch surfaces reflect a decidedly car-like nature. What's more, just as you'll find in a truly well-designed sedan, all of the most frequently used controls fall readily to hand, having been placed exactly where you'd expect to find them.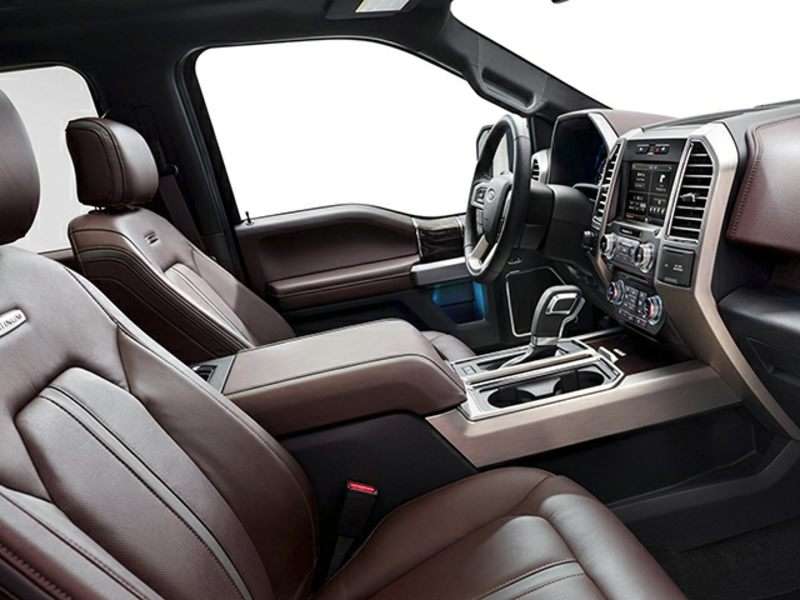 3) Broad Array of Safety Features
The standard safety suite prescribed for the 2016 Ford-F-150 includes ABS, traction control, stability control, trailer sway control, a full complement of airbags, and the Ford SYNC 3 system, which can automatically call for emergency help in the event of a collision triggering the deployment of the F-150's airbags. Optional features include a 360-degree multi-view camera system, a rear parking sensor array, forward collision warning, forward collision mitigation with automatic braking preparation, lane departure warning, rear cross traffic alert, blind spot monitoring, and inflatable seatbelts (in crew and super crew cabs).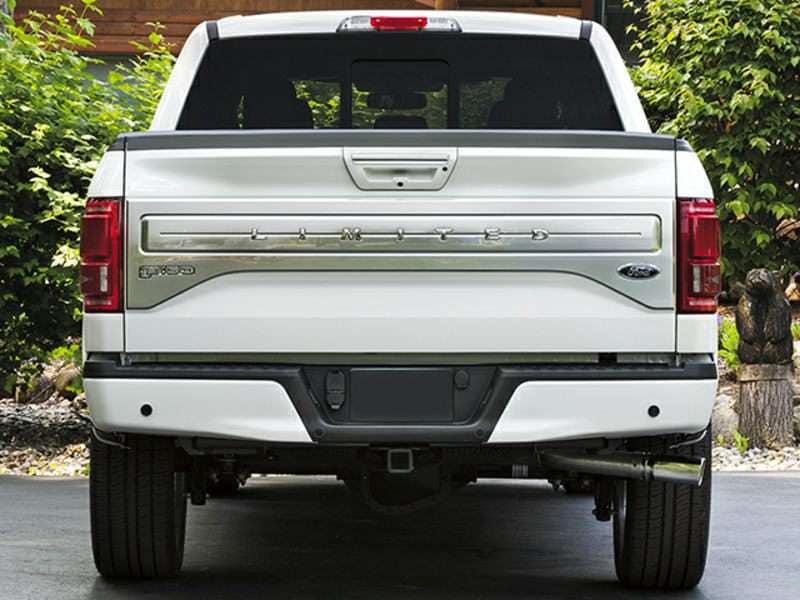 2) Exceptional Fuel Efficiency
The adoption of military grade aluminum alloys and other weight saving measures shaved some 700 pounds off the curb weight of the current version of the Ford pickup truck. This, in combination with Ford's innovative 3.5-liter turbocharged EcoBoost engine, has preserved the power and drivability of the Ford F-150, while also endowing it with a remarkable fuel economy story. In fact, the F-150 now makes fuel economy numbers more like a car than a traditional pickup truck—particularly when the F-150's capabilities are factored into the equation. Generating 365 horsepower and 420 ft-lbs of torque, the 3.5-liter V6 returns 19 miles per gallon in the city, 26 on the highway, and 22 mpg in combined city/highway operation with the rear-wheel drive powertrain. A six-speed automatic transmission is standard across the board. Electronically controlled four-wheel drive with a low-range transfer case is optional. Go four-wheel drive and you'll average 20 miles per gallon in combined city/highway operation.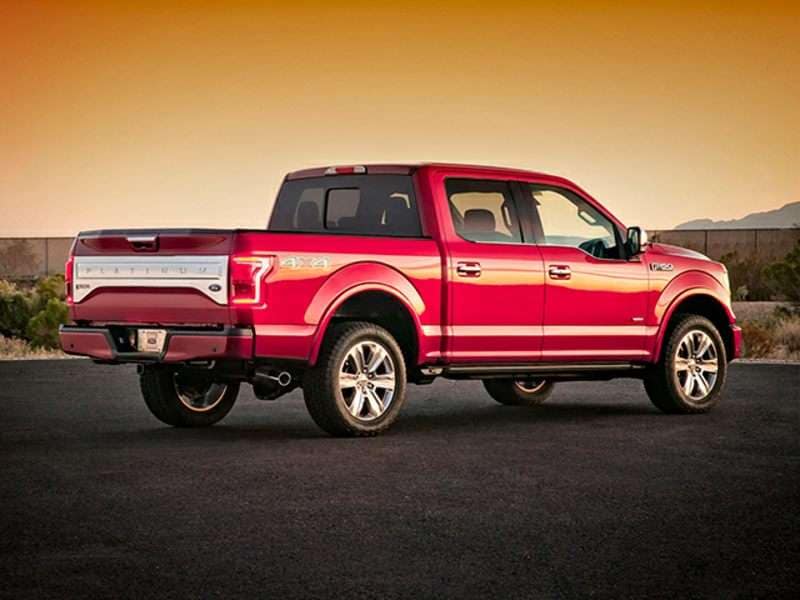 1) Choices, Choices, and More Choices
Another of the ways the Ford F-150 is more like a car than a truck is the fact you can pretty much tailor the F-150 to whatever your proclivities (and your situation) dictate. Got a family? No problem; the four-door Super Crew F-150 permits easy ingress and egress for everyone—without having to fold a seat forward whenever you drop the kids off at school. No need to worry about ride height either, because the optional retractable running boards make it super easy for the whole family, regardless of their stature. Further, as we alluded to before, you can equip the F-150 with as much luxury or utility as your needs and your pocketbook will allow. From the very top of the line ultra-luxe F-150 Limited (new for 2016), to the extremely spartan F-150 XL, you can get just as much (or as little) ride as you need—or desire. What's more, when it comes to powerplants, four different engine choices will let you get just the right blend of capability and fuel economy to ensure your needs will be met.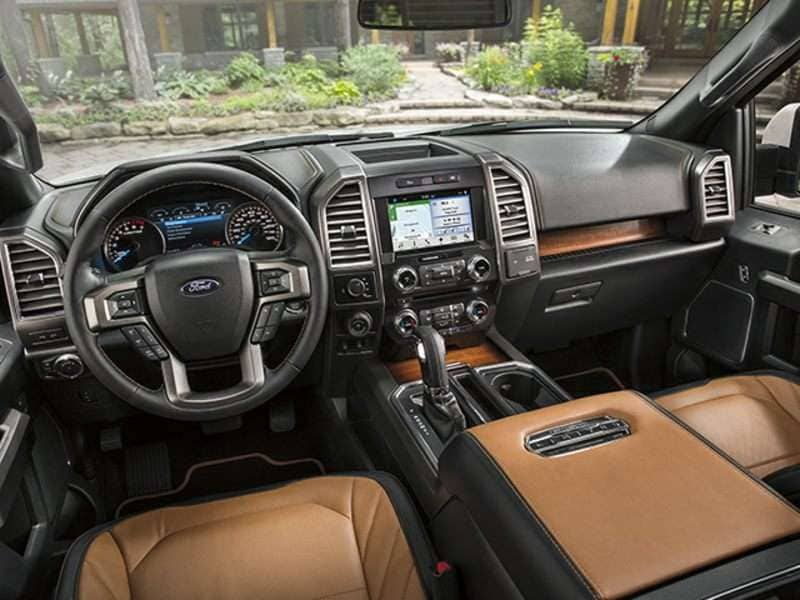 Conclusion
The reasons for choosing a truck over a car for use as a daily driver are as many and as varied as there are people. For most, the versatility of having a truck to haul things when you need to do so is an excellent reason to make the choice. For others, it's enough to just be different from people they consider "stuck" in a car. The option of four-wheel drive can be a compelling reason to choose a truck over a car, as well. Whatever the reason, the 2016 Ford F-150 is the most car-like iteration of the top selling pickup ever offered. Further, regardless of the trim package you select, the F-150 delivers outstanding value, even at the highest end of the F-150's range. Consider the fact the 2016 Ford F-150 Limited offers luxury features comparable to what you'll find in highly regarded luxury models like the Cadillac Escalade, at a considerably lower price point.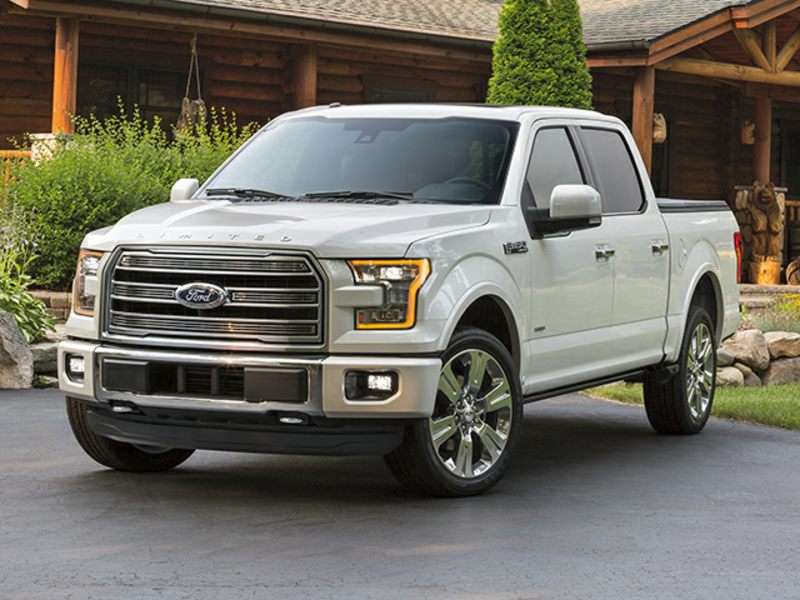 Photo by Ford