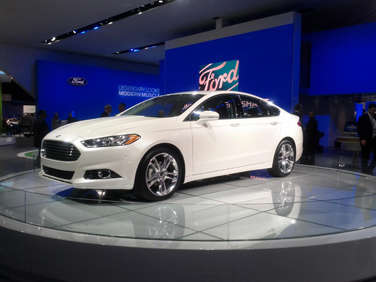 At this year's North American International Auto Show Ford took up significant real estate on the exhibition floor to help show off the 2013 Ford Fusion. The completely redesigned edition of the company's popular mid-size sedan has steered the vehicle in an entirely new direction in terms of styling and desirability, which got us thinking about what other unusual family vehicle options are out there on the new car market.
Let's take a look at the 2013 Ford Fusion and seven other intriguing daily drivers suitable for families of all shapes and sizes.
01. 2013 Ford Fusion
The 2013 Ford Fusion fires a serious styling salvo at its mid-size family car competitors. With a front fascia that seems almost borrowed from the Aston Martin playbook coupled with bold flanks and side panels, the Ford Fusion is now the marker to beat for affordable, roomy four-door automobiles. The inside of the new Fusion is also a revelation for buyers used to the very competent but not overwhelmingly plush previous generation of the automobile.
The 2013 Ford Fusion continues the Blue Oval's trend towards smaller four-cylinder engines, with two different EcoBoost options (a 1.6-liter, 179 horsepower unit and a 2.0-liter, 237 horsepower motor) available with the vehicle. There will also be Fusion Hybrid and Fusion Energi plug-in hybrid editions of the sedan, with fuel mileage ranging from 47-mpg highway for the former to over 100-mpge for the corded model.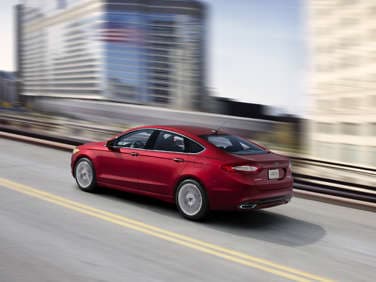 02. 2012 Cadillac CTS-V
It might seem odd to suggest the 556 horsepower 2012 Cadillac CTS-V as a family ride, but take a closer look and all of the important pieces are there: four doors, a roomy and comfortable cabin with all of the luxury amenities that Cadillac owners expect and just under 20-mpg on the highway. Of course, 551 lb-ft of torque from the vehicle's supercharged 6.2-liter V-8 and a zero-to-60-mph time of 4.3 seconds are also important considerations when taking a look at a vehicle as formidable as the CTS-V.
When Cadillac set out to design this beast, the template was to build a four-door Corvette and add a practical dimension that was missing from the sports car. Just remember to pick up a Recaro baby seat to match the optional front Recaro sport seats that can be had with the 2012 Cadillac CTS-V and you will be all set.
03. 2012 Jeep Wrangler Unlimited
The 2012 Jeep Wrangler Unlimited exists to prove that America's most popular off-road SUV can also adapt itself to the realities of an urban environment and offer a healthy dose of day-to-day usability to go with its unstoppable trail capabilities. The Jeep Wrangler Unlimited stretches out the standard Wrangler's chassis and adds a second set of rear doors that dramatically improves the ability of passengers to comfortably enjoy vehicle's rear seats. Throw in 85 cubic feet of total cargo space, a new 285 horsepower, 3.6-liter V-6 engine and 21-miles per gallon on the highway and the 2012 Jeep Wrangler Unlimited makes an appealing, off-beat family option that is available with either rear or four-wheel drive setups.
04. 2012 Dodge Challenger
Another domestic muscle car on this list of unusual family cars might seem like a bit of a stretch - especially since the 2012 Dodge Challenger is also a two-door coupe - but give the retro-themed model a chance. The Dodge Challenger is actually based on the same platform as the Dodge Charger and Chrysler 300 full-size sedans, which means that it offers much more rear passenger room than the Ford Mustang or Chevrolet Camaro. It also sports a decent-sized trunk, which can swallow a substantial amount of the luggage that is part and parcel of day-to-day family living. Engine options for the Dodge Challenger range from a 305 horsepower, 3.6-liter V-6 that gets 27-mpg on the highway up to a 5.7-liter Hemi V-8 that puts down 376 horses while still managing to see 25-mpg during highway cruising.
05. 2011 Chevrolet Avalanche
The 2011 Chevrolet Avalanche is a perfect solution for full-size pickup truck lovers who need something that is more versatile to live with on a regular basis. The Chevrolet Avalanche is essentially a crew cab pickup that has been given a uniquely configurable bed as well as covered cargo compartments. With all of the spacious interior volume that full-size truck buyers are accustomed too there is plenty of room in the Avalanche for as many as five family members, and the truck's 320 horsepower, 5.3-liter V-8 and available four-wheel drive make it a no-brainer when it comes to towing a camping trailer on the weekend or pulling a neighbor out of the ditch on an icy morning.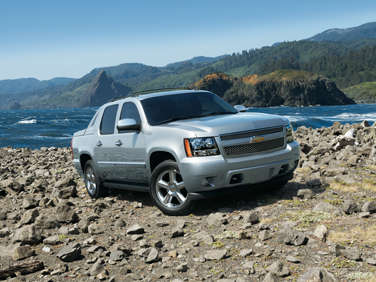 06. 2012 Hyundai Genesis
The 2012 Hyundai Genesis is marketed as a luxury car, and the full-size sedan is definitely an extremely comfortable automobile with a long list of standard amenities. What some people are not aware of, however, is that the base Hyundai Genesis starts at under $35,000, which puts it on the radar of buyers shopping more pedestrian full-size fare. The plush Genesis comes with a 333 horsepower V-8 that returns 29-mpg during highway driving, and its quiet and composed ride gives it a premium feel that belies its entry-level price point. This particular Hyundai proves that you don't have to look at a pre-owned luxury model in order to park a high end family car in your driveway.
07. 2011 Mazda RX-8
The 2011 Mazda RX-8 is a small sports coupe that is one of the purest representations of Mazda's low weight, high agility performance formula. It's also the only vehicle in its class that offers a second set of rear-hinged doors behind the front openings, which makes it easy to get in and out of the Mazda RX-8 when taking advantage of its reasonably-sized rear accommodations. The RX-8 features a unique, 1.3-liter rotary engine that is good for 212 horsepower and 22-mpg on the highway, and its highly-tuned suspension system and great braking make it one of the most track-ready family car options available.
08. 2011 Cadillac STS
The 2011 Cadillac STS is a full-size luxury sedan that is at the end of its natural lifespan. The Cadillac STS is being retired at the end of the 2011 model year in order to make room for a new four-door Cadillac, which means that there will be bargains to be had on this handsome automobile. Leather, dual automatic climate control and a Bose stereo system are standard on the roomy STS, and the vehicle can be had in either rear-wheel drive or all-wheel drive editions. On top of all of the space and prestige that the Cadillac STS brings to the table as a family car, it also offers a 302 horsepower, 3.6-liter V-6 engine that offers up 27-mpg in highway driving.