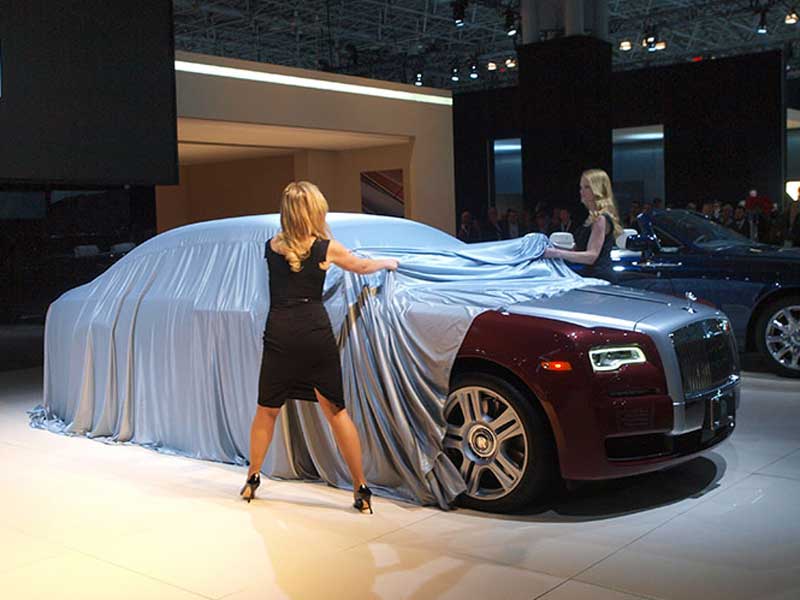 2015 rolls royce ghost II unveiling
It's no surprise that the 2014 L.A. Auto Show features more than its fair share of high end automobiles.  After all, Los Angeles is one of the world's most decadent automotive playgrounds, with customs, exotics, and luxury vehicles all vying for the attentions of some of the wealthiest drivers in the world.  We combed through the offerings at this year's L.A. Auto show to bring you five of the most expensive cars that were on display.  Some are quick, some are plush, and some are rare - but each one of these models is priced at a point where you'd need to be a millionaire to even consider parking one in your driveway.
Let's take a quick look, in no particular order, at five of the most expensive cars on display at the 2014 Los Angeles Auto Show.
01. 2015 Mercedes-Maybach S600 - $250,000
The 2015 Mercedes-Maybach is a brave attempt from the German automaker to once again make the Maybach name relevant.  Setting aside the tepid response to the Maybach's previous-decade re-launch, Mercedes-Benz has elected to make the new model an extension of the already-successful S-Class line, stretching out the full-size sedan to offer even more ultra-plush accoutrements at an eye-watering price.  Although not intended to lap a race track, the Maybach features an adaptive suspension system, a 6.0-liter twin-turbo V-12 engine good for 523 horsepower and 612 lb-ft of torque, and a seven-speed automatic transmission.  The car also claims to be the world's quietest luxury sedan.
You'll notice that we've listed a price of $250k.  That's just an estimate for the Mercedes-Maybach S600, which has yet to be given an official window sticker.  With options included, and given the cost of the original Maybach, don't be surprised to see some examples of this four-door ride sell closer to half a million dollars.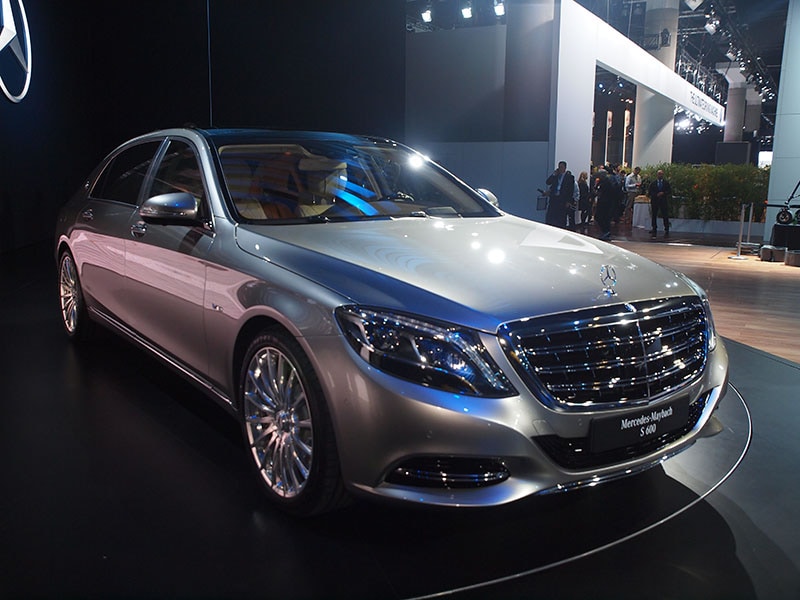 02. 2015 Porsche 918 Spyder - $845,000
The 2015 Porsche 918 Spyder is a non-traditional supercar in the sense that it makes use of both electric and gas-powered motors on its way to achieving a top speed of 214-mph.  Based around a 4.6-liter V-8, the Porsche 918 Spyder also comes with an electric motor attached to the front axle and another at the rear in order to offer all-wheel drive.  When the trio of power plants are working together, they churn out a hefty 887 horses and 944 lb-ft of torque, which is enough to rocket the Porsche to 60-mph in a very brief 2.5 seconds.  The car's output is managed by a seven-speed dual-clutch automated manual transmission, and at speeds above 146-mph the front electric motor removes itself from the equation in order to enhance stability and handling.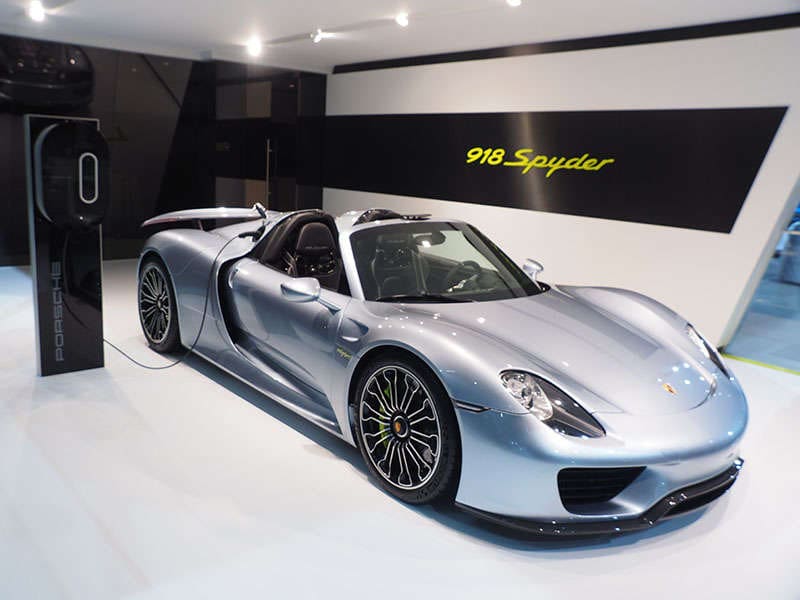 03. 2015 Bentley Mulsanne Speed - $303,700
The 2015 Bentley Mulsanne Speed is another high end luxury sedan where the starting price might as well just be a suggestion.  Given the extent of Bentley's bespoke customization program, you can have your Mulsanne hand-built to any specification that you choose, with the only stipulation being that you open your wallet as wide as possible.  Of course, you're getting an exceptional motorcar regardless of you might choose to order your Mulsanne, which features a 6.75-liter twin-turbo V-8 engine design that's good for 505 horsepower and 811 lb-ft of torque - more than enough might to haul around the Bentley's astonishing 6,000 lbs of curb weight.  An eight-speed automatic and more wood and leather than a Winston Churchill's club room are also standard with the British super sedan.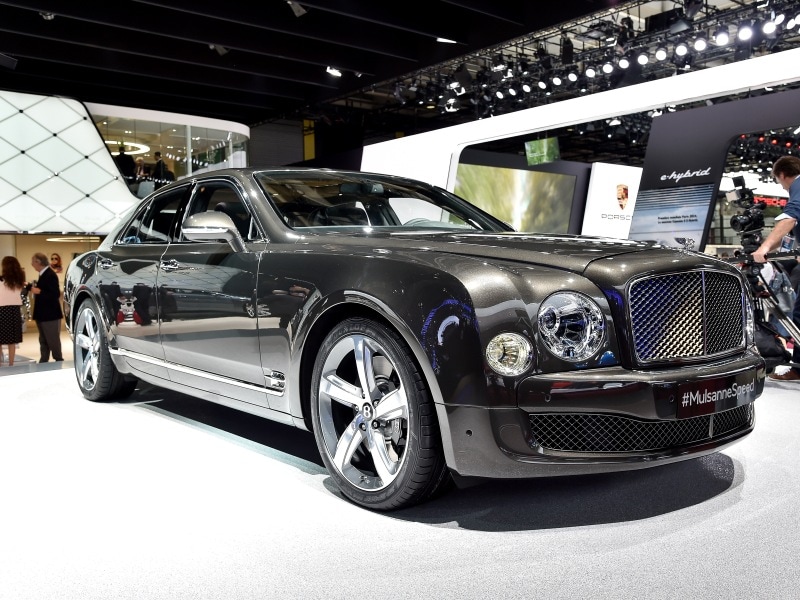 04. 2015 McLaren 650S - $265,500
The 2015 McLaren 650S is aimed at the world's most serious sports car collectors, as well as those who absolutely have to possess one of the most potent track weapons around.  Made out of exotic materials to keep it as lightweight as possible, the McLaren 650S pushes the envelope with its 641 horsepower, twin-turbo 3.8-liter V-8.  Also capable of generating 500 lb-ft of torque, the McLaren's mill makes use of a seven-speed dual-clutch automated manual transmission that helps it spring to 60-mph in a blistering 2.8 seconds.  An adaptive suspension system along with carbon ceramic brakes and finely-tuned aerodynamics allow the car to remain stable and safe at speeds of up to 207-mph.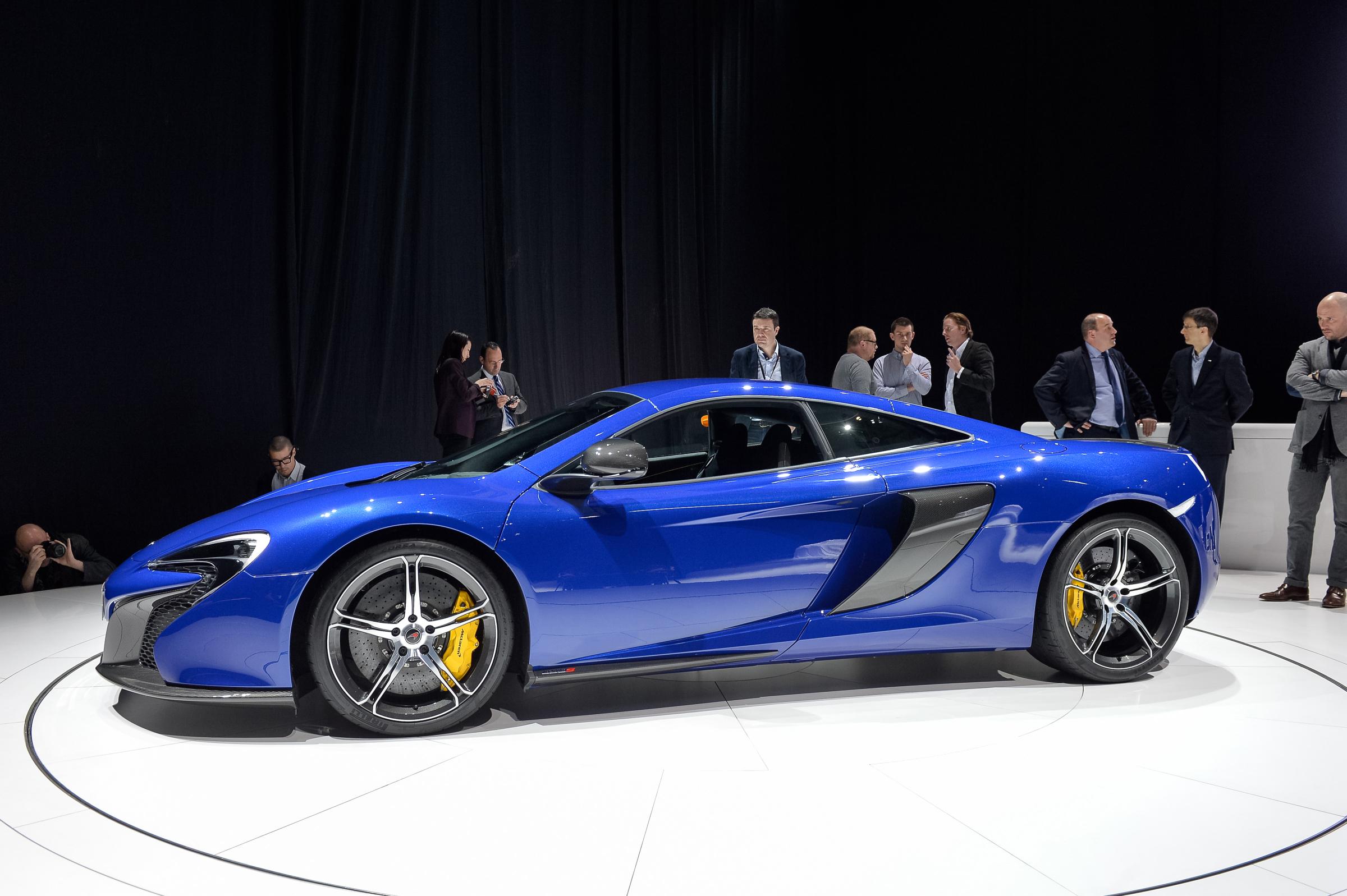 05. 2015 Rolls-Royce Phantom - $475,00
By now you've probably noticed that some of the L.A. Auto Show's most expensive cars are luxury sedans that probably cost more than the average house.  The 2015 Rolls-Royce Phantom's price tag starts at just under a half million dollars, and once you start going crazy with monogrammed leather dashboards, feathered headliners, and customer colors, you can easily spend another hundred thousand without breaking a sweat.  Featuring a 6.75-liter V-8 engine that has been twin-turbocharged to generate 453 horsepower and 531 lb-ft of torque, along with an eight-speed automatic transmission, the Phantom gets where it needs to go quickly enough - although it's said that a gentleperson never hurries.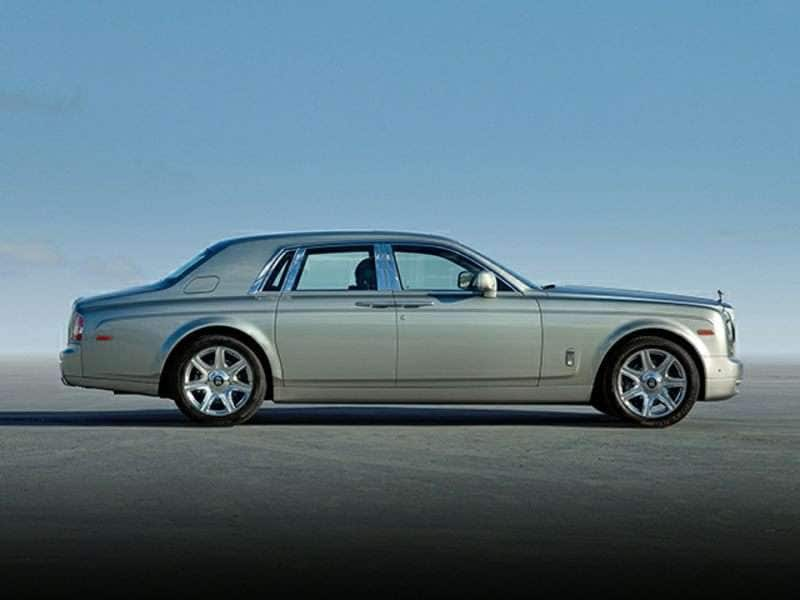 06. 2015 Bentley Continental GT Speed - $230,325
The 2015 Bentley Continental GT Speed - available as both a coupe and a convertible - gives you the chance to live large in two-door form.  As big as most full-size luxury sedans, and very nearly as heavy, the Bentley Continental GT Speed still manages to achieve a top speed of 206-mph by way of a twin-turbo V-12 engine that pushes out a phenomenal 626 horsepower and 695 lb-ft of torque.  These numbers - combined with all-wheel drive and an eight-speed automatic transmission - give the Bentley an endless surge of acceleration that is as smooth as the butter-soft leather that lines its interior.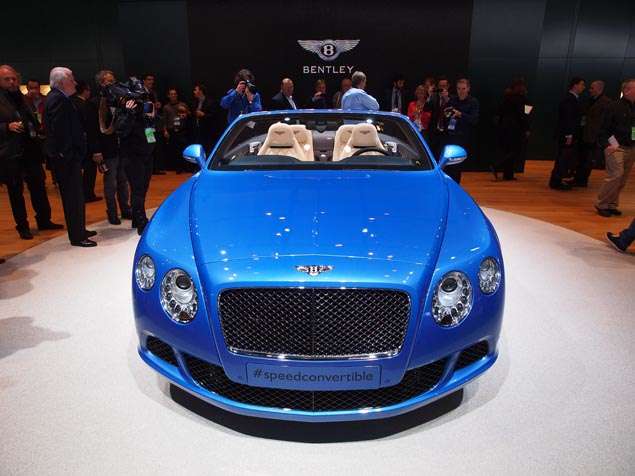 07. 2015 Ferrari 458 Special A - $237,259
If a 'regular' 458 just isn't enough to impress your neighbors, fear not: the 2015 Ferrari 458 Speciale A has been designed to make jaws drop and children weep.  For nearly a quarter of a million dollars, the Ferrari Speciale A installs a retractable hardtop that's made of aluminum, allowing you to enjoy the sun as you exercise the sports car's 597 horsepower (35 more ponies compared to the 'base' 458).  The 4.5-liter engine outfitted to the Ferrari also produces 398 lb-ft of torque, and a hotted-up seven-speed automated manual transmission ensures ultra-rapid acceleration.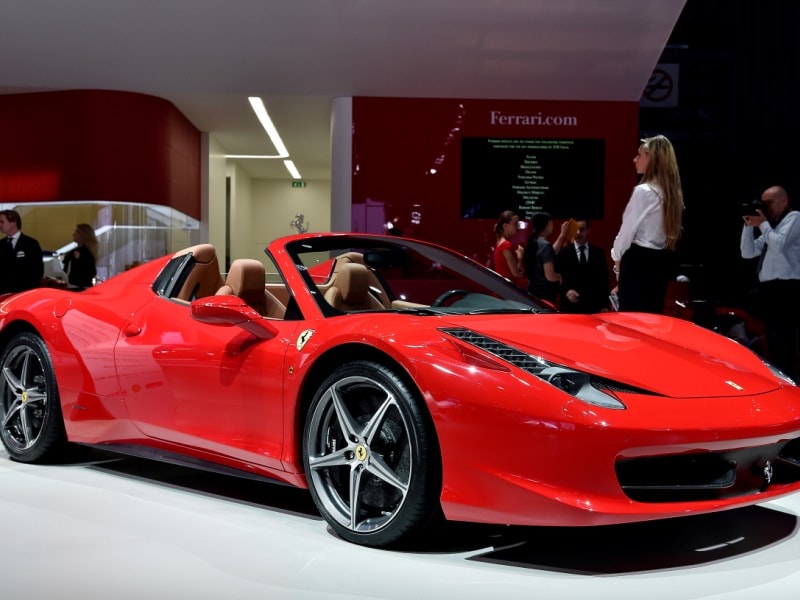 08. 2015 Rolls-Royce Ghost Series II - $298,250
In the market for a Rolls-Royce, but a couple hundred grand shy of a nicely-equipped Phantom?  How about 'settling' for the 2015 Rolls-Royce Ghost Series II, a car with almost as much road presence as its larger sibling and bungalow levels of interior room to go with it.  Most people buy a car like the Ghost Series II to be driven in, not to drive, as its loaded with creature comforts and the finest quality materials on the market.  If you do get the urge to put some time in behind the wheel, however, you'll be happy with the Rolls-Royce's 6.6-liter V-12, which produces 563 horsepower and 575 lb-ft of torque thanks to the presence of a pair of turbochargers.