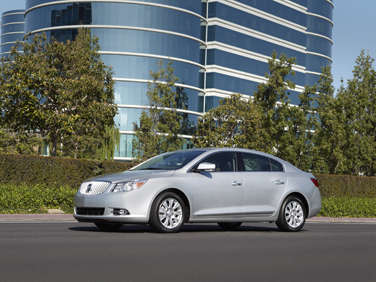 The hybrid market has expanded at a frenzied past over the past several years. Hybrid cars are no longer exclusively offered in their original compact hatchback form from way-back-when in the era when the concept of a battery-powered car was a novelty at best. Now well-represented in both the SUV, sedan and even the sports car segments, hybrid vehicles are available at a number of different price points, styles and designs that are meant to serve the needs of a varied group of drivers.
Let's take a look at eight hybrid automobiles for every budget, and touch briefly on what makes them an appealing, fuel efficient choices as a daily drivers.
01. 2011 Ford Fusion Hybrid
The 2011 Ford Fusion Hybrid is the latest edition of the gasoline / electric automobile that proved it was possible to offer excellent fuel economy in a practical, mid-size sedan package that didn't give up anything to its gasoline-only counterpart. Comfortable and offering the smooth driving dynamics expected in its class, most Ford Fusion Hybrid owners will never notice that they are behind the wheel of a battery-assisted vehicle until they total up their dramatically-reduced fuel bills at the end of the month.
The 2011 Ford Fusion Hybrid derives its fuel efficiency from a drivetrain consisting of a 2.5-liter, four-cylinder engine that is matched with an electric motor. Together they produce 191 horsepower, and in partnership with a continuously-variable automatic transmission help the Fusion Hybrid achieve fuel mileage figures of 41-mpg city and 36-mpg highway.
02. 2011 Chevrolet Tahoe Hybrid
The 2011 Chevrolet Tahoe Hybrid takes a different approach with its battery-assistance benefits. Conscious of the fact that full-size SUV owners need their trucks to be able to tow and haul without compromise, GM designed the Chevrolet Tahoe Hybrid to do just that: the vehicle can pull a very useful 6,200 lbs of trailer weight, and is also available with four-wheel drive.
Despite its large dimensions and respectable utility, the 2011 Chevrolet Tahoe Hybrid provides fuel economy that is head and shoulders above that of a comparable SUV. The Tahoe's 6.0-liter V-8 engine delivers 332 horsepower and 367 lb-ft of torque when working with its team of two electric motors. The truck features an electronically-variable automatic transmission, and fuel mileage for the Tahoe Hybrid checks in at a lofty 20-mpg city and 23-mpg highway, a figure that is 25% better around town than that offered by the traditionally-powered Tahoe.
03. 2012 Buick LaCrosse with eAssist
The 2012 Buick LaCrosse with eAssist represents a fresh take on the hybrid sedan concept from General Motors. The eAssist technology in the Buick LaCrosse is designed to provide "light hybrid" battery assistance to the gasoline engine through the use of a small electric motor that can contribute by taking over some of mid-size sedan's load when accelerating or passing. In combination with engine start/stop technology and regenerative braking to help charge the battery, the vehicle's drivetrain design allows it to offer fuel mileage of 25-mpg city and 37-mpg highway.
Even more impressive is the fact that the battery system adds 15 horsepower to the 2012 Buick LaCrosse with eAssist's 182-horsepower, 2.4-liter four-cylinder engine. This allows the luxury sedan, which uses a six-speed automatic transmission, to leap to 60 miles per hour from a standing start just a bit quicker than in years past. Such is Buick's confidence in the appeal of the eAssist model that the company has made it the base engine starting in 2012, eliminating the standard four-cylinder engine from the LaCrosse's lineup.
04. 2011 Lincoln MKZ Hybrid
The 2011 Lincoln MKZ Hybrid borrows its mechanical goodies from the Ford Fusion mid-size sedan, but repurposes them by wrapping them in a luxury package that offers Lincoln's trademark blend of comfort and high tech features. Also appealing to premium car bargain hunters is the fact that the Lincoln MKZ Hybrid's MSRP matches that of the gasoline-powered MKZ sedan, a rarity in the luxury hybrid universe.
The 2011 Lincoln MKZ Hybrid offers 191 horsepower from its 2.5-liter, four-cylinder engine, in no small part thanks to the contributions of its electric motor. A smooth-shifting continuously-variable automatic transmission is standard, and fuel economy for the luxury car comes in at 41-mpg city and 36-mpg highway. These numbers are the best in its class.
05. 2012 Honda Civic Hybrid
The completely redesigned 2012 Honda Civic Hybrid is still giving entry-level compact car shoppers what they are looking for: an efficient, affordable sedan that matches the interior room and drivability of the gasoline model on which it is based. The Honda Civic Hybrid flies under the radar in comparison with more celebrated battery-powered automobiles like the Toyota Prius, but it remains one of the best eco-bargains around, and one which is even more fuel efficient than the model it replaces.
The 2012 Honda Civic Hybrid packs a 1.5-liter, four-cylinder engine that works alongside an electric motor to deliver 110 horsepower and 127 lb-ft of torque. Like most hybrids, the Civic features a continuously-variable automatic transmission, and despite the displacement bump compared to 2011's 1.3-liter engine, the 2012 edition's fuel economy improves to 44-mpg city and 44-mpg highway.
06. 2013 Chevrolet Malibu Eco
The 2013 Chevrolet Malibu Eco promises to bring the solid combination of power and fuel economy offered by the Buick LaCrosse with eAssist to those shopping for a less expensive automobile. The Chevrolet Malibu Eco, which will make use of the next-generation Malibu platform set to debut in the near future, will offer the same 2.4-liter, four-cylinder engine and "light electrification" battery-powered electric motor found in the LaCrosse with eAssist. The mid-size sedan will aim for a one-mpg improvement over the premium car for both fuel mileage measures, with a projected EPA rating of 26-mpg city and 38-mpg during highway cruising. All this will come with a less expensive price tag and the same 182 horsepower found in the Buick model.
07. 2011 Honda CR-Z
The 2011 Honda CR-Z is somewhat of an outlier on this list, a compact, two-seat sports car that does its best to balance driving thrills with reasonable fuel economy. Honda stuffs its tried, tested and true Integrated Motor Assist hybrid system underneath the chassis of the Honda CR-Z, giving the coupe 122 horsepower and 128 lb-ft of torque from its 1.5-liter, four-cylinder engine and its battery-powered electric motor. The car also gains a stiff suspension system and the unusual choice of either a six-speed manual transmission or a continuously-variable automatic unit that offers virtual gear ratios accessed via paddle shifters. Fuel mileage for the Honda CR-Z is reported as 35-mpg city and 39-mpg highway.
08. 2011 Chevrolet Volt
The 2011 Chevrolet Volt has certainly gotten a lot of press, but that is simply because the compact electric car is such a break from the norm when it comes to hybrid design. The Chevrolet Volt derives all of its motivation from an electric drivetrain, whose battery can be recharged by a gasoline engine that is employed as a range extender. On battery power alone, the Volt is good for around 40 miles of driving, but a full tank of gas adds an additional 300 miles of cruising range to the hybrid car, making it a practical choice for commuters of every stripe. Add in the fact that the Volt's 149 horsepower and seamless drivetrain integration allow all of the hybrid magic to happen in the background and not intrude on daily driving, and the appeal of the vehicle's groundbreaking design becomes clear.