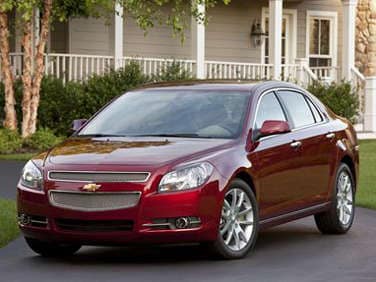 The mid-size segment houses many of the unsung heroes of the automotive world, the workhorse commuter cars and family chariots that help keep America running. Although mid-size cars don't always garner the same attention as flashier sports models or luxury-laden premium vehicles, the last several years have brought with them a flurry of new designs, a longer list of appealing features and more powerful and efficient engines that have helped to transform this fleet of daily drivers into automobiles that anyone would be proud to park in their driveway.
Let's take a look at 8 of the best mid-size passenger cars currently available.
01. 2011 Chevrolet Malibu
The 2011 Chevrolet Malibu has evolved from also-ran to leader of the pack in the space of a few short years, thanks to a concerted effort by GM to provide the mid-size sedan with a dramatically improved platform and much more attractive styling than was found on past models. The Chevrolet Malibu can also be ordered in the LTZ trim which provides higher end features such as leather seats, 18-inch alloy wheels and a Bose stereo system.
The 2011 Chevrolet Malibu comes with a very efficient entry-level engine, a 2.4-liter four-cylinder unit that is rated at 22-mpg city and 33-mpg highway. This frugal fuel consumption is paired with 169 horsepower and 160 lb-ft of torque. For drivers who would like to stretch their legs out on the highway, a 3.6-liter V-6 engine is also available, and it offers 252 horsepower and 251 lb-ft of torque while dropping fuel mileage to 17-mpg city and 26-mpg highway. Each engine makes use of a six-speed automatic transmission.
02. 2011 Nissan Altima
The 2011 Nissan Altima comes at the family car question from a somewhat unusual angle, one which aims to satisfy sports car cravings with a chassis and suspension that are tuned to be more responsive than typical mid-size sedan fare. Despite its performance pretensions, the Nissan Altima also comes through in terms of delivering a spacious interior and access to a good level of high tech equipment such as a navigation system, a hard drive for storing digital music files and HID headlights.
The 2011 Nissan Altima is also unique in that it only offers a continuously-variable automatic transmission regardless of which engine option is ordered. Base Altima sedans come with a 2.5-liter four-cylinder that generates 175 horsepower and 180 lb-ft of torque, while the top 3.5 SR trim introduces a 3.5-liter V-6 that is good for 270 horses and 258 lb-ft of torque. Fuel mileage for the smaller engine is rated at 23-mpg city and 32-mpg highway, while the V-6 knocks five miles per gallon off of each respective measure.
03. 2011 Mazda MAZDA6
The 2011 Mazda Mazda6 mid-size sedan takes a page out of the Altima's book by also prizing smiles per gallon as much as it does miles per gallon. Where the Mazda MAZDA6 differs significantly from its rival is in its transmission options, as the most affordable version of the MAZDA6 – the i editions – allow drivers to row their own gears via a six-speed manual unit.
A five-speed automatic tranny is also available with the 2011 Mazda MAZDA6's 170 horsepower, 2.5-liter four-cylinder unit. In addition to its 167 lb-ft of torque the peppy motor delivers fuel mileage of 21-mpg city and 30-mpg highway. The MAZDA6's optional V-6 displaces 3.7-liters and provides an impressive 272 horsepower and 269 lb-ft of torque while offering a fuel economy rating of 18-mpg around town and 27-mpg during highway cruising - thanks in part to its standard six-speed automatic.
04. 2011 Ford Mustang
The 2011 Ford Mustang might seem like a surprise entry on a list of mid-size daily drivers, but taking a closer look at what the most affordable edition of the coupe has to offer is quite revealing. Although not an optimum choice for anyone who has to routinely ferry children or adults in the back seat, the Ford Mustang V6 is quite comfortable for a driver and a single passenger and it can be ordered with a high quotient of comfort (heated power leather seats) and entertainment (SYNC, navigation) features.
In addition to its eye-catching retro styling, the 2011 Ford Mustang V6 is both a solid performer and a fuel sipper, which is an unusual combination in its class. The Mustang's 3.7-liter engine churns out 305 horsepower and 280 lb-ft of torque, but its EPA rating checks in at a very reasonable 19-mpg city and 31-mpg highway. Throw in the choice of either a six-speed manual or six-speed automatic transmission and the availability of a Performance package that upgrades brakes and suspension of the coupe and you have a winning mid-size formula.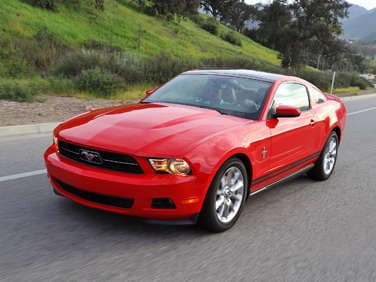 05. 2011 Hyundai Sonata
The 2011 Hyundai Sonata had a coming out party over the course of the past year, as a redesign brought the quality, reliability and affordability that have always been part of the Sonata equation to a wider audience. Helping broaden the Hyundai Sonata's appeal is slick new sheet metal and a range of fresh drivetrains that provide more pulse-quickening acceleration paired with substantial fuel economy. The vehicle's interior has also been upgraded to offer a higher standard of materials that perfectly complement Hyundai's traditionally generous equipment levels.
The 2011 Hyundai Sonata is initially gifted with a 2.4-liter, four-cylinder engine that is capable of producing 198 horsepower and 184 lb-ft of twist in base trim. Transmission choices include a six-speed manual and a six-speed automatic unit, and fuel economy for this motor checks in at 24-mpg in stop and go driving and 35-mpg on the highway. Opting for the Sonata's available 2.0-liter turbocharged four-cylinder deletes the six-speed manual gearbox but adds 274 total horsepower and 269 lb-ft of torque. Even better, the turbo motor's fuel economy is barely any lower than that of the less expensive Hyundai mill (22-mpg city, 33-mpg highway).
06. 2011 Toyota Camry
The 2011 Toyota Camry can be thought of as the elder statesmen of this mid-size list – not because the family sedan is aging or outdated, but rather due to the fact that it is a perennial top performer in terms of sales and customer satisfaction, and has in many ways become the default choice for a diverse group of American car shoppers. The Toyota Camry has maintained its status as one of the most reliable four-doors in the business, and this, in combination with its interior volume, trunk space and top notch fit and finish have helped the vehicle routinely top "best of" lists year-in, year-out.
The 2011 Toyota Camry sedan's 2.5-liter, four-cylinder engine comes in two editions: 169 horsepower (base model) and 179 horsepower (SE trim), each producing 167 lb-ft of torque. Fuel mileage for this four-cylinder shows as 22-mpg city and 33-mpg highway. An almost-as-efficient 3.5-liter V-6 that generates 268 horsepower and 248 lb-ft of torque is also available, and its fuel economy rating comes in at 19-mpg around town and 28-mpg highway. The smaller engine can be paired with either a six-speed manual or six-speed automatic, while the V-6 is auto-only.
07. 2011 Subaru Legacy
The 2011 Subaru Legacy is the only mid-size family sedan on this list that comes standard with all-wheel drive. This gives it a major advantage in inclement weather conditions, and has helped it become the winter ride of choice for thousands of American drivers. The Subaru Legacy also marches to its own drummer in terms of styling, which is appealing in a segment where four-door automobiles can sometimes seem cast from the same visual mold.
The 2011 Subaru Legacy provides an array of drivetrain choices, starting out with a 2.5-liter, four-cylinder engine in the 2.5i that produces 170 horsepower and 170 lb-ft of torque. The 2.5GT model slaps a turbocharger onto that same engine in order to crank out a much heartier 265 horses and 258 lb-ft, while the 3.6-liter six-cylinder engine found in the 3.6R model is good for a very smooth 256 horsepower and 247 lb-ft of torque. The four-cylinder engines can be paired with a six-speed manual transmission (or an optional continuously-variable unit on the 2.5i), while the 3.6R comes exclusively with a five-speed automatic.
08. 2011 Dodge Challenger
The 2011 Dodge Challenger is another unlikely candidate for a mid-size commuter, at least until it's evaluated more on its merits than its image. Like the Mustang, the Dodge Challenger is better known for its fire-breathing V-8 model, but in contrast to the Ford offering it features good interior room both front and back. This is thanks to the fact that the coupe shares its platform with the Dodge Charger full-size sedan, giving it a practical edge as a daily driver.
The 2011 Dodge Challenger also comes with a revised suspension system (providing it a calmer, more controlled ride) and a much improved V-6 engine as standard equipment. The 3.6-liter mill generates 305 horsepower and 268 lb-ft of torque, and is matched with a five-speed automatic transmission. Fuel mileage for the Challenger is rated at 18-mpg in stop and go driving and 27-mpg during highway motoring.