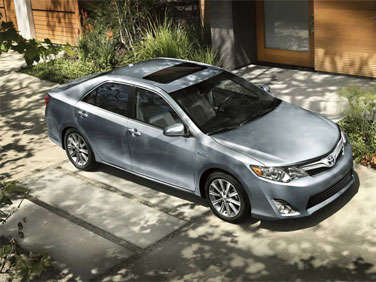 They are the workhorses that rarely get the credit they deserve, the faces behind the everyday driving duties of families and commuters all over the country. Family sedans, be they mid-size or full-size, are not nearly sexy enough to garner as much ink as their brawny SUV counterparts or svelte sports car compatriots. Despite this, they continue to pile up important sales for car companies hailing from Europe, the U.S., Japan, and Korea.
Let's take some time out to pay a quick salute to eight family sedans that are more than suitable for daily duty.
01. 2012 Toyota Camry
The 2012 Toyota Camry has become almost the default recommendation for a reliable mid-size family car. The Toyota Camry was given a redesign for 2012, offering styling that is slightly edgier than in years past as well as nicer interior materials, a roomier passenger compartment and somewhat more engaging chassis. All of this has been accomplished without sacrificing any of the refinement or features that have helped the Camry lead the family sedan pack for over a decade.
The 2012 Toyota Camry's four and six-cylinder engines have also been upgraded. The 2.5-liter entry-level unit puts out 178 horsepower and 170 lb-ft of torque on its way to solid fuel economy figures of 25-mpg city and 35-mpg highway, while the top of the line 3.5-liter V-6 is good for 268 horses and 248 lb-ft of torque. Fuel mileage for the latter checks in at 21-mpg city and 30-mpg highway, and a six-speed automatic transmission is standard for both motors.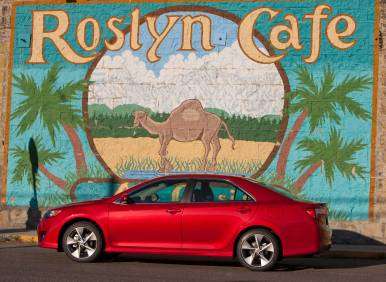 02. 2012 Chevrolet Impala
The 2012 Chevrolet Impala gives full-size shoppers one last chance to lock down an old school American sedan that comes through with an enormous interior (with available six-passenger seating) as well as a soft and comfortable ride. The Chevrolet Impala also provides inoffensive styling that is the antithesis of the more fluidic and extroverted designs that are currently populating the family car space.
The 2012 Chevrolet Impala has been gifted with a much more robust 3.6-liter V-6 engine for the current model year. The only available drivetrain offered with the Impala is good for 300 horsepower and 262 lb-ft of torque and also includes a six-speed automatic transmission. Despite its larger size the Impala's fuel mileage checks in at 18-mpg in stop and go driving and 30-mpg on the highway.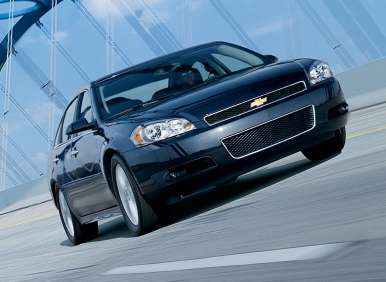 03. 2012 Mazda MAZDA6
The 2012 Mazda Mazda6 remains an effective option for mid-size sedan shoppers looking for a family-capable four-door that doesn't completely sacrifice the joy of driving when it comes time to carve through the corners. In addition to a generous 16.6 cubic foot trunk and a good-size rear seat the Mazda MAZDA6 also offers the kind of willingness to change direction on a whim that places it near the top of its class when it comes to handling prowess.
The 2012 Mazda MAZDA6 makes a six-speed manual transmission available alongside the optional six-speed automatic that can be had with its entry-level four-cylinder engine. The 2.5-liter unit delivers 170 horsepower and 167 lb-ft of torque, and it also offers fuel economy of 21-mpg in city driving and 30-mpg on the highway. Choosing the MAZDA6's 3.7-liter V-6 ups the power ante to 272 horses and 269 lb-ft of twist but removes the manual shifter from the equation.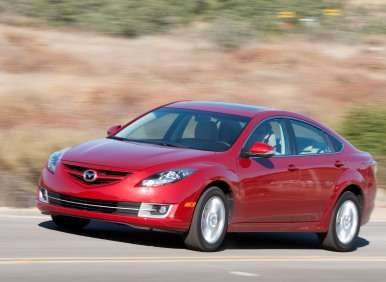 04. 2013 Chevrolet Malibu
The 2013 Chevrolet Malibu is another fresh face in the family sedan segment, having undergone a complete re-engineering in order to remain competitive in this hotly contested corner of the new car market. The Chevrolet Malibu's styling is largely similar to that of the previous generation, but Chevy has packed the automobile with available features such as the MyLink multimedia and communications system, a navigation system and heated leather seats - not to mention a revised platform and better interior room.
The 2013 Chevrolet Malibu is currently available exclusively in Eco trim, which makes use of a 2.4-liter, four-cylinder engine matched with an electric motor to produce 182 horsepower and 172 lb-ft of torque. This 'light hybrid' design allows the Malibu Eco to offer fuel mileage of 25-mpg in stop and go driving and 37-mpg on the highway. A six-speed automatic transmission is standard with the Eco model.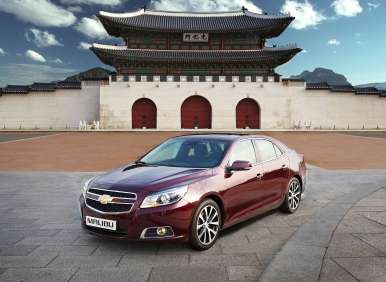 05. 2012 Ford Taurus
The 2012 Ford Taurus is a strikingly handsome full-size family car that brushes the near-luxury class thanks to a strong list of high tech features and options as well the decision to stretch out the vehicle's platform to create a cavernous passenger compartment with a 20.1 cubic foot trunk to match. The Ford Taurus can also be had in the SHO edition, which comes with a sport-oriented steering and suspension system, high end trim and the availability of bigger brakes and more aggressive gearing.
Most versions of the 2012 Ford Taurus are powered by a 3.5-liter V-6 that generates 263 ponies and 249 lb-ft of torque. This output is routed to either the front or all four wheels (if optional all-wheel drive is specified) via a six-speed automatic transmission. The Taurus SHO makes all-wheel drive standard and benefits from the same six-speed tranny and the inclusion of a twin-turbo 3.5-liter EcoBoost V-6 that provides 365 horsepower and 350 lb-ft of torque. The naturally aspirated Taurus barely squeaks ahead of the EcoBoost's fuel mileage with a rating of 18-mpg city and 28-mpg highway.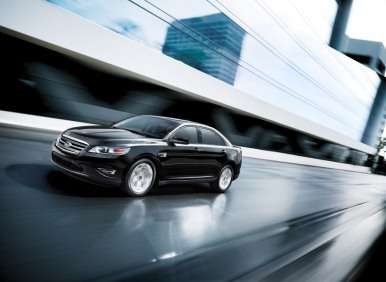 06. 2012 Honda Accord
The 2012 Honda Accord is another family mainstay, a mid-size sedan with a built-in fan base that is one the most loyal in the business. The Honda Accord is known for formidable reliability and a big backseat that makes it easy to either strap in child seats or load up with adults for longer road trips.
The 2012 Honda Accord's 2.4-liter, four-cylinder starter engine is good for 177 horsepower and 161 lb-ft of torque unless it is found in the EX trim level where it provides an additional 13 horses and one more lb-ft of torque. Fuel mileage for this motor checks in at 23-mpg city and 34-mpg highway, and buyers can choose between five-speed manual and five-speed automatic transmissions. The Accord's optional 3.5-liter V-6 is more of a rocket thanks to its 271 horsepower and 254 lb-ft of torque. However, the manual transmission is dropped from this particular drivetrain configuration.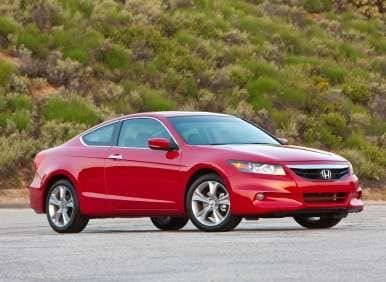 07. 2012 Subaru Legacy
The 2012 Subaru Legacy is a four-door mid-size car that is familiar to anyone living in an area of the country that regularly faces the ravages of a harsh winter climate. The Subaru Legacy's standard all-wheel drive has made it an appealing option when the roads turn slippery, and the vehicle's 2.5GT trim brings with it sportier styling and improved stopping power thanks to larger brakes.
The 2012 Subaru Legacy is initially outfitted with a 2.5-liter, four-cylinder engine that generates 170 horsepower and 170 lb-ft of torque while also offering fuel economy of 23-mpg around town and 31-mpg during highway cruising. A six-speed manual transmission is par for the course with the lease expensive edition of the Legacy, but a continuously-variable automatic is also available as an option. The Legacy 2.5GT slaps a turbocharger onto the 2.5-liter motor in order to grind out 265 horsepower and 258 lb-ft of torque (shifted exclusively through the six-speed autobox), while the Legacy 3.6R installs a 3.6-liter six-cylinder engine that is capable of producing 256 horsepower and 247 lb-ft of torque. A five-speed auto handles the gear changing duties for the 3.6-liter Legacy.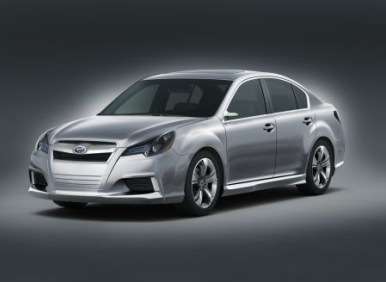 08. 2012 Volkswagen Passat
The 2012 Volkswagen Passat is bigger than ever before thanks to the decision from the German car company to produce a vehicle that is better suited to the tastes of American family shoppers. The redesigned Volkswagen Passat is more comfortable than before when loaded up with a full complement of five passengers, and its ride remains smooth and connected to the road.
The 2012 Volkswagen Passat also comes with the choice between gasoline or diesel drivetrains. A 2.5-liter, five-cylinder engine that puts out 170 horsepower and 177 lb-ft of torque is included as the base mill, while a 3.6-liter V-6 that is good for 280 horsepower and 258 lb-ft of torque stands out as the top level motor. The fuel mileage king, however, is the Passat's 2.0-liter turbodiesel four-cylinder that generates 140 horsepower and 236 lb-ft of torque while turning in efficiency numbers of 31-mpg city and 43-mpg highway. The five-cylinder gas engine features a six-speed manual transmission standard with the option of a six-speed automatic, while the diesel swaps in a six-speed dual-clutch automated manual as its optional tranny. The V-6 is available with an automated manual only.