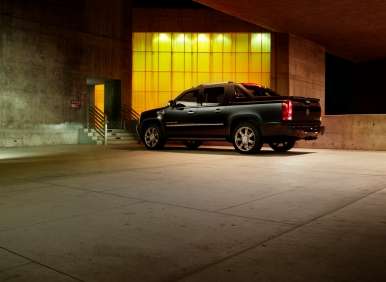 Blurring the lines is what good crossover vehicles do. The term "crossover" originated when auto designers first began to borrow elements from wagons, pickups, sport-utilities and sedans in order to create people movers that offered a unique combination of cargo, comfort and off-road characteristics. Over time the crossover segment has expanded to encompass a bewildering array of vehicles, some of which seem indiscernible from traditional SUVs while others strain the eye and the mind in terms of styling and performance. That being said, there are still a number of crossover vehicles on the market that serve to illustrate the evolution of the breed from experimental jacks-of-all-trades to more well-rounded daily drivers.
Let's take a look at eight crossovers that represent a direct link to the origins of the category.
01. 2010 Ford Explorer Sport Trac
Still on sale throughout 2011 as a 2010 model, the Ford Explorer Sport Trac merges the comfortable five-passenger cabin of the four-door Ford Explorer SUV with the convenience of an open pickup truck cargo bed. The Ford Explorer Sport Trac's bed measures 4.5-feet in length and comes with three additional compartments built into its load floor that can be used for keeping more valuable gear out of sight. For enthusiasts, the vehicle can also be ordered in the Adrenalin Sport edition which adds an aggressive body treatment and 20-inch wheels to the vehicle's overall package.
The 2010 Ford Explorer Sport Trac starts out with a 4.0-liter V-6 engine under the hood, which is good for 210 horsepower and 254 lb-ft of torque along with fuel economy of 14-mpg city and 16-mpg highway. A 4.6-liter V-8 can also be installed in the Sport Trac, and it brings with it 292 horses and 315 lb-ft of torque. Fuel economy for the larger engine checks in at one mile per gallon better for each respective measure when compared against the V-6. The six-cylinder Sport Trac features a five-speed automatic transmission while the V-8 gains an additional forward cog for its autobox. Both engines of the vehicle can be paired with either rear-wheel or four-wheel drive but the Adrenalin model features an all-wheel drive system of its own.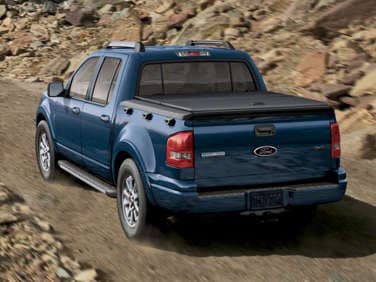 02. 2011 Cadillac Escalade EXT
The 2011 Cadillac Escalade EXT is aimed squarely at luxury SUV buyers who don't want to give up the practicality offered by a full-size pickup design. This unusual four-door crossover represents a marriage of the Escalade's opulence with a five-foot cargo bed that can be further extended into the interior of the vehicle by lifting the innovative midgate that divides the two. The Escalade also comes with a locking cover for its rear cargo area along with a full list of premium and high tech features.
The 2011 Cadillac Escalade EXT shares its drivetrain with the standard edition of the SUV, which means it makes use of a 403 horsepower, 6.2-liter V-8t that also generates 417 lb-ft of torque. The vehicle's fuel economy is rated at 13-mpg city and 18-mpg highway and it comes with a six-speed automatic transmission and full-time all-wheel drive as standard equipment.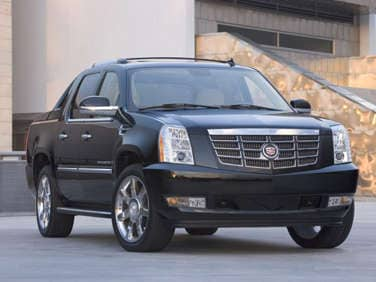 03. 2011 GMC Acadia
The 2011 GMC Acadia represents what can be accomplished when a brand chooses to leave the minivan world behind and head down a new path towards developing a different kind of high-capacity hauler. The GMC Acadia offers seating for up to eight passengers as well as a hefty 117 cubic feet of total cargo space. When ordered in Denali trim, it also throws in a host of visual upgrades and luxury accoutrements that few minivans can match, including a fully sound-insulated cabin, a head-up-display, a leather-wrapped wood steering wheel and heated and ventilated leather seats.
The 2011 GMC Acadia's 3.6-liter V-6 engine offers up 288 horsepower and 270 lb-ft of torque, sent to either the front or all four wheels (if all-wheel drive is specified) via a six-speed automatic transmission. Fuel mileage for the van-replacing Acadia comes in at 17-mpg in stop and go driving and 24-mpg on the highway.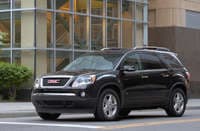 04. 2011 Chevrolet Avalanche
The 2011 Chevrolet Avalanche, like the Cadillac, is a merging of the SUV and pickup truck worlds. The Chevrolet Avalanche diverges from the luxury-oriented Escalade by focusing less on pampering its five passengers and more on providing top-notch practicality. The vehicle offers a movable midgate that can expand the truck's five-foot, three-inch truck bed into the cabin (providing eight feet of total storage length) and a lockable tailgate that is designed to keep cargo safe underneath its three-piece tonneau cover.
The 2011 Chevrolet Avalanche is motivated by a 5.3-liter V-8 engine that produces 320 horsepower and 335 lb-ft of torque. Available in both rear-wheel drive and four-wheel drive editions, the Avalanche also offers a six-speed automatic transmission and a fuel economy rating of 15-mpg city and 21-mpg highway.
05. 2011 Honda Ridgeline
The 2011 Honda Ridgeline is perhaps the first mid-size pickup that attempts to offer the handling and ride comfort of a large sedan. Abandoning the traditional body-on-frame design of every other truck on the market, the Honda Ridgeline crossover makes use of a unibody platform that soaks up road insults and offers competent handling and smooth on-pavement performance that is unusual for its class. The four-door, five-passenger Ridgeline also comes with a five-foot cargo bed that include a lockable 8.5-cubic foot "trunk," which is one of the atypical crossover's most intriguing features.
The 2011 Honda Ridgeline's 250 horsepower, 3.5-liter V-6 is also rated to produce 247 lb-ft of torque. A five-speed automatic transmission routes this output to the crossover's all-wheel drive system, and fuel mileage for the Ridgeline checks in at 15-mpg around town and 20-mpg during highway cruising.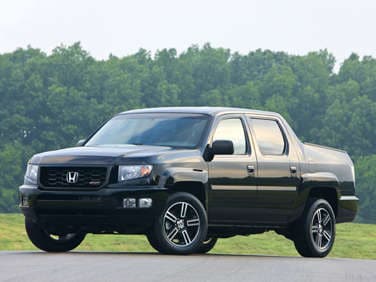 06. 2011 Subaru Outback
The 2011 Subaru Outback is the latest in a long line of vehicles that date back to one of the first crossovers to be ever offered in the United States. The Subaru Outback takes the strongest points of a traditional wagon design - increased cargo space and sedan-like handling - and adds in the wrinkle of full-time all-wheel drive and better ground clearance in order to create a five-passenger commuter that is virtually unstoppable in all weather conditions.
The 2011 Subaru Outback can be had with either a four-cylinder or six-cylinder engine. The former is represented by a 2.5-liter unit that is good for 170 horsepower and 170 lb-ft of torque, while the latter takes the form of 3.6-liter motor that puts out 256 horses and 247 lb-ft of twist. The four-cylinder engine returns fuel economy figures of 22-mpg city and 29-mpg highway and can be had with either a six-speed manual or continuously-variable automatic transmission, while the six-cylinder features a five-speed auto gearbox and a fuel economy rating of 18-mpg city and 25-mpg highway.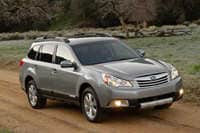 07. 2011 Jeep Wrangler Unlimited
The 2011 Jeep Wrangler Unlimited starts life as a traditional SUV but with the addition of the factory-installed JK-8 kit the vehicle transforms into a unique crossover vehicle known as the Jeep Wrangler JK-8 Independence. The JK-8 kit effectively removes the rear two doors from the Wrangler Unlimited's platform and converts the vehicle into a two-door pickup truck that maintains all of the SUV's off-road capability with the addition of a 50-inch steel-lined cargo bed.
The 2011 Jeep Wrangler JK-8 Independence crossover maintains the Unlimited's stock 3.8-liter V-6 engine that produces 202 horsepower and 237 lb-ft of torque. Rear-wheel drive models show fuel mileage numbers of 15-mpg city and 20-mpg highway, and buyers can choose between either a six-speed manual or a four-speed automatic transmission. Four-wheel drive is of course optional with the off-road icon.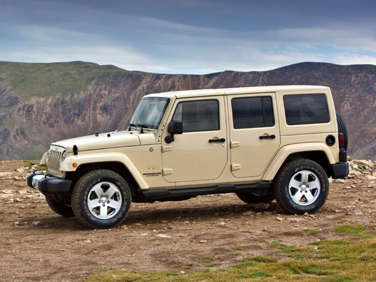 08. 2011 Ford Flex
The 2011 Ford Flex full-size crossover takes everything you know about station wagons and pushes it to the limit. The rectangular, flat-roofed Ford Flex offers substantial interior volume (seating for up to seven as well as 83 cubic feet of total cargo space) while breaking new ground both stylistically and when it comes to its driving experience. The Flex feels much more like a car than a truck from behind the wheel, and while it offers a taller ride height than most sedans this characteristic doesn't detract from either its comfort factor or its road-holding ability.
The 2011 Ford Flex is initially offered with a 3.5-liter V-6 that is tuned to provide 262 horsepower and 248 lb-ft of torque, along with fuel economy of 17-mpg city and 24-mpg highway. Stepping up to the EcoBoost model injects some serious performance into the Flex's crossover equation thanks to the introduction of a twin-turbocharged edition of the same engine that grinds out 355 horses and 350 lb-ft of twist. Each version of the Flex comes with a six-speed automatic transmission, and while all-wheel drive is optional with the naturally-aspirated V-6 it is included free of charge with the EcoBoost model. Fuel economy for the most powerful version of the crossover is rated at a respectable 16-mpg city and 21-mpg highway.