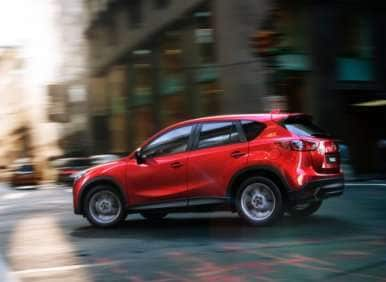 Crossover SUVs aren't exactly the first class of vehicle that comes to mind when picturing a high speed slalom or a few hot laps around a road course. That being said, there are more than a few crossovers out there that do justice to their sedan-platform roots by offering handling that is a cut above what one would expect from a sport-utility vehicles. We've grouped together a few contenders to see just how the modern crop of crossovers acquit themselves when pushed to the limit.
Let's take a look at a eight crossovers that aren't intimidated by the prospect of having to turn a corner.
01. 2012 BMW X3
The 2012 BMW X3's most impressive trim level is the xDrive35i, which comes with the brand's turbocharged 3.0-liter inline six-cylinder engine as standard equipment. Capable of producing 300 horsepower and 300 lb-ft of torque, this unit teams up with an eight-speed automatic transmission (featuring a manual shift mode) and all-wheel drive to offer excellent grip through the curves. The BMW X3 xDrive35i is capable of hitting 60-mph from a standing start in just 5.6 seconds, and it rips through the quarter mile in 14.1 seconds with a trap speed of 95.3 miles per hour with the rev limiter pinging off the 7,000 rpm redline. The X3's brakes haul it down from highway speeds in a scant 116 feet, and it can blaze through a slalom at 66-mph.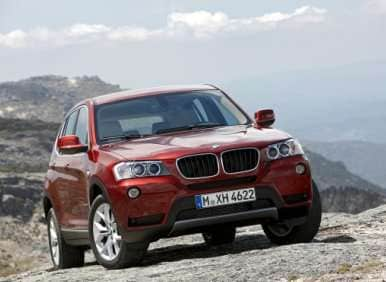 02. 2013 Mazda CX-5
The 2013 Mazda CX-5 is the spunky little brother in the Japanese brand's crossover lineup, and it aims to offer a driver-focused replacement for the larger CX-7. The Mazda CX-5 comes not just with new SkyActiv fuel-saving technology integrated into its 2.0-liter, 155 horsepower four-cylinder engine (also capable of generating 150 lb-ft of torque), but it also provides a thrill-oriented, well-tuned chassis. The CX-5 certainly can't match the gaudy acceleration numbers posted by the BMW, but at its considerably lower price point and with the option of a six-speed manual transmission in the cards the compact Mazda crossover is a definite 'must drive' for family shoppers not interested in settling for a boring ride.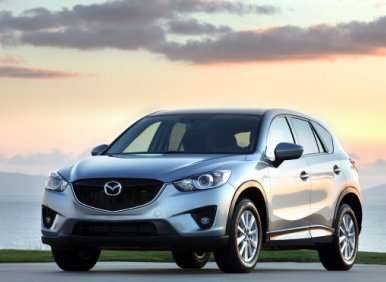 03. 2012 Audi Q5
The 2012 Audi Q5 leverages the fact that it is based on the same platform as the Audi A4 compact sedan in order to offer above-average driving dynamics that make it a wagon replacement that won't bore you to death when the road turns twisty. The Audi Q5 3.2 comes with a V-6 and standard quattro all-wheel drive, and this potent top-tier member of the Q5 lineup delivers 270 horsepower and 243 lb-ft of torque from its 3.2-liter motor. 60-mph arrives in 7 second for the Q5 3.2 and the quarter mile disappears in just a tick under 15 seconds. Thanks to the vehicle's eight-speed automatic transmission (which makes optimal use of the Q5's powerband) and its well-sprung suspension design the Audi is capable of moving through a slalom at a brisk 62-mph. Stopping is also a strong point for the Q5, as the crossover matches the performance of its Teutonic competitor, the X3, in terms of overall distance.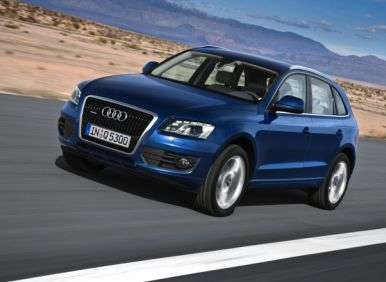 04. 2012 Infiniti FX
The 2012 Infiniti FX's athletic build has been described as 'Cheetah-like' in terms of how the mid-size crossover seems ready to spring forward at any moment. Underneath its dramatically-styled skin the Infiniti FX benefits from sharing important mechanical bits with the Nissan 370Z sports car, giving it an advantage when it comes to changing direction at high speed. Also helping to differentiate the Infiniti FX50 model from the rest of the pack is its 390 horsepower, 5.0-liter V-8 that also generates a hefty 369 lb-ft of torque. All-wheel drive plants this thrust firmly on the pavement and a seven-speed automatic transmission is included free of charge.
The Infiniti FX50 rockets to 60-mph in 5.5 seconds, blasts through the slalom at a rate of 63-mph and hurtles down the drag strip to clock a 13.7 second pass with a trap speed of 102.9-mph. Even more impressive is the fact that the FX50 can come to a stop in the same distance required by the smaller Audi Q5 and BMW X3 crossovers.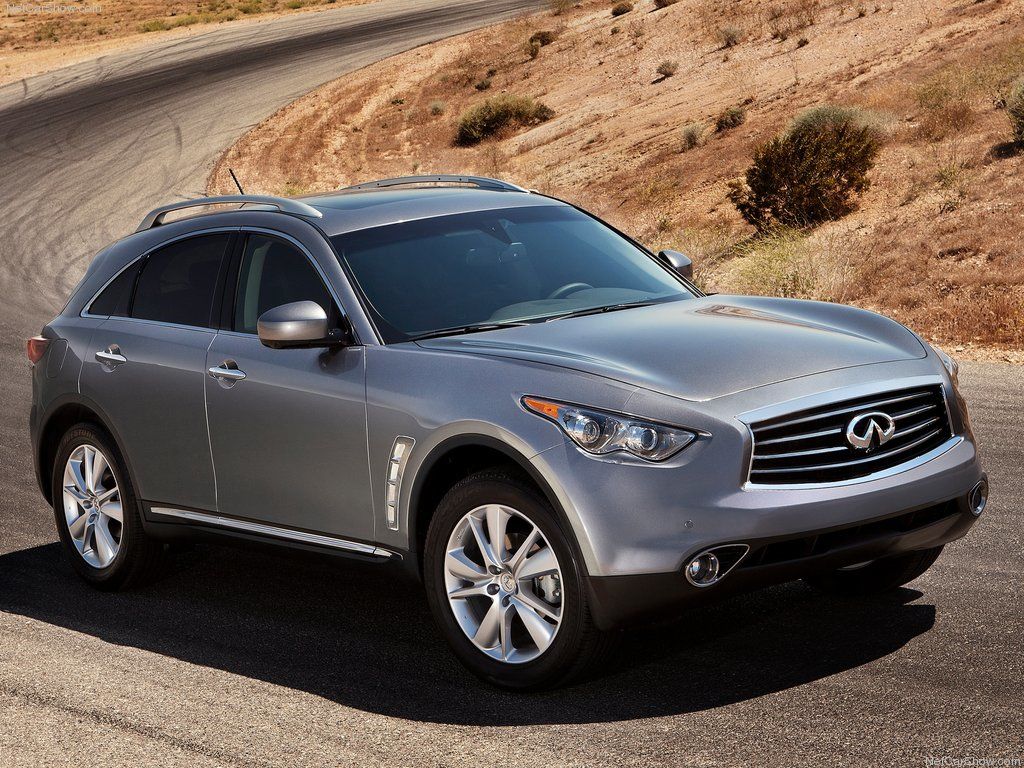 05. 2012 Land Rover Range Rover Evoque
The 2012 Land Rover Range Rover Evoque is the smallest vehicle in the luxury brand's lineup, and while it certainly brings old world British luxury to the table, the availability of a two-door edition and its small size make it a natural choice for drivers seeking a corner carver. The Land Rover Range Rover Evoque is motivated by a 2.0-liter, turbocharged EcoBoost four-cylinder engine that is good for 237 horsepower and 251 lb-ft of torque, numbers that help the crossover reach 60-mph in 7.1 seconds. The Evoque moves through the slalom like a shark, maintaining a 63-mph pace, and while its 15.5 second quarter mile @ 90-mph might not win any pink slips it is a welcome addition to the crossover's portfolio. Braking from cruising speed is accomplished in a reasonable 118 feet, and a six-speed automatic stands tall as the vehicle's only available transmission option.
06. 2012 Nissan Rogue
The 2012 Nissan Rogue is the lone vehicle on this list with a continuously-variable automatic transmission, and with a 0-to-60-mph time cresting the 8.5 second mark it's not a stoplight warrior by any stretch of the imagination. Its 170 horsepower, 2.5-liter four-cylinder engine (and the 175 lb-ft of torque that it also provides) is more than enough, however, to get the ball rolling to the point where the Nissan Rogue reveals just how planted it feels in the corners, a nod to Nissan's sports car prowess. Sharp turn-in and predictable handling are excellent descriptors of the affordable crossover's performance as experienced from the driver's seat.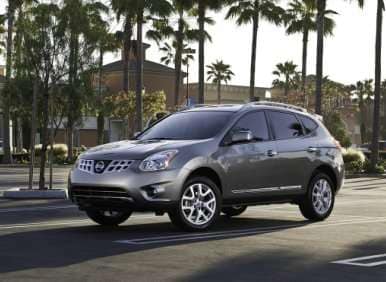 07. 2012 Porsche Cayenne
When found in Turbo trim, the 2012 Porsche Cayenne Turbo is the dragon-slayer of performance-oriented sport-utility vehicles. This large crossover handles like a vehicle half its size when asked to perform seemingly impossible feats on the test track, and its 500 horsepower, turbocharged 4.8-liter V-8 engine does a convincing impression of a top fuel dragster when launched off the line. The Porsche Cayenne Turbo's 516 lb-ft of torque, managed by an all-wheel drive system and an eight-speed automatic transmission, allow the crossover to reach 60-mph in 4.6 seconds and obliterate the quarter mile with a time of 12.8 seconds @ 109 miles per hour. The Cayenne hustles its heft through the slalom at a sustained 67-mph, and its massive brakes arrest the vehicle's forward momentum in just 108 feet.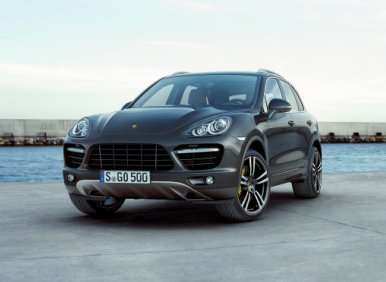 08. 2012 Mercedes-Benz GLK-Class
The 2012 Mercedes-Benz GLK-Class is an inexpensive member of the luxury automaker's stable that draws strength from its C-Class sedan underpinnings when it comes to its overall performance. The Mercedes-Benz GLK-Class feels buttoned down in all weather conditions when outfitted with standard 4MATIC all-wheel drive system, but the rear-wheel drive edition of the crossover offers a purer driving experience. The GLK-Class's 3.5-liter V-6 pushes out 268 horsepower and 258 lb-ft of torque, and a seven-speed automatic transmission handles the gear shifting duties. The compact crossover comes to a stop in 119 feet under panic braking, and the vehicle's steering offers much better feedback than would be expected from a premium SUV. 60-mph is attainable in 7.1 seconds with the accelerator nailed to the floorboards.