2018 Honda Accord TouringEdit ・ Photo by Honda
Honda is on a roll. So far this year, it's launched five new models - each with much acclaim from the automotive press. This week (September 2017), the launch of the redesigned 2018 Honda Accord arrives on the scene with the bold claim of being the only midsize sedan on the market to see US year to year growth in sales. This is an accomplishment, now that SUVs and CUVs are dominating the roads.
Honda sedans have remained so popular that each year, the company has to come up with unique and surprising features to stay on the winning side. And, after testing the new Accord, we've identified some cool ones - but we had to look closely to find them - just like Easter Eggs! So read on to discover 5 Easter eggs we found on the 2018 Honda Accord, created to seduce you into trading up your old beater for some modern technology and convenience gadgets in the all-new Accord.
Easter Egg #1 Tap the Dash for Bluetooth Pairing.
Ever find yourself wanting to connect your Bluetooth smartphone in a car, but get discouraged by the many screens and passwords you have to tolerate before you can make a simple hands-free call or hear a playlist? Well, Honda feels your pain, so it's utilized something called NFC (Near Field Communication) to make the process effortless. This comes in the form of a little "N" found imprinted on the middle of the dashboard which connects to your smartphone with a simple "tap."
Honda tells us that it is currently wired for Android, but they will have iPhone connectivity in time for the sales launch in October of 2017. Yes, an app is involved and yes, some luxury cars already this technology, but what is unique is that this it's found in the Accord - the ultimate mass-market car.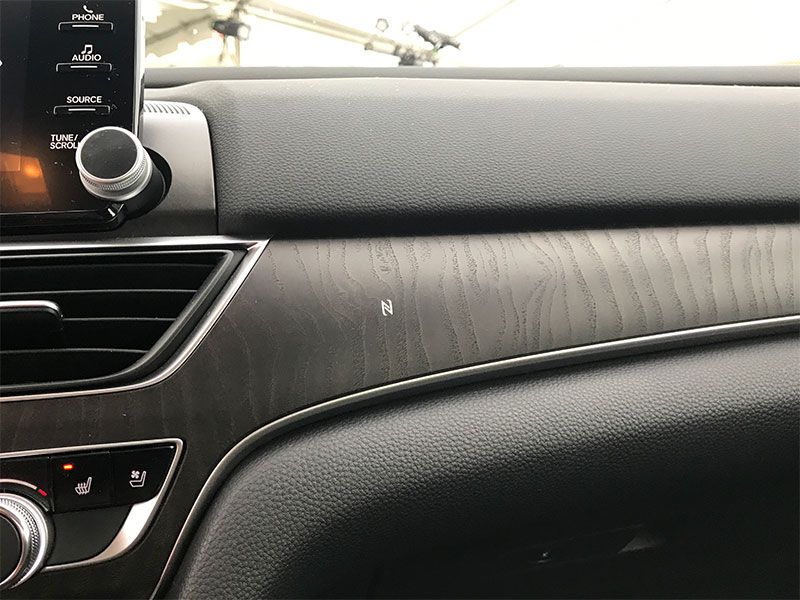 Photo by Joni Gray
Easter Egg #2: The Hollow Wheels of Sound Deadening
Honda has heard complaints about engine noise from Accord owners in the past, and on the New Accord, they've set out to eliminate it. One of the secrets they employed to quiet the cabin is to use a new innovation that gets rid of the road noise created by the wheels. A small chamber hidden inside each wheel captures the racket, stifling most of it before it reaches the cabin. 
This is again a unique technology for this class of mass-market vehicle. Another way that Honda is borrowing technology from its Luxury sister, Acura.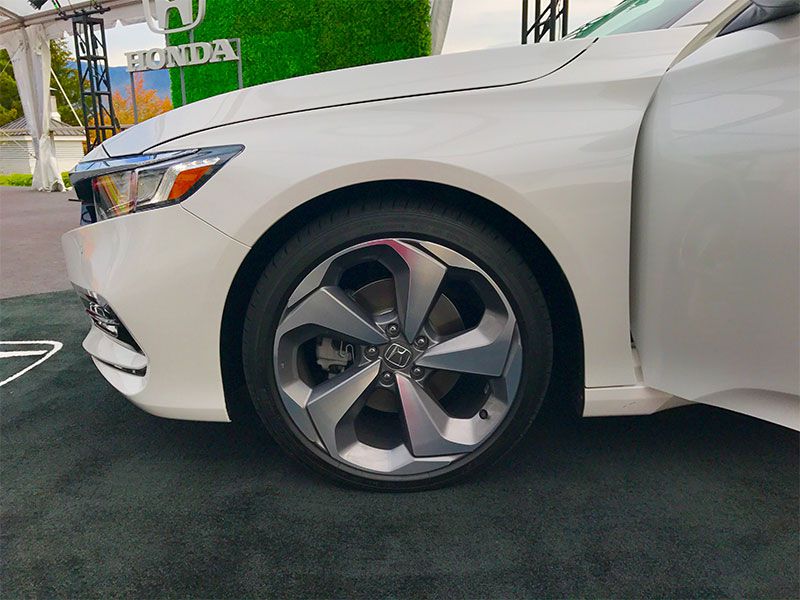 Photo by Joni Gray
Easter Egg #3: Fancy LEDs on the Temp Gauges
It might not even matter to you, but that's the beauty of Easter Eggs - they take a normal everyday feature and make it something special and a little more fun.
The functionality of turning the interior temperature to cool or warm is the same, but at night (not shown here), the circular dials light up via embedded LED lights around the edges of the dials, and glow either blue for cooler or red for warmer. It's a pretty tiny detail but may reduce the time it takes to find the temperature dial while you're driving. And, frankly, it's just kind of cool, new, and shiny.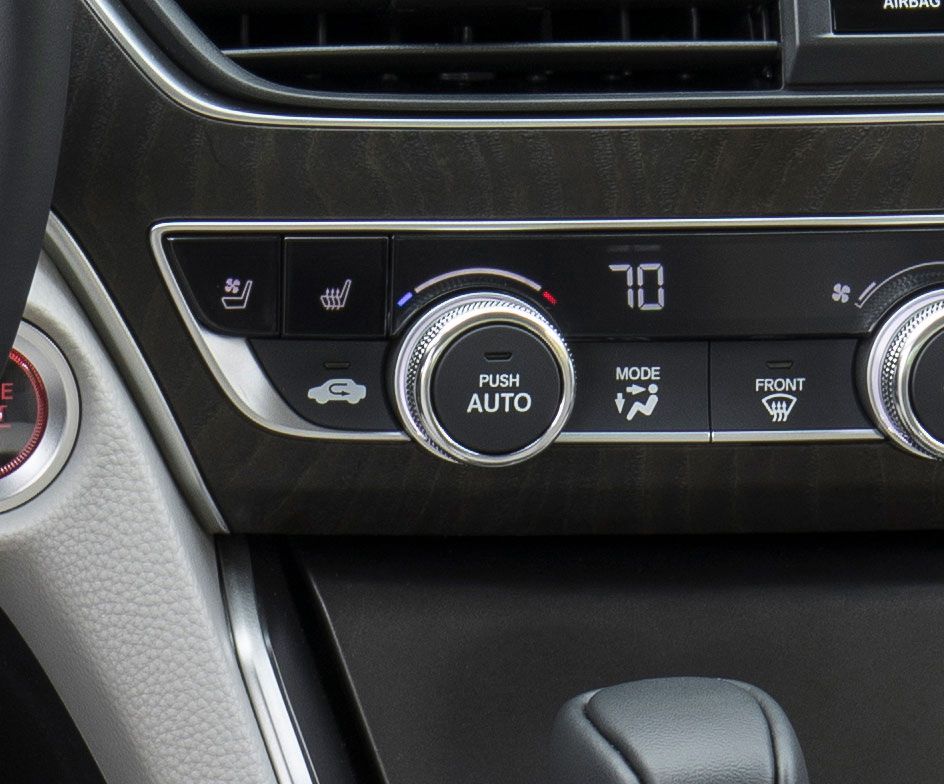 Photo by Honda
Easter Egg #4: Double Lumbar - High and Low
Sore back issues are a way of life for many car owners. As an editor, I've noticed that many automotive journalists are more passionately critical of the seats in their test cars if the Lumbar doesn't hit their back in just the right place. Some actually choose a car based on the seat comfort due to long commutes and back problems.
Because drivers of every height will be considering a new Accord, Honda wanted to increase the possibility of hitting the right spot to support the backs of its customers with 4-way adjustable Lumbar support. The system has both upper and lower back support on the EX-L trim and above.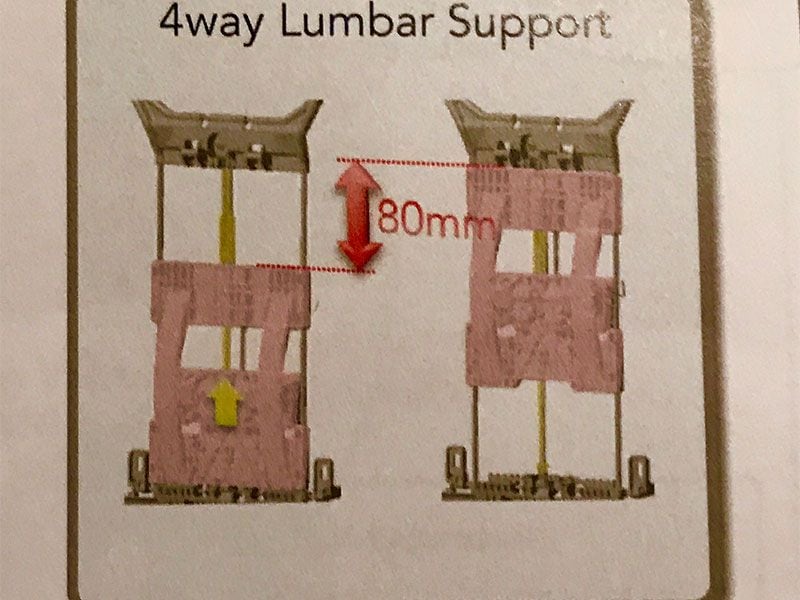 Easter Egg #5: The Volume Knob is Back!
Imagine starting your car, throwing it into reverse just after your teenager returns the keys, only to be confronted by the heavy metal station on Sirius Radio turned up to "11." The panic to find the volume control and turn it down could potentially send you careening into the nearest wall.
Good news. After a year or more of its digital volume control only made available by paging through the screens of its infotainment system, Honda has finally caved into customer and media pundit's complaints and brought back the manual knob 
Jan Moore, Honda Press Manager of Product Planning, confessed, "The customer requests we received to bring back the volume knob were universal." Personally, I agree that something as commonly used as a radio volume knob should never be buried within the digital commands of an infotainment screen. When asked if future Honda products will also follow suit, Jan said simply, "yes."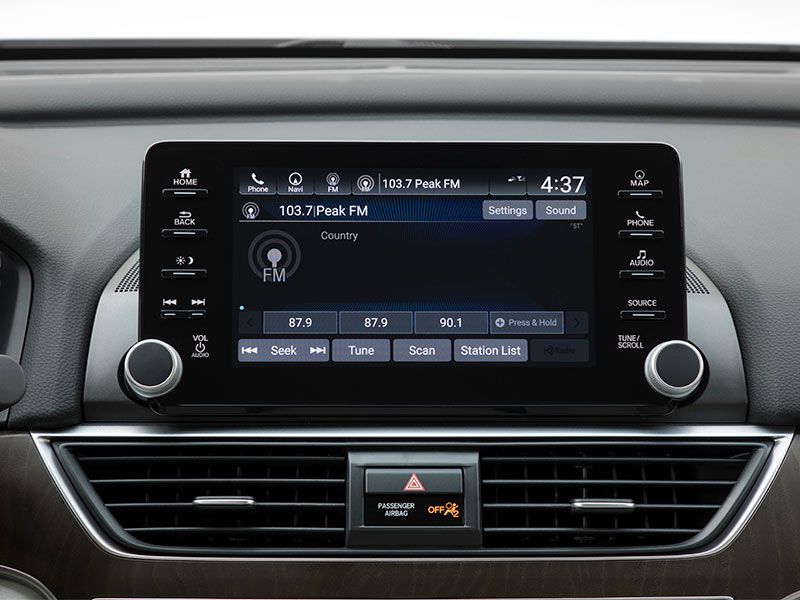 Photo by Honda
Stay tuned...
We know you need a lot more information than these little features to truly consider the new Accord for your next new car purchase, so these 5 Easter Eggs are only a teaser. The Accord rarely gets a complete redesign (the previous one has been the same for four years), so you can bet the writers and reviewers at Autobytel are busy doing a deeper dive.
So please return soon to read Autobytel's full review of the 2018 Honda Accord and a complete feature story on the 10 things you need to know about the new Accord.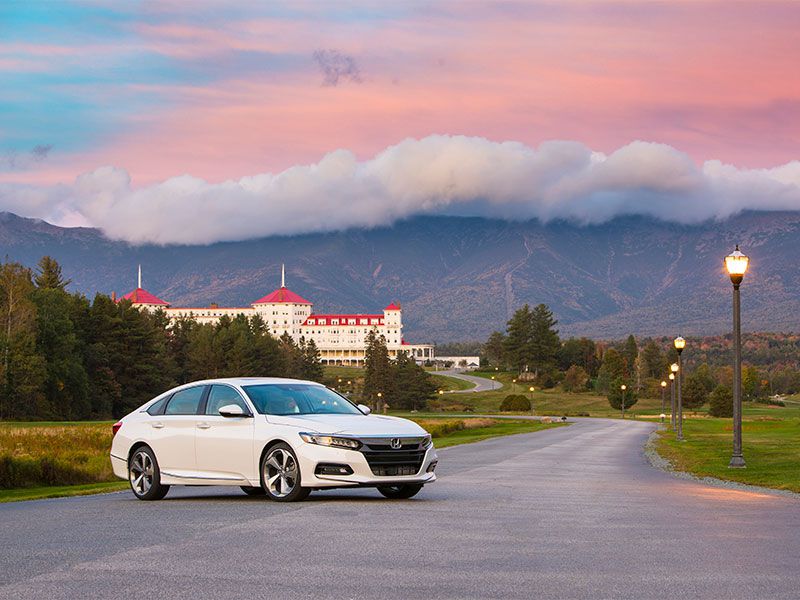 Photo by Honda