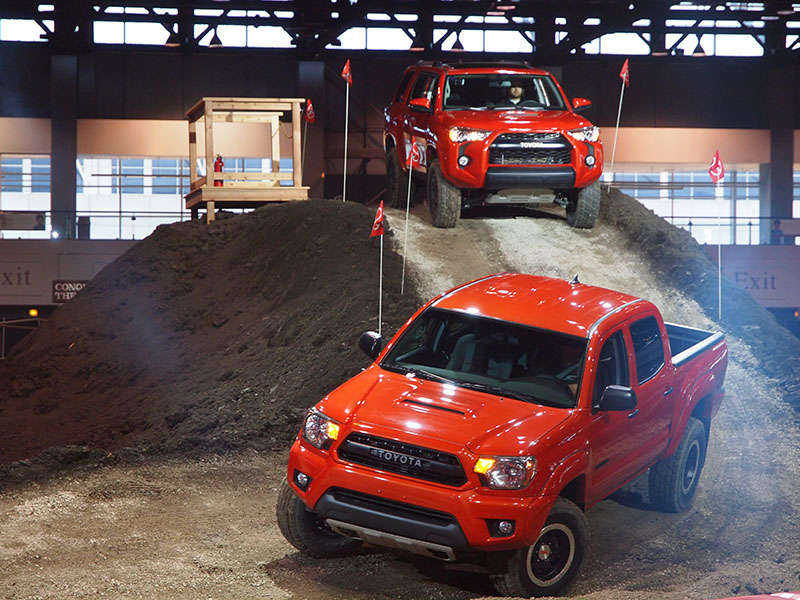 Photo by Megan Green
There was once a time when cool trucks were only being built by aftermarket tuners and outriggers, off-road shops that added extra ground clearance and ruggedness to a pickup or speed shops willing to supercharge or lower a stock product.  Nowadays you can get these types of cool trucks right from the factory as brands battle it out for the hearts and mind of pickup buyers in what is one of the most profitable segments of the automotive market.
We've put together this list of five cool trucks that you can buy in 2014, with an eye towards some of the more unique models currently available.       
5 Cool Trucks For 2014 - 01 - 2014 Ram 2500 Power Wagon
The 2014 RAM 2500 Power Wagon is based on the brand's 2500 series heavy duty pickup, but it takes things in a decidedly off-road direction.  A new five-link rear axle featuring coil springs makes the Ram 2500 Power Wagon that much easier to control regardless of what terrain you are traveling over, and the vehicle also benefits from a standard 6.4-liter, 410 horsepower Hemi V-8 that also generates 429 lb-ft of torque.  A six-speed automatic transmission is included with the Power Wagon, as are four-wheel drive, 33-inch tires, an electronically-disconnecting front sway bar, Bilstein shock absorbers, and 14.5-inches of ground clearance.  This is very serious machine for those who like to slog it out in the woods or through the mud without having to worry about getting stuck miles from home.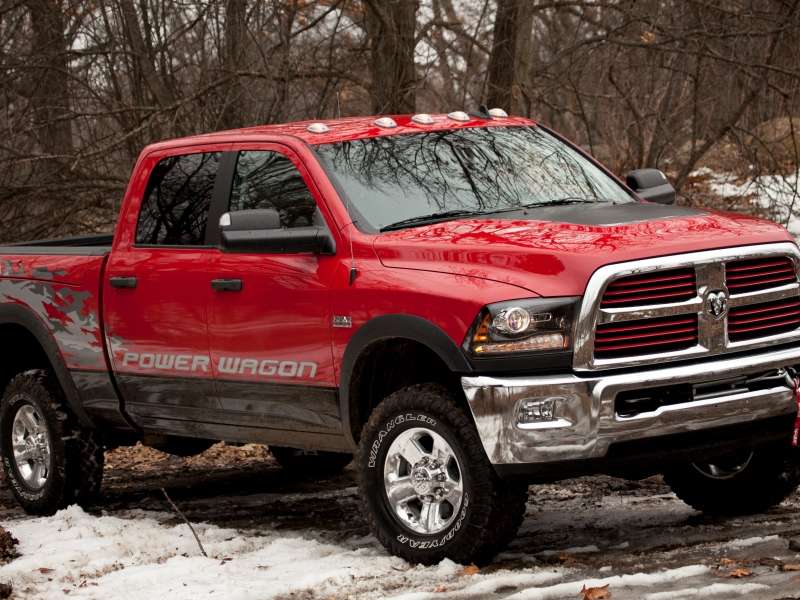 5 Cool Trucks For 2014 - 01 - 2014 Ford SVT Raptor
The 2014 Ford SVT Raptor is also an off-road icon, but in a different sense of the term.  Whereas the Power Wagon has been designed to brutalize its environment into submission, the Ford SVT Raptor is built for speed - specifically, to leap from dune to dune like some kind of steroidal gazelle.  The Raptor features dramatically different body work when compared against the F-150 on which it is based, including a wider track, more pronounced fenders, and a completely unique front fascia.  The changes continue under the skin, where the SVT Raptor boasts an aggressive all-terrain suspension setup, 17-inch rims wrapped in off-road rubber that is bead-locked to the wheel, four-wheel drive, and a limited-slip differential up front.  Motivating the Ford pickup is a 6.2-liter V-8 that has been tuned to provide 411 horsepower and 434 lb-ft of torque, output that is managed by a six-speed automatic transmission.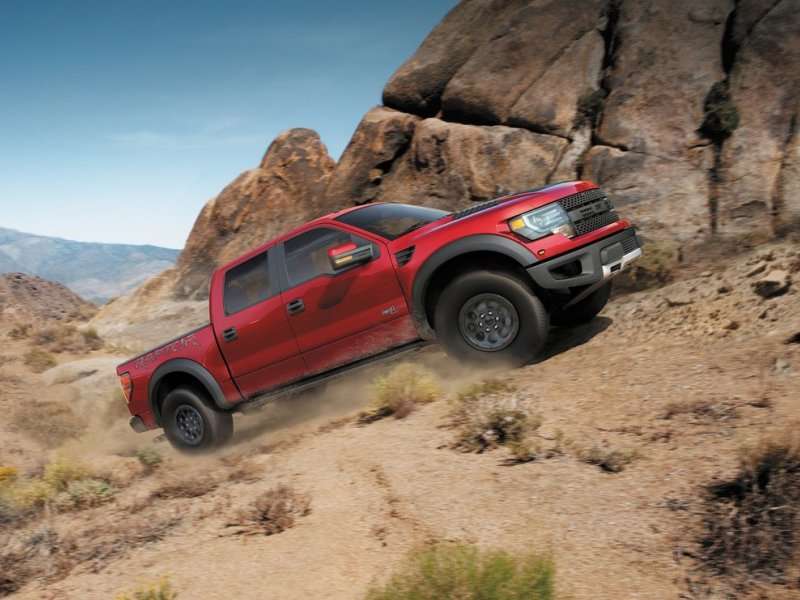 5 Cool Trucks For 2014 - 01 - 2014 GMC Sierra 1500 Denali
The 2014 GMC Sierra 1500 Denali takes the standard version of GMC's full-size pickup and loads on the luxury.  The GMC Sierra 1500 Denali offers it's own special exterior styling compared to the base truck (20-inch rims, mesh grille, body-color trim), as well as an interior that is finished in high end leather.  The truck also comes fully stocked with features such as a navigation system, automatic climate control, heated and cooled seats, and an LCD gauge cluster, and in the engine compartment you can choose between either a 5.3-liter V-8 (355 horsepower) or a 6.2-liter V-8 that's good for 420 horses and 460 lb-ft of torque.  Four-wheel drive is optional with the Denali, while a six-speed automatic transmission is included free of charge.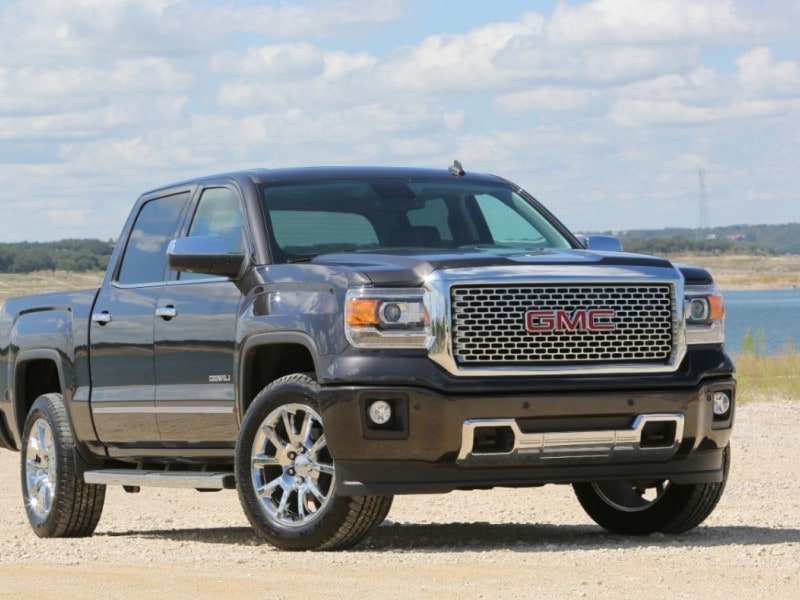 5 Cool Trucks For 2014 - 01 - 2014 Chevrolet Reaper
Although not quite a factory product - the 2014 Chevrolet Reaper comes out of specialty tuner Lingenfelter's shop - it would be a sin to leave such a flagrantly cool truck off of our list.  Although visually there's only the canted front fascia of the Chevrolet Reaper to identify it as something special, its additional ride height hints that something unusual is going on behind the scenes.  The Reaper can be had with either of the engines found in the Sierra Denali, with the added wrinkle of a supercharger that pushes horsepower to the 475 (5.3-liter) or 550 (6.2-liter) plateau.  In addition, there's a jacked-up Fox Racing suspension sitting under the Reaper's chassis, including a remote reservoir shock absorber setup that affords substantial travel when moving over rough terrain.  The four-wheel drive Reaper is aimed squarely at the Raptor, and it finally gives Chevy fans a high performance truck they can brag about out on the trail.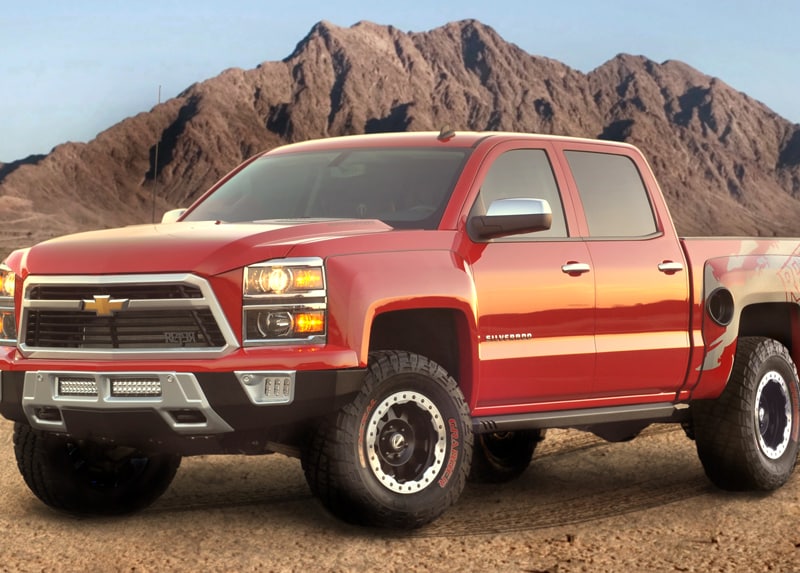 5 Cool Trucks For 2014 - 01 - 2015 Toyota Tacoma TRD Pro
The 2015 Toyota Tacoma TRD Pro takes the mid-size truck's already formidable TRD Off-Road package and turns things up to 11.  On the outside, the Toyota Tacoma TRD Pro can be identified by its special grille, which features a single bar dividing the top from the bottom that bears the Toyota name in bold letters.  There's also special badging and rims, as well as a slightly custom interior.  The four-wheel drive Tacoma TRD Pro gains external reservoir shock absorbers that, as with the Reaper, enhance suspension travel to go with its lifted ride height.  The Tacoma won't punish you over a smooth surface, as Toyota has softened its springs to prevent the vehicle from riding too rough, and while the Tacoma's 4.0-liter V-6 remains stock (and outputs 236 horsepower and 266 lb-ft of torque), drivers will be able to hear it a bit better thanks to the installation of a TRD exhaust system.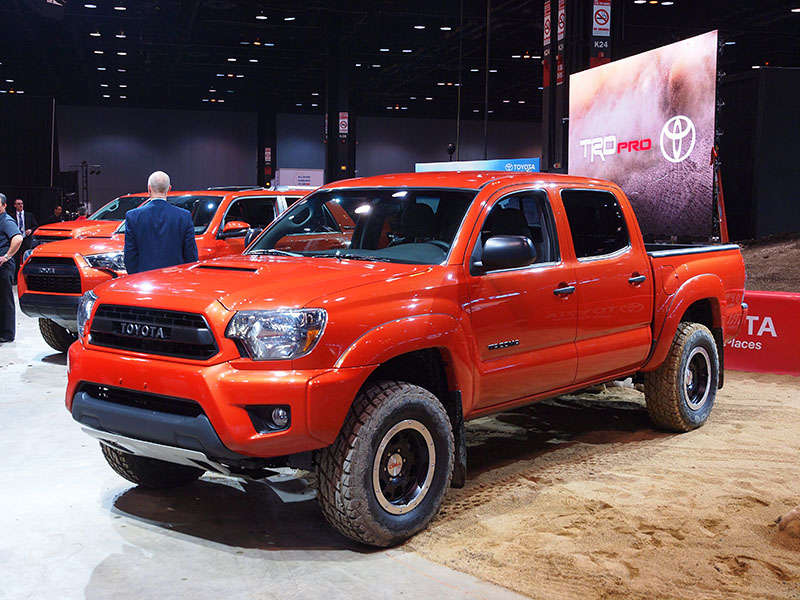 Photo by Megan Green