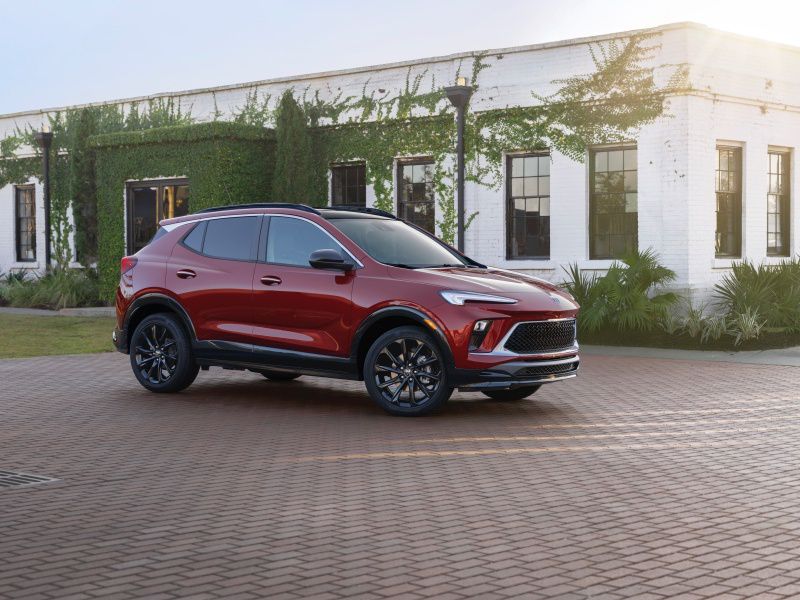 2024 Buick Encore GX ・ Photo by Buick
The 2024 Buick Encore GX is a compact SUV that gets a refreshed design for this year. It has a sleeker, more refined exterior with new front and rear bumpers and a new grille as well as several new wheel designs from which to choose. It also marks the debut of the new updated version of Buick's Tri-Shield logo, which is found on both the hood and the tailgate.
The interior gets a nice update, too, with a new 11-inch infotainment touchscreen and 8-inch instrument cluster housed in a single 19-inch display. There's wireless Apple CarPlay and Android Auto with the option for wireless smartphone charging. The trim range is shuffled this year with the Select replaced by the Sport Touring and the Essence replaced by the Avenir. Let's take a closer look at the 2024 Buick Encore GX to see if it's the right vehicle for you.
Three Well-Equipped Trims
The Buick Encore GX trim lineup is slightly shuffled this year with three available options. The base Preferred is priced from $28,895 with a 1.2-liter, 3-cylinder engine, 11-inch infotainment touchscreen, 6-way manual driver's seat, 8-inch digital instrument cluster, automatic emergency braking, and rear-cross traffic alert. The Sport Touring starts at $29,695 with a more powerful 1.3-liter 3-cylinder engine, 18-inch Gloss Black wheels, and a black grille.
At the top of the lineup is the Avenir, which is the most luxurious trim offered. It comes in at $34,795 and standard features include 19-inch wheels, an 8-way power driver seat, a 6-way power front passenger seat, heated front seats and steering wheel, and dual-zone automatic climate control. It's a small trim range, but it has a good array of features for each trim and an extremely well-appointed top trim for a modest increase in price.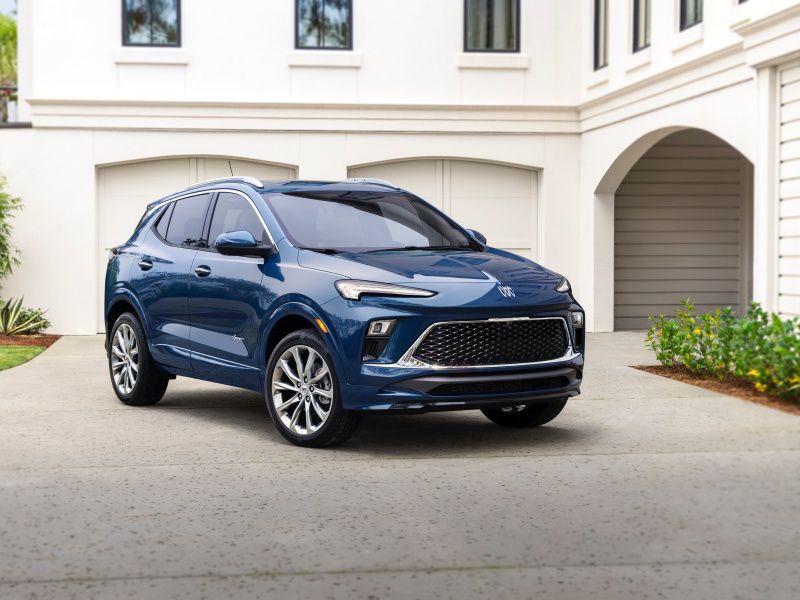 Photo by Buick
Two Available Engines
There are two engine options for the 2024 Buick Encore GX, both of them with three cylinders. The base engine is a 1.2-liter turbocharged 3-cylinder that delivers 137 horsepower with 162 lb-ft of torque. Optional on the base trim and standard for the rest of the Encore GX lineup is a 1.3-liter turbocharged 3-cylinder that delivers 155 horsepower with 174 lb-ft of torque. Both engines are paired with a continuously variable automatic transmission in front-wheel drive trims. All-wheel drive trims get a 9-speed automatic instead.
The base engine delivers ample power despite its small size, but the available 1.3-liter is a more responsive and more engaging option. The extra horsepower and torque make merging into highway traffic easier and provides better power for passing slower vehicles. If you're considering the base trim, upgrading to the more powerful engine is an option worth the cost if your budget allows.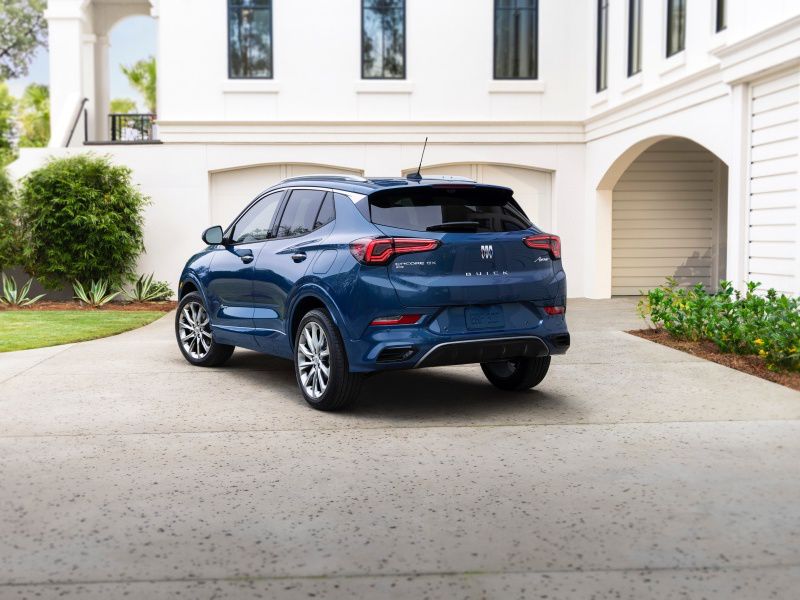 Photo by Buick
A Well-Mannered Ride
The Buick Encore GX is the entry-level vehicle in the Buick lineup, but it still has plenty of luxury appeal. It has lots of standard features and elegant styling along with the smooth, quiet ride that's a hallmark of a luxury car. Thanks to its noise-cancelling system, road and wind noise are kept at bay so passengers can relax and enjoy conversation without having to raise their voices.
Rough pavement is nicely muted by the suspension system so the ride stays smooth and composed. Broken pavement and pebbled surfaces aren't an issue with a minimum of vibration making its way into the cabin, even on dirt roads. The Encore GX provides a welcome refuge form the world outside no matter the surface beneath the wheels.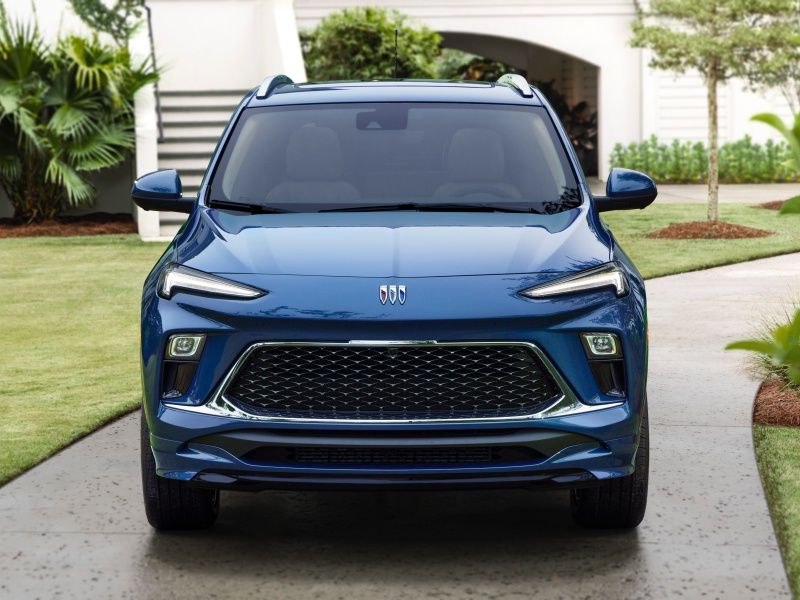 Photo by Buick
Large Standard Infotainment Touchscreen
Infotainment in the Encore GX includes a standard 11-inch touchscreen alongside an 8-inch instrument cluster in one long 19-inch display. It's part of a new Virtual Cockpit system that creates a clean, uncluttered look and a more premium feel. There's Bluetooth audio streaming for up to two devices, 6 speakers, Wi-Fi hotspot connectivity, and wireless Apple CarPlay and Android Auto to help reduce cord clutter up front. A 7-speaker audio system is available while the Avenir adds the option for a premium 7-speaker Bose audio system.
It's a comprehensive system with a crisp, clear touchscreen that responds well and processes requests quickly. The large screen size makes it easier to use for both driver and passenger and is especially helpful when using navigation. Narrow, twisting city streets that are hard to follow on a small screen are easy to manage when the screen is large.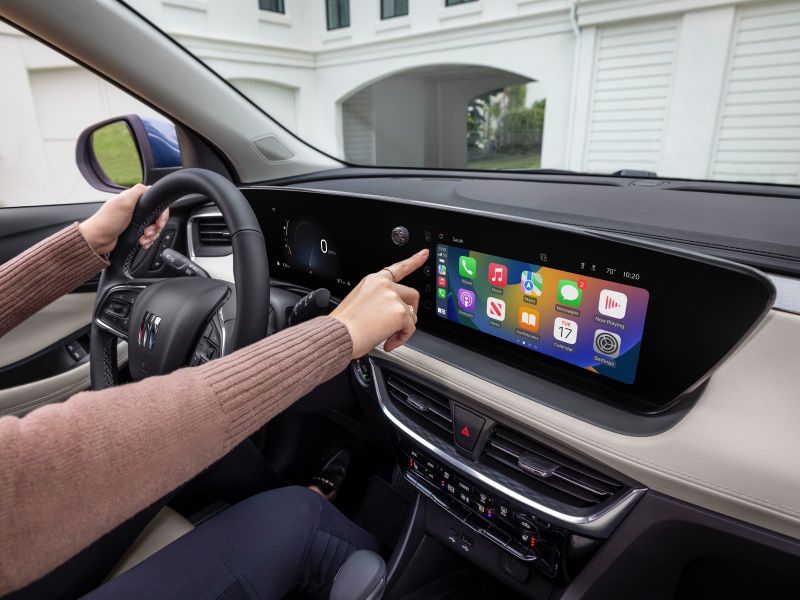 Photo by Buick
A Comfortable Interior
Buick is a premium brand, so no matter which trim of the Encore GX you choose, it has comfortable seating with attractive materials that look and feel good. There's a 6-way manual driver's seat on the base Preferred with an available 8-way power seat that becomes standard on the top Avenir trim. Depending on the trim, there are also heated and ventilated front seats, a heated steering wheel, and dual-zone automatic climate control.
Leather or leatherette seating surfaces add to the comfort and appeal of this crossover along with supportive front seats that make long drives less tiresome. There's enough bolstering to hold you in place on the corners without squishing those of a larger frame. Rear seats are also comfortable with seating for three, but it's better kept to two on longer trips.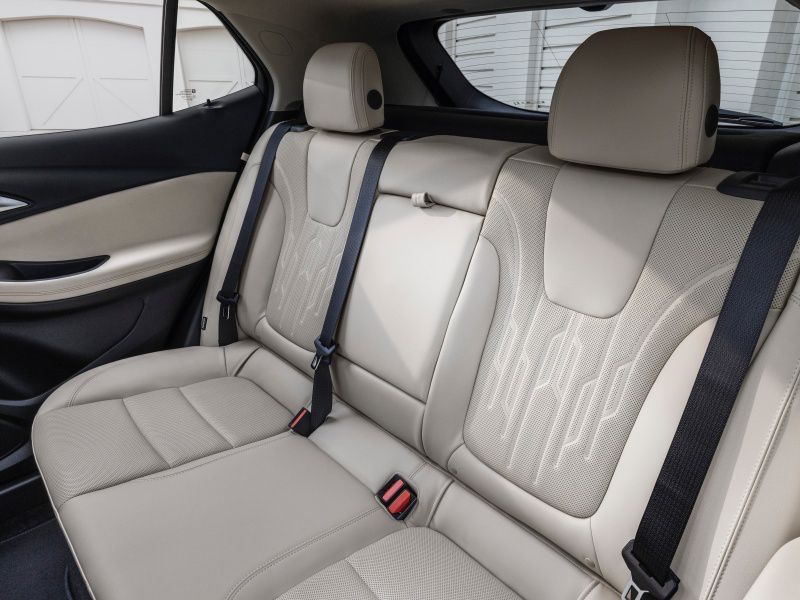 Photo by Buick
Good Standard Safety
Standard safety features on the Encore GX are extensive. They include lane keep assist with lane departure warning, automatic emergency braking, front pedestrian braking, forward collision alert, following distance indicator, lane change alert with side blind zone alert, rear cross-traffic alert, rear seat reminder, and intelligent high beams.
That's a lengthy list that makes key safety features standard rather than requiring the purchase of an expensive options package or moving up to a higher trim level. Also available are adaptive cruise control with enhanced emergency braking, rear park assist, rear camera mirror, and HD surround vision. You don't have to move to the top trim to get the extra safety features, either, since they're available as an option even on the base Preferred trim.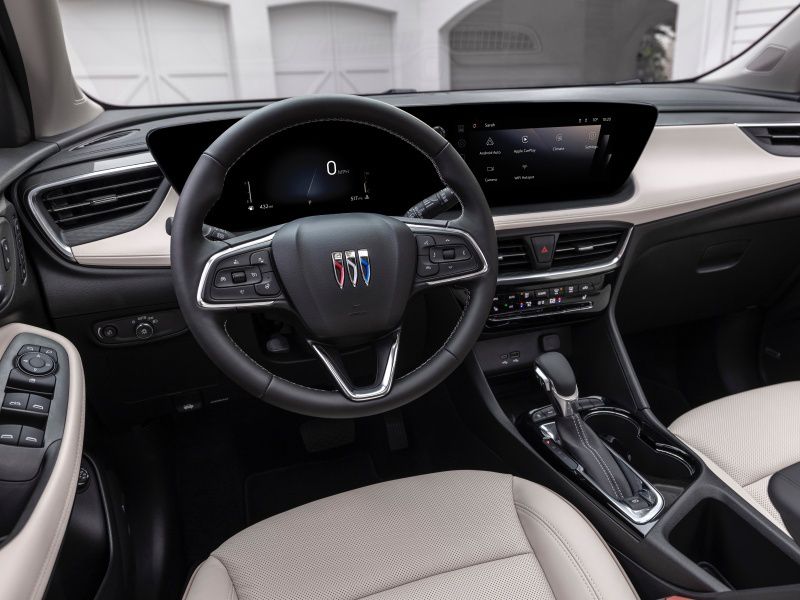 Photo by Buick
Lots of Room for Cargo
This isn't a full-size SUV so it's not a great choice if you have huge cargo needs, but there is still good room for cargo for the class. Leave the rear seats up and there's 23.5 cubic feet for cargo, which easily handles packages from a day of shopping. Fold down those rear seats and cargo capacity expands to 50.2 cubic feet. The front passenger seat also folds flat to fit items up to 8-feet long.
There's a wide tailgate opening so bulky items are easier to stow and a low load floor to make stowing heavy cargo less difficult. If the interior cargo room isn't enough, then you can hook a trailer up to the Encore GX. It has a maximum tow rating of 1,000 pounds when equipped with a trailer hitch. Whether people or cargo or some combination of the two, this crossover can handle the task.
Photo by Buick
Good Fuel Economy
One of the benefits to the smaller engines in the Encore GX is fuel economy. While some larger or more powerful suvs can be hard on your wallet when gas prices rise, this crossover makes it easy to stay on budget. Whether it's the daily commute, driving around town, or a vacation road trip, the fuel economy of the Encore GX makes filling up more affordable.
Equipped with all-wheel drive and the 1.3-liter 3-cylinder engine, it gets an EPA-estimated 26 mpg in the city, 28 mpg on the highway, and 27 mpg combined. That same engine with front-wheel drive gets an EPA-estimated 29 mpg in the city, 31 mpg on the highway, and 30 mpg combined. The best fuel economy comes from the 1.2-liter 3-cylinder with front-wheel drive, which gets and EPA-estimated 30 mpg in the city, 31 mpg on the highway, and 30 mpg combined.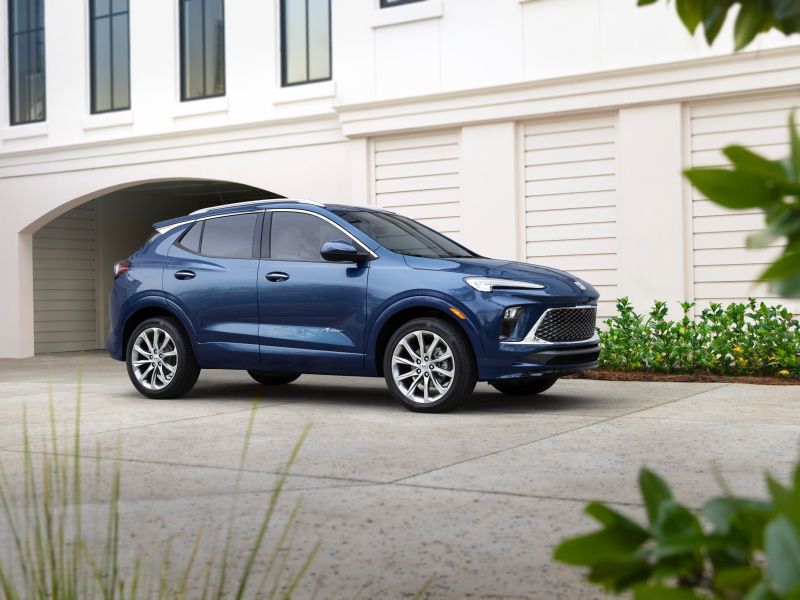 Photo by Buick
Final Thoughts
The Encore GX is the most popular model in the Buick lineup with good reason. It has great versatility for carrying people or cargo with the ability to manage items up to 8-feet long despite its more compact dimensions. The cabin is beautifully appointed with a smooth ride that's exceptionally quiet so passengers can more easily relax.
It also has a high-tech look with a new virtual cockpit that puts the infotainment touchscreen and instrument cluster in one long 19-inch display. Lastly, there's good standard safety. It's a comprehensive offering with three well-priced trims and two responsive engines that make it easy to find the perfect Encore GX for your needs.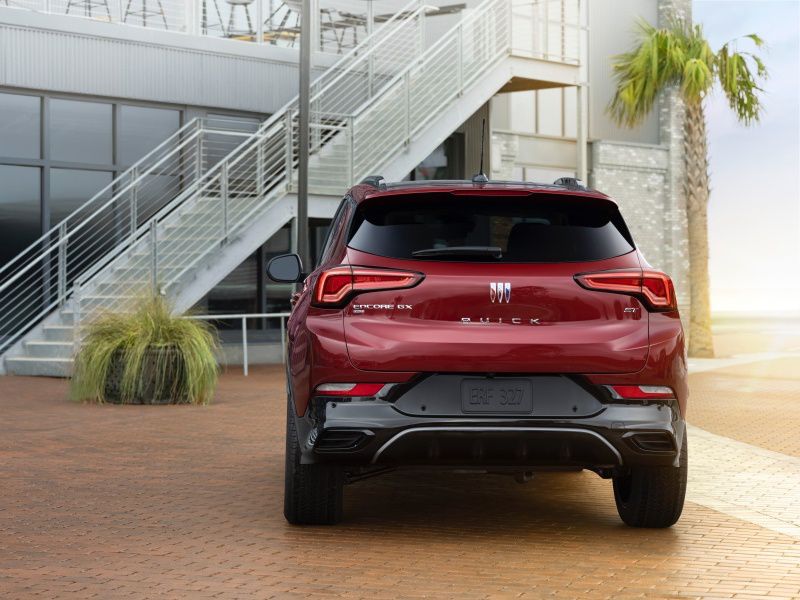 Photo by Buick