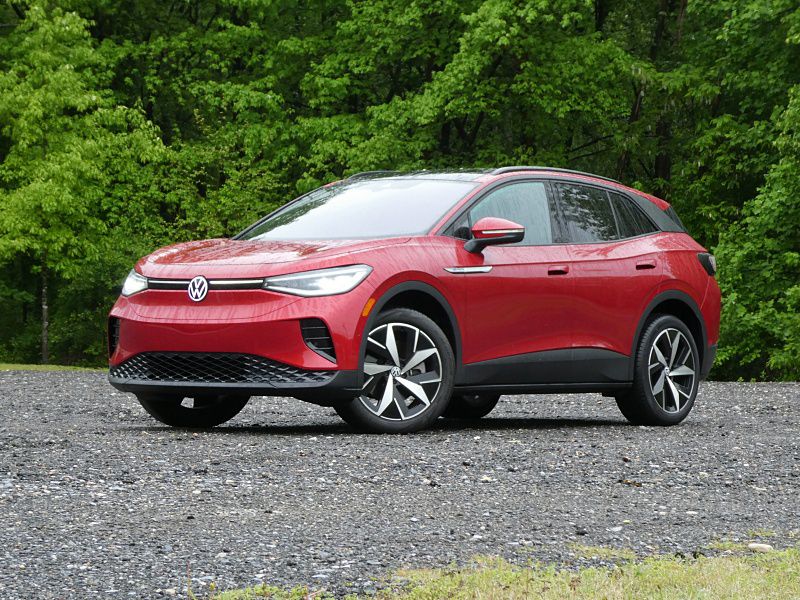 2023 Volkswagen ID.4 ・ Photo by Brady Holt
Most electric cars are expensive, with few costing less than $40,000 and many costing quite a bit more. A few others are absurdly cheap, notably the sub-$30,000 Chevrolet Bolt family and the Nissan Leaf.
The 2023 Volkswagen ID.4 sits right in the middle. This compact crossover EV starts at $38,995 and, unlike most of its rivals, still qualifies for a $7,500 federal tax credit as we write. That gives it a lower post-tax-credit price than a subcompact Hyundai Kona Electric, and the ID.4 undercuts critically acclaimed rivals like the Hyundai Ioniq 5, Kia EV6, and Ford Mustang Mach-E by $10,000 and up (and the Tesla Model Y, which also gets the tax break, by nearly as much). VW just updated the ID.4 this year with a new lower-priced base model, revised styling and interior details, and a longer list of available features. We spent a week testing the updated ID.4 to learn about its pros and cons. Keep reading to see if VW struck the just-right EV balance for you. 
Uncle Sam's Discounted Price
EV tax incentives have been a wild ride in recent months. First, Congress scrapped the old rules overnight, making some electric cars instantly ineligible and others unexpectedly eligible for $7,500 federal tax credits. Then the IRS adopted even stricter rules in April 2023, cutting the Uncle Sam discount from even more models. 
The 2023 Volkswagen ID.4 is a lucky beneficiary of this chaos. It's now assembled in Tennessee and sources its electric battery from congressionally approved supply chains. So most buyers will get to hack $7,500 off the already competitive starting price of $38,995, meaning the ID.4 effectively starts at $31,495 — a modest premium over many gas-only compact crossovers with similar features. You can pay $5,000 extra for a bigger battery (the Pro model) or for higher-end features (the S). For $5,000 more ($48,995), you combine the bigger battery with the longer features list with the Pro S. However, if you want AWD, you first need the bigger battery, then pay nearly $4,000 extra from there. Our AWD Pro S test vehicle came to $52,985 including the mandatory $1,295 destination charge but before the $7,500 federal tax break.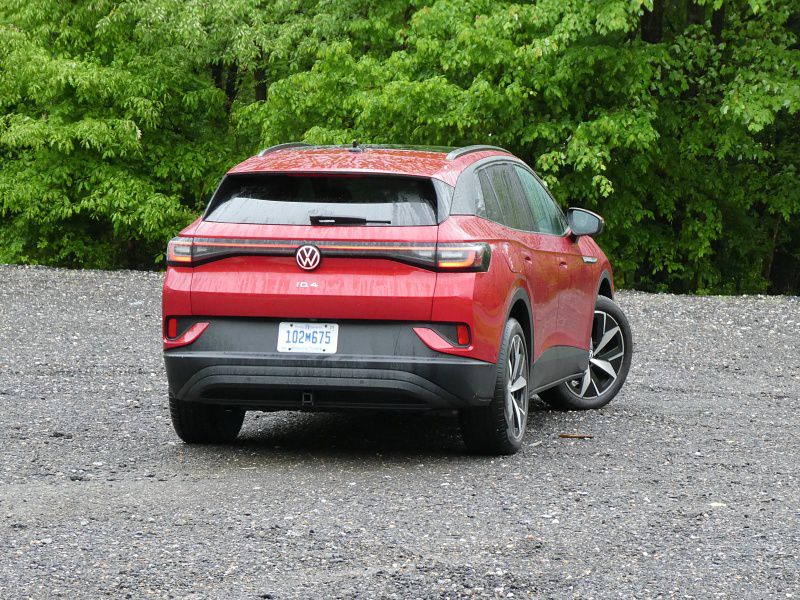 Photo by Brady Holt
Sleek-Pod Styling
Many modern EVs are edgy and exciting. By contrast, the ID.4 is thoroughly modern but more friendly than techy. It's a gently rounded transportation pod, more like a Tesla than a wild-looking Ford Mustang Mach-E or Kia EV6. 
The ID.4 also doesn't scream "SUV." It's both taller and narrower than VW's gas-only Tiguan crossover, but we'd have never guessed that from looking at the low-looking ID.4. And the rounded body makes no nods to rugged outdoorsy performance. This is an SUV for carrying stuff, not for adventuring through the great outdoors. And it's not going to pretend otherwise. The 2023 model year brought redesigned alloy wheels and, on upper-trim models like our Pro S, illuminated front and rear VW badges.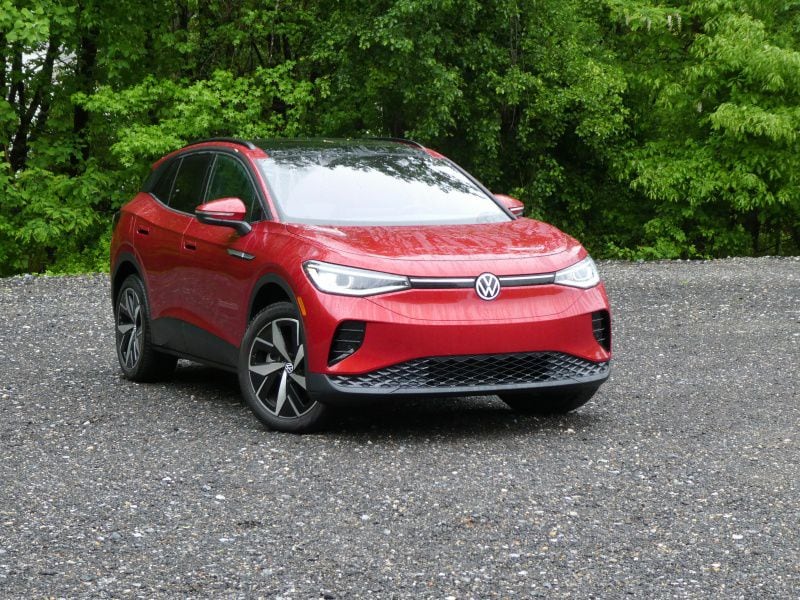 Photo by Brady Holt
Big Screen Now Comes Standard
In another change for the 2023 model year, a big 12-inch touchscreen infotainment system now comes standard on even the base model (rather than the already-ample 10-incher that used to be standard). The screen has attractive graphics and displays information well. The interior looks welcoming and familiar overall, not dauntingly cutting-edge. And it's well-assembled using quality materials. 
However, we're disappointed that VW didn't use this year's update to address the ID.4's biggest weakness: its touch-sensitive controls. Rather than giving the ID.4 simple buttons and knobs, it provided sleek areas that respond to your touch. In practice, it takes extra concentration to tap the right spot, and it's easy to either miss or activate something by mistake. We would sometimes change a setting by brushing against the steering wheel controls, and we repeatedly turned on the heated windshield while turning off the headlights. The ID.4 even uses a touch-sensitive button to establish whether its two physical window switches should control the front or rear windows, and this button proved consistently fussy. We'd love for the ID.4's simple vibe to come with simple controls.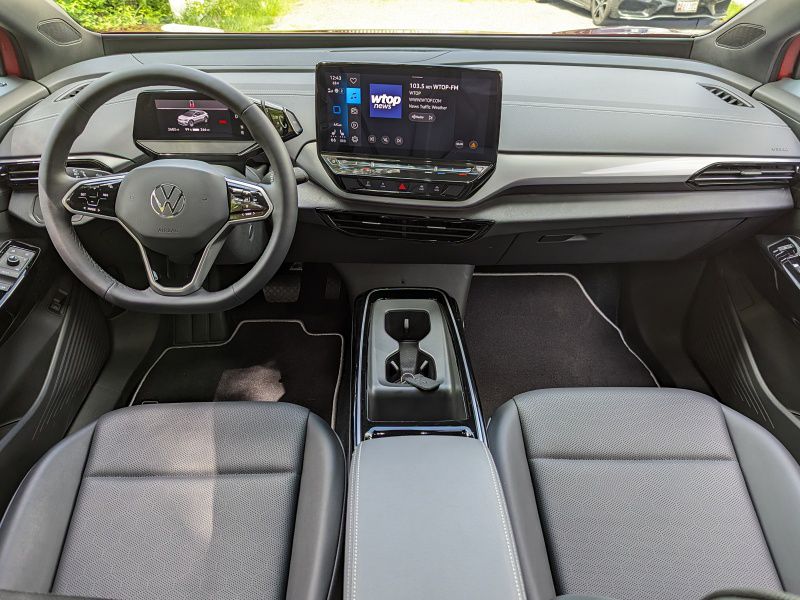 Photo by Brady Holt
Roomy Interior
Without the need to fit an engine under its stubby hood, the ID.4 is a space-efficient crossover that turns most of its footprint over to the passenger cabin. Four adults can fit comfortably, and a fifth can squeeze into the center-rear position without too much pinching. As we noted, you can even get optional massaging front seats, too. 
For cargo, the ID.4 isn't amazing for a compact crossover but stacks up fine against most electric competitors. It has 30.3 cubic feet of room behind the rear seat and 64.2 cubic feet with the rear seat folded flat. An adjustable-height cargo floor lets you either maximize volume or make the floor flush with the folded seatbacks. VW says a rear-wheel-drive ID.4 can tow a trailer weighing up to 2,200 pounds, while an AWD model can pull up to 2,700 pounds; both figures are above average.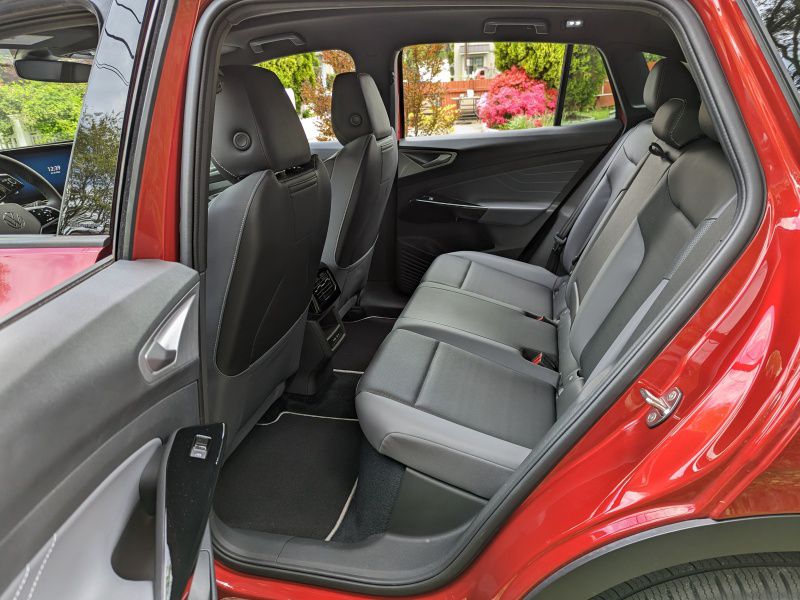 Photo by Brady Holt
Choice of Ranges
This year, the ID.4 comes with a choice of two battery sizes: the new lower-cost unit found in the base and S models, and a larger one that used to be standard on all trim levels. This smaller battery, available only with rear-wheel drive, can take the ID.4 an estimated 209 miles on a charge. It averages the energy equivalent of 115 mpg in the city, 99 mpg on the highway, and 107 mpg combined. 
The larger battery has nearly identical efficiency but much better range: 275 miles with rear-wheel drive and 255 miles with all-wheel drive. (AWD models' efficiency drops to 104 MPGe city, 93 MPGe highway, and 99 MPGe combined.) Our AWD test vehicle beat its EPA range estimate; we traveled 241 miles before plugging it back in, and it claimed it still had 28 miles of juice at that point. VW estimates that you can get 2 to 5 miles of range per hour plugging into a 120-volt household outlet, 24 to 36 miles per hour in a 240-volt car charger (for a total charging time of about 7.5 to 11.5 hours), and up to 89 miles in 10 minutes in a public fast-charging station.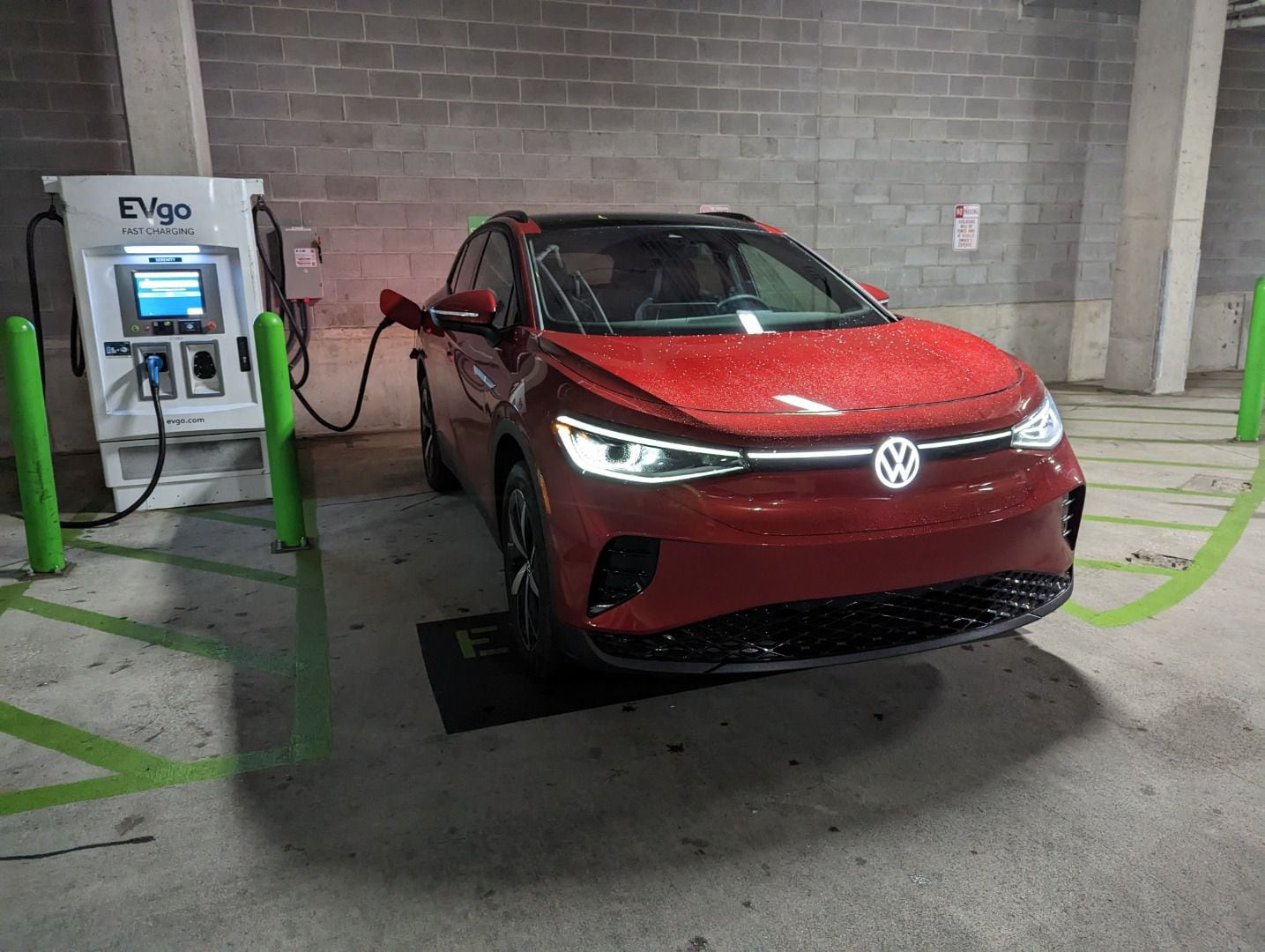 Photo by Brady Holt
Quiet Speed
Many EVs are thrillingly fast, making use of their instant-response peak torque to send you flying forward if you floor the accelerator. The ID.4 is more subdued. 
Rear-wheel-drive ID.4s, regardless of battery size, make 201 horsepower and 229 lb-ft of torque. That's in line with many gas-powered crossovers, but its quieter operation means you don't hear the strain of an overtaxed four-cylinder engine. What's more, opting for all-wheel drive gets you a second electric motor for a total output of 295 hp and 339 lb-ft of torque. That's enough to knock about 2 seconds off a 0-60 sprint. Even an AWD ID.4 won't rip your face off like a performance-minded Tesla, but it accelerates with authority. It also rides and handles well, but once again with more confident ease than gleeful zest.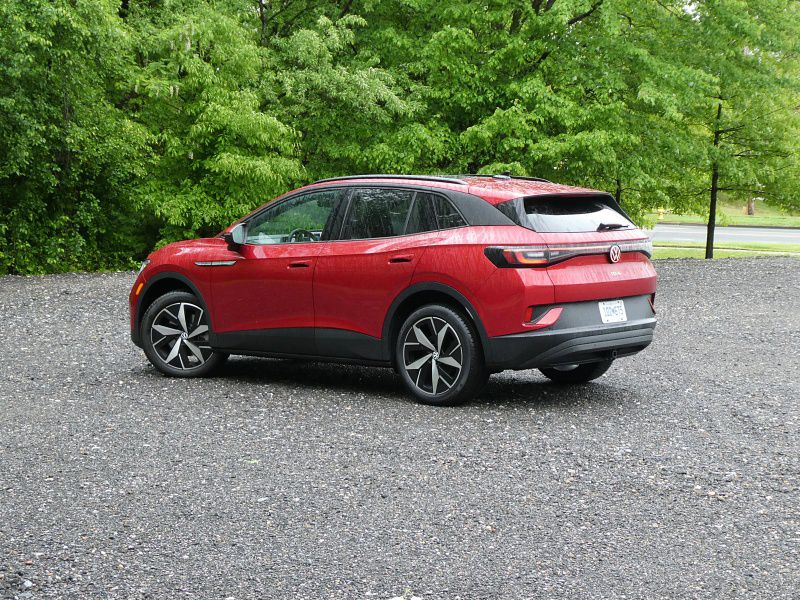 Photo by Brady Holt
Top Safety Pick Plus
The ID.4 earned exemplary crash-test scores, perfect for a family-friendly small SUV. It received the highest designation of Top Safety Pick Plus from the Insurance Institute for Highway Safety, along with five out of five stars from the National Highway Traffic Safety Administration. It even aced the IIHS's tough new side-impact crash test, a more rigorous evaluation than its old evaluation. 
An array of safety technologies and other advanced driver aids comes standard on every ID.4: forward automatic emergency braking, blind-spot monitoring, lane-keeping assistance, adaptive cruise control, and front and rear parking sensors. You need the top S Plus for a surround-view parking camera, but the rest of the safety gear is included even on the base model.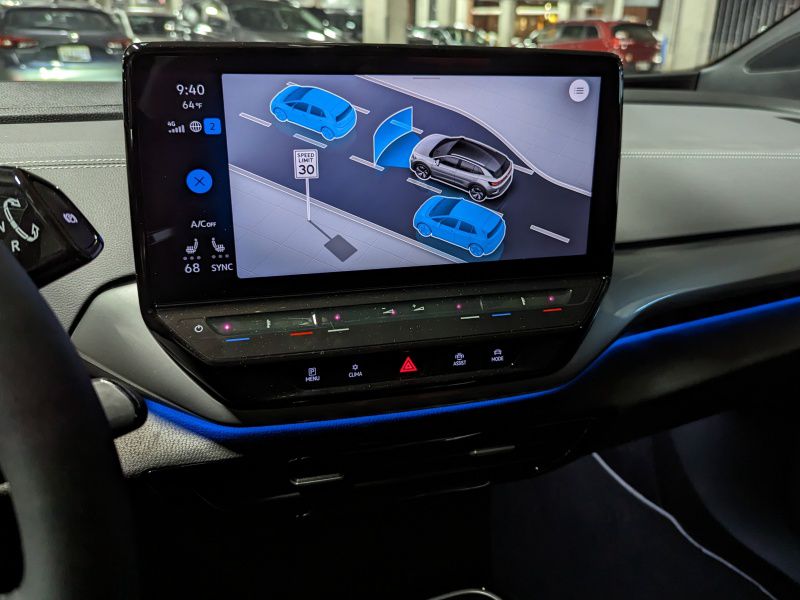 Photo by Brady Holt
Competitors to Consider
As we mentioned, once you factor in federal tax incentives, the ID.4 is one of the least expensive fully electric crossovers on the market. Prices get closer as you add more features, but the $7,500 federal tax break gives it a huge advantage over most rivals. All else being equal, we'd pick a Hyundai Ioniq 5 or Kia EV6 over the ID.4 for their more extroverted looks, livelier driving experience, faster charging speed, longer range, and simpler controls. But the tax credit gives you 7,500 reasons to choose the VW. 
The ID.4 faces a tougher time against the Tesla Model Y. While it's not perfect, the Model Y is a slickly executed piece of technology that's also roomier and faster than the ID.4, along with a longer range and superior efficiency. The base ID.4 undercuts the base Model Y, but as we write, the cheapest Model Y sells for $47,240 before the tax credit versus $47,795 for the cheapest AWD ID.4. The Volkswagen rides more smoothly, it has a few more conventional controls like a gear selector and windshield-wiper stalk, and it has a few more features. But the Tesla is markedly superior in many ways.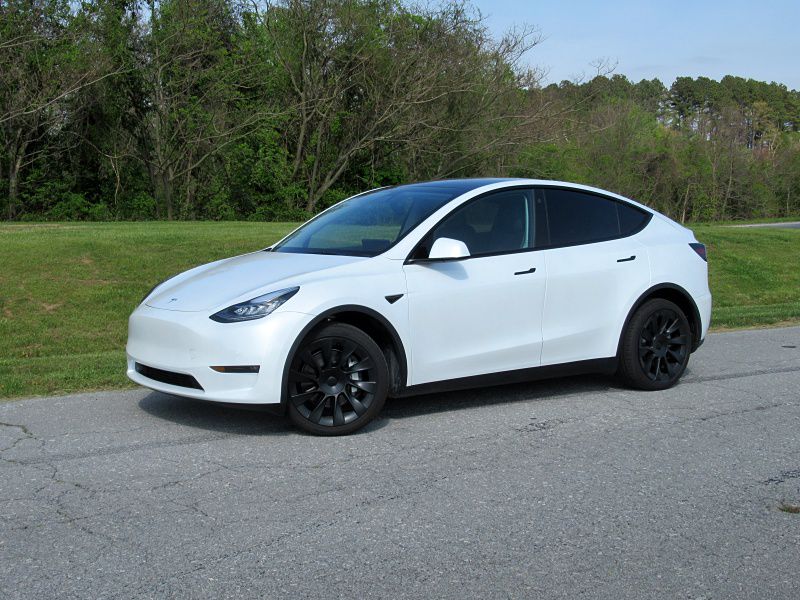 Photo by Brady Holt
Final Thoughts
Let's clear up any ambiguity: We liked driving the 2023 Volkswagen ID.4. It's no thrill ride, but its driving manners are otherwise beyond reproach — quicker, quieter, and more agile than most gas-powered rivals. And it's reasonably roomy, too.
With all this potential, we're frustrated that VW missed the opportunity to make a thoroughly user-friendly electric car that could stand in contrast with tech-focused showpieces like the Tesla Model Y. With a conventional dashboard layout but uncommonly clunky controls, the ID.4's dash is the worst of both worlds. And while it's a great value next to most electric SUVs, it's hard to imagine picking the ID.4 over the exemplary Tesla when there isn't a price gap between the two. Still, if you're looking for something roomy and electric, and you don't mind two-wheel drive or a 209-mile driving range, the new base-model ID.4 is a tempting choice for you.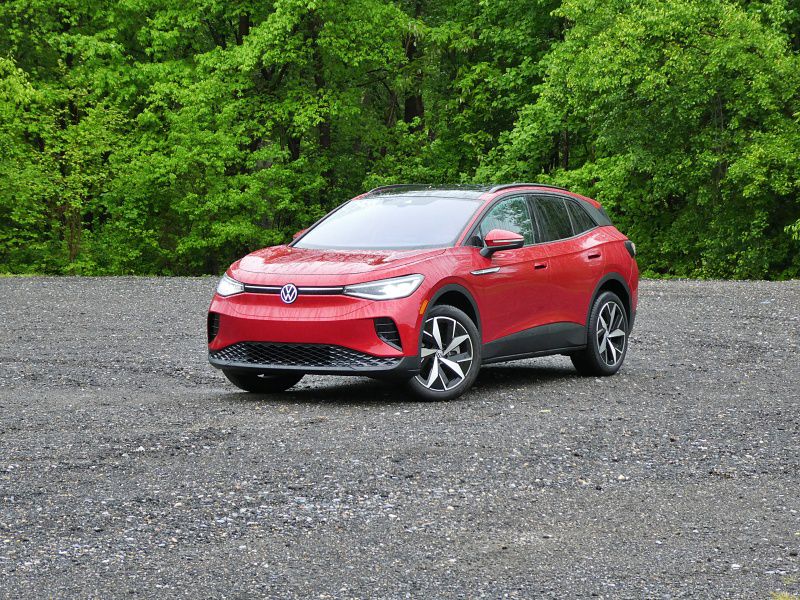 Photo by Brady Holt