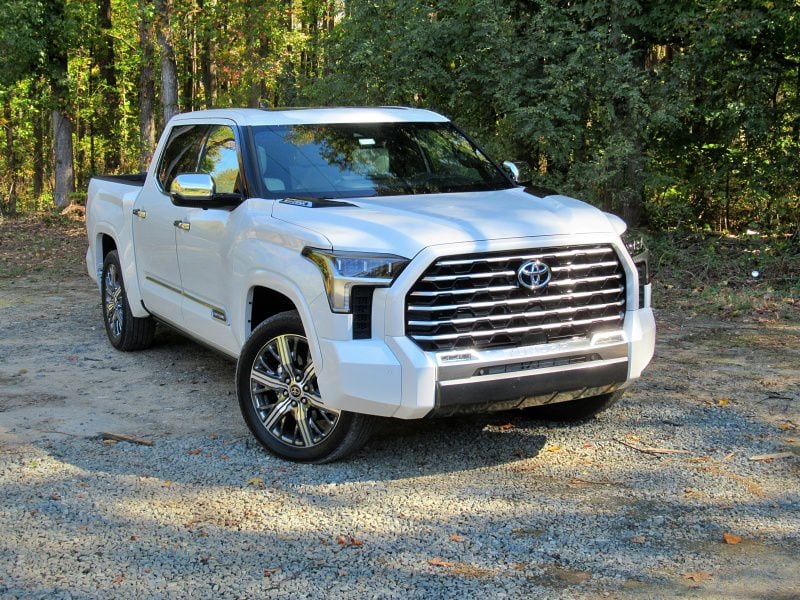 2022 Toyota Tundra Capstone ・ Photo by Brady Holt
There's not much diversity among full-size pickups. For just about everyone, it's a choice between Ford, Ram, and Chevrolet — plus GMC, for Chevy guys who want a boxier front end. These American pickups represent a whopping 96 percent of the full-size truck market. 
The Toyota Tundra, meanwhile, is responsible for nearly all of the remainder (sales of the rival Japanese pickup, the Nissan Titan, have slowed to a trickle). In part, its slower sales reflect its smaller model range — it's sold only as a half-ton truck with two body styles and a choice of V6 engines. They also reflect intense brand loyalty. To see whether the Tundra deserves to convert loyalists, we spent a week in a top-of-the-line Capstone model. Keep reading to see what we learned about the full-size Toyota. 
Squared-Off Body
Toyota fully redesigned the Tundra last year for the first time since 2007. The dominant design element — as on many pickups — is the grille. The Tundra's is a big one. It fills the truck's squared-off front end from headlight to headlight, hood to bumper. And a thick grille surround dips all the way down the bumper to make it look even bigger. Different Tundras fill this space with different patterns; our Capstone test vehicle goes with gentle chrome. 
The entire Tundra is squared-off, a departure from its more rounded predecessor. The fenders bulge purposefully, the tailgate has sharply defined creases, and the taillights — which can look like an afterthought on some pickups — are vertical LEDs. Overall, the Tundra has crisper lines than the Ford F-150 or RAM 1500, yet it has simpler details than the Chevrolet Silverado or GMC Sierra.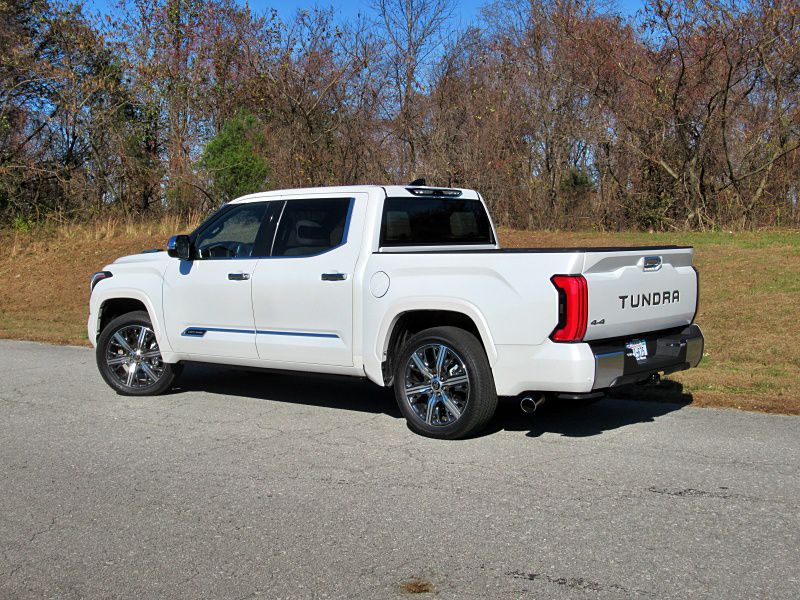 Photo by Brady Holt
Simple Interior
The full-size pickup segment has a new war for interior opulence, with rivals scrambling to out-dazzle each other with expensive details. The 2023 Toyota Tundra, meanwhile, went with a different approach: simplicity. 
The Tundra has a cleanly styled dashboard with bold, blocky elements rather than a mix of little pieces. It looks sturdy and purposeful, and our test truck's coating of rich white leather across the simple dash reminded us of a Range Rover. What's more, the Tundra's controls are easy to use. A modest 8-inch touchscreen is standard, but upper trim levels have a huge 14-inch unit. And while a RAM 1500 fills its own big screen with lots of little details, the Tundra presents a few things in enormous fonts. You'll never have to squint to tap the right icon or read any text, and big physical buttons handle common functions. That said, we wish we could split the screen to show multiple things at the same time (like radio information plus the GPS navigation map). And Toyota charges a subscription fee to use the nav system, which is especially galling at our test truck's $77,339 sticker price. Fortunately, Android Auto and Apple CarPlay let you use your phone's mapping app instead.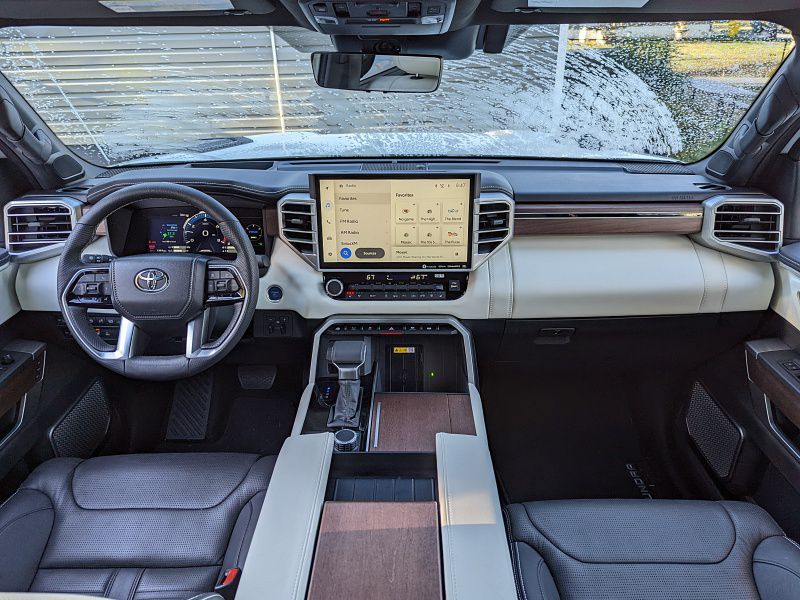 Photo by Brady Holt
Tons of Passenger Space
The Tundra is available with a choice of two body styles, which range from roomy to extremely so. The Double Cab is an extended-cab truck with four swing-out doors; you won't stretch out in the back, but the cushion is high and supportive, and it's wide enough for three adults. Like rival crew cabs, the jumbo Tundra CrewMax provides limo-like legroom. Whichever you pick, there are two spacious front seats with a big center console bin between them. Unlike rival pickups or the old Tundra, there's no option for a bench seat, limiting all Tundras to five passengers.  
Passengers can also enjoy some unusual features in the Tundra. The rear windshield can roll down for a more open-air experience. An optional panoramic sunroof lets in additional sunlight (at the expense of some rear headroom). Available built-in rear sunshades let you go the other way and keep the sun back out. And heating and ventilation are available for not only the front seats, but also in the back.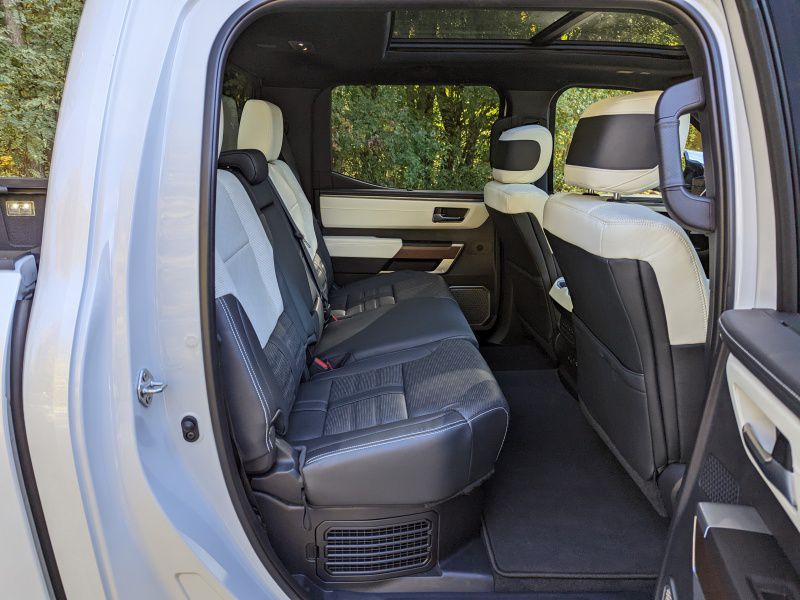 Photo by Brady Holt
Choice of Engines
The Tundra's unconventional powertrains were a top headline-grabber in its redesign. It dropped its old-school 5.7-liter V8 engine in favor of a trio of V6 turbos — two using only gasoline, and the other being a gas-electric hybrid. 
Every Tundra uses a variant of a twin-turbo 3.5-liter V6. In the base SR grade, it makes 348 horsepower and 405 lb-ft of torque. Otherwise, gas-only Tundras make 389 hp and 479 lb-ft of torque. The hybrid, called iForce Max, makes 437 hp and a whopping 583 lb-ft of torque. Every Tundra, including the hybrid, is built for speed more than fuel efficiency. It's quicker than the previous-generation V8 Tundra, and it has the same burly roar (synthesized). But the Tundra is no fuel-sipper. The most economical model is a two-wheel-drive hybrid with an EPA-estimated 20 mpg in the city, 24 mpg on the highway, and 22 mpg combined. A four-wheel-drive hybrid like our test truck scores 19 mpg city, 22 mpg highway, and 20 mpg combined. The gas-only V6 averages 20 mpg with rear-wheel drive and 19 mpg with four-wheel drive. That's certainly not bad for a powerful full-size truck, but nothing amazing against its rivals.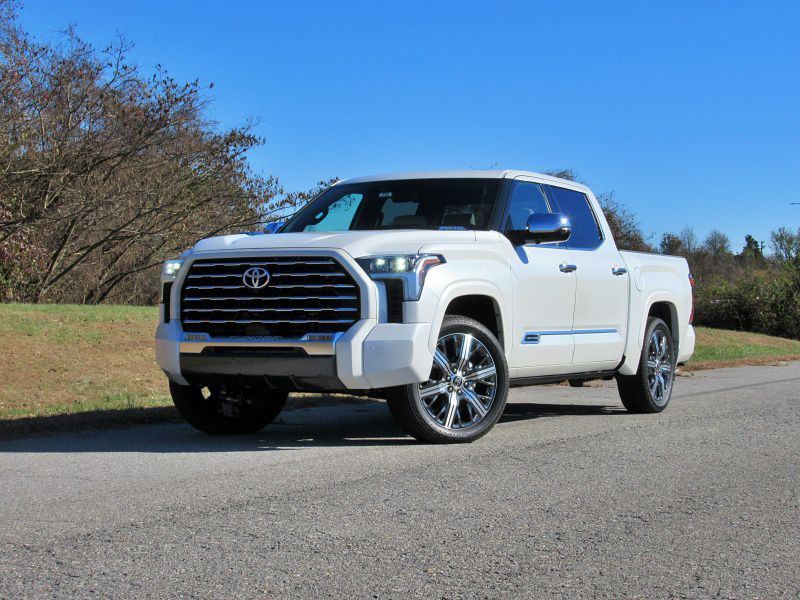 Photo by Brady Holt
Fancy Suspension, Old-School Results
The latest Tundra is built to be comfortable for a truck. The multi-link rear suspension uses coil springs instead of leaf springs, and our test truck includes the optional adaptive suspension system with a load-leveling rear air suspension. 
The result is an improvement over the old 2007-era truck's ride and handling. It's steadier and less clumsy. On the other hand, we're even more impressed with some of the Tundra's rivals. Our test vehicle's ride quality was still on the stiff side, yet it didn't handle with agility even for a big pickup truck. It's nothing outrageous, but this isn't a truck that you'd confuse for a luxury suv from behind the wheel. The TRD Pro model has an off-road suspension with Fox shock absorbers, a locking rear differential, and all-terrain tires. Unlike some rivals, the Tundra's four-wheel-drive system must be manually activated.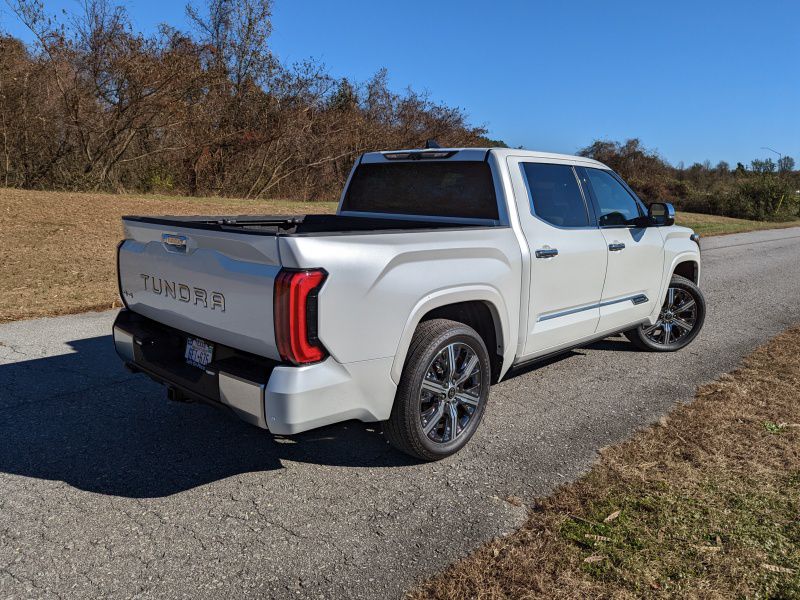 Photo by Brady Holt
Hearty Hauling Capability
Full-size pickups duel vigorously on payload and towing capabilities, leading to eye-popping capabilities. The Tundra can tow trailers weighing up to 12,000 pounds and has a maximum payload capacity of up to 1,940 pounds. You can find certain versions of American-branded competitors that do even better, but this is still a useful truck. As with all pickups, payload and towing capabilities vary widely by trim level and body style, so choose your Tundra with care. 
You'll carry your payload in one of three bed lengths. The Double Cab offers a choice of 6.5-foot and 8.1-foot beds, while the CrewMax offers the 6.5-foot bed or a 5.5-foot bed. When you open the tailgate, an available power-operated bed step pops out of the driver's side of the rear bumper. There's no extra-nifty tailgate action, though, like the split openings in a Ram or Silverado. And while a new system makes it easier to back up the Tundra with a trailer, it doesn't help you steer like a Ford F-150.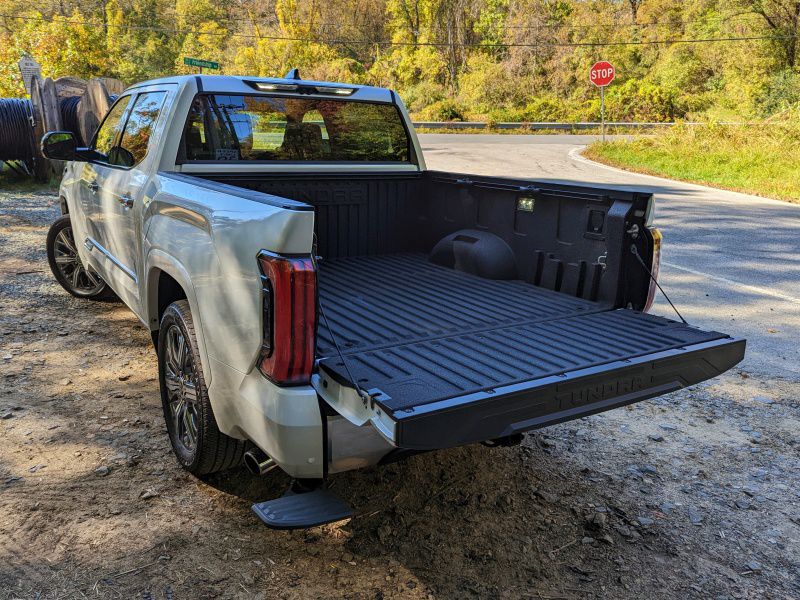 Photo by Brady Holt
Long List of Features
The 2023 Toyota Tundra starts at $36,965 for the base SR Double Cab or $39,015 for the SR CrewMax. The SR looks like a work truck from the outside, with steel wheels, a big black grille, and black door handles. But it's loaded with high-end convenience features like automatic climate control, a Wi-Fi hot spot, a six-speaker stereo, and push-button starting. It also includes advanced driver aids like adaptive cruise control and lane-keeping steering assistance. And its 348-horsepower engine is heartier than American trucks' base motors. 
The SR5 looks more like a consumer truck, especially with this year's new $300 SX package, which includes body-colored door handles. It starts at $42,470 with the 389-hp engine, alloy wheels and fog lights, and it's the gateway to more than $10,000 worth of optional add-ons that are standard on higher trims, including the jumbo infotainment screen. The leather-trimmed Tundra Limited starts at $48,565, the Platinum costs $58,775, the TRD Pro costs $68,520, and the top Capstone is $75,245. Like other modern pickups, a loaded-up Tundra is lavishly equipped, and we appreciate that Toyota lets you get some good stuff even on the SR and SR5.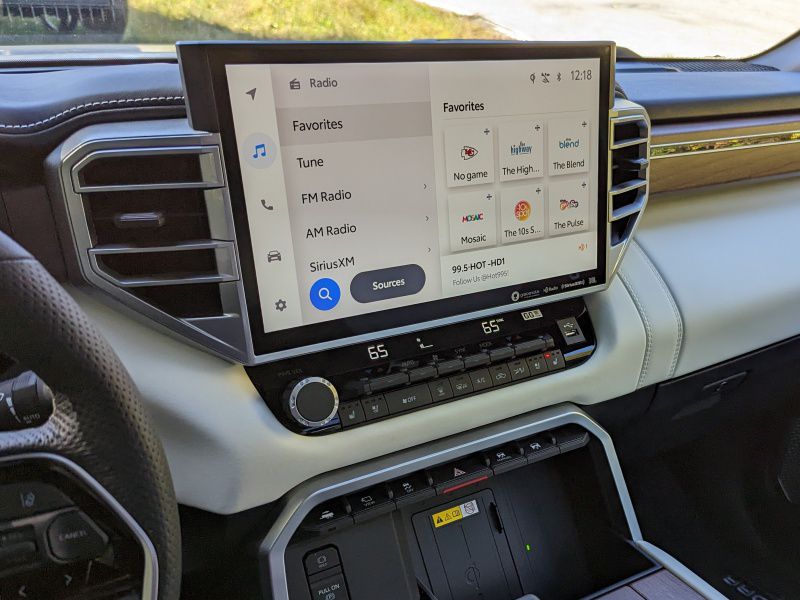 Photo by Brady Holt
Strong Competitors
There's a lot to like about the Tundra in a vacuum. However, it faces some outstanding rivals. 
The Ford F-150 is the powertrain leader. It has a range of powerful yet economical turbos, along with traditional naturally aspirated engines, a hybrid, and a fully electric model. What's more, its lightweight aluminum body helps its acceleration and fuel economy top the Toyota's. We also prefer the Ford's infotainment system. We found the Tundra's interior to be more upscale, though. Next, the RAM 1500 is the class's comfort leader, with the smoothest ride and most lavish cabin. But the Toyota has simpler controls. Lastly, the newly updated Chevrolet Silverado and GMC Sierra have sharper handling than the Tundra, and they offer the SuperCruise hands-free driving system on top trim levels. But their most powerful versions get lousy gas mileage. Meanwhile, no rival truck has adaptive cruise control as standard equipment like the Tundra, and it has a few other exclusive features. 
Photo by Brady Holt
Final Thoughts
The 2023 Toyota Tundra settles into the full-size pickup class as a solid contender that hasn't carved out its own exclusive niche. In other words, we didn't identify a broad set of customers for whom the Tundra would dominate the American trucks. 
Still, if you do cross-shop pickup trucks rather than sticking with your favorite brand, we'd recommend keeping the Tundra on your list. It provides a smartly designed interior, powerful engines, and decent value for the money while avoiding glaring flaws. There won't be a Tundra for every possible pickup buyer like you'd find in the American trucks' enormous model ranges. But there may be a Tundra for you.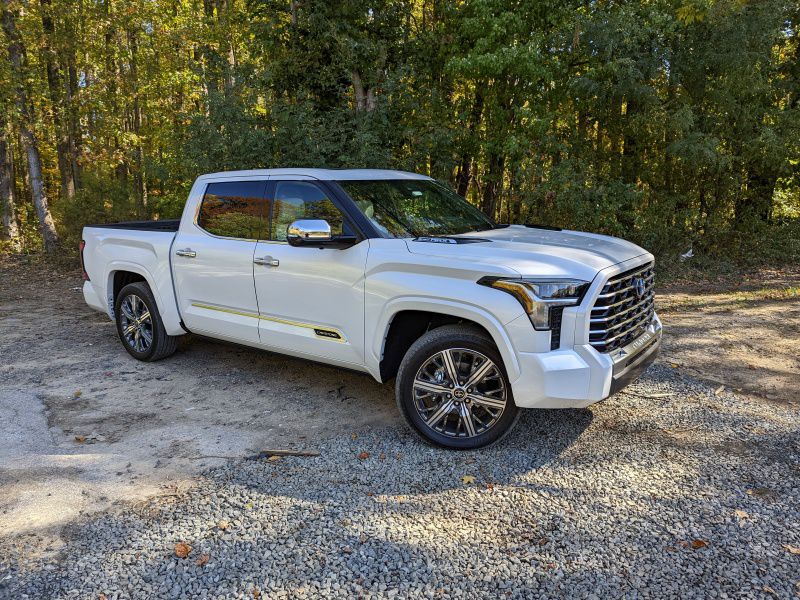 Photo by Brady Holt