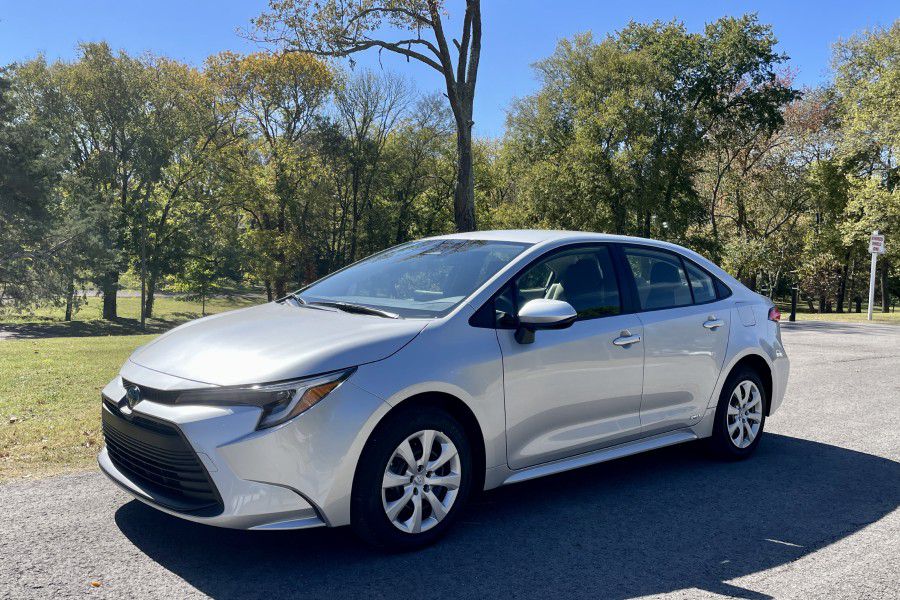 2023 Toyota Corolla Front Quarter ・ Photo by Nicole Wakelin
The 2023 Toyota Corolla isn't all-new this year, but it does get lots of changes that make it significantly different from last year's model. It gets a series of exterior enhancements from the grilles to the lights that make it look more appealing. The old base engine is no more as the 2.0-liter that was reserved for higher trims now becoming standard across the lineup. Infotainment also gets an upgrade with a larger standard screen size.
Hybrid versions of the Corolla get additional trim levels so it's easier to find one that fits both your preferences and budget. All-wheel drive is now optional for the hybrid, which makes the Corolla hybrid a stronger proposition for those who live in wintry climates. There's a hatchback Corolla, too, but we'll stick with the sedans for our review. Let's take a closer look at the 2023 Toyota Corolla to see if it's the right choice for you.
A More Powerful Base Engine
Last year, the base engine for the Corolla was a 1.8-liter with just 139-horsepower that was an underpowered option. This year, the 2.0-liter 4-cylinder that was once reserved only for top trims is now standard fare for the full lineup. It delivers 169 horsepower with 151 lb-ft of torque and is paired to a continuously variable automatic transmission. All trims of the gas Corolla are front-wheel drive only.
The Corolla is not a big car, so it doesn't take a ton of horsepower to make if feel engaging and responsive. It easily gets up to speed for merging onto congested highways with a good amount of power leftover for passing slower vehicles. The transmission is relatively quiet, only becoming noisy during aggressive acceleration. This doesn't have the power of a sports sedan, but it's still a nice drive, especially for the daily commute.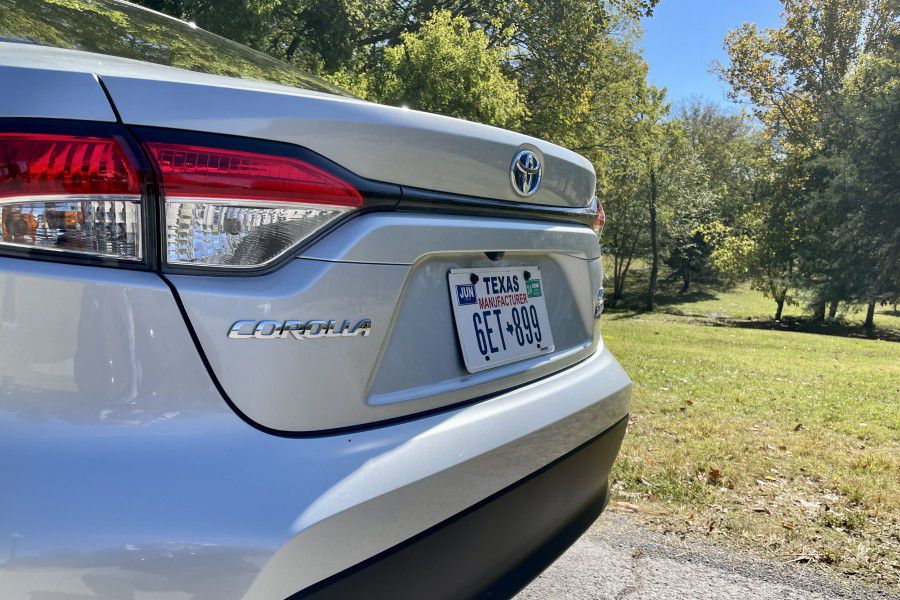 Photo by Nicole Wakelin
A Single Hybrid Powertrain Option
In addition to the gas engine, the Corolla is also offered as a hybrid with a choice of three trims and the option for all-wheel drive for better handling in winter weather. The hybrid has a 1.8-liter 4-cylinder engine with 134 horsepower and 156 lb-ft of torque. This is paired to a continuously variable automatic transmission.
While hybrids aren't known for being the sportiest of options, the Corolla hybrid, even with its reduced horsepower over the gas variant, is still a responsive choice. Acceleration isn't quite as strong as with the gas engine, but it's also not lackluster. It never feels like it's desperately straining to get up to highway speeds. The Corolla hybrid delivers superior fuel economy without feeling it sacrificed all its performance.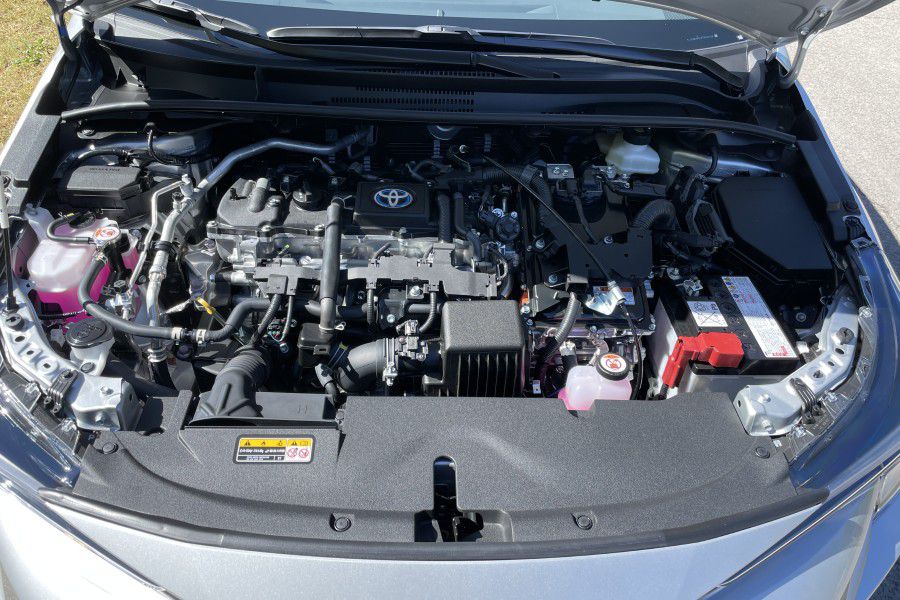 Photo by Nicole Wakelin
Budget-Friendly Fuel Economy
If keeping your gas budget under control is a priority, then the Toyota Corolla is a fantastic option. The base trim gets an EPA-estimated 32 mpg in the city, 41 mpg on the highway, and 35 mpg combined. There's a drop of 1 mpg across the board for both the SE and XSE trims.
Switch to the hybrid and the numbers are even more impressive. The LE and XLE get 53 mpg in the city, 46 mpg on the highway, and 50 mpg combined. The SE trim sees a drop to 50 mpg in the city, 43 mpg on the highway, and 47 mpg combined. All-wheel drive drops it a bit further with 47 mpg in the city, 41 mpg on the highway, and 44 mpg combined. No matter which Corolla you choose, fuel economy helps keep you on budget despite the price of gas.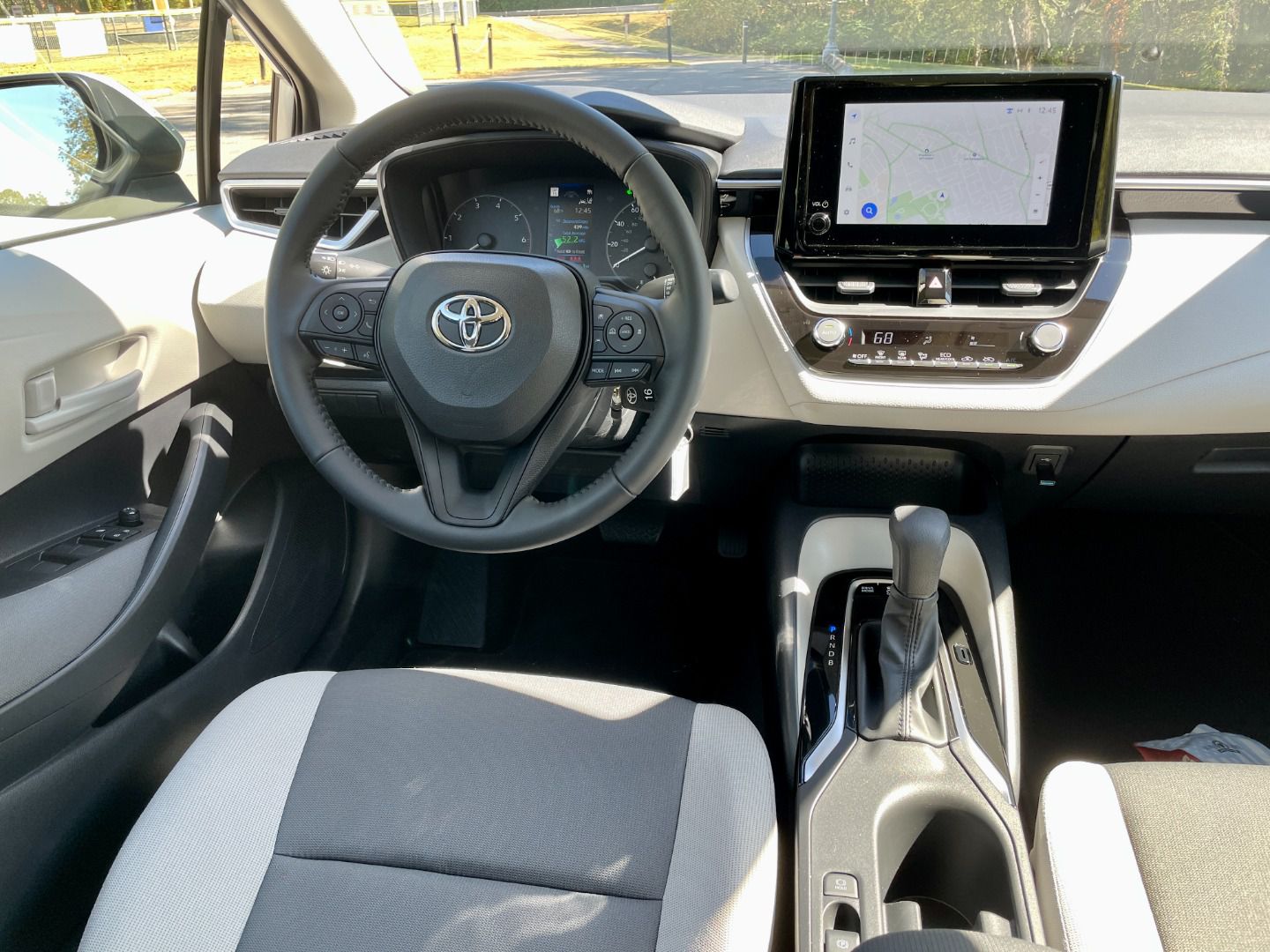 Photo by Nicole Wakelin
A Range of Three Affordable Trims
The Corolla is available in a choice of three trims, all with front-wheel drive only. The base LE is priced from $21,550 with automatic climate control, fabric seats, and four USB ports. The SE starts at $23,950 with premium sport seats and a leather-trimmed steering wheel. The XSE is $26,700 with SofTex-trimmed heated front sport seats and a 7-inch digital instrument cluster.
The Corolla Hybrid also comes in three trims with standard front-wheel drive. The SE and LE now offer all-wheel drive as an option. The base LE is priced from $22,800, which is $1,250 less than last year. The SE is $25,200, and the XLE is at $26,600, which makes even the hybrid an affordable option, especially considering the long-term affordability of its fuel economy. Those looking for a budget-friendly sedan with plenty of feature will find the Corolla a solid choice.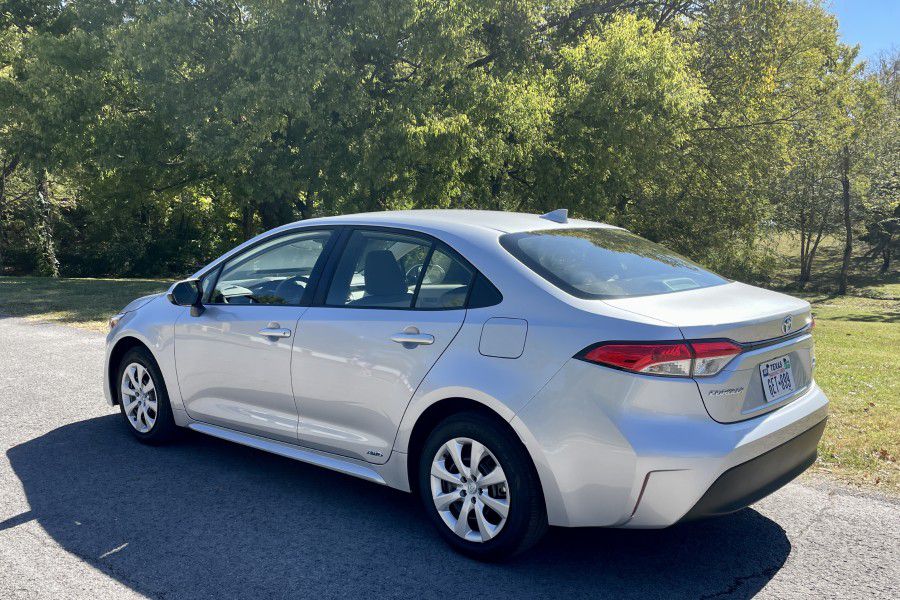 Photo by Nicole Wakelin
A Comfortable Interior
This is a small sedan, but it still has a comfortable cabin. Front seating is supportive with good bolstering that's not so snug that it become uncomfortable for those with larger frames. It's easy even for taller drivers to find a comfortable seating position that won't have their knees hitting the center console. The base LE has a more modest interior with fabric seats that are manually adjustable. Move up the range and materials improve with additional features including heated and power adjustable front seats.
The rear seats accommodate three people with good headroom and legroom, but they're better suited to two adults. This is a small car, so it's not ideal for those who want plenty of room to spread out in back and three will feel snug unless it's a quick trip.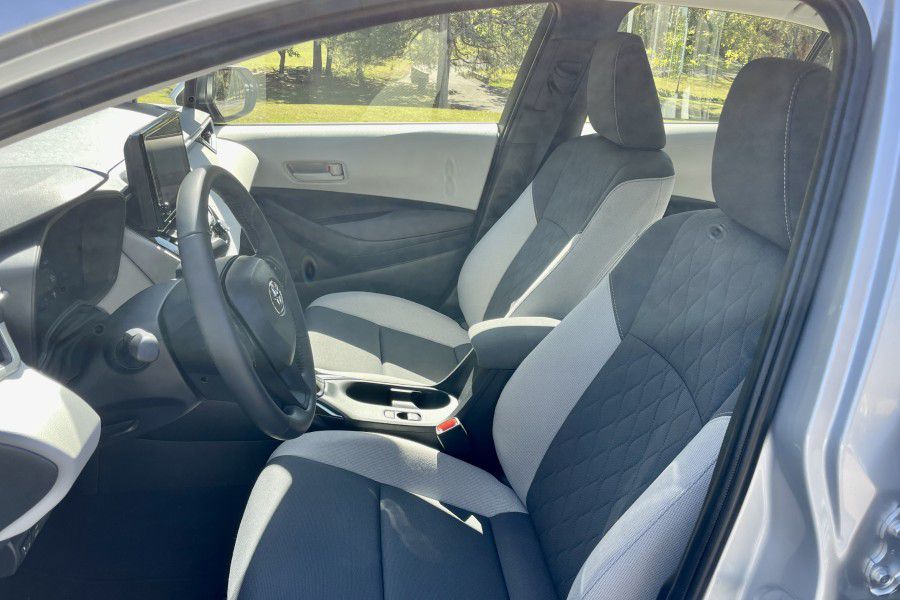 Photo by Nicole Wakelin
Good Cargo Room for Everyday Use
Even in a small sedan, cargo room is important. Whether it's groceries or luggage for a family getaway, there needs to be room to hold all your stuff. The Toyota Corolla has a surprising amount of room for cargo despite its size with 13.1 cubic feet in the trunk. That number doesn't change for the hybrid, so you don't have to worry about losing any cargo room if you make that switch.
The trunk opening is also large so it's more likely to be able to fit bulky items and the rear seats split-fold 60/40 for added versatility. If cargo room is a priority and you think you might need more space, then consider the hatchback. It has 17.8 cubic feet behind the second row with 23.0 cubic feet behind the first row. The hatchback design also makes it the best option for larger items.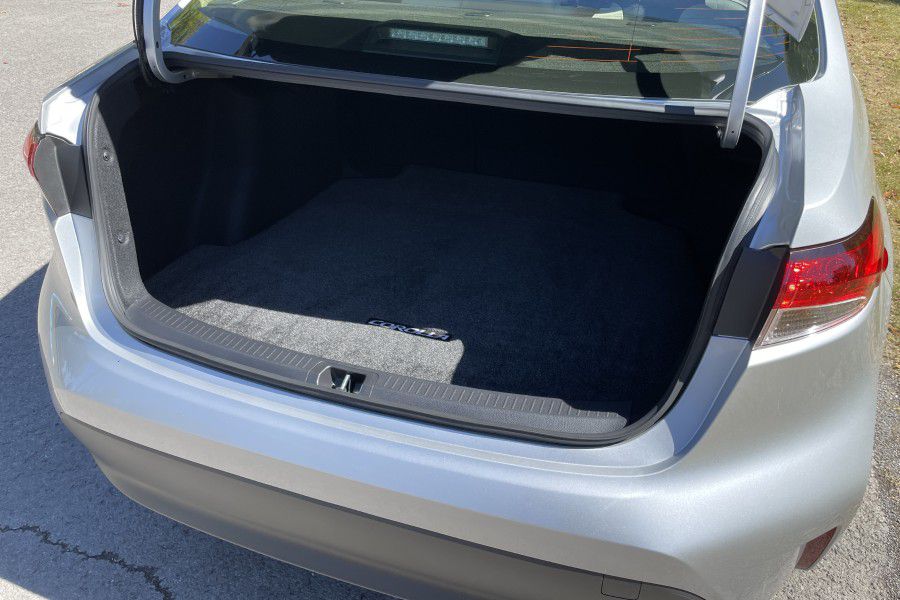 Photo by Nicole Wakelin
Large Standard Infotainment Screen
Infotainment in the Corolla gets an upgrade this year with a standard 8.0-inch touchscreen that makes viewing and using the system easier. Also standard is wireless Apple CarPlay and Android Auto with a 6-speaker audio system. Options include Qi wireless charging and a 9-speaker premium JBL audio system.
This is the latest generation of Toyota's infotainment system, and it's greatly improved compared to the outgoing version. It has well-organized menus that make it easier to find what you're looking for and even passengers new to the system will find it simple to figure out. There's also voice activation by saying "Hey Toyota," which easily recognizes natural language commands so the driver stays focused on the road.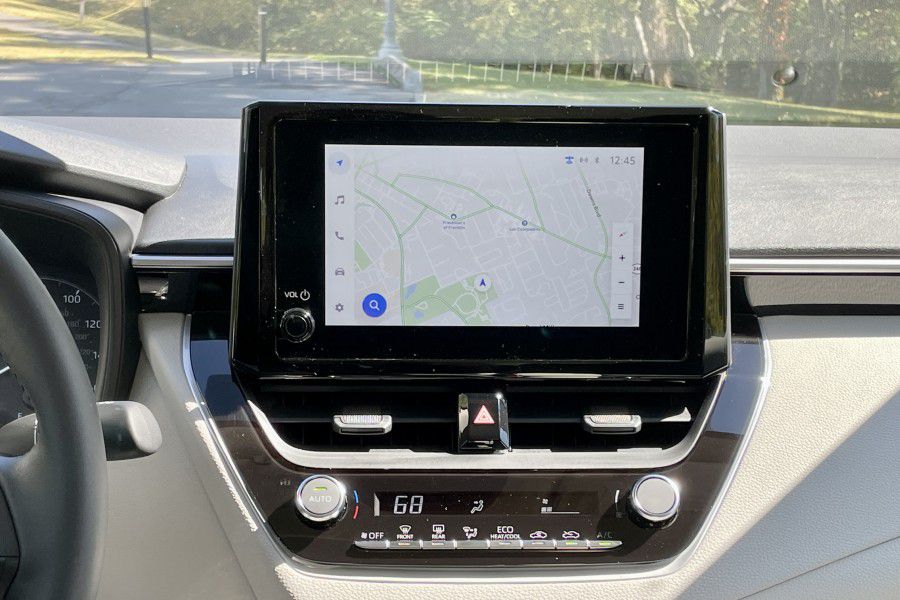 Photo by Nicole Wakelin
Ample Standard Safety Features
Even though this is the entry-level offering in the Toyota sedan lineup, it still comes with a wide range of standard safety features to keep you and your loved ones safe. Those features are all a part of Toyota Safety Sense 3.0, which is the latest version of this comprehensive safety suite with enhanced version of many existing features. That includes pre-collision with pedestrian detection, lane departure alert with steering assist, dynamic radar cruise control, lane tracing assist, road sign assist, and automatic high beams.
In addition to those standard safety features, both rear cross-traffic alert and blind-spot monitor are available. It's an extensive safety offering with key features standard across the lineup rather than requiring a move to a higher trim to get good safety.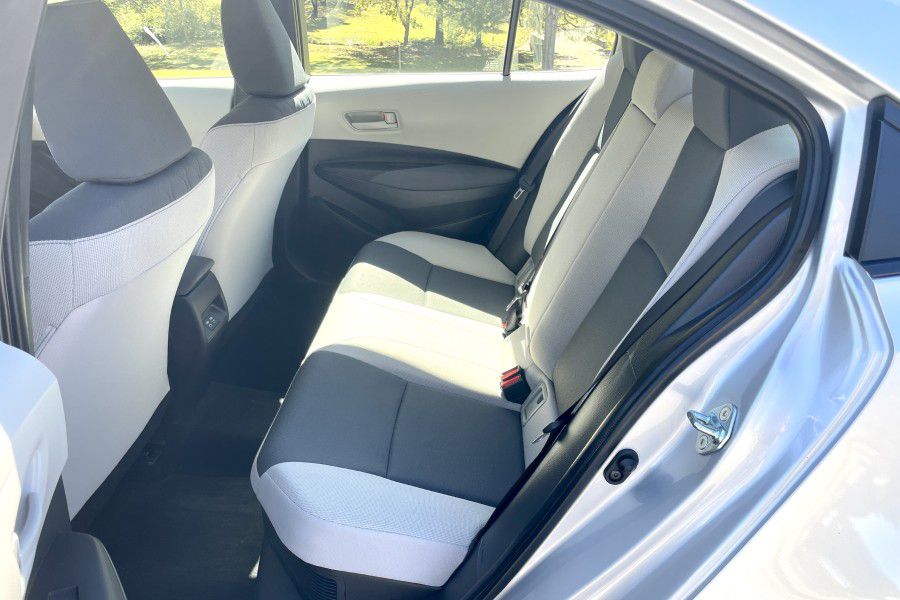 Photo by Nicole Wakelin
Final Thoughts
The 2023 Toyota Corolla gets numerous updates this year that increase its appeal. The engine is more powerful so it's a more engaging drive, and there's an expanding range of hybrid trims that include available all-wheel drive. There's also enhanced safety features and an upgraded infotainment system that's easier to use.
One of the most compelling features of the Corolla is its fuel economy. Whether the gas or hybrid variant, it posts strong figures that help keep more of your money in your wallet even as gas prices rise. Rounding out its appeal is affordable pricing that makes it easy to fit into more modest budgets. The 2023 Toyota Corolla is a great choice for those who want an affordable, versatile, well-equipped small car.
Photo by Nicole Wakelin