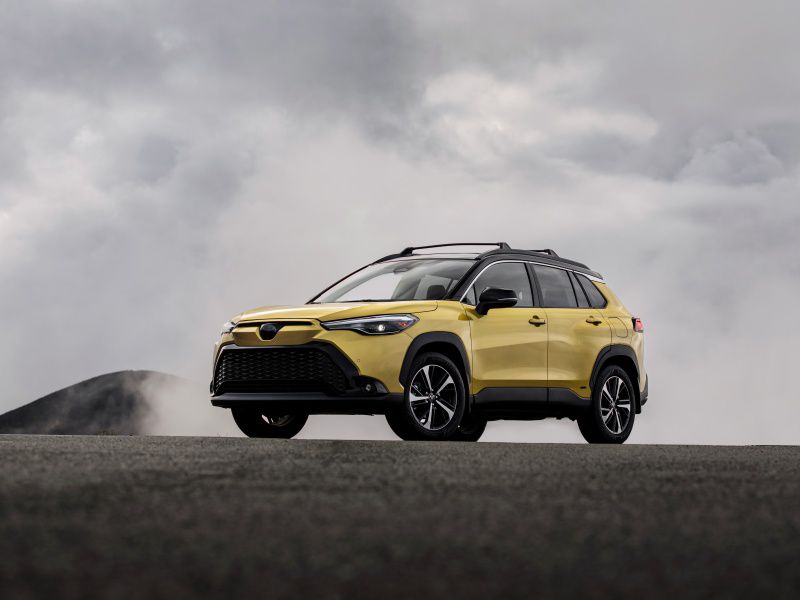 2023 Toyota Corolla Cross Hybrid XSE ・ Photo by Toyota
The 2023 Toyota Corolla Cross Hybrid is an all-new crossover that joins the gas-powered Corolla Cross that debuted last year. It was already a fuel-efficient choice, but the addition of a hybrid powertrain to the lineup makes this a great option for those with lengthy daily drives.
There's standard all-wheel drive across a range of three well-equipped trims with pricing that keeps it well within the family budget. It also has good standard safety features and amenities so going with the base trim doesn't feel like a sacrifice. Let's take a closer look at the all-new 2023 Toyota Corolla Cross Hybrid.
Three Well-Priced Trims
The Toyota Corolla Cross Hybrid is offered in a range of three trims. All-wheel drive is standard as is a 2-liter 4-cylinder engine. The S is priced from $29,970 with standard 17-inch wheels, an 8-inch infotainment touchscreen, and a sport-tuned suspension for a more engaging drive. The SE starts at $29,290 and adds features like roof rails for securing cargo, paddle shifters, and heated power side mirrors.
At the top of the lineup is the XSE, which starts at $31,065. It features 18-inch wheels, premium LED headlamps, taillamps, and fog lights, Softex-trimmed seats for a more upscale look and feel, and heated front seats with a power driver's seat. The Corolla Cross Hybrid has a good range of standard features, even in its base trim, making it an appealing choice for those on a budget. Moving up to the XSE gets added amenities with pricing that still fits into more modest budgets.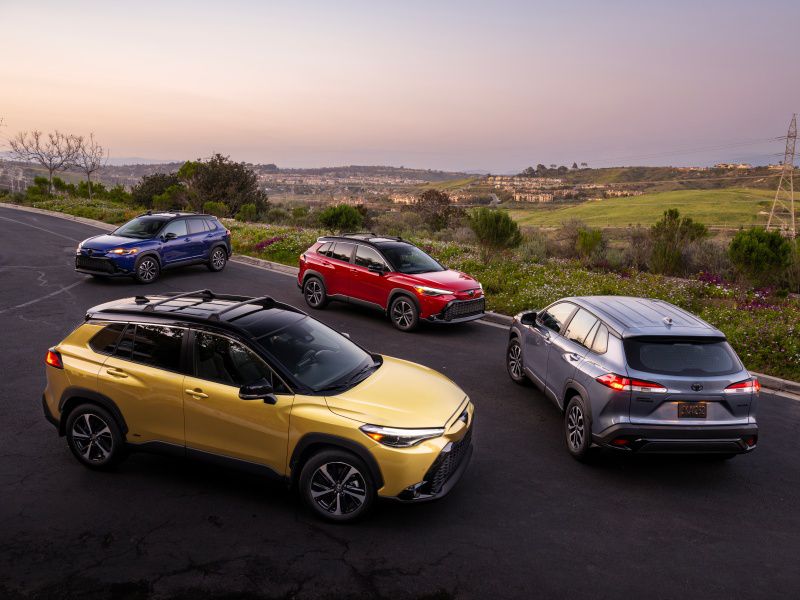 Photo by Toyota
A Sportier Design
Rather than looking exactly like the gas Toyota Corolla Cross, Toyota decided to make the hybrid version of this crossover stand out from its sibling. They do look similar, but put them side-by-side and there are subtle differences between the two. The Corolla Cross Hybrid has unique front and rear styling that is sportier and more aggressive. It's a bit more fun and hints at its performance.
There are available 18-inch alloy wheels with a bold design to add visual punch. The Corolla Cross Hybrid is also available with two-tone paint, which is one of its stand-out features. This takes what could be a mild-mannered crossover and turns it into something eye-catching and different with lots of curb appeal.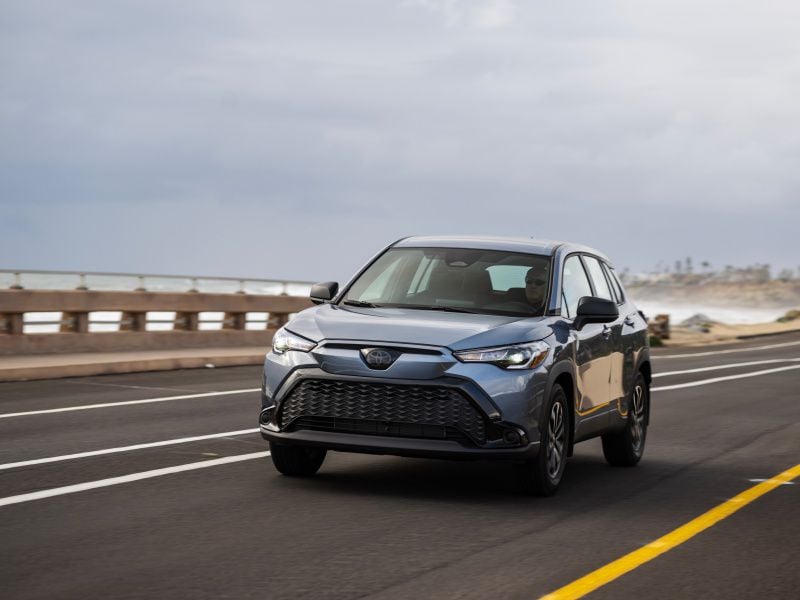 Photo by Toyota
Strong Performance
This isn't a performance crossover, although those do exist. Instead, the Toyota Corolla Cross Hybrid is designed to be affordable and fuel-efficient. Thankfully, that doesn't mean Toyota ignored performance as a part of its design process. Power comes from a 2-liter 4-cylinder engine and an electric motor for a combined 196 horsepower with 139 lb-ft of torque. This is paired to a continuously variable automatic transmission.
It's a responsive though not aggressive crossover that gets up to highway speeds smoothly and quietly without any intrusive engine noise. A heavy foot on the gas makes it easy to pass slower vehicles at highway speeds and handling is smooth and well-controlled with standard all-wheel drive. EPA fuel economy estimates aren't yet available, but Toyota estimates are 45 mpg in the city, 38 mpg on the highway, and 42 mpg combined, making fueling the Corolla Cross Hybrid easy on your wallet.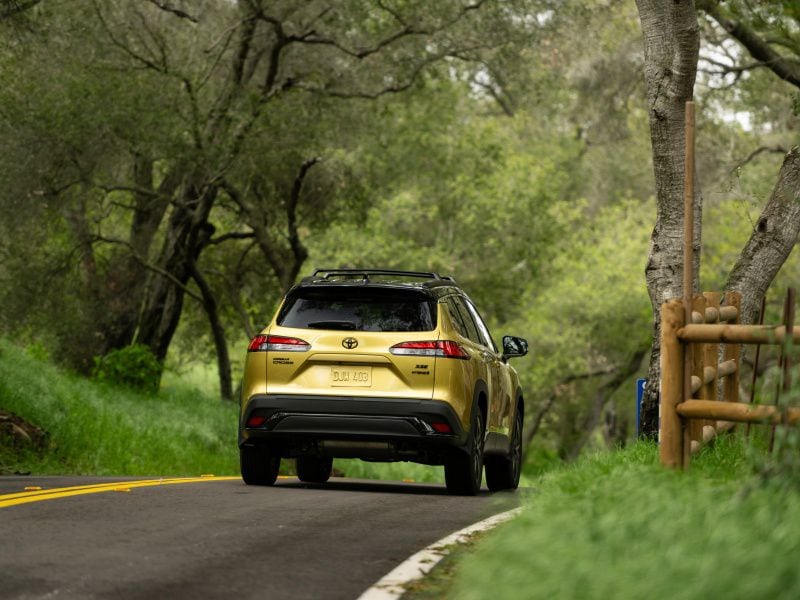 Photo by Toyota
A Well-Mannered Ride With Good Handling
The ride in the Toyota Corolla Cross Hybrid is smooth and quiet. There isn't a lot of wind and road noise, and even the rain we encountered during our drive didn't make the cabin feel noisy or unsettled. Engine noise is also kept at bay without any unwelcome sound intruding into the cabin under hard acceleration. It's easy for passengers to relax and get comfortable.
Handling is also good with responsive steering that quickly and seamlessly reacts to driver inputs. This isn't a sporty car, however, so don't expect the tight steering of a more performance-focused model. It's a bit more relaxed, which makes the Corolla Cross Hybrid ideal for long commutes or road trips. Driving this crossover over longer distances won't wear on the driver as quickly.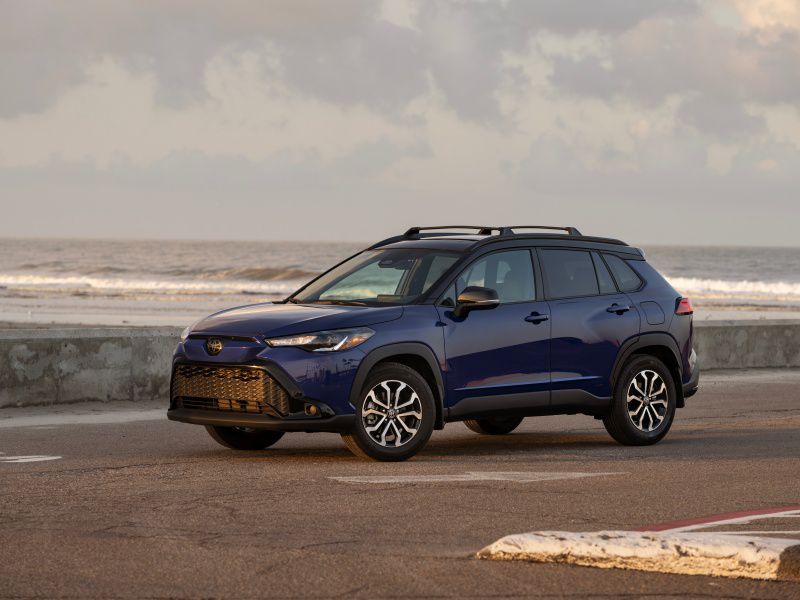 Photo by Toyota
Room for People and Cargo
There's seating for five people in the Toyota Corolla Cross Hybrid with a comfortable and nicely appointed interior. The front seats are supportive with minimal bolstering, which makes it easy for even those who are larger to get comfortable without feeling squished. Options including imitation leather seating surfaces, heated front seats, and a power driver's seat improve interior appeal. The rear seats accommodate three adults with good headroom and legroom, but it's tight for three and best reserved for only two.
If it's cargo, then there's plenty of room for all your stuff. With a full load of passengers, there's 21.5 cubic feet behind the rear seats. The rear liftgate opens wide to manage bulky cargo and the load floor is low so heavy items are a bit easier to stow. Fold down the rear seats and cargo capacity increases to 61.8 cubic feet. Optional roof rails further improve cargo capabilities.
Photo by Toyota
Toyota Safety Sense 3.0 Is Standard
No matter which trim of the Corolla Cross Hybrid you choose, it includes Toyota Safety (TSS) 3.0 as a standard feature. This safety suite includes pre-collision with pedestrian detection, lane departure alert with steering assist, dynamic radar cruise control, lane tracing assist, road sign assist, and automatic high beams. In addition to the standard TSS system, every Corolla Cross Hybrid also has blind-spot monitoring and rear-cross traffic alert.
This is the latest version of TSS with uses additional sensors to improve functionality. Lane departure alert, for example, now recognizes select 3D objects including guardrails while dynamic radar cruise control adds a fourth setting that detects multiple vehicles, including those in adjacent lanes. The system is able to recognize a greater array of road signs than before, and lane tracing assist now monitors driver inputs and can stop the vehicle if there's a medical emergency and the driver is non-responsive.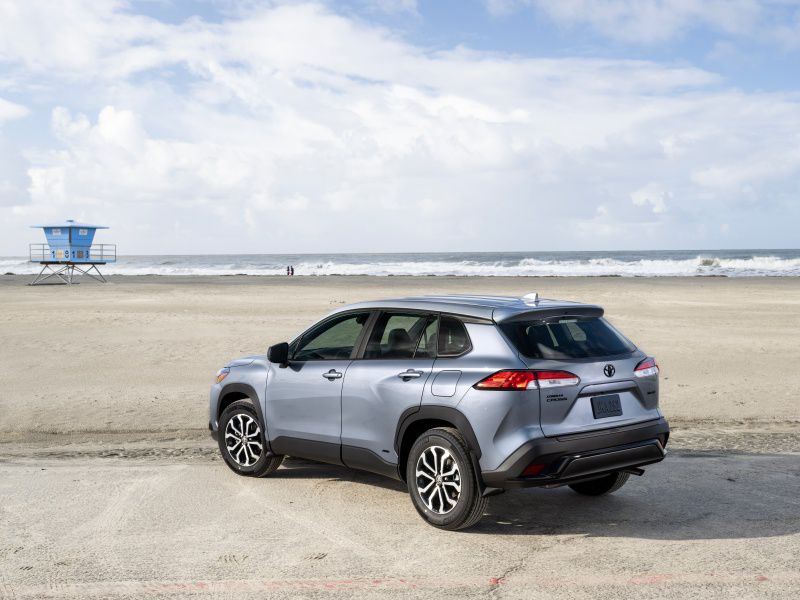 Photo by Toyota
Wireless Smartphone connectivity
The Toyota Corolla Cross Hybrid has wireless Apple CarPlay and Android Auto as a standard feature of its infotainment system. That doesn't sound like a big deal, but not having to worry about plugging in a smartphone and then dealing with a tangle of cords on your center console is a big perk. Along with that wireless connectivity, there's a standard 8-inch touchscreen, which is about average for cars in this price range.
There are two USB-C charging outlets in the base trim, but the rest of the lineup gets four so everyone can stay connected. Those top trims also get Qi wireless charging, once again keeping cord clutter to a minimum. Infotainment in the Toyota Corolla Cross Hybrid provides all the features you need with wireless connectivity and a large screen so it's easy to use and less distracting.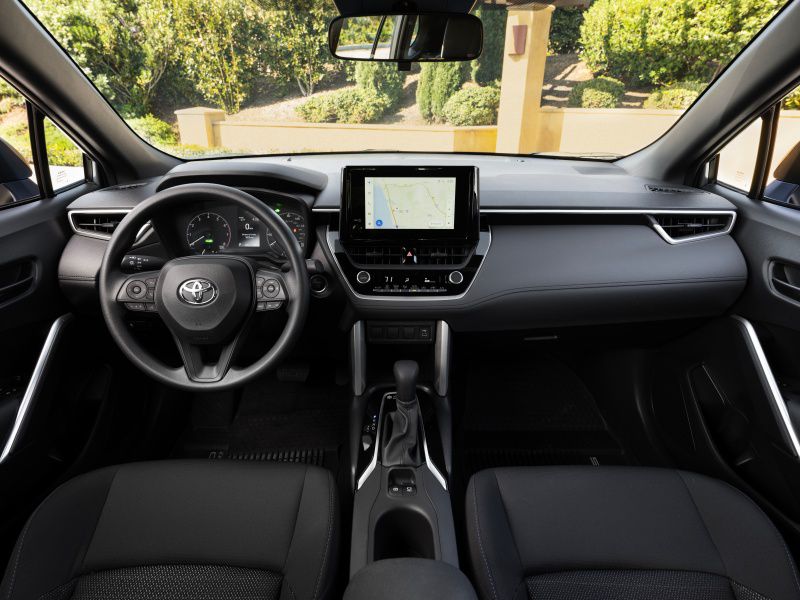 Photo by Toyota
Just Say "Hey, Toyota!"
There are the usual steering wheel controls to go along with touchscreen functionality, but there's also voice activation. This can be a challenge in some cars when the system hears you but doesn't understand you. What's supposed to be less distracting instead becomes more distracting as you yell at the infotainment screen. That's not the case in the Toyota Corolla Cross Hybrid.
Toyota has one of the better offerings out there. Simply say, "Hey, Toyota," and the system wakes up and is ready to listen to your commands. It requires no special phrases, instead responding to natural language so it's easy for anyone to use. More often than not, it gets exactly what you want on the first try so you aren't distracted and can stay focused on driving.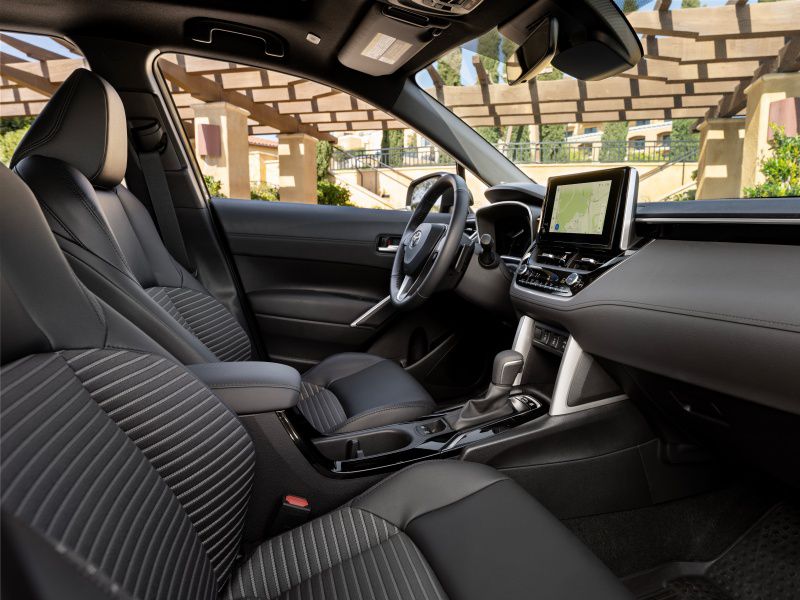 Photo by Toyota
Final Thoughts
The Toyota Corolla Cross Hybrid joins its gas-powered counterpart as a more fuel-efficient crossover option. It has great styling with strong visual appeal that makes it fun rather than just another crossover in what is a very competitive segment. There's a good range of standard features with an attractive and comfortable interior. It's well-suited to couples and young families who want the versatility of a crossover without going up to a full-size SUV.
Those smaller dimensions make it a good choice for those who live in cities where streets are narrow and parking can be a challenge. It also shows off crisp handling with a responsive hybrid engine that easily gets up to highway speeds without sounding noisy or strained. Add in its affordable pricing and the Toyota Corolla Cross Hybrid is a crossover sure to garner plenty of attention.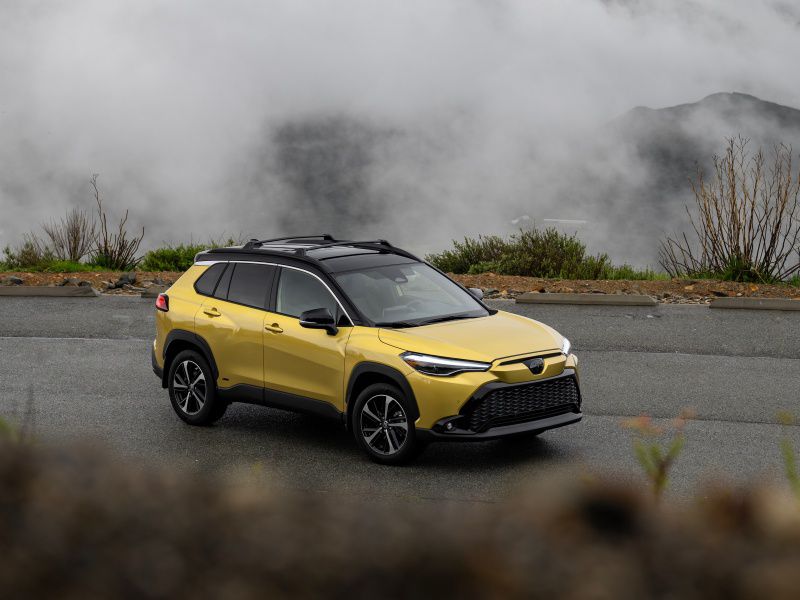 Photo by Toyota