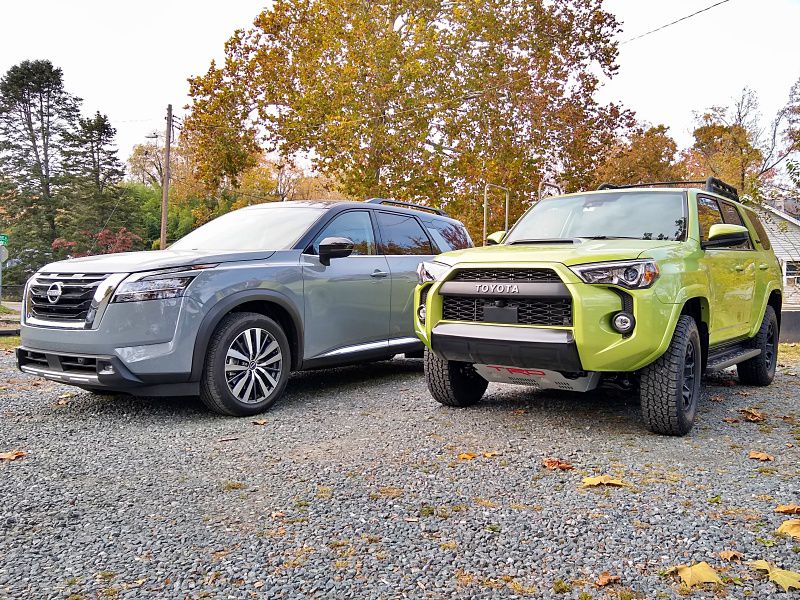 2022 Nissan Pathfinder and 2022 Toyota 4Runner ・ Photo by Brady Holt
What is an SUV? Is it a truck with a covered cargo hold instead of a pickup bed? Or is it a tall, boxy car with more capability than you'd get from a sedan? 
Different modern SUVs offer different answers to this same question. For example, the 2023 Toyota 4Runner is an old-school truck with hardy capability, while the 2023 Nissan Pathfinder is a lighter-duty crossover that looks the part of an SUV but with car-like driving manners. To see which one could fit you best, we tested the 4Runner and the Pathfinder back to back, then also tried out the Pathfinder's new off-road-focused Rock Creek Edition. In this review, we'll discuss how these two mid-size SUVs compare in eight different categories, then name an overall winner. Keep reading to see which one we picked and which one sounds like the right option for you. 
Pricing and Features
The 2023 Pathfinder is priced from $35,000 with a long list of standard safety, comfort, and convenience features. And for $37,820, you can step up from the base S model to the next-up SV, which buys even more goodies. The leather-trimmed SL costs $41,420, and the top-of-the-line Platinum like our gray test vehicle starts at $47,940. The new Rock Creek Edition, equipped similarly to an all-wheel-drive SV, starts at $42,820: a $3,100 jump from that model.  
The 4Runner also has a long list of standard features — including some that Nissan saves for the Pathfinder SV, such as a power driver's seat and adaptive cruise control. But the base 4Runner SR5 costs $39,555, more than a better-equipped Pathfinder SV. You also need to spend at least $42,615 to even get leatherette upholstery, and genuine leather requires at least the $48,790 Limited. Toyota does provide additional off-road-focused tools, which we'll talk about later. And the 4Runner is known for strong resale values. But the Pathfinder sells for significantly less.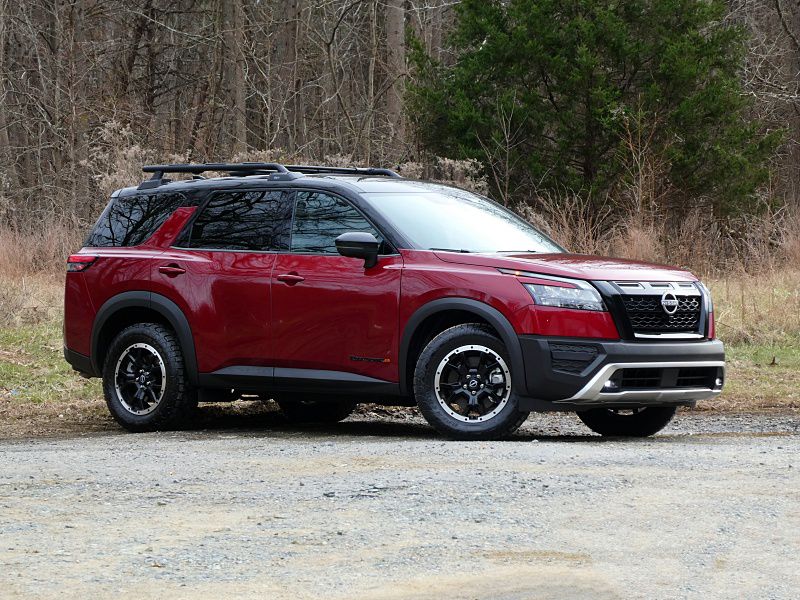 Photo by Brady Holt
Exterior Design
The 4Runner was last redesigned way back in 2010, and it was unusually truck-like even then. These days, its rugged design stands out even more. Its vertical front end looks like a battering ram with headlights, especially on our TRD Pro test vehicle. The bumper curves up and away from under the vehicle to provide more off-road clearance, and protective skid plates are visible underneath. The fenders are squared-off and flared, and the vehicle's body is a chunky box. Different 4Runner models offer different grille designs; luxury-themed versions break up the big grille into three pieces, while off-road models have a bigger lower area that's protected. And the TRD Pro replaces the oval Toyota logo with purposeful lettering.
The latest Pathfinder, introduced for 2022, has more character than its extra-soft predecessor. It's trim and crisp, with tautly tailored lines. It has similar boxy proportions to the 4Runner, and nifty details include a heavily chromed grille and a spear on each headlight that points away to follow the hood. In addition to elegance, the Pathfinder is styled to look tougher than many competing crossovers — especially if you get the Rock Creek Edition with a higher suspension, off-road wheels and tires, extra cladding, and a tubular roof rack. But it's still less of a truck than the Toyota. We'll let you pick your preferred aesthetic. 
Tie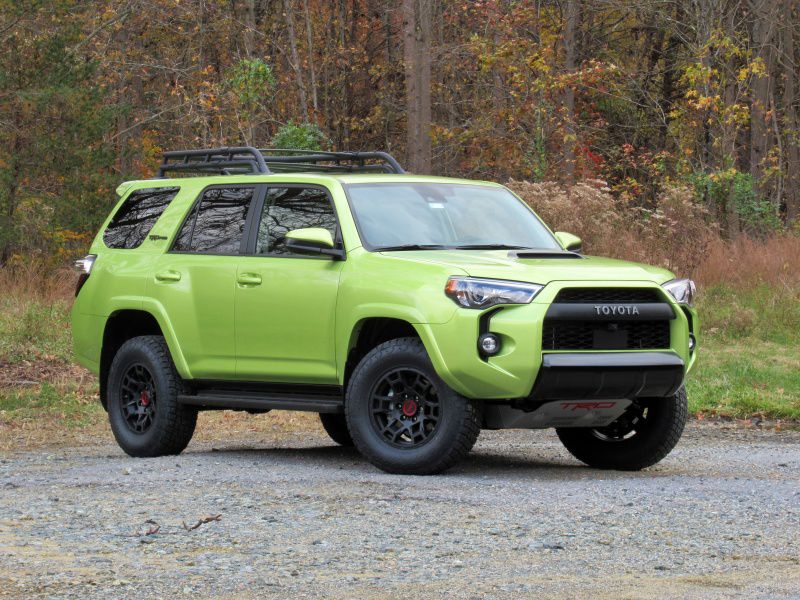 Photo by Brady Holt
Interior Design
Like its exterior, the 4Runner's interior is designed to be more sturdy than showy. Extra-large climate-control knobs are both functional and charming; they hearken back to an era when SUVs were simple, honest, utilitarian machines rather than tall family haulers. Yet Toyota has also brought the interior into this decade with an 8-inch infotainment touchscreen that arrived for the 2020 model year. 
That said, other 4Runner details are just tired. Other outdoorsy SUVs have introduced rugged textures that speak to both quality and character, while many 4Runner interior materials are mere low-grade plastic. The Pathfinder is a luxury car in comparison, with rich materials and carefully calibrated moving parts. It also surpasses the 4Runner's infotainment system, offering a 9-inch screen on its upper-trim models. Even the Rock Creek Edition's 8-inch unit, shown here, has sharper graphics and quicker responses than the Toyota system. The Pathfinder's angular dashboard is also styled like an SUV's rather than a sleek sedan's, but most of its trim levels are luxury-dressy more than "get me muddy." While we're awarding the win to Nissan for its technology and build quality, personal taste will also be a big factor here.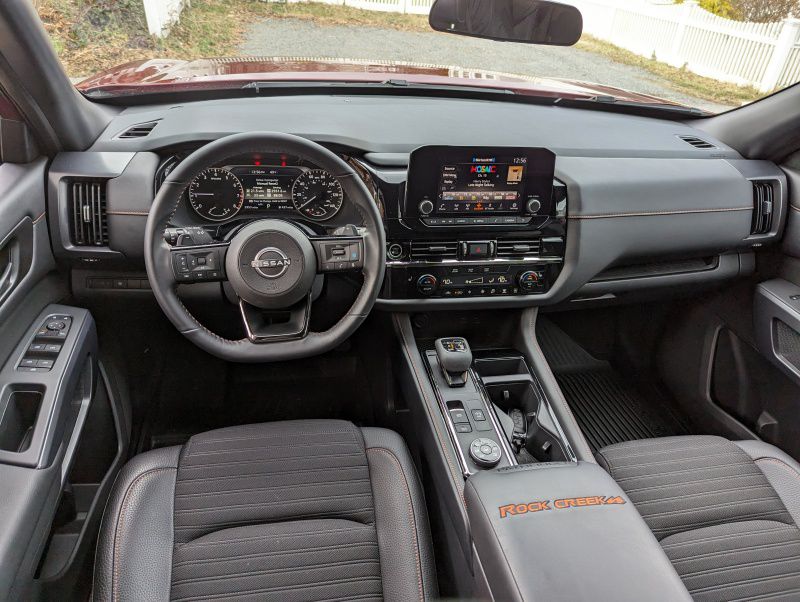 Photo by Brady Holt
Interior Space
Are you focused on carrying as many people as possible or packing your SUV full of cargo? Your answer will determine your winner of this section. 
Both of these mid-size SUVs have available third-row seats, but that fact disguises their differences. The Pathfinder's third row fits up to three people and is standard equipment on every trim level. The 4Runner's is an extra-cost option on just a couple of models, and it seats just two passengers. Both are small, but the Toyota's is even more cramped. But if you're not interested in seating more than five passengers, the 4Runner has an outstanding 47.2 cubic feet behind its second-row seat and 89.7 cubic feet behind the front seats. The Pathfinder manages 45.0 behind its second row and 80.5 cubic feet behind the front seats. (The Nissan does fit more stuff with the third row in use: 16.6 cubic feet versus 9 cubic feet.) Both SUVs have comfortable front and second-row seats, and we'll call this category a tie. 
Tie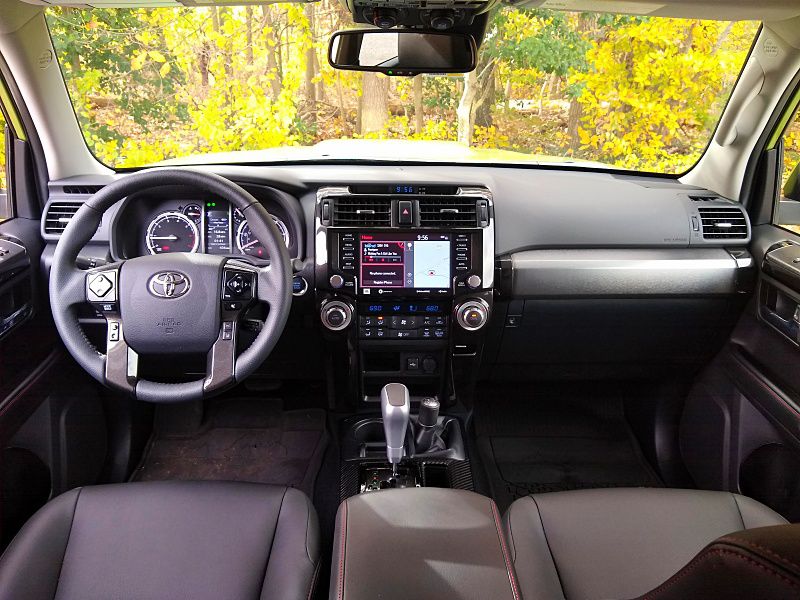 Photo by Brady Holt
Driving Impressions
The 4Runner drives with the character of a tough truck. Its 270-horsepower 4.0-liter V6 engine fires up with a roar, and it bellows when you push on the gas, too. And it shrugs off bumps with the confidence that mere potholes can't faze this machine. To some buyers, this character is a welcome relief from blandly smooth crossovers. But still, we're going to pick the Pathfinder. 
The Nissan isn't exciting, but it's supremely well-executed. Its nine-speed automatic transmission is snappier than the Toyota's ancient five-speed, and its on-road handling is nimble and composed. The Pathfinder feels like an expensive, solidly built luxury car, and it's quick, quiet, agile, and comfortable. With more horsepower (284 hp), the slicker transmission, and a lighter body, the Pathfinder is also significantly quicker than the 4Runner. Again, you may prefer an SUV with warts, but we won't ignore the Pathfinder's supreme competence. The Rock Creek Edition gives up a bit of on-road handling crispness, but there's still no comparison here.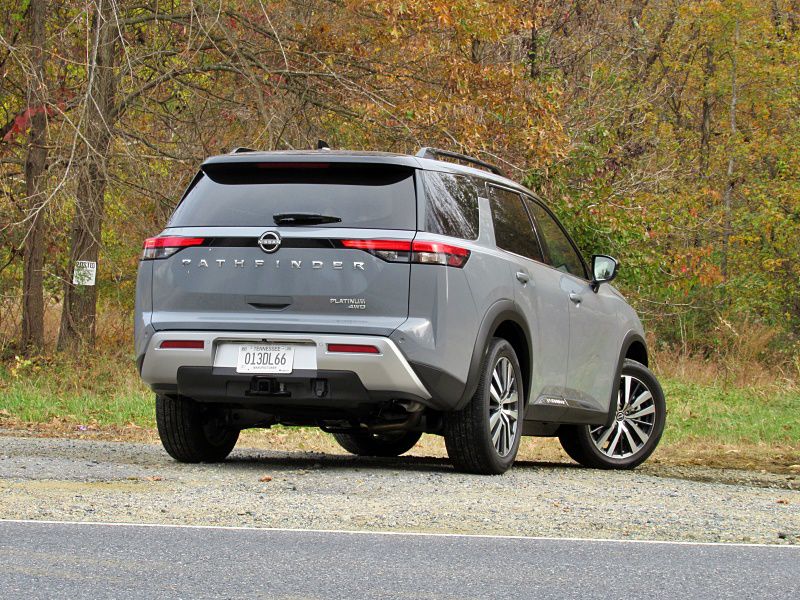 Photo by Brady Holt
Capability
Leave the pavement and the 4Runner can keep up with nearly any stock four-wheel-drive in the U.S. Its available gear includes a two-speed transfer case, a locking rear differential, selectable off-road driving modes, an adjustable "Crawl Control" feature that maintains your speed automatically as you negotiate obstacles, and a system that can automatically disconnect the suspension sway bars to let the wheels rise up and down more on uneven surfaces. Our tested TRD Pro model adds Fox high-performance shocks, retuned springs, an even thicker front skid plate, and all-terrain tires. 
For a car-based crossover, the Pathfinder is decently capable. It can tow up to 6,000 pounds — beating the 4Runner's 5,000-pound limit. And there are dedicated off-road driving modes for sand and mud/ruts. We wouldn't expect the Pathfinder to get stuck in a snowy street or muddy parking lot. But the 4Runner can handle nearly any likely obstacle with ease, while also opening the door for recreational off-roading exploits. Before 2013, the Pathfinder was a real SUV like the 4Runner; now, it's designed for primarily on-road use and sits a sedan-like 7.1 inches off the ground (or a slightly better 7.7 inches on the Rock Creek Edition) compared with the Toyota's 9.6-inch ground clearance.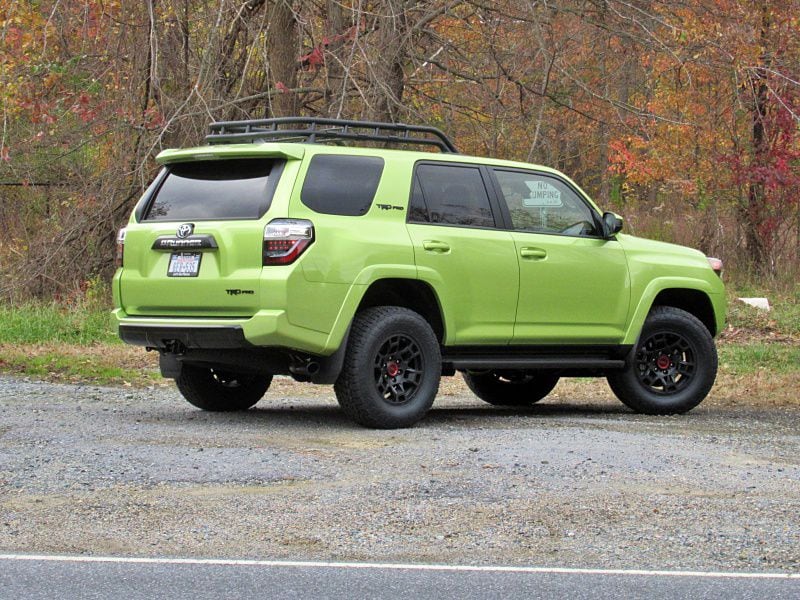 Photo by Brady Holt
Fuel Economy
With its hefty heavy-duty suspension, blocky styling, and ancient powertrain, the 4Runner gets an EPA-estimated 16 mpg in the city, 19 mpg on the highway, and 17 mpg combined with either rear-wheel or four-wheel drive. That's pretty lousy for any modern vehicle. Our 4WD test vehicle did even worse, averaging just 16 mpg in mostly highway and rural conditions. 
The Pathfinder is much more economical. Most trim levels get an EPA-estimated 21 mpg city, 27 mpg highway, and 23 mpg combined with front-wheel drive and 21 mpg city, 26 mpg highway, and 23 mpg combined with AWD. The AWD Platinum dips to 20 mpg city, 25 mpg highway, and 22 mpg combined, and the Rock Creek Edition's higher body and bulkier roof rack knock it to 20 mpg city, 23 mpg highway, and 21 mpg combined. We averaged 23 mpg in the Platinum and 21 mpg in the Rock Creek — a whopping 44 percent and 31 percent better than the 4Runner, respectively.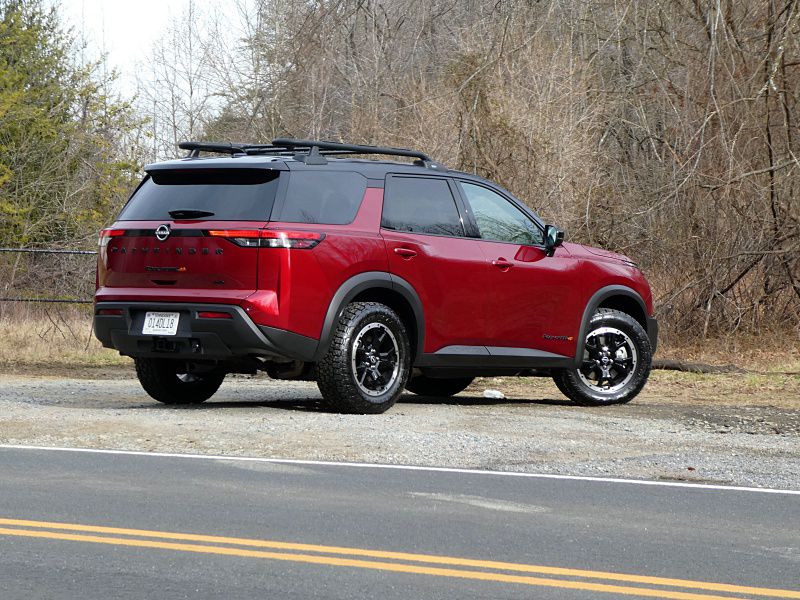 Photo by Brady Holt
Safety
As a brand-new family-friendly crossover, it's no surprise that the Pathfinder excels in crash testing and comes packed with advanced safety features. Similarly, it's not astonishing that the 4Runner comes up a bit short. 
The 4Runner has been around for so long, it's older than some crash tests. And not astonishingly, it doesn't do so well in those tests. It earned a low Marginal score (the second-lowest of four grades) for small-overlap frontal impacts from the Insurance Institute for Highway Safety. And it earned just three out of five stars for front-passenger protection in a frontal-impact test conducted by the National Highway Traffic Safety Administration (and four out of five stars for overall protection). Toyota has steadily added safety features to the 4Runner, including standard blind-spot monitoring this year. But it's still missing the Pathfinder's available lane-keeping steering assistance and rear automatic emergency braking.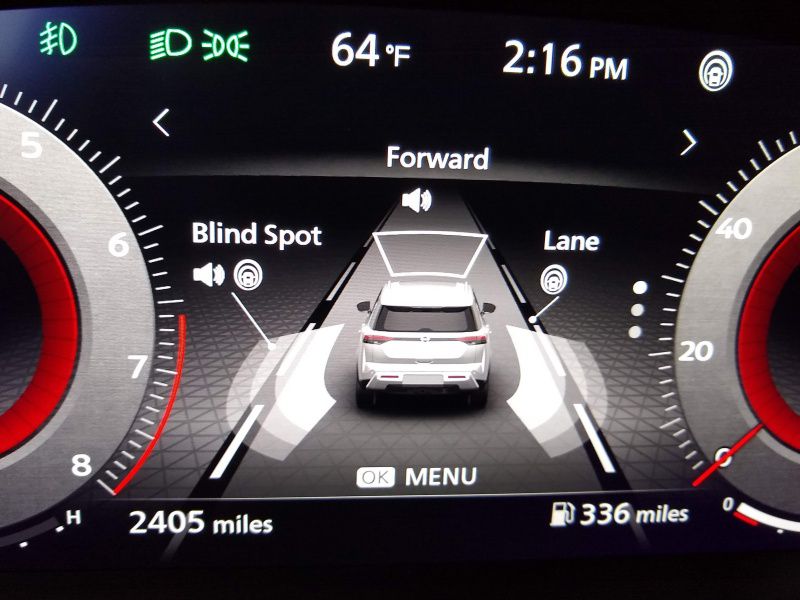 Photo by Brady Holt
Final Thoughts
If you're looking for an SUV that can do traditional SUV things, you probably figured out that the 2023 Nissan Pathfinder isn't for you. A couple of additional off-road modes, tougher styling, and the option for more rugged tires aren't going to get this Nissan up a boulder-strewn mountain trail. 
But if you're interested more in character than capability, the choice becomes more challenging. The 2023 Toyota 4Runner has a rough authenticity that can be charming, even if you'll never subject it to conditions that a Pathfinder couldn't handle. It even provides a bit more cargo space and a fairly comprehensive list of modern safety, luxury, and infotainment features. Still, the 4Runner comes with major practical downsides, including poor gas mileage, weak crash-test scores, and steep prices. And the latest Pathfinder avoids settling into pure anonymity, thanks to its sharper styling, more upscale interior, and improved handling and acceleration. The Pathfinder isn't perfect, but it's the sensible choice — and it doesn't make "sensible" as painful as it could be. 
Nissan Pathfinder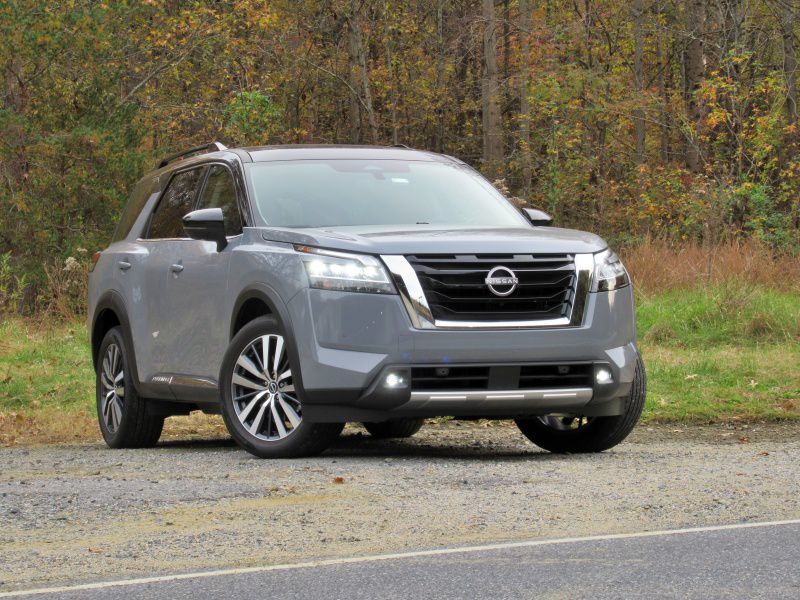 Photo by Brady Holt