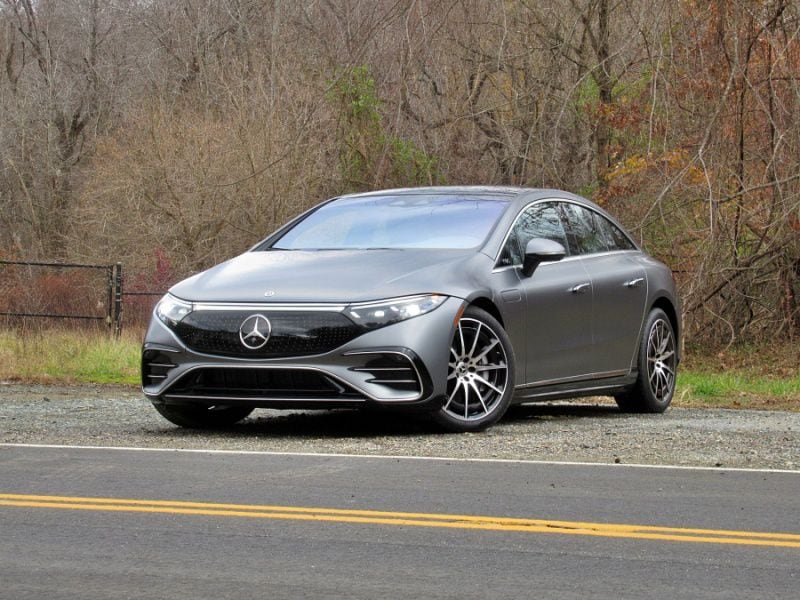 2022 Mercedes Benz EQS sedan ・ Photo by Brady Holt
Mercedes has made some of the finest big luxury sedans for generations. And with demand increasingly shifting to electric cars, Mercedes is rushing to grab a slice of the electric future. 
Enter the Mercedes-Benz EQS sedan, one of four brand-new electric vehicles from the German luxury brand. It's the electric equivalent of the flagship S-Class. (Don't confuse it with the EQS SUV, which is — drumroll please — an SUV version of the EQS.) But while the rival BMW i7 is basically a standard 7 Series with electric motors instead of a gasoline engine, the EQS sedan looks like nothing else on the road but another electric Benz. We spent a week testing the EQS 580 and also tried out the performance-focused EQS AMG to get a sense of the big EV's pros and cons. Prices start at $104,400. Keep reading to see how Mercedes justifies this lofty expense and whether it seems worth it to you.
Dynamic and Aerodynamic Design
Mercedes claims the EQS sedan has better aerodynamics than any other production car in the world, with a drag coefficient of just 0.20. That's particularly important for EVs, which try to maximize efficiency both for eco-friendly cred and to extend their ranges per charge. 
Gliding through the air makes for a unique design, too. The short, stubby hood slopes up into the windshield, and the roof floats all the way back to the taillights. It's especially unusual when you consider the EQS's long 207-inch body, which makes it stand out more than the smaller but similarly styled EQE sedan. The body is smooth in every way, with no hard edges or creases. And our test car's matte paint helped it stand out further. The headlights and taillights are both connected with lightbars, and a decorated plastic panel takes over for a traditional grille. Traditionalists may not love it, but it can be a breath of fresh air to someone who finds a conventional Mercedes sedan too stodgy. The EQS lets you glide silently to the curb in unmistakable style.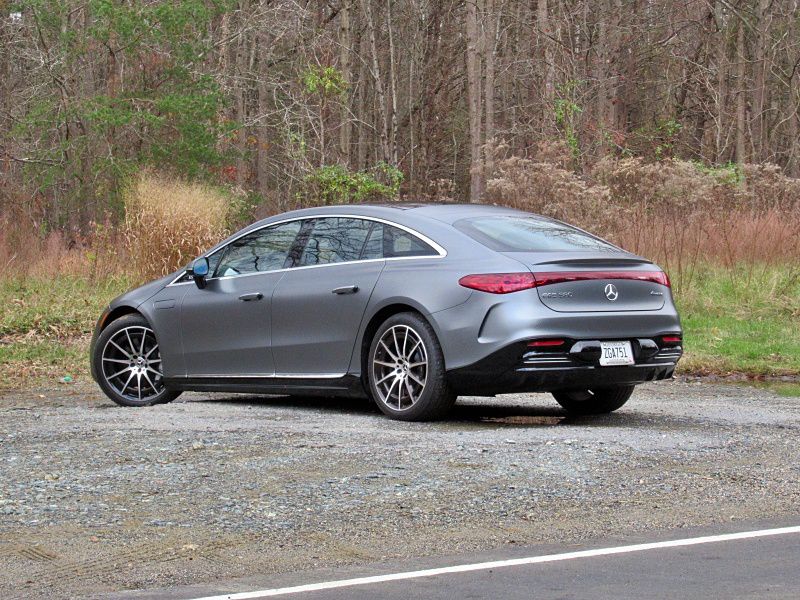 Photo by Brady Holt
Screens Galore
The EQS interior is as unmistakable as its exterior. All recent Mercedes models have drifted toward high-tech interiors, but the EQS is available with what Mercedes calls a Hyperscreen: a 12.3-inch digital gauge cluster, a 17.7-inch central touchscreen, and even a 12.3-inch touchscreen just for the passenger off to the side of the dashboard. The backseat also gets its own small touchscreen on the fold-down center armrest. 
The system's complexity is a blessing and a curse. It looks the part perfectly of a high-end car of the future, and there is near-endless customizability buried in the screen's functions. We also appreciate the system's wireless compatibility with Android Auto and Apple CarPlay, and the interior is beautifully finished except for some chintzy removable cupholders. But the multilayered infotainment system and the EQS's touch-sensitive buttons make some basic adjustments unnecessarily challenging.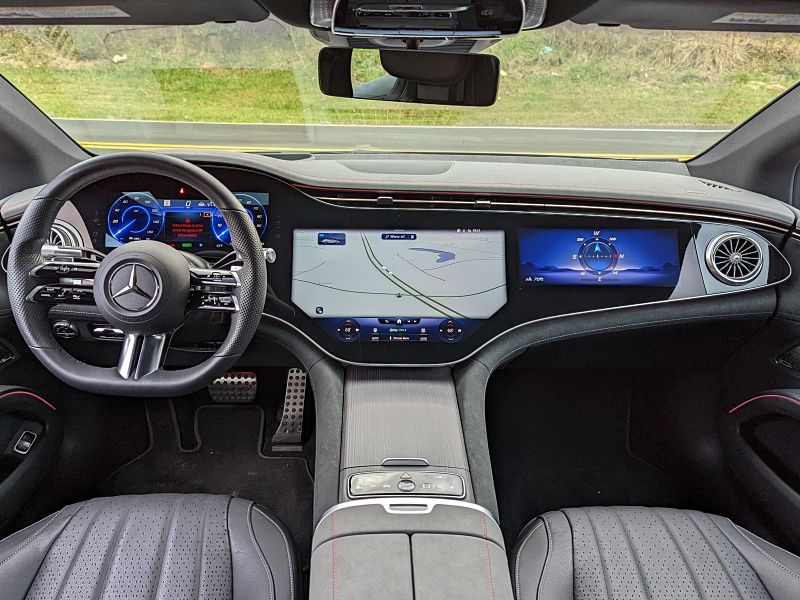 Photo by Brady Holt
Spacious, Comfortable, and Versatile
Dissect the EQS name and you get "EQ" to mean an electric Mercedes and "S" to mean S-Class, which is the brand's flagship full-size luxury sedan. So with that in mind, you shouldn't be surprised to find flagship-grade passenger accommodations. Unlike performance-focused rivals, the EQS coddles passengers whether they're sitting in the front or the back. The front and rear seats alike are available with power-adjustability, heating and ventilation, massaging (with a range of massage styles and intensities), head-restraint pillows, and neck heaters. 
The EQS's backseat isn't quite as massive as the conventional S-Class's, but it's more generous than other electric luxury sedans. The EQS can still function as a superb chauffeured limo that would only cramp an NBA star. What's more, like a Tesla Model S or Lucid Air, the EQS's aerodynamic shape turns it from a sedan into a liftback. That gives it more space as well as a more versatile cargo hold. There's a big 22-cubic-foot trunk (nearly twice the volume of the gas-powered S-Class sedan), and you can fold down the backseat to open up an SUV-rivaling 63 cubic feet. Unlike some EVs, though, there's no front trunk ("frunk") under the EQS's little hood.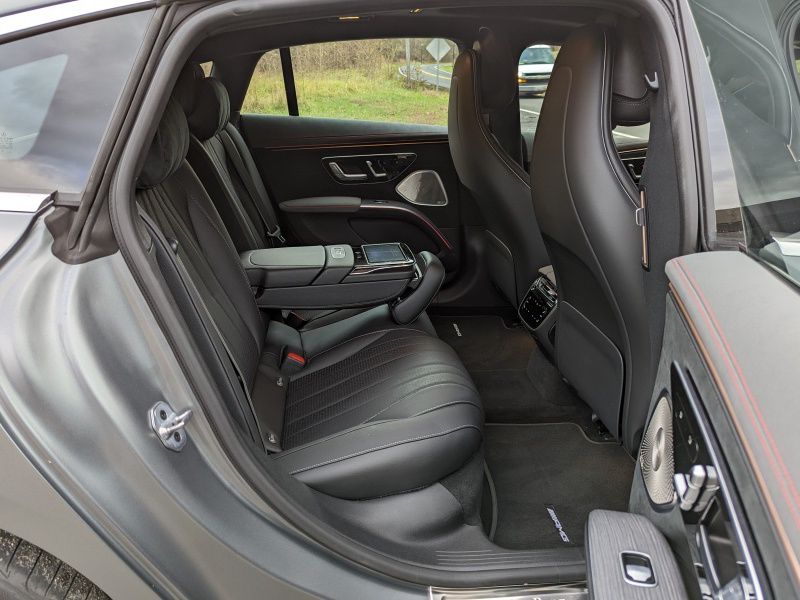 Photo by Brady Holt
Sportscar Speed
The 2023 Mercedes-Benz EQS lineup consists of the base EQS 450+, the newly introduced EQS 450, and AWD EQS 580, and the EQS AMG. All but the EQS 450+ are rear-wheel drive, while other models add a second electric motor to power the rear wheels. Whichever EQS you buy, this big Benz accelerates like a sports car. Stomp down and the velocity is literally breathtaking, but it prioritizes polish over pulse by emphasizing smooth acceleration over neck-snapping drama. 
By the numbers, Mercedes says the EQS 450+ makes 329 horsepower and 406 lb-ft of torque and reaches 60 mph in 5.9 seconds. The AWD EQS 450 — which adds an electric motor for the rear wheels — improves to 355 hp and 590 lb-ft, and it reaches 60 in 5.3 seconds. The EQS 580 like our test vehicle makes 516 hp and 611 lb-ft and needs just 4.1 seconds to reach 60 mph. And if you get the EQS AMG, you get an absurd 751 hp and 752 lb-ft, with 60 mph arriving in a mere 3.4 seconds. A few EVs are even quicker, but we can't complain about this speed.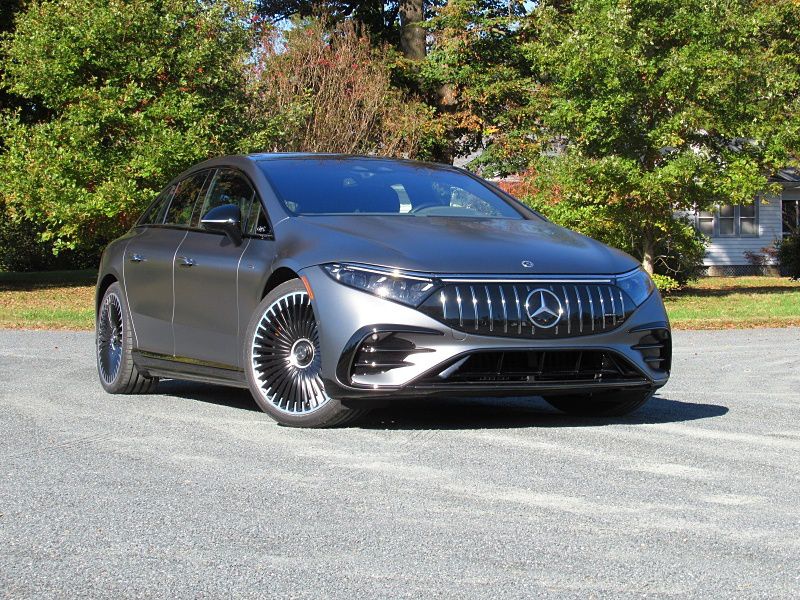 Photo by Brady Holt
Capable Yet Serene
Electric motors are a good fit for a Mercedes because of their silence. Whether you accelerate gently or hard, there's almost no noise to suppress. But the EQS goes further than most electric cars at providing an overarching serenity. This big EV glides along peacefully on its adaptive air suspension, every bit the polished luxury sedan. We wished for a bit more cushion from bumps, the result of huge alloy wheels and stiff "range-optimized" tires, but it was a minor quibble. 
At the same time, the EQS's suspension hugs the car to the road as you go around a curve. We enjoyed accelerating up a hill and around a curve, with effortless power complementing the drama-free suspension. This isn't a frisky EV like a Porsche Taycan, but it's capable of high-speed curves. And rear-wheel steering tightens its turning radius. Our only complaint is the brakes, which feel unnaturally resistant when you push the pedal — odd, given that other EVs and hybrids worked out this problem years ago.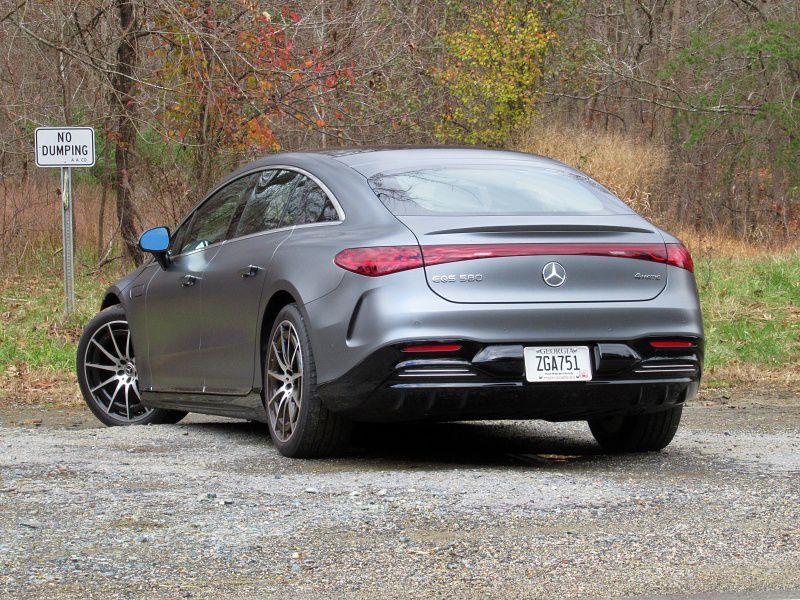 Photo by Brady Holt
Up to 350 Miles per Charge
Range anxiety is a common hurdle to EV adoption, and the 2023 Mercedes-Benz EQS takes it on by offering up to 350 miles per charge — one of the longer all-electric ranges available. That's the EPA-estimated range of the base rear-drive EQS 450+, which averages the equivalent of 97 miles per gallon. 
The AWD EQS 450 goes 340 miles but ekes out a slightly more economical 103 MPGe in EPA testing. The more powerful EQS 580, sold only with AWD, also goes 340 miles but consumes electricity at a rate of 95 MPGe. And the max-performance EQS AMG dips to 277 miles while managing 77 MPGe. That's far from the thriftiest EV, but consider that the quickest gas-powered S-Class gets mileage in the teens while needing an extra second to reach 60 mph. We didn't run our EQS 580 test vehicle to zero to see if it would pick up additional range, but it was trailing its 340-mile estimate during our late-autumn test. On the flip side, some reviewers driving the car in warm weather have seen it trounce its estimate.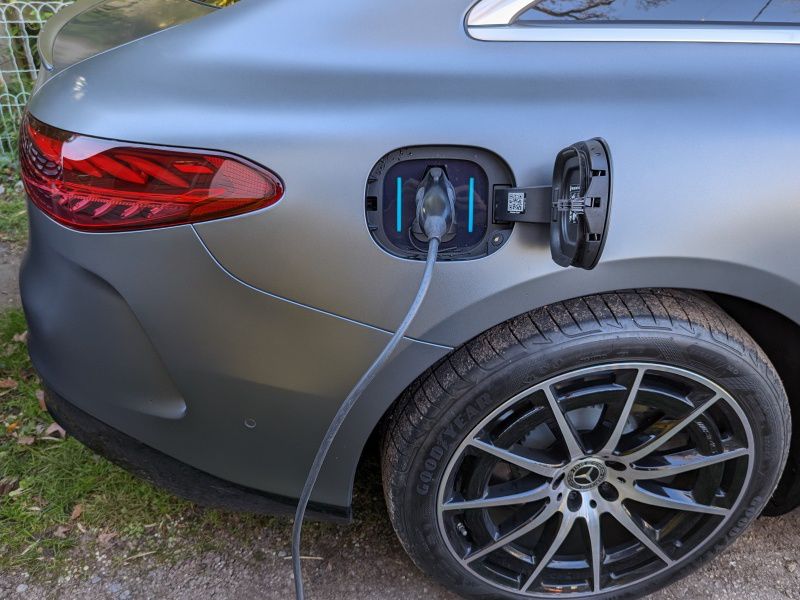 Photo by Brady Holt
Decadently Equipped at Six-Figure Prices
The 2023 EQS 450+ starts at $104,400, packed with standard features that you wouldn't even find on most cars. You don't have to pay extra to get heated and ventilated front seats, a 15-speaker Burmester surround-sound stereo, a panoramic roof, augmented-reality GPS navigation, and a surround-view parking camera. 
Options are too numerous to list, but they include massaging front and rear seats, heated and ventilated rear seats, an air-purification system with aromatherapy, and infrared-blocking window glass. (You can also play Tetris and other games on the big touchscreen, though it's much faster to use your phone.) The all-wheel-drive EQS 450 starts at $107,400, while the EQS 580 starts at $125,950 with additional standard features to join its extra power. Our EQS 580 test vehicle came to $141,400 with options that included the matte paint ($3,250), a head-up display ($1,100), and a $4,350 package that includes massaging front seats; heated, ventilated, and power-adjustable rear seats; four-zone climate control; and rear side airbags. The max-performance EQS AMG tops the lineup at a starting price of $147,500.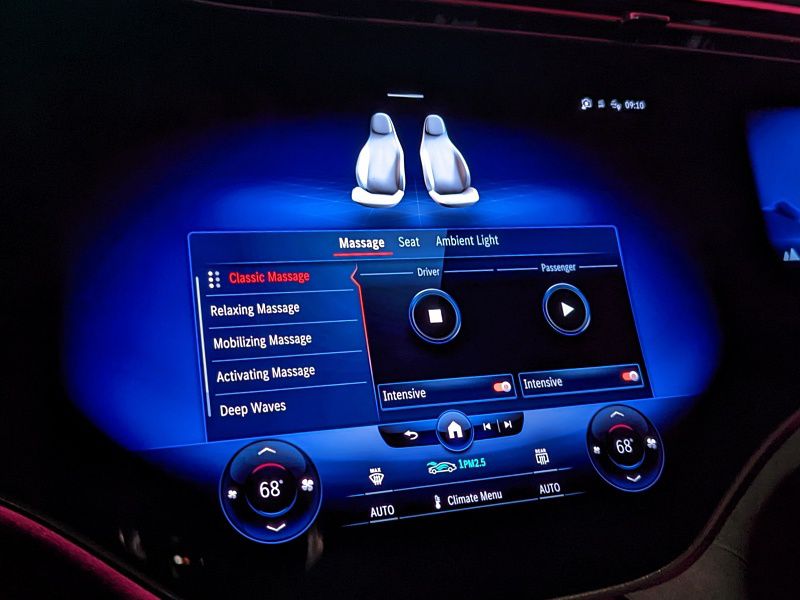 Photo by Brady Holt
The Elephant in the Air
The EQS is a fine luxury car, especially if it's viewed in isolation. But it faces a growing roster of rivals, in particular the award-winning Lucid Air. The Lucid has a more conventionally beautiful design, superior range and speed, and lower prices than the EQS. Still, you may prefer the EQS's established Benz lineage and more space-age looks, and it has more cargo room.
We also mentioned the BMW i7, the other luxury EV to prioritize cushy comfort and technological dazzle over an aggressive sports-sedan attitude. It trails the EQS's maximum range and speed, and it has a smaller model range (one powertrain option that's the equivalent to the EQS 580). And as a traditional sedan, it lacks the EQS's liftback versatility. Our favorite i7 perk is (comparatively) easy-to-use controls for a luxury EV. Other flagship EVs — the Tesla Model S, Audi e-tron GT, and Porsche Taycan — don't try to challenge the EQS for smooth, silent opulence.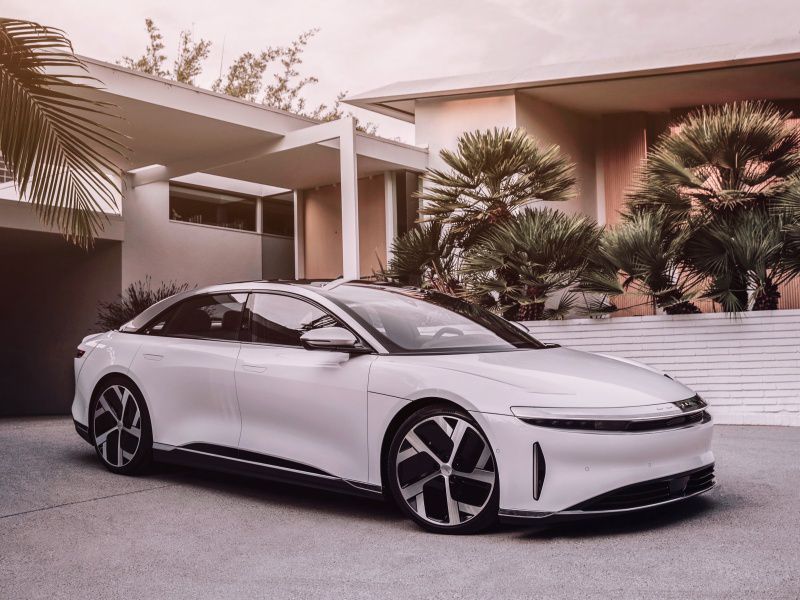 Photo by Lucid
Luxury Meets Electricity
It's hard to find a more decadent luxury experience than in a loaded-up Mercedes, and the EQS stays with that trend. To cite one example, consider the massaging seats. Now, you can find massaging seats in a growing number of mainstream-brand cars. But while some of those just feel like a seat moving under you, the EQS firmly kneads here and there — in a choice of five different massage styles and two intensities. It's just one of the ways the EQS justifies its six-figure price tag. 
Overall, the EQS goes fast and gets noticed without making any noise, and it coddles owners whether they're behind the wheel or in the backseat. As we discussed on the previous page, it's not the only way to get such an experience. But it's a futuristic-looking EV from an automaker with a long history of engineering excellence. If you want one of the highest-end electric cars you can find, or you're looking for any high-end four-door and don't mind plugging it in, put the EQS on your shopping list.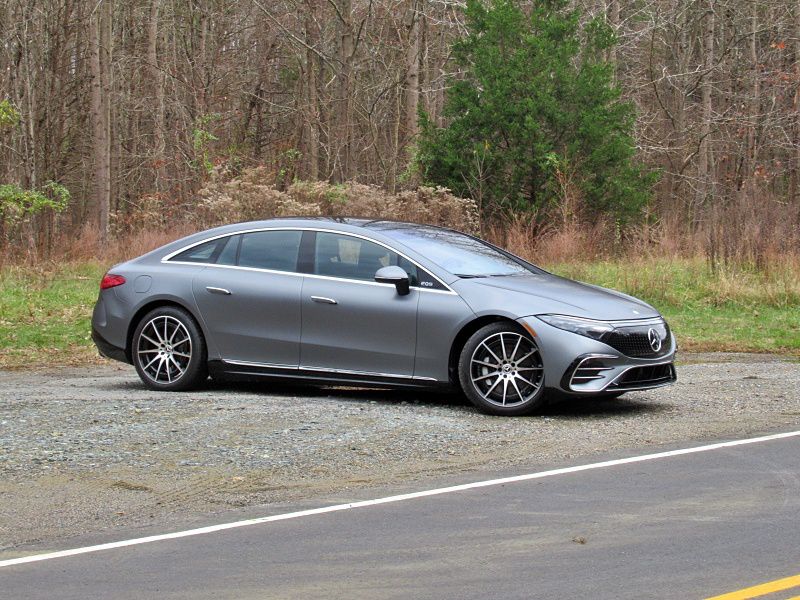 Photo by Brady Holt