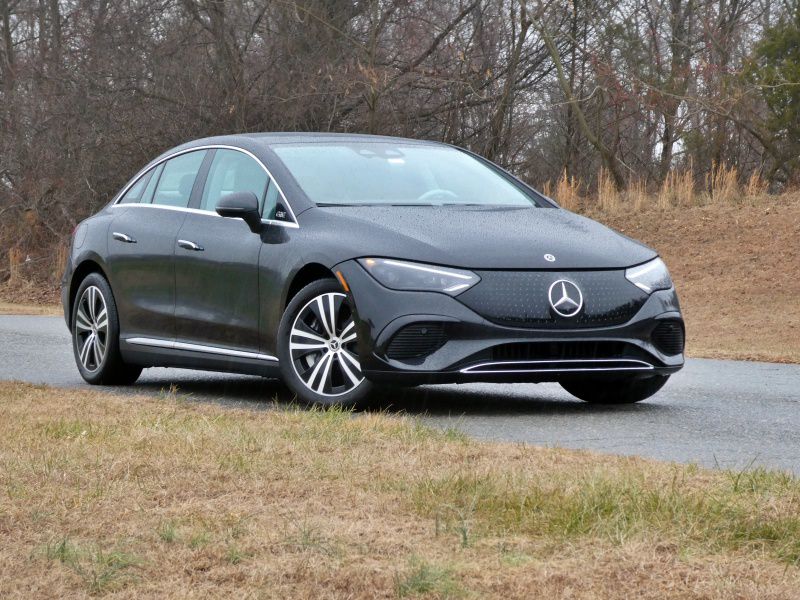 2022 Mercedes Benz EQE 500 ・ Photo by Brady Holt
There's no shortage of expensive electric cars. Tesla's premium-priced cars are by far the best-selling EVs, and they ushered in a host of rivals. It's easier to find an ultra-fast, ultra-high-tech electric car than an affordable economical one. Even so, electric luxury cars have been harder to come by. For all their many merits, Teslas lack the cushy ride, artfully decadent interior finishes, and extra-long list of coddling features that help attract people to, say, a Mercedes-Benz. 
Enter the 2023 Mercedes-Benz EQE, the second all-electric Mercedes sedan. This mid-size EV is priced from $74,900, slotting between a Tesla Model 3 ($43,990) and Model S ($94,990) while promising a smoother ride and a more sumptuous interior than either. (Don't confuse this sedan with the upcoming EQE-based SUV called, well, the EQE SUV.) We just spent a week in the top EQE 500 sedan to learn more about its pros and cons. Keep reading to learn more about whether the EQE is the right luxury EV for you. 
Uniquely Sleek Yet Functional Proportions
Like the larger, more expensive Mercedes EQS, the EQE can't be confused with any gas-powered Benz. Its "cab-forward" proportions include a sleekly aerodynamic roofline that continues almost to the EQE's tail. This leaves a tiny little trunk sticking out behind the back wheel. The shape made us think the EQE was much smaller than its ample 197-inch length, and by pulling the roof far back, it also provided more rear headroom and easier entry/exit than we expected. 
Traditionalists have accused the EQE of not looking like a Mercedes, but the front and rear ends cast aside any doubts we'd have on that front. The front fascia is pure Benz, just applied to a shorter nose. The big, familiar three-pointed star sits proudly in the center of the panel that serves as a decorative grille (EVs don't have engines to cool with genuine airflow). The rear end's lightbar emphasizes "look, I'm modern," but the taillights' overall shape matches other recent Mercedes sedans.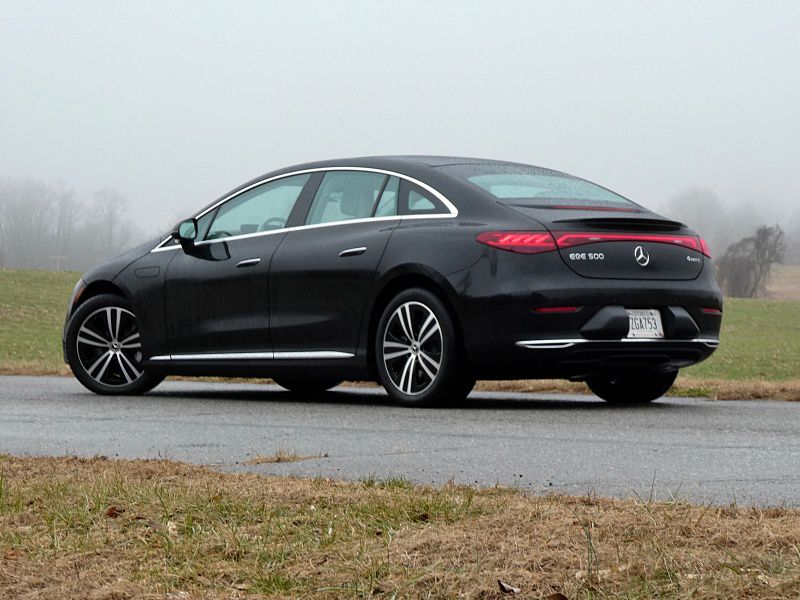 Photo by Brady Holt
Opulent and High-Tech Interior
All modern Mercedes interiors have become dominated by digital displays. Our EQE test vehicle fits right into the norm in that regard, with a 12.3-inch infotainment touchscreen and a 12.3-inch customizable digital gauge cluster. The company's "Hyperscreen" is also available: a 17.7-inch central touchscreen plus a second screen (12.3 inches) on the passenger side. This system isn't always the simplest to operate, even with the base screen, since Mercedes left few traditional buttons or knobs. But its visual punch is undeniable. 
There's no shortage of high-tech EVs. But while most are coldly precise, the EQE stands apart for its extra-luxe materials and graceful curves. Rich leather is everywhere, and even the floor is thickly carpeted. We were surprised to find some areas where the trim wasn't aligned quite right, and we didn't love the functional but chintzy removable cupholders. But overall, this is a cabin whose vibe is posher than most.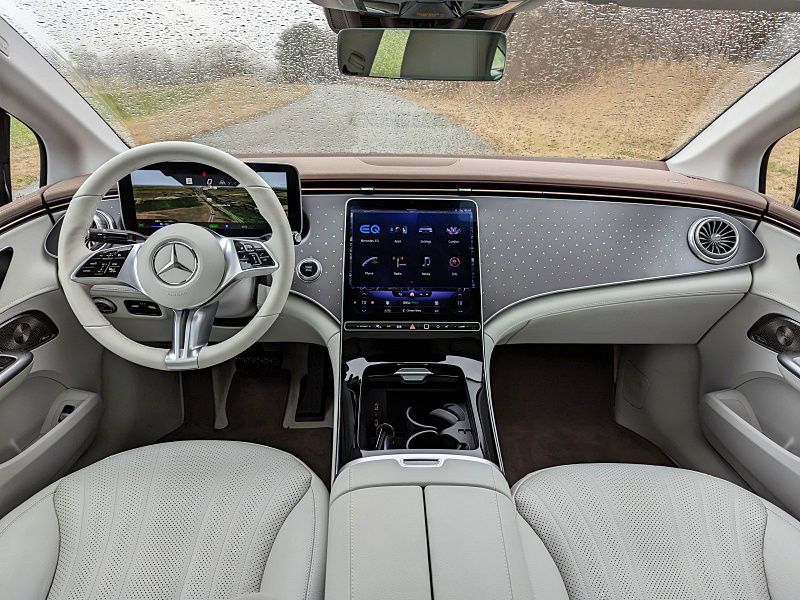 Photo by Brady Holt
Roomier Than You'd Expect
As we mentioned earlier, the EQE has the proportions and short rear overhang of a small car. It's an optical illusion. This sedan is actually about the same size as a gas-powered Mercedes E-Class, but its wheelbase is 7 inches longer. Credit goes to a little hood that doesn't have to make room for a gasoline engine. 
So despite its low-slung aerodynamic roof, the EQE has generous space in the front and rear seat. And it's easy to get in and out of this electric sedan because the roof dips low only after it passes the main part of the passenger compartment. We were also pleasantly surprised by the generous 15 cubic feet of space in its stubby little trunk. Heated and ventilated front seats are standard equipment, and a massager is optional. One practical ding against the EQE: The rear windshield is tiny, so there's poor visibility straight out the back.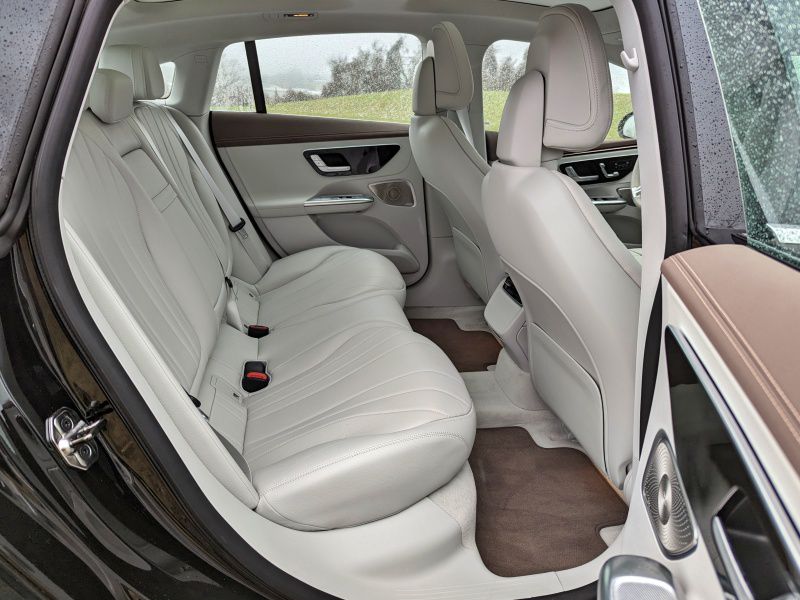 Photo by Brady Holt
Reasonable Range
A common question about electric cars is how far they can travel on a charge. The base rear-wheel-drive EQE 350+ can travel an EPA-estimated 305 miles, while the all-wheel-drive EQE 350 and EQE 500 have an estimated range of 260 miles. 
If you're shopping for the most road-trip-friendly EV, you'd still pick a Tesla over the EQE. That's because a high-end Tesla not only travels farther on each charge, but it also can access the company's Supercharger network of Tesla fast-charging stations. The EQE can use a mix of public charging stations, but they're less convenient than Tesla's network. A public fast-charger can get the EQE from 10 percent to 80 percent of its battery capacity in 32 minutes, while a 240-volt car charger (like you'd have in your garage or at less powerful public stations) takes 10 hours to fill up your car. That may sound inconvenient, but it means you could drive 200 miles today, plug in overnight, and be ready to do that again tomorrow. Again, while that's an annoying way to get across the country, the EQE has plenty of reserve range for just about anyone's everyday use.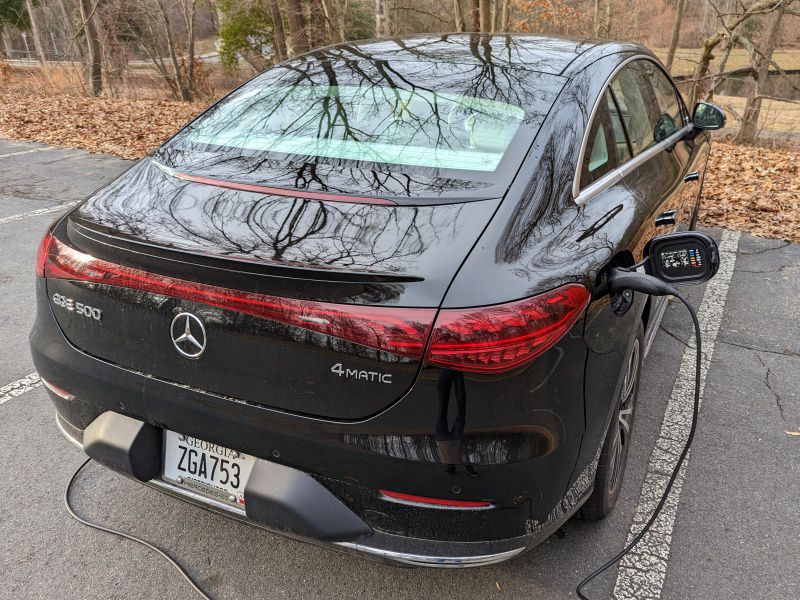 Photo by Brady Holt
Three Speedy Versions
Electric cars share a speed advantage. They make their peak torque right off the line, translating specs effectively into real-world thrust. They're also nearly silent, so you don't hear an engine laboring (or disturbing the neighbors) if you floor the throttle. 
That's why even the base EQE 350+ — whose electric motor makes a modest 288 horsepower but a hearty 391 lb-ft of torque — accelerates to 60 mph in a manufacturer-estimated 6.2 seconds. The AWD EQE 350 adds a second electric motor, boosting torque to 564 lb-ft and cutting the 0-60 sprint to 6.0 seconds (with a higher weight offsetting the extra torque). And the AWD EQE 500, like our test vehicle, boasts more powerful electric motors with a combined output of 402 hp and 633 lb-ft of torque. It hits 60 mph in just 4.5 seconds. That's not enough to win on the drag strip against the fastest EVs. But even the EQE 350+ is quick enough to be effortless in routine conditions, and the EQE 500 is faster than many sports cars.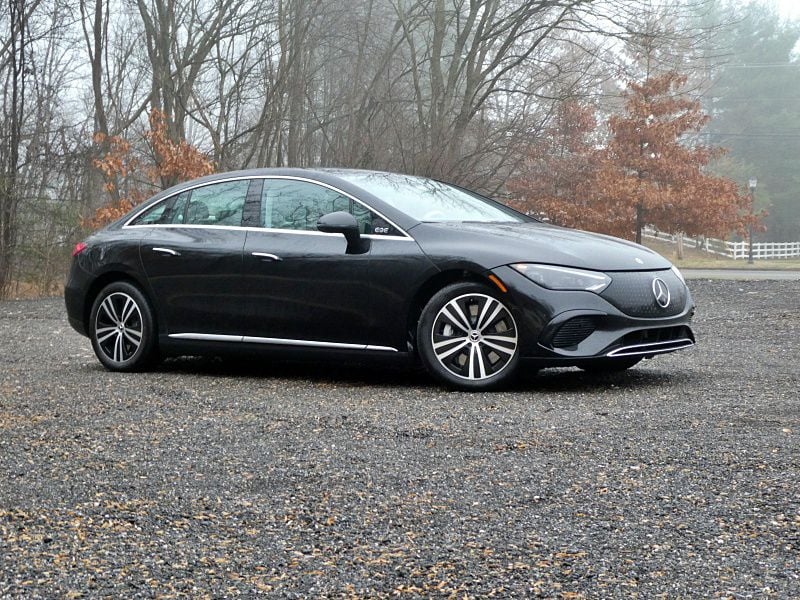 Photo by Brady Holt
Smooth and Agile
Although the EQE is fast, it doesn't strive to project a vibe of wild speed. (That's the domain of the upcoming AMG EQE due later this year, which promises 677 horsepower, a 0-60 run of just 3.2 seconds, and a performance-focused suspension.) Instead, the EQE is about high-speed serenity. It's smooth and quiet, and its throttle is tuned to let you accelerate gently when you want. 
That's not to say the EQE is dull to drive. It handles capably, and available rear-wheel steering gives it extra-quick responses (along with a tighter turning radius). Even the selectable Sport mode doesn't have the dialed-in steering and handling you'll find on an Audi e-tron GT, but you can accelerate into a curve without losing control. Point the EQE where you want it to go, and it'll do it — even if it comes up a bit short on driver engagement.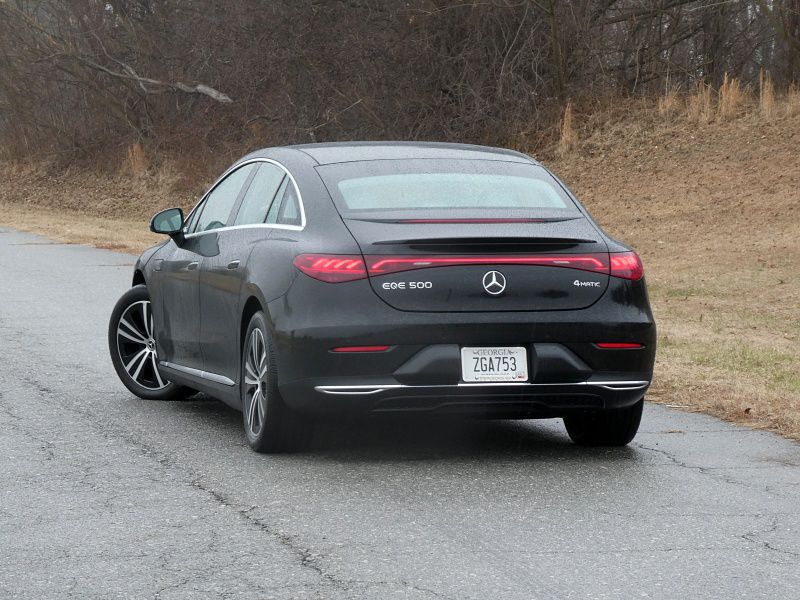 Photo by Brady Holt
Not Bargain Pricing
The 2023 Mercedes-Benz EQE sedan starts at $74,900 for the EQE 350+, rises to $77,900 for the all-wheel-drive EQE 350, and opens at $85,900 for the EQE 500 like our test vehicle. (Pricing isn't yet available for the upcoming AMG model.) 
Those prices represent a steep $20,000 premium over the similarly sized gas-powered E-Class sedan, only partly accounted for with extra standard features like a panoramic roof, a Burmester stereo, and a surround-view parking camera. And if you add enough features, you can push your EQE past $100,000. This isn't a bargain-priced EV. On the other hand, a fully optioned EQE is a decadent luxury car. And it certainly undercuts the other electric Mercedes sedan: the full-size EQS, which starts at $104,400. And as we'll discuss on the next page, even the EQE's high pricing puts it in line with its closest rivals.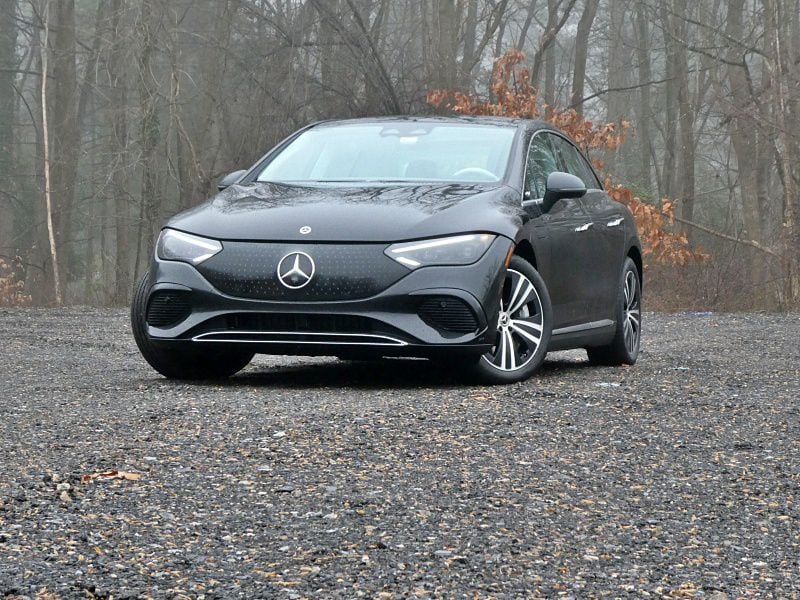 Photo by Brady Holt
Diverse Competitors
There aren't many mid-size electric luxury sedans. Mercedes lists the EQE's closest rivals as the even more expensive Tesla Model S and Lucid Air, the performance-focused Audi e-tron GT and Porsche Taycan, and the smaller and less expensive BMW i4. 
We'd add an even more direct competitor: the Genesis Electrified G80, which joins the EQE in focusing on smooth luxury with a gentle ride and gorgeously finished interior. There are two main differences: The Electrified G80 has the same normal-car proportions as the gasoline version of the G80. It's big and stately next to the EQE's small-future-pod vibe (even though they're the same size). Also, while they have similar base prices, the Genesis is fully loaded at its base price; you don't have to spend thousands extra to add its best features or quickest motor. The G80 also has simpler dashboard controls than the EQE but a smaller trunk. Turning back to Mercedes's own list, choosing it versus those cars depends on how much you're willing to spend and whether you want your luxury EV to feel exciting or relaxed.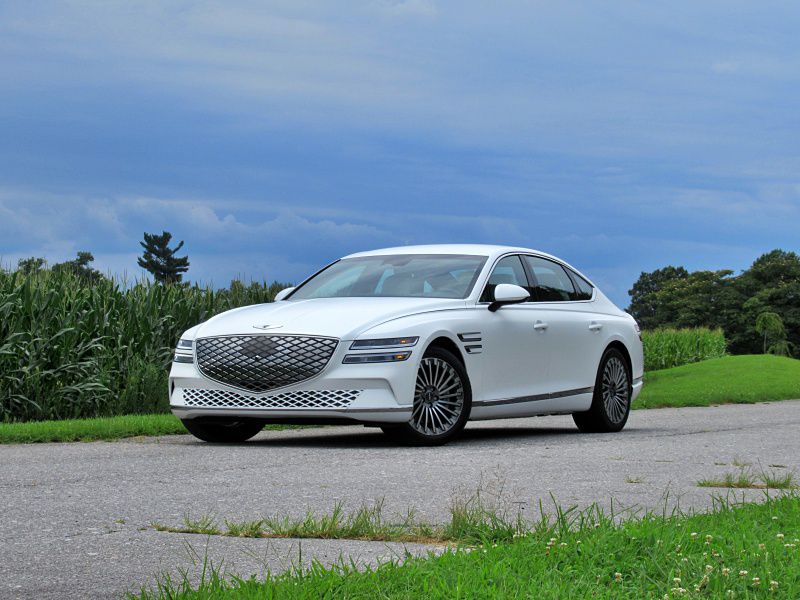 Photo by Brady Holt
Final Thoughts
The 2023 Mercedes-Benz EQE takes the cushy comfort, composed handling, and beautifully trimmed, high-tech interior of a conventional Mercedes sedan, then transforms it into an electric car. The result is an unconventional exterior design for a Benz, but also an uncommonly roomy interior, unusually silent speed, and, of course, the elimination of gasoline. That means zero tailpipe emissions and low-cost operation (at least when you charge at home, electric cars have a fraction of gas cars' fuel costs; they also never need oil changes, and their brakes usually last longer). On the other hand, it gives up the ability to hop in your car and drive across five counties without careful planning. 
There are other factors to consider. We mentioned the EQE's diverse and excellent rivals, and we mentioned its own specific drawbacks: a difficult control interface, less speed and maximum range than some rivals, lousy rear visibility, and a few imperfectly finished cabin details that seem glaring on our $90,000-plus test vehicle. But overall, the EQE translates the Mercedes sedan into a car of the future. If it's a future that interests you, and you're comfortable spending big bucks to buy into it, the EQE deserves your attention.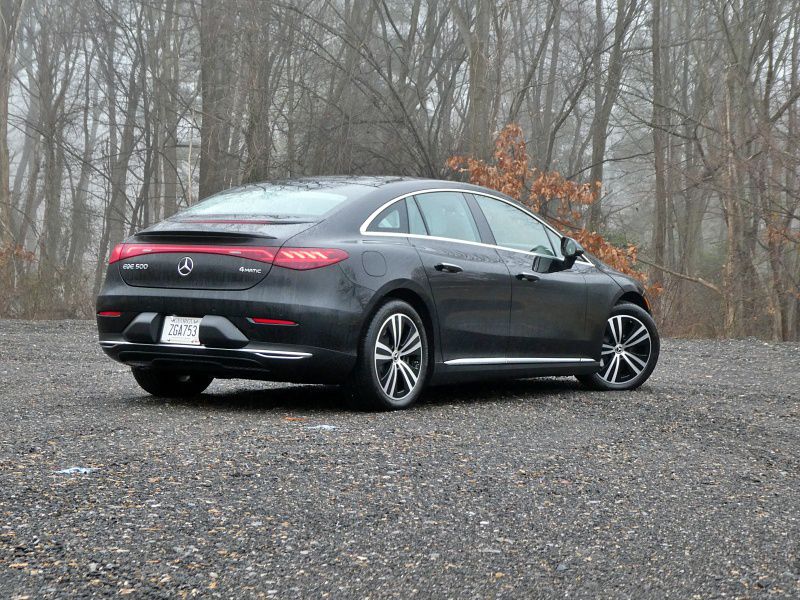 Photo by Brady Holt