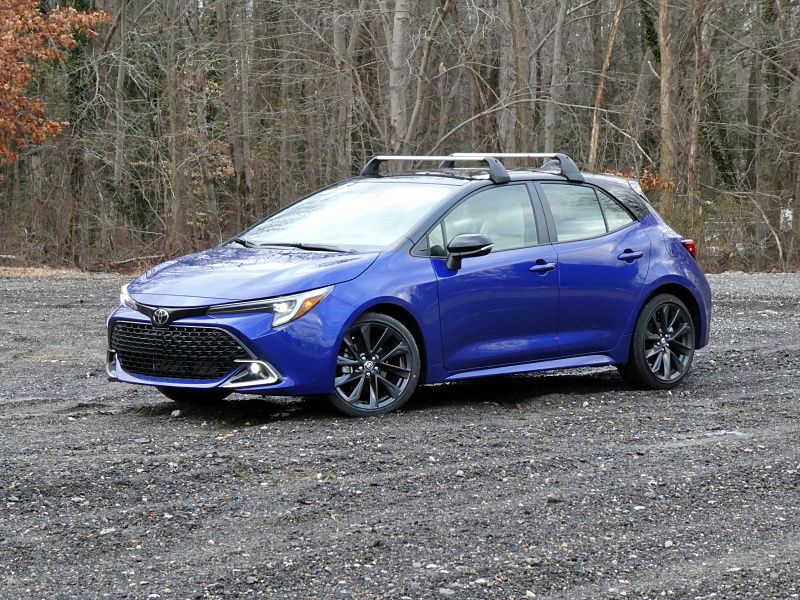 2023 Toyota Corolla hatchback ・ Photo by Brady Holt
Since its first generation debuted back in 2004, the Mazda3 has been a sporty option in the economy-car class. The latest model also packs plenty of luxury and value as well, meaning that you don't have to be a driving enthusiast to find it appealing. 
At the same time, the humble Toyota Corolla has steadily edged sportier, too. The current model has crisp styling, a pair of performance-themed models, and an improved interior — all while keeping prices in check. For this review, we've tested the Corolla and Mazda3 to compare them in eight categories and then declare an overall winner. Keep reading to learn which one we chose and see which one sounds like the better economy car for you.
Pricing and Features
The 2023 Mazda3 starts at just $22,550 despite high-end standard features that include adaptive cruise control, an eight-speaker stereo, push-button starting, and rain-sensing windshield wipers. You can also get leatherette upholstery for as little as $23,950 and genuine leather for $29,400, while a fully optioned model tops $35,000. A hatchback body style is available on most trim levels for an extra $1,000. 
The 2023 Toyota Corolla doesn't have quite as many standard features, but it generally costs even less. It matches the Mazda's safety and driver-assistance features at $21,550. The Corolla hatchback costs the same as equivalent sedans, and you can also get a fuel-sipping Corolla Hybrid starting at $22,800. However, even as you move up to a fully optioned Corolla, you won't find as many luxuries even a mid-trim Mazda3. Overall, despite the Corolla's lower starting price, the Mazda3 gives you more for the money and more options to choose from. 
Mazda3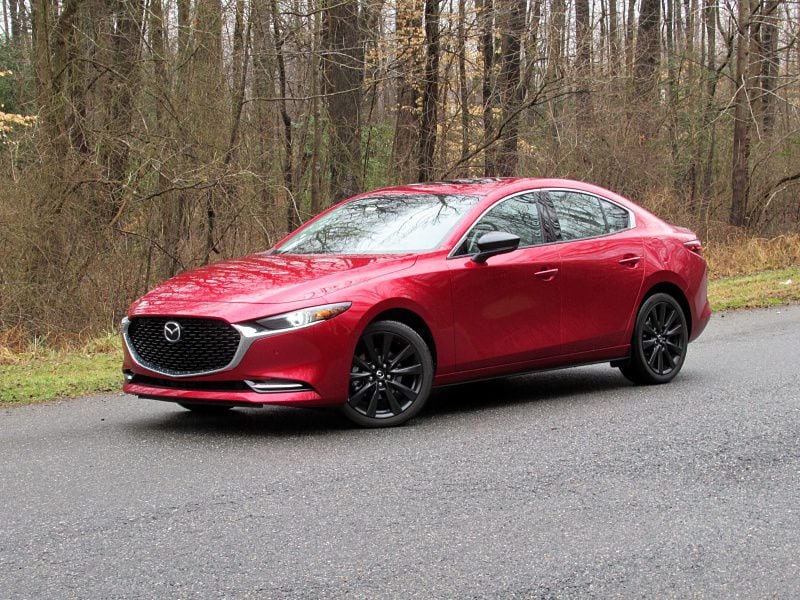 Photo by Brady Holt
Exterior Design
The Mazda3 wears an assertive design, with a low, aggressive front end with a long hood and slit-like headlights astride a big grille. Around the back, the Mazda3 sedan has crisp taillights and an upright trunk — a more serious and upscale look than the racy forward-leaning Mazda3 hatchback. It was last redesigned as a 2019 model.
The Corolla isn't dull, either. The latest generation strikes an appealing balance between aggressively sporty and subtle design restraint. Slim, crisp headlights — freshly updated this year into LED spears — sit astride a small grille and above a larger opening in the front bumper. The rear end of the four-door sedan is more ordinary, but the five-door hatchback looks sporty from the back as well. We think the Mazda looks more expensive but also less friendly, and we'll let you choose the vibe you prefer. 
Tie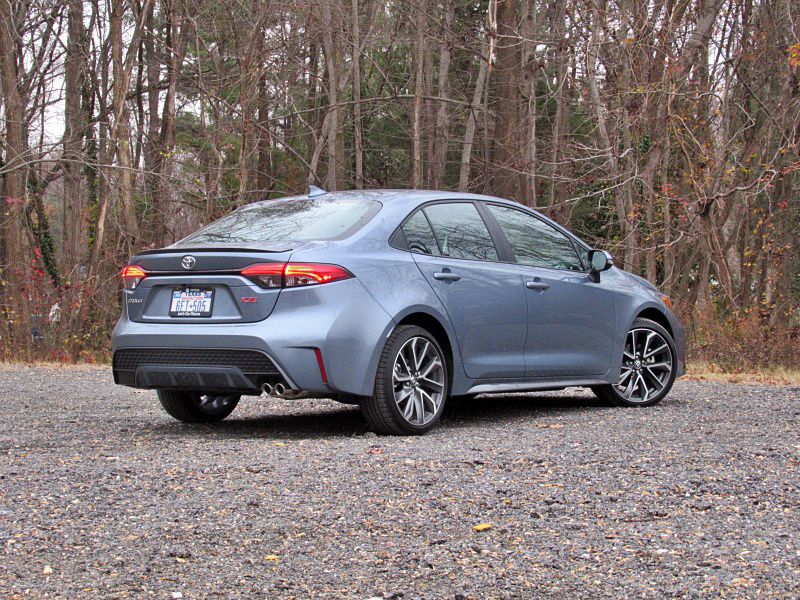 Photo by Brady Holt
Interior Design
At a glance, the Mazda3 looks like the easy winner for interior design. The minimalist design is sporty and upscale. The materials and assembly rival some luxury cars'. And a nicely sized 8.8-inch infotainment screen comes standard. But when we delved into the details, we gave the nod to the Corolla. 
The issue is the Mazda's ergonomics. The infotainment system has no touchscreen; instead, you navigate it using buttons and knobs on the center console. That has a steeper learning curve. And the infotainment system leaves most of its big screen with empty space. The Corolla isn't premium, but it's a well-executed economy car. Every function is simple to figure out, and while we miss the physical buttons that used to complement the standard 8-inch touchscreen, which supports a redesigned and easy-to-use infotainment system this year. The dashboard is attractively designed and decently finished, too. We don't love the way the center console bin slams down if you don't ease it gently into place, but the overall ambiance is pleasant and the Corolla is frustration-free.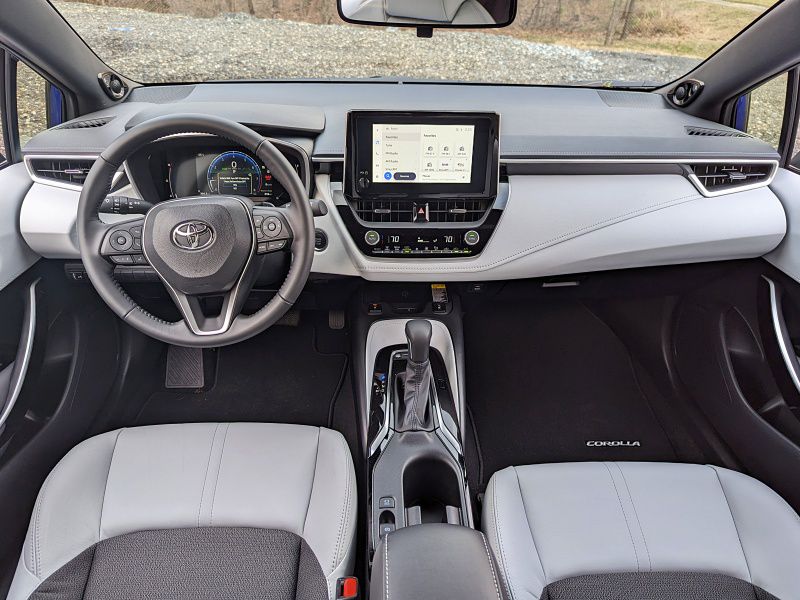 Photo by Brady Holt
Interior Space and Comfort
The Corolla was once one of the roomiest compact cars, but the current generation loses some of that advantage. There's class-competitive space even in the back of the Corolla sedan, but adults won't get to stretch out. The Corolla hatchback is even more pinched. The Corolla's base front seats are flat, but the SE and XSE offer better-bolstered "sport seats" that keep you from sliding around if you swerve. 
We're particular fans of the Mazda3's front buckets, which hold you in place more snugly than even the Corolla's sport seats. But if you need to carry anyone in the back, they'll likely have their knees pressed into the front seatbacks unless the front seats are well forward. For cargo, the Corolla and Mazda3 sedans each have 13 cubic feet. The Mazda3 hatchback edges out the Corolla hatchback's cargo capacity, but Toyota wins this segment overall for its choice of front seat designs and its extra rear legroom in the sedan.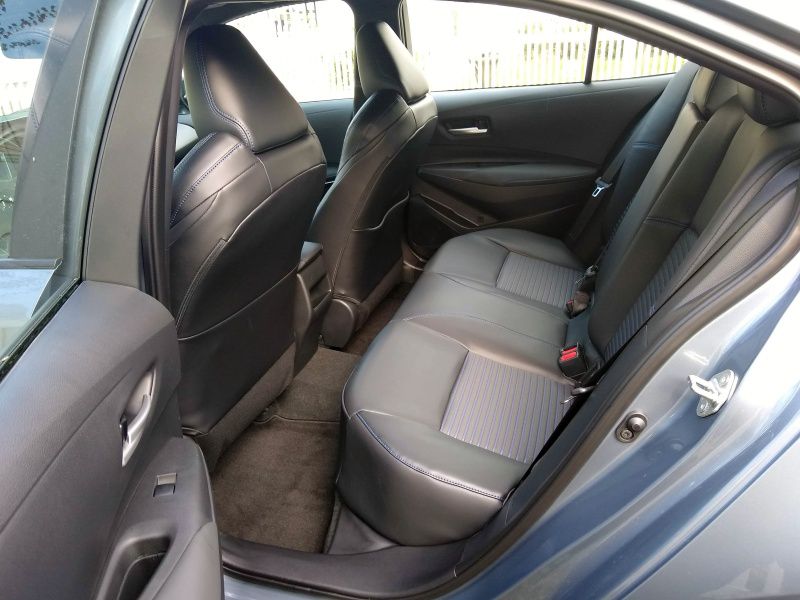 Photo by Brady Holt
Ride and Handling
The Toyota Corolla is an easy car to drive. In most models, the steering is light and natural, the ride is comfortable, and the handling is fairly composed. Still, there isn't much excitement to driving this car, and it feels like the small, light economy car that it is. A wild new GR model is a track-friendly hot hatch, but it costs up to $35,900 to $49,900 depending on the options — and that's before the inevitable dealer markups. 
Like most Corollas, the Mazda3 doesn't set out to raise your pulse, either. It's a solid-feeling stoic, with its steering, ride, and handling feeling supremely natural and controlled. This is a great MINI luxury car — smooth, quiet, and agile — but not much more exuberant than the Corolla. Still, sporty or not, the Mazda trumps the typical Corolla for both comfort and performance.  
Mazda3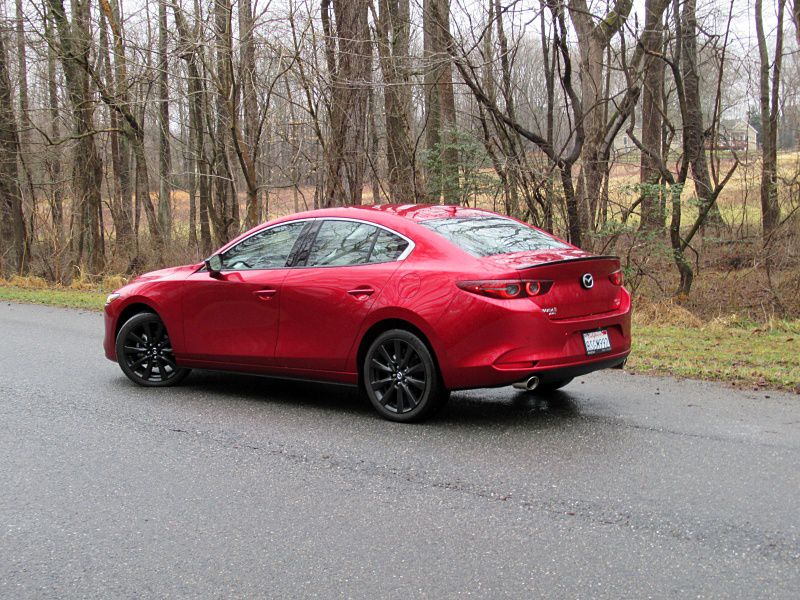 Photo by Brady Holt
Acceleration
Perhaps the Corolla's weakest point is under its hood — at least on the most popular versions. A 169-horsepower 2.0-liter four-cylinder is now standard, replacing last year's slower and less economical base engine, but even this engine is neither energetic nor quiet. And it's no longer offered with an enthusiast-friendly six-speed manual transmission, now coming exclusively with a continuously variable automatic. On the other hand, the Corolla Hybrid's gas-electric powertrain has improved this year from 121 hp to 134 hp. And the GR Corolla has an absurd 300 horsepower, and only a manual. 
The Mazda3 packs more punch than any Corolla but the GR. Last year's base 2.0-liter engine is gone, and the now-standard 2.5-liter got an upgrade from 186 hp to 191 hp for 2023. And top-of-the-line Mazda3s feature a turbocharged 2.5-liter engine with a mighty 227 hp on regular (or even 250 hp if you use premium-grade fuel). The 2.5-liter Mazda has more of a hum than a rich growl, but it's quieter and much quicker than the 2.0-liter Corolla. Nearly all Mazda3s have a six-speed automatic transmission, but a six-speed manual is available on one middle trim level of the front-wheel-drive hatchback. Unless you're springing for the GR Corolla, this category is an easy win for Mazda.
Mazda3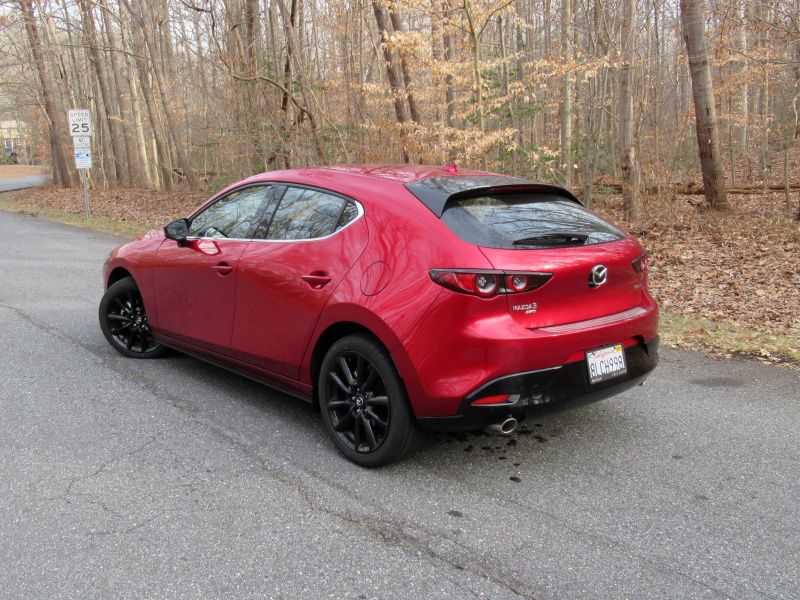 Photo by Brady Holt
Fuel Economy
The Mazda's big engines and old-school six-speed automatic will cost you money at the pump. Mazda updated the base 2.5-liter this year to improve its gas mileage, but EPA estimates are still just 28 mpg in the city, 37 mpg on the highway, and 31 mpg combined for the thriftiest model. The turbo sedan dips to 23 mpg city, 32 mpg highway, and 27 mpg combined. Selecting all-wheel drive or the five-door hatchback each cost about 1 mpg. 
The Corolla lineup is much more economical. The base 2.0-liter manages as much as 32 mpg city, 41 mpg highway, and 35 mpg combined, and no trim level falls below 33 mpg combined except the speed-focused GR (24 mpg). And then there's the hybrid, rated at 53 mpg city, 46 mpg highway, and 50 mpg combined with front-wheel drive and 2 mpg less with AWD. These Corollas aren't speed demons, but they don't burn too much fuel.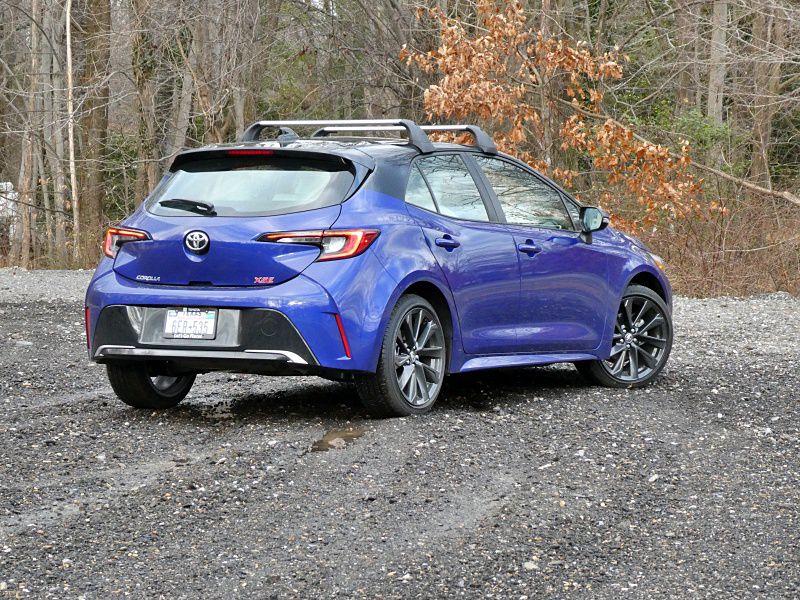 Photo by Brady Holt
Safety
The Corolla and Mazda3 are two safety standouts. Both come packed with advanced driver-assistance technology like automatic emergency braking, adaptive cruise control, and lane-keeping steering. And both earned top marks in all crash tests by the Insurance Institute for Highway Safety and the National Highway Traffic Safety Administration. 
Where there are subtle differences, though, the Mazda comes out ahead. Its headlights scored better in the IIHS's illumination testing, and it's the only of the two to offer a surround-view parking camera or a head-up display. We'd feel safe in either car, but the Mazda3 takes a narrow win. 
Mazda3
Photo by Brady Holt
Final Thoughts
For many readers, the Mazda3 is the obvious choice over the Toyota Corolla. It's quicker, quieter, and far more luxurious. Yet its prices stay Corolla-esque if you avoid checking the box for every optional upgrade, while the turbo model is a budget-priced luxury sports sedan. So how did it fail to beat the Toyota? 
Well, the Corolla may be a humble economy car, but it's a good one. It's roomier than the Mazda3 (at least when you get a Corolla sedan), it gets better gas mileage, its controls are simpler to use, and it costs less. And while it's not fancy, aside from the noisy engines and a few interior details, it doesn't come across as cheap junk either. The Mazda3 might win your heart, but it makes you accept the foibles of cumbersome infotainment controls, lousy gas mileage, and cramped rear seating. If you can accept that the Corolla takes some time and some noise to get up to speed, it delivers what it promises: safe, reliable, economical transportation at a reasonable price and with a touch of pizzazz. And if you're a speed demon, the GR Corolla now has you covered as well. 
Toyota Corolla
Photo by Brady Holt