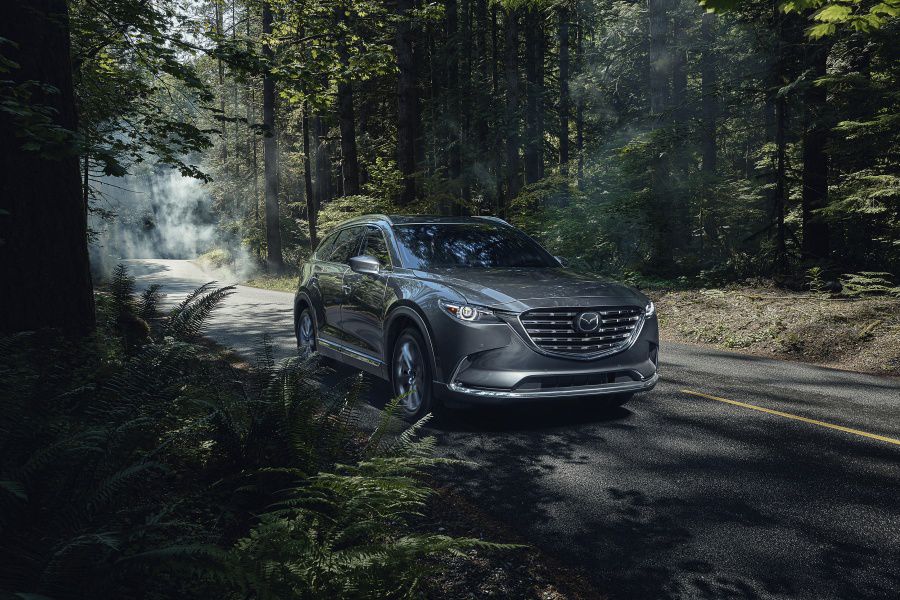 2021 Mazda CX-9 ・ Photo by Mazda
The mid-size three-row crossover SUV segment is one of the most popular in the American market. It's so crowded that some contenders get lost in the shuffle. But the Mazda CX-9 has found a special place in the segment because it is considered the most fun to drive. Other mid-size crossovers might outdo it in terms of interior space and cargo-carrying capacity, but for those who crave some driving verve along with their utility, the CX-9 is an obvious choice. Its acceleration, braking, steering, and cornering set it apart from popular models like the Honda Pilot, Toyota Highlander, and Kia Telluride. While some of its competitors border on mundane, the Mazda CX-9 has a premium feel inside and out. Its distinctive exterior is complemented by an interior that has all the charm and nuances of a luxury-brand crossover. In addition, Mazda makes all-wheel drive standard and endows the CX-9 with an impressive array of standard driver-assistance and safety equipment.
Exterior Style
Though it is hardly the newest crossover in the segment, the 2023 Mazda CX-9 retains a strong level of "curb appeal." In comparison to many crossovers in the mid-size category, the CX-9 has a style all its own. The front end is a case in point. It features a prominent grille that recalls the design of current European luxury crossovers. The basic exterior shape hasn't changed in years, but the details have been continually tweaked to maintain the vehicle's upscale look. In addition to its signature grille, it has LED headlights, LED fog lights, and an LED lighting accent. Aluminum roof rails confirm that the CX-9 is, in fact, an SUV, and heated door mirrors aid rearward visibility in poor weather. The power-operated liftgate is a valuable convenience feature.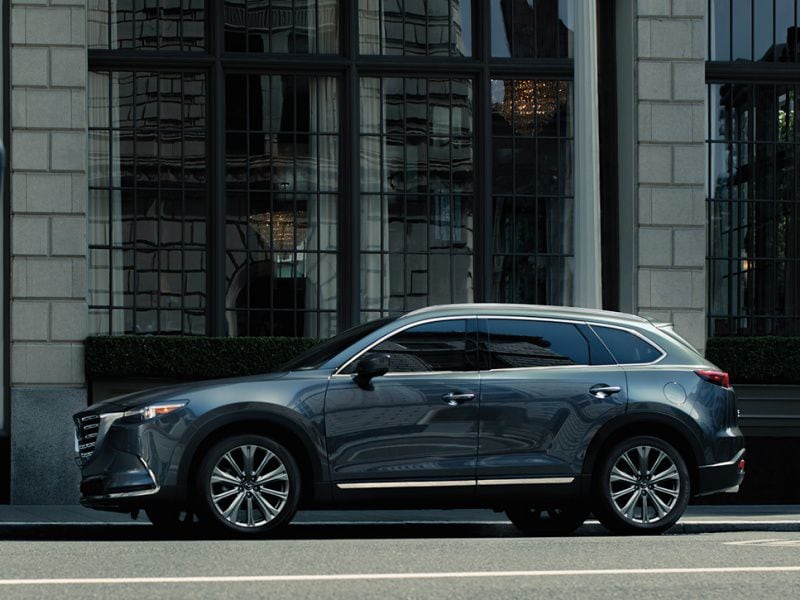 Photo by Mazda
Interior Design
Many brands have improved their crossovers' interiors recently, but the Mazda CX-9 still reigns supreme in that department. The CX-9's interior wouldn't look out of place in a luxury-brand crossover-utility. While some competitors offer cloth upholstery in the base trim, the CX-9 features leather. Of course, to be fair, the base models from some competitors are much less expensive as well. Still, soft-touch materials with a prestige look fill the CX-9's cabin. And the ergonomics are generally good once you come to terms with the infotainment system. The CX-9 has a smaller passenger cabin than most of its rivals, but adults will find the first and second rows very comfortable. The third row is more of a challenge and probably best left for children. Luggage space is also a bit of an issue, especially with the third row in use. The CX-9 has 14.4 cubic feet of space behind the third row and 38.2 cubic feet with the third row folded down. The Honda Pilot, Toyota Highlander, and Kia Telluride are among the top competitors that offer more cargo space.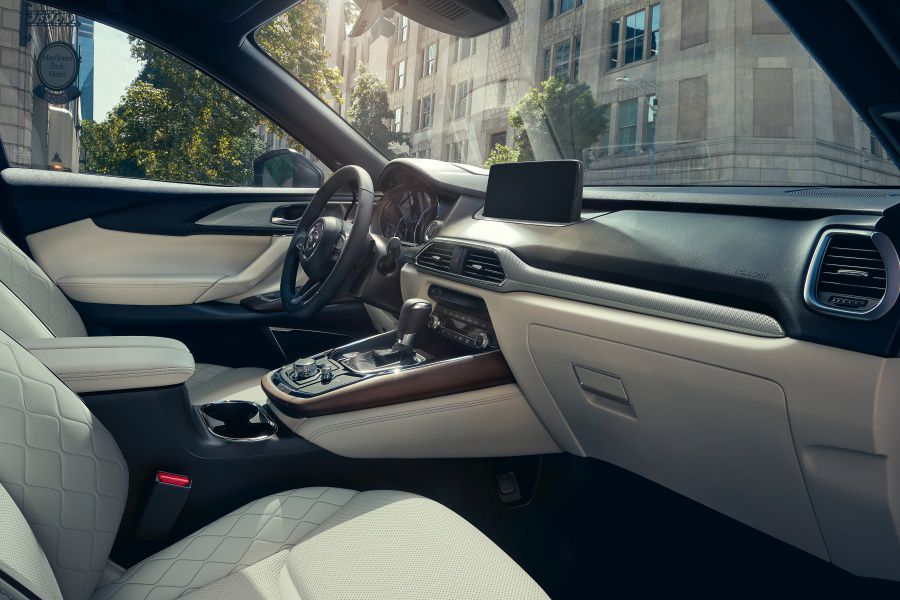 Photo by Mazda
New for 2023
In a move that solidifies the CX-9's upscale positioning the segment, Mazda has eliminated the base Sport trim for 2023. That is the most newsworthy change in a lineup that largely stands pat for the 2023 model year. In concert with that change, Mazda has enhanced and renewed the Touring trim. Now the base model, the CX-9 Touring gets second-row captain's chairs, black or sand color leather seats, a power moonroof, LED fog lights, and a wireless phone charger to increase its value. In light of its success last year, the CX-9 Carbon Edition returns for 2023 as a six-passenger model with heated second-row captain's chairs boasting an armrest and center pass through.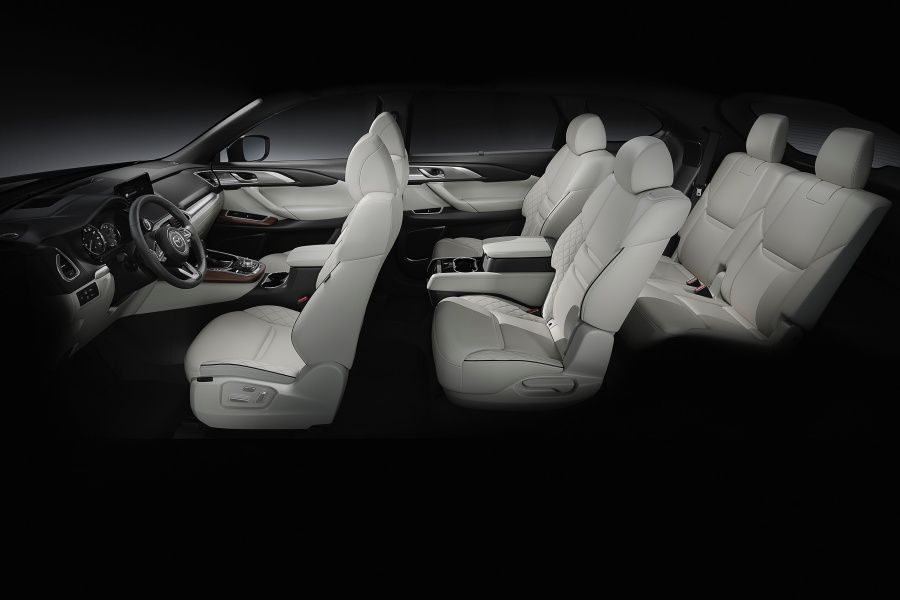 Photo by Mazda
Powertrain and Performance
Since several competitive vehicles offer more horsepower, you might wonder why the Mazda CX-9 is regarded as the most fun to drive in the segment. The answer is its responsiveness and sharp handling. The 2023 Mazda CX-9 is powered by a turbocharged 250-hp 2.5-liter four-cylinder engine. Many competitors offer higher-horsepower V6 engines. But Mazda engineers have tuned the six-speed automatic transmission to work in perfect concert with the engine's powerband. The CX-9's ample torque — 320 lb-ft when using premium gas — is another key to its success. While the majority of crossovers in the segment offer all-wheel drive, few are as sophisticated and as on-road-oriented as Mazda's unique i-Activ AWD system. Continuously monitoring weight distribution and potential wheel-slip, it shifts power to the appropriate wheels for optimum performance, providing drivers a near instant response to their acceleration, braking and steering inputs. In addition, all CX-9 models are equipped with G-Vectoring Control Plus and Off-Road Traction Assist.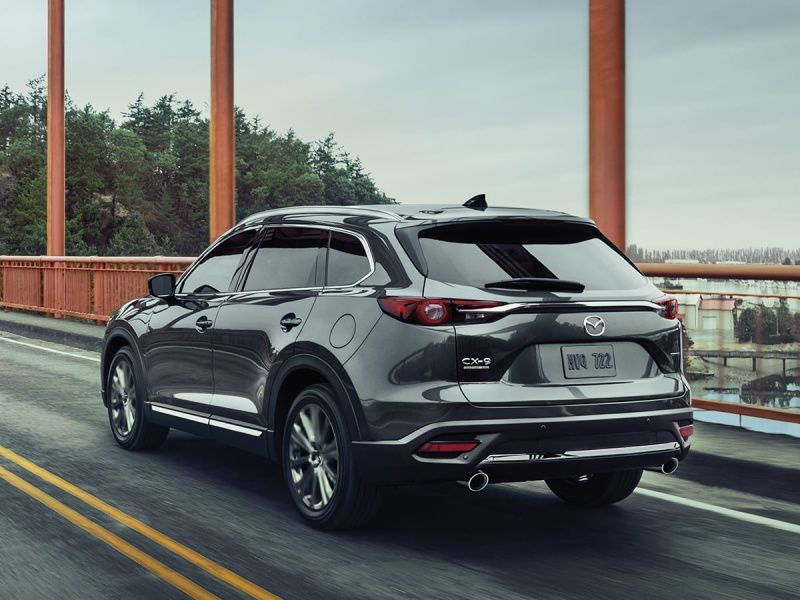 Photo by Mazda
Driving Impressions
The Mazda CX-9's steering is quick and direct, and its suspension provides agile handling with little body roll while maintaining a comfortable ride. Unlike some three-row crossovers, the CX-9 can hold its own when driven enthusiastically. On twisting two-lanes, fun-to-drive is enhanced by the transmission's manual-shift and Sport modes. Handling is further boosted by the i-Activ AWD system and the G-Vectoring Control Plus. Their advantages are most pronounced in bad weather, but both systems also contribute better handling on dry roads when the conditions are near-perfect. Other crossovers are more at home off-road, but the CX-9 can hold its own in light- and medium-duty all-terrain driving. While the Mazda CX-9 isn't the most powerful of the three-row crossovers, it does deliver the most engaging driving experience.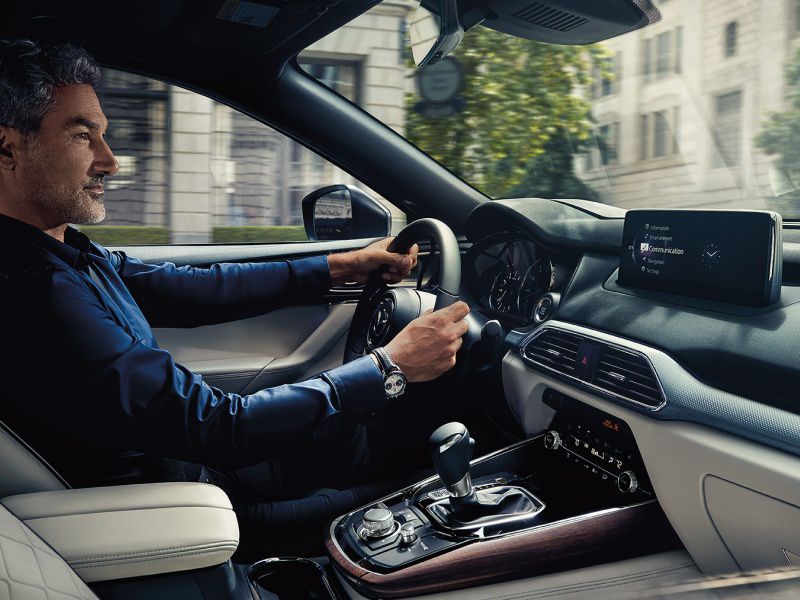 Photo by Mazda
Fuel Economy
The Mazda CX-9 offers standard all-wheel drive, and its predicted fuel economy compares well to the EPA ratings of all-wheel-drive competitors. The Environmental Protection Agency rates the 2023 CX-9 at 20 mpg in the city and 26 mpg on the highway. In comparison, the Chevrolet Traverse is rated at 17 mpg city/25 mpg highway in all-wheel-drive form. The Kia Telluride delivers 18 mpg city/24 mpg highway when equipped with AWD. But the 2023 Toyota Highlander with all-wheel drive is rated at 21 mpg city/28 mpg highway. And both the Highlander and the Ford Explorer offer hybrid models that promise significantly better fuel economy than the Mazda CX-9.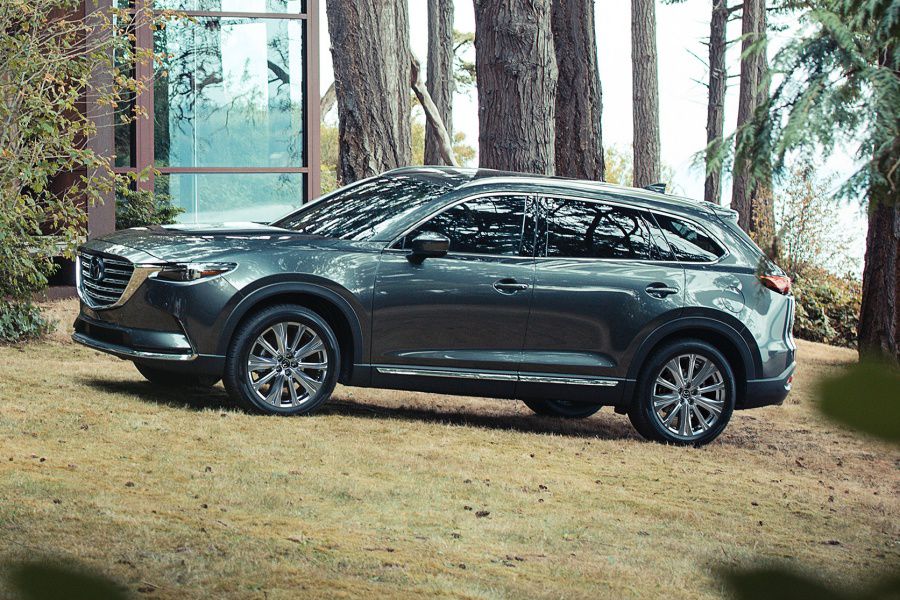 Photo by Mazda
Infotainment and Connectivity
When first instituted, Mazda's scheme of using a console-mounted knob to control its infotainment display followed typical European luxury-vehicle practice at the time. But now, even when many luxury brands have adopted touchscreens, Mazda still clings to its controller. The good news is that acquiring the skill to use it isn't difficult. But some functions are not intuitive. For the 2023 model year, Mazda boosted the size of the CX-9's center display screen to 10.25 inches. Some competitive vehicles offer the option of a larger display. The CX-9's system doesn't lack features. It includes Bluetooth, HD radio, a wireless smartphone charging pad, Apple CarPlay, and Android Auto. The CX-9 also offers complimentary Mazda Connected Services for three years and an in-car Wi-Fi hotspot for a three-month trial. Mazda Connect gives owners the ability to monitor the state of their vehicles remotely on their smartphones through the MyMazda app.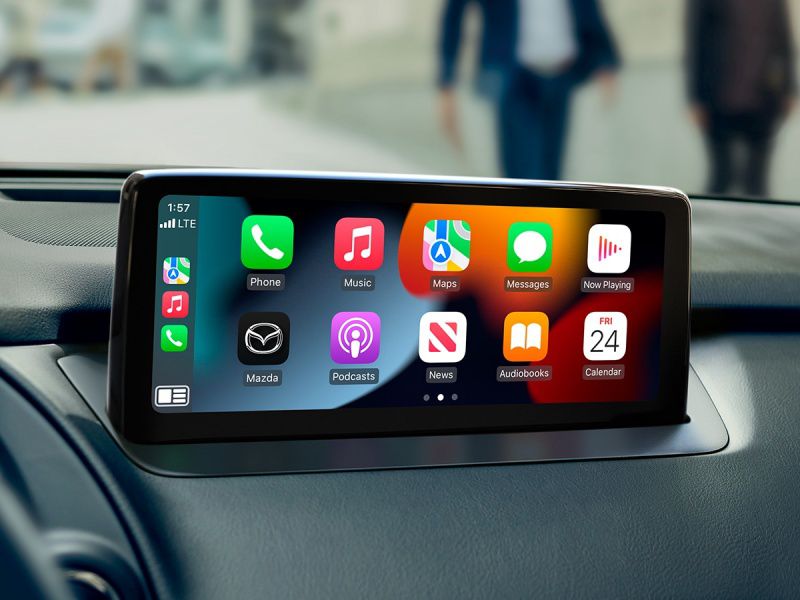 Photo by Mazda
Safety & Driver Aids
The 2023 Mazda CX-9 has a top-notch safety story. Mazda equips every CX-9 with its i-Activsense roster of safety features. Adaptive cruise control with stop and go, lane-departure warning, lane-keeping assist, blind-spot warning, and rear cross-traffic alert are among the group's top features. It also includes forward collision warning with pedestrian detection and automatic emergency braking. This roster of standard safety systems and the Mazda's robust structure enabled it to collect the highest possible safety ratings. It received an overall five-star safety rating from the National Highway Traffic Safety Administration, and the Insurance Institute for Highway Safety named it a Top Safety Pick+.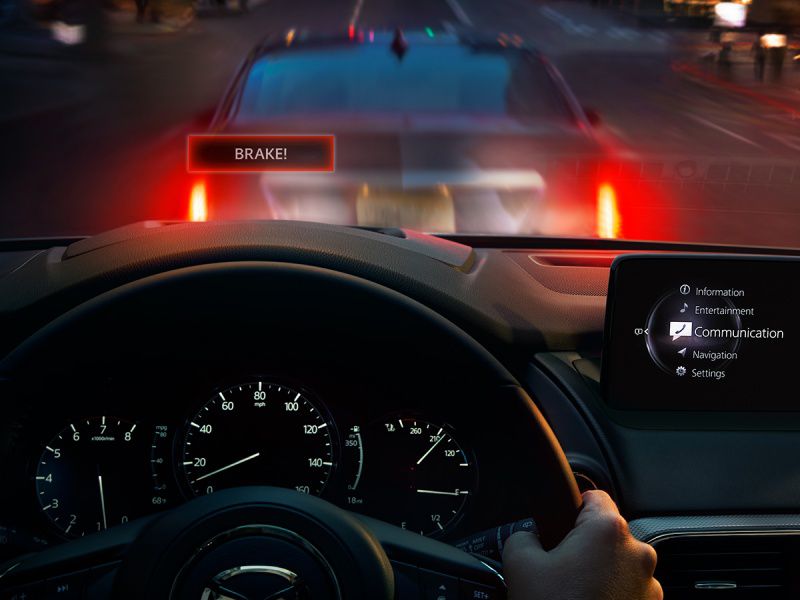 Photo by Mazda
Pricing and Choices
For the 2023 model year, Mazda offers the CX-9 in five trim levels: Touring, Touring Plus, Carbon Edition, Grand Touring, and Signature. All-wheel drive is standard on all models. Though the Touring assumes the position as the "base" model, it isn't equipped like one. At a starting price $38,750 plus a $1,275 destination charge, it has 18-inch alloy wheels, leather upholstery, a power moonroof, and a a power-operated liftgate. The Touring Plus at $41,350 builds on the Touring trim with ventilated front seats, power memory driver's seat, black-finished 20-inch aluminum alloy wheels, black front grille, aluminum roof rails, and a frameless rearview mirror. The $44,830 Carbon Edition has black-out trim, a black grille, 20-inch black alloy wheels, and gray exterior paint. Red leather seats highlight its interior feature set. With a base of $45,690, the luxurious Grand Touring adds silver-finished 20-inch alloy wheels and a surround-view monitor. The top-of-the-line Signature trim, priced at $48,460, features quilted Nappa leather upholstery with contrast piping, aluminum accents, heated second-row captain's chairs with a center console, and rosewood interior trim.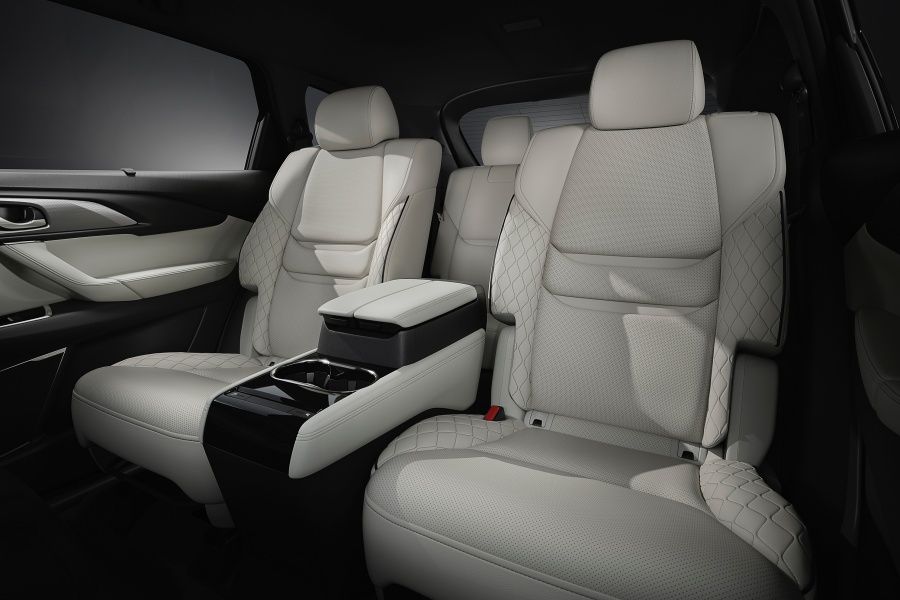 Photo by Mazda
Summing Up
The Mazda CX-9 is a fascinating collection of pluses and minuses that set it apart in the mid-size crossover segment. Among it pluses are its exterior styling, interior design and materials, and fun-to-drive nature. The few negatives are a function of its size. It's somewhat smaller than many vehicles in its class so its passenger and cargo space aren't as ample. Mainstream mid-size three-row crossovers like the Honda Pilot, Hyundai Palisade, and Chevrolet Traverse are roomier. Still, for those who use the third row sparingly or fill it with children, the CX-9 should offer no issues at all. Looking at the Mazda CX-9 from a different angle, it offers a satisfying alternative to a luxury-brand three-row crossover. The CX-9's driving dynamics compares to those of pricier luxury imports, and its interior style doesn't disappoint. On the safety front, no luxury-brand model can top the safety ratings the CX-9 has garnered from NHTSA and IIHS.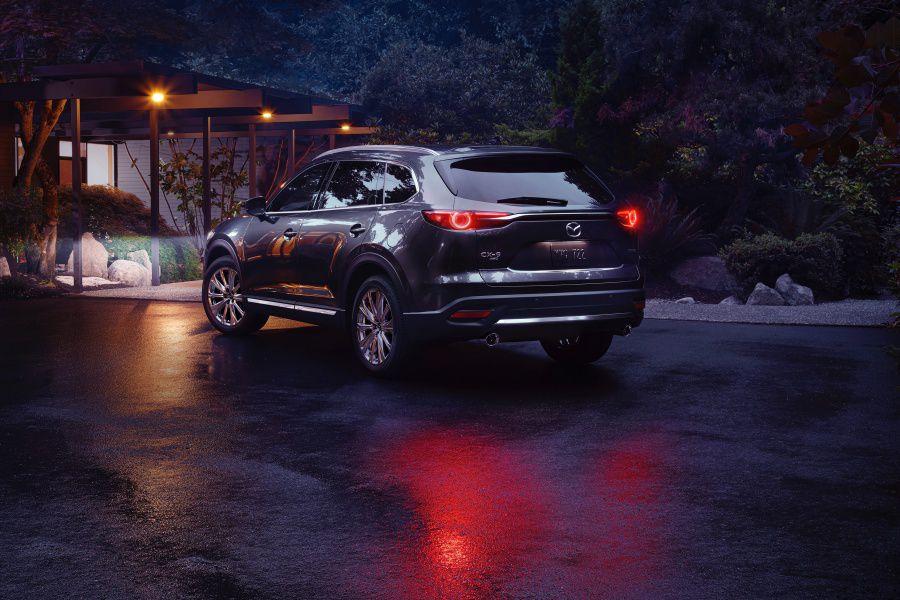 Photo by Mazda