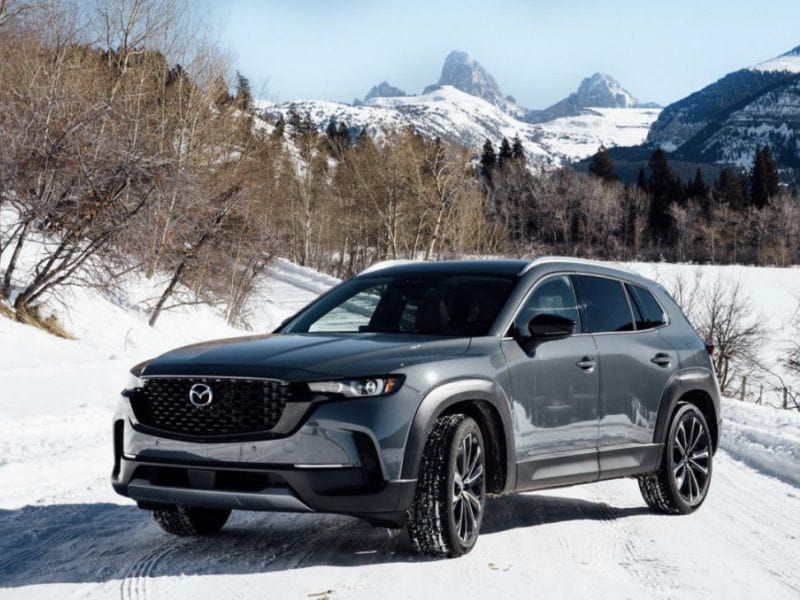 2023 Mazda CX-50 ・ Photo by Mazda
The 2023 Mazda CX-50 is an all-new model. This five-passenger SUV has elegant styling with a beautifully appointed interior. It offers a choice of two engines that includes one that's turbocharged, and it features standard all-wheel drive. It has good cargo room and can manage a bit of off-road adventuring.
The 2022 Toyota RAV4 is a versatile SUV with seating for five passengers. It has good room for cargo with a choice of gas, hybrid, or plug-in hybrid engines. There's also the option for either front-wheel or all-wheel drive for those who live in more wintry climates. There's lots to recommend about both SUVs, so let's take a closer look and see which is the better of the two.
Lots of Trim Choices
The Toyota RAV4 has a range of six trims with both gas, hybrid, and plug-in hybrid engines. Gas-powered trims range from $26,525 to $35,025 with standard features that include a 7.0-inch infotainment touchscreen, Apple CarPlay, and Android Auto. The hybrid is $29,075 to $37,575 while the plug-in hybrid is $39,800 to $43,125.
The Mazda CX-50 counters with 10 trims priced from $26,800 to $41,550. That price range includes the base engine for most of the lineup with the first turbocharge option coming in at $36,400. An 8.8-inch infotainment screen with wireless Apple CarPlay and Android Auto is standard. Pricing is close, but the RAV4 has more variety with its three powertrain options.
: Toyota RAV4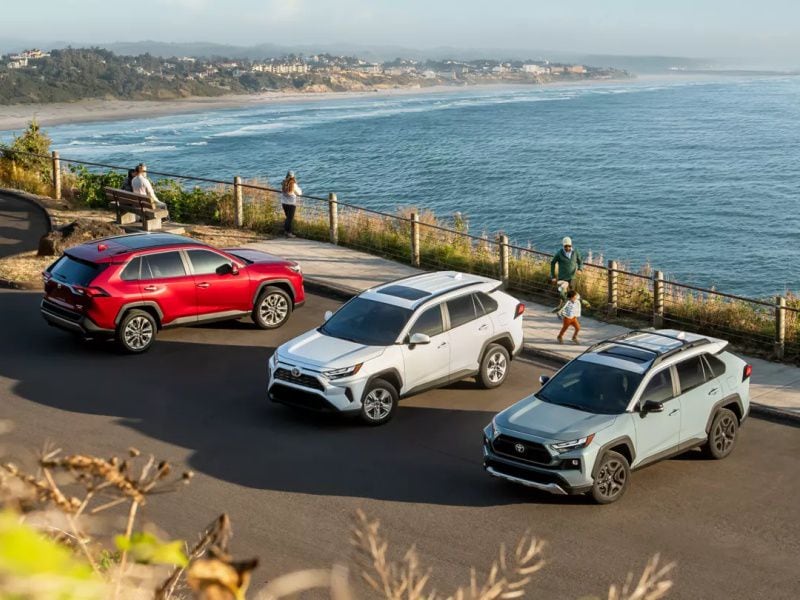 Photo by Toyota
Powerful Engine Options With One Clear Winner
The Toyota RAV4 has a single gas engine option with a 2.5-liter 4-cylinder engine paired to an 8-speed automatic transmission. It delivers 203 horsepower and 184 lb-ft of torque. It's a responsive powertrain that easily gets the RAV4 up to speed, but it isn't especially engaging.
The Mazda CX-50 offers a base 2.5-liter 4-cylinder with 187 horsepower and 186 lb-ft of torque paired to a 6-speed automatic transmission. That's slightly less than the RAV4, but there's another choice. You can also get a 2.5-liter turbocharged 4-cylinder with 256 horsepower and 320 lb-ft of torque. This engine is more aggressive and more fun to drive.
: Mazda CX-50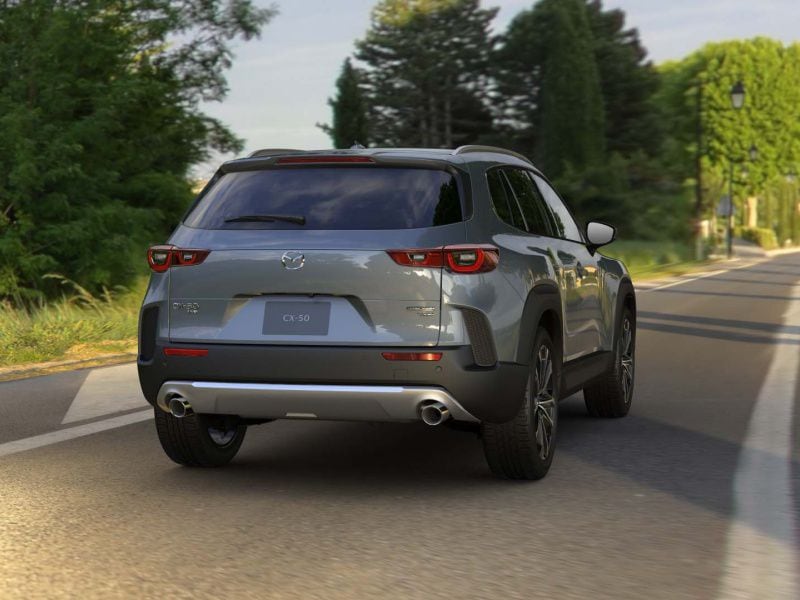 Photo by Mazda
Only One Offers a Hybrid
When it comes to fuel efficiency, hybrid engines are a great way to go. Unfortunately, there's not one at all in the Mazda CX-50. If you're looking for a hybrid, then you need to go with the Toyota RAV4, which offers two options. There's both a regular and plug-in hybrid from which to choose.
Power for the hybrid comes from a 2.5-liter 4-cylinder engine with electric motors for a combined 219 total system horsepower. The plug-in is sold as the RAV4 Prime. It's powered by a uniquely tuned version of the engine in the hybrid and delivers 302 total system horsepower. If hybrid fuel-efficiency is your priority, there's only one choice.
: Toyota RAV4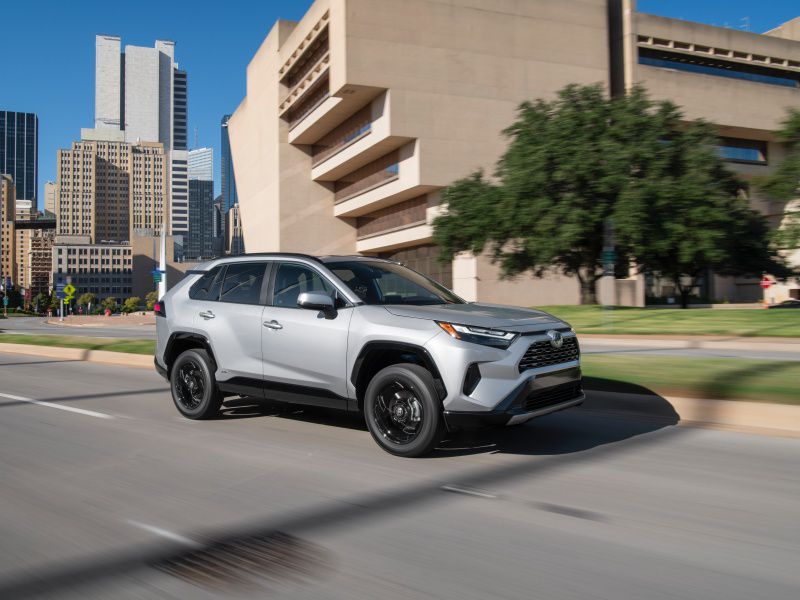 Photo by Toyota
A Passenger-Focused Ride
While an SUV needs to be able to carry cargo, it also has to be an inviting space for people. Both of these SUVs offer seating for five adults. The Toyota RAV4 has a good overall ride quality with minimal road and wind noise. It also does a good job of muting the worst of the bumps in the road and any rough, uneven patches of pavement.
The Mazda CX-50, however, does it a little better. The brand has long been pushing into luxury territory and a large part of that comes from its superior ride. It's composed and quiet so passengers can relax. This makes the CX-50 a great option for long road trips.
: Mazda CX-50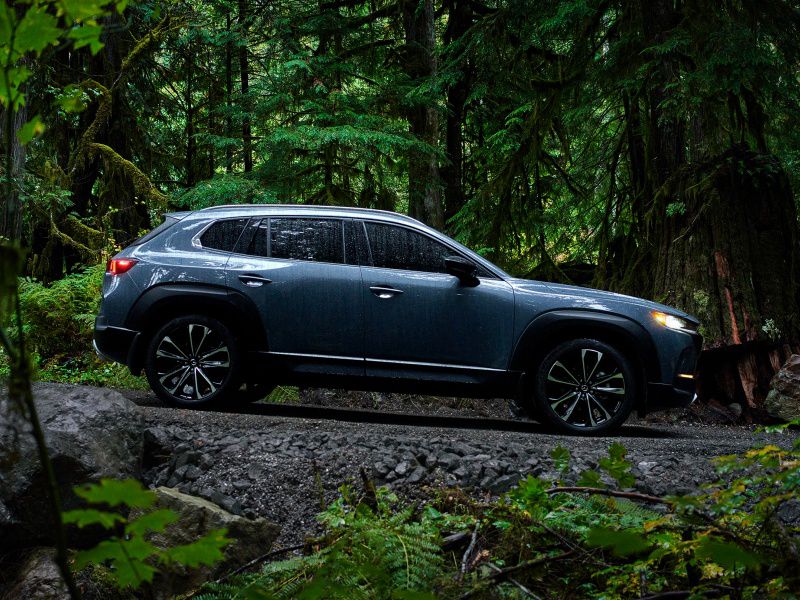 Photo by Mazda
Room for Cargo
If it's cargo rather than people, then there's good room in both of these SUVs. The Mazda CX-50 has 31.4 cubic feet for cargo behind the 60/40 split-folding rear seats. With those seats down, cargo capacity increases to 56.3 cubic feet. It can also tow along 2,000 pounds with the base engine or 3,500 pounds with the turbocharged option.
The Toyota RAV4 has 37.5 cubic feet behind the rear seats with 69.8 cubic feet when those seats are folded. That's a good bit more room for stowing all your stuff. It can also tow up to 3,500 pounds depending on the trim. While both can carry a good bit of cargo, the RAV4 comes out on top.
: Toyota RAV4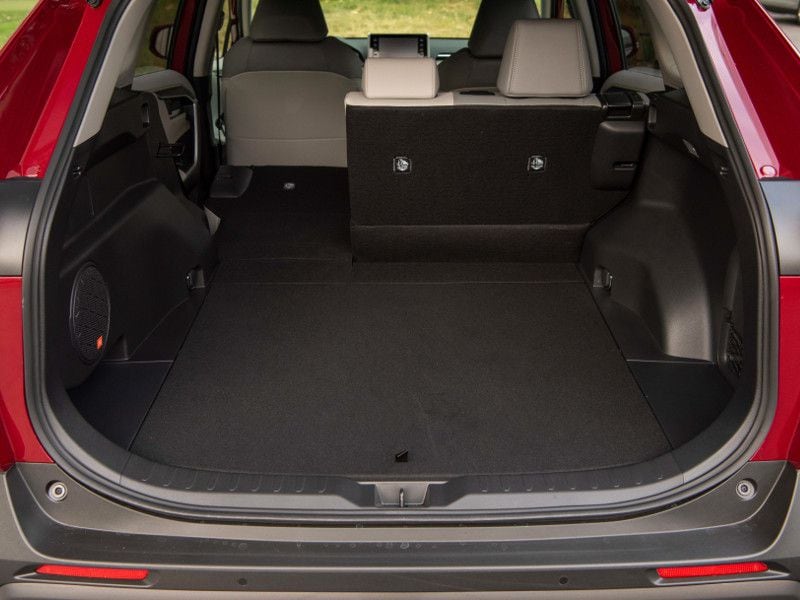 Photo by Toyota
A Luxury Interior Without More Affordable Pricing
The Toyota RAV4 is available in a wide range of trims with varying levels of interior amenities. In its base trims, it's more modestly equipped, which makes it more of a budget-minded option. Moving up through the trim range, it gains features that give it a more upscale look and feel than what you'll find in base trims.
The Mazda CX-50 is more of a premium brand. It's not a straight-up luxury car, but even the base trims of this SUV are refined and attractive. Step up to the top trims with this one, and it's darn close to being a luxury vehicle. That comes at a price that's higher, but one that's still lower than true luxury brands.
: Mazda CX-50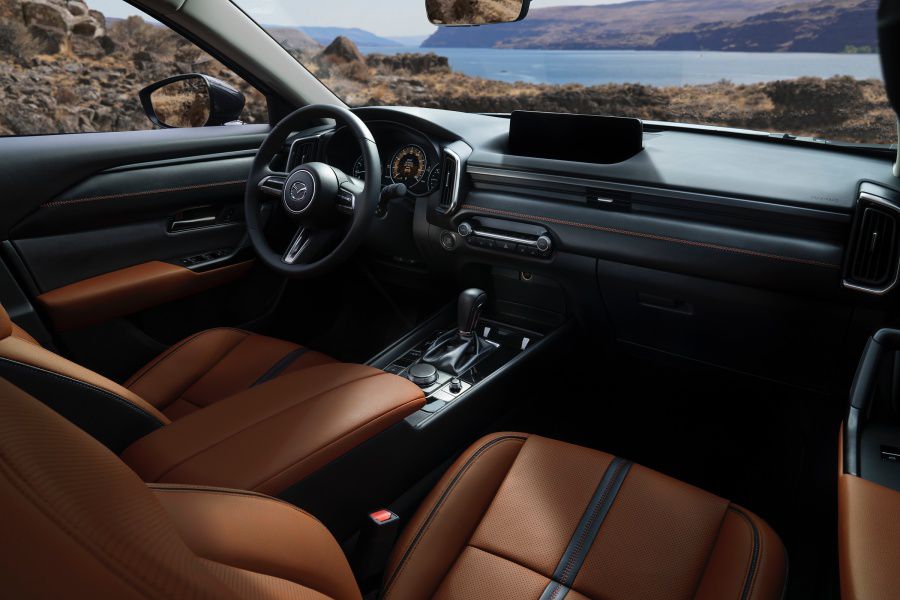 Photo by Mazda
Driving Beyond the Pavement
The CX-50 is something new for Mazda, and not just because it's a new model. It also adds a bit of off-road capability with standard all-wheel drive and an off-road drive mode. This lets you seamlessly move from the pavement to the dirt, but it's not a hardcore off-road vehicle.
Toyota has lots of off-roaders in its lineup, including the RAV4 in the TRD Off-Road trim. It adds heartier off-road elements including a front skid plate, all-weather floor mats, hill start assist, and drive modes that include mud and sand, rock and dirt, or snow.
: Toyota RAV4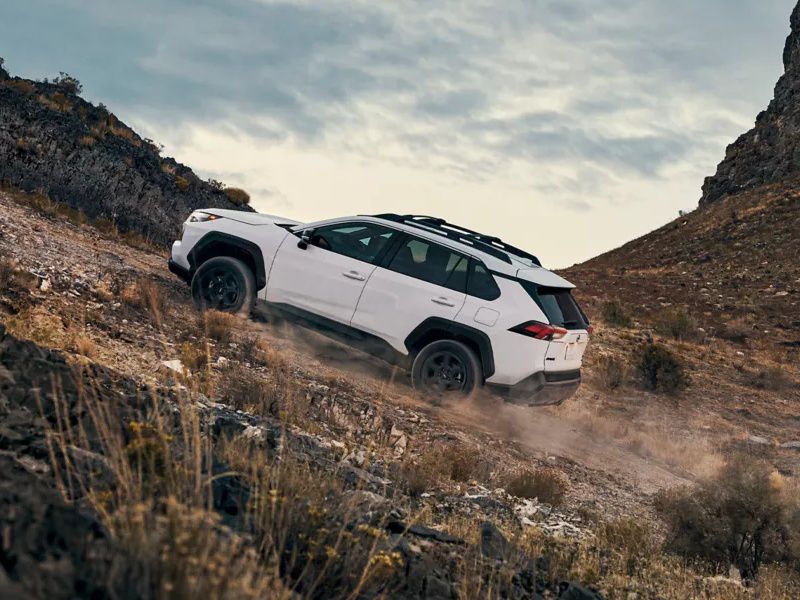 Photo by Toyota
Lots of Standard Safety Features
Safety is a priority, especially when you have the family along for the ride. The Mazda CX-50 has standard advanced smart brake support with pedestrian detection, driver attention alert, blind spot monitoring, lane keep assist, lane departure warning system, and rear cross traffic alert. There's the option for additional features including front and rear parking sensors and rear smart brake support.
The Toyota RAV4 also has a solid suite of standard safety features with a pre-collision system with pedestrian detection, lane departure alert with steering assist, lane tracing assist, automatic high beams, full-speed dynamic radar cruise control, and road sign assist. It also offers a blind spot monitor with rear cross-traffic alert, but not as a standard feature.
: Mazda CX-50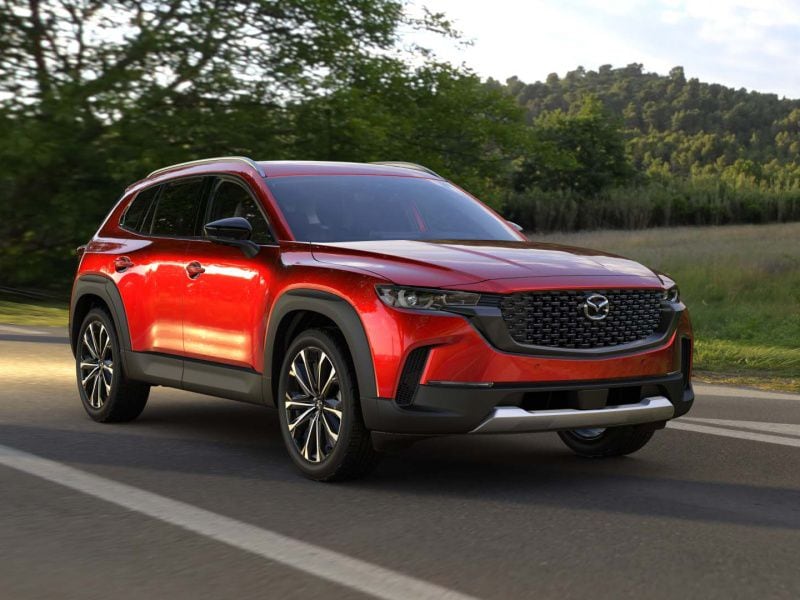 Photo by Mazda
If You Prefer a Touchscreen…
The RAV4 has either a 7.0-inch or 8.0-inch touchscreen depending on the trim level. Standard features include Apple CarPlay, Android Auto, and a 6-speaker audio system. Available upgrades include an 11-speaker JBL premium audio system.
The CX-50 gets a standard 8.8-inch screen on the base trim with a 10.25-inch screen for the rest of the lineup. It has wireless Apple CarPlay and Android Auto and an 8-speaker audio system is standard. A 12-speaker Bose audio system is available. The screen only functions as a touchscreen when using Apple CarPlay and Android Auto, which is a drawback.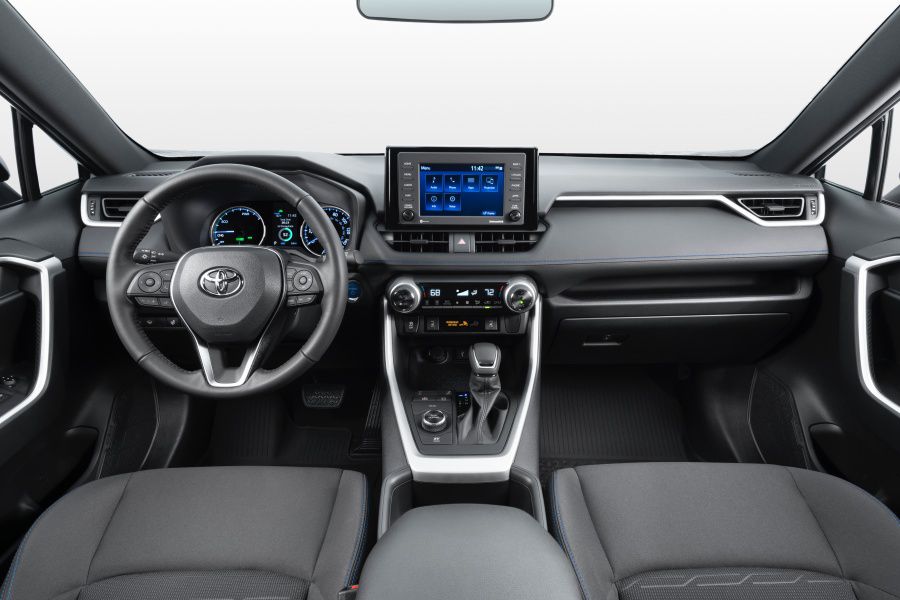 Photo by Toyota
And the Winner Is…
The Mazda CX-50 is a compelling new entry that adds capability to the Mazda lineup. It comes in a wide range of trims with responsive gas engines, and it has a smooth, refined ride. It also delivers confident handling with all the trappings of an upscale brand.
The Toyota RAV4, however, comes out ahead for its better infotainment and greater cargo capacity. It also offers both hybrid and plug-in hybrid powertrains that help make it a more affordable option, especially as gas prices rise.
: Toyota RAV4
Photo by Toyota