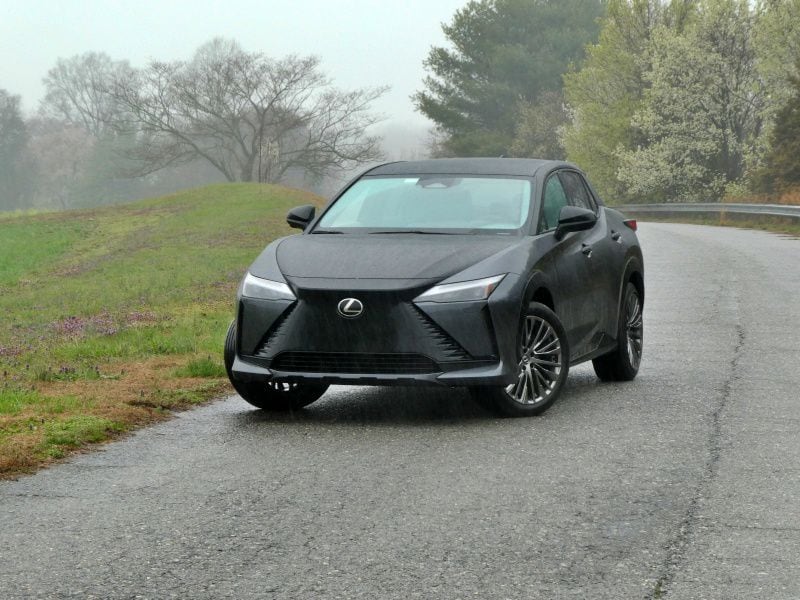 2023 Lexus RZ 450e ・ Photo by Brady Holt
For years, the best-selling luxury SUV was the Lexus RX — a quiet, comfortable mid-size crossover. But these days, the runaway sales leader is the Tesla Model Y, which has overturned the segment with its all-electric performance, efficiency, and technology. 
Lexus has sold gas-electric hybrids for nearly two decades. But its first fully electric car is the all-new 2023 Lexus RZ 450e, a crossover that's about the same size as the RX and Model Y and is rated to travel up to 220 miles on an electric charge. We just spent a week testing the brand-new RZ 450e to see Lexus's take on what an electric vehicle should be, and whether it's an EV you'll want to take home. Keep reading as we dive into its pros and cons. 
What It Costs
The RZ 450e is a luxury suv. It starts at $58,500 for the base Premium trim level, and the Luxury model like our test vehicle starts at $64,000. And unlike the rival Tesla Model Y and Cadillac Lyriq, RZ buyers don't qualify for any federal tax incentives (which now favor U.S.-built EVs and batteries). 
Even the Premium doesn't feel like a base model, though. Its synthetic-leather front seats are heated and ventilated, and there's also a heated steering wheel, adaptive cruise control, a panoramic sunroof, a 10-speaker stereo, a hands-free power liftgate, and the ability to use your smartphone as a car key. Upgrading to the Luxury buys you suede upholstery, radiant heaters that more quickly warm up front-seat occupants' knees and feet, heated rear seats, a 13-speaker Mark Levinson sound system, a head-up display, and more sophisticated versions of the Premium model's adaptive cruise control and lane-keeping steering. It also buys bigger 20-inch wheels, which (as we'll discuss on the next page) aren't necessarily an asset. Overall, these aren't unreasonable prices for a well-equipped luxury SUV. Even a Lexus RX 500h hybrid costs $61,600. Still, some rivals cost less.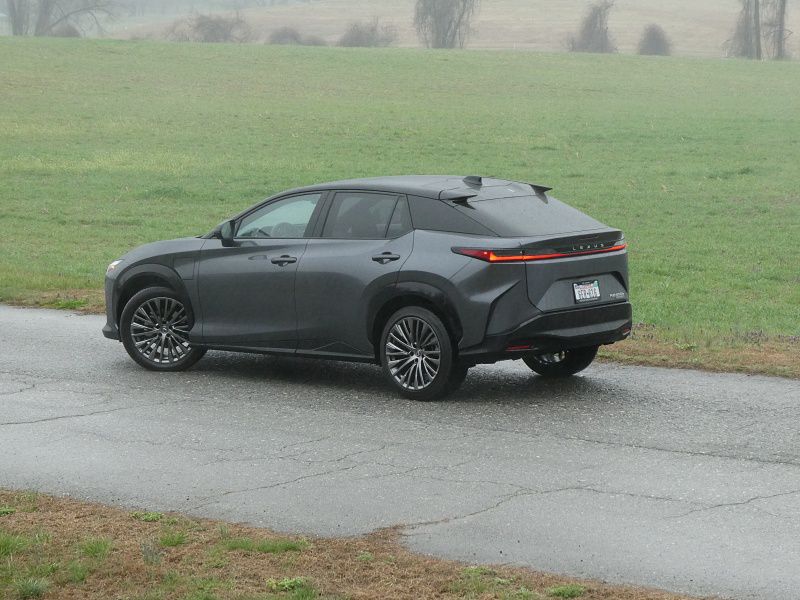 Photo by Brady Holt
How Far It Goes
One of the first questions many people ask about an electric car is "how far can it go?" Based on EPA estimates, a fully charged RZ 450e can go 220 miles on its base 18-inch wheels and 196 miles on the Luxury model's 20-inch wheels. That's plenty for everyday commuting and short road trips, but it trails most modern EVs. 
Our test vehicle's pessimistic trip computer also contributed to range anxiety. It estimated that our RZ 450e Luxury had a mere 133 miles of range on a nearly full battery (oddly, the car won't tell you an exact charge level). When we plugged into a charging station that reported a 46% charge, the car insisted it could only make it another 64 miles. However, with a mix of the climate system on and off in mild early-spring weather, it had taken us 71 miles to erase our first projected 57 miles of range. At another point, we needed 93 miles to drop the computer's remaining-range estimate by 36 miles. It takes 9.5 hours to fully replenish an empty battery on a 240-volt car charger, and it can reach 80% in as little as 30 minutes on a powerful fast-charging station.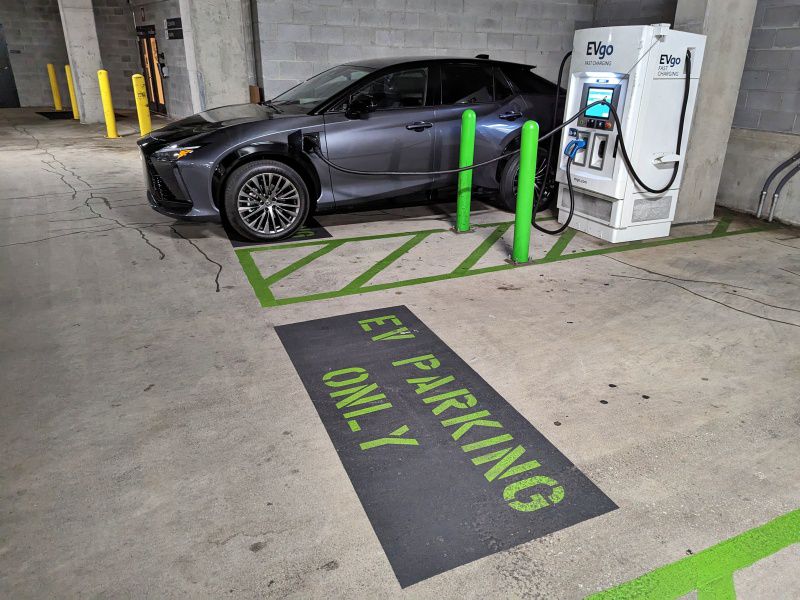 Photo by Brady Holt
Low and Sleek
Toyota's first purpose-built EV was the RZ 450e's mechanical cousin, the bZ4x. This car looks quirky inside and out. To create a luxury version, Lexus applied its family styling to the same long-nose, low-roof body. 
A familiar Lexus hourglass grille sits between the crisply angular headlights (though this grille is purely decorative, with no engine that needs cooling). And the neatly sculpted tail features a slim lightbar. Aside from a charging port on the driver-side front fender, the RZ 450e could have been any Lexus suv — not necessarily a wave-of-the-future electric vehicle. That was intentional, and we think many buyers will appreciate that decision. At the same time, unlike a Volvo XC40 Recharge or Genesis Electrified GV70, every RZ 450e is an electric car. It shares family styling cues with gas-powered Lexuses, but none of its sheetmetal.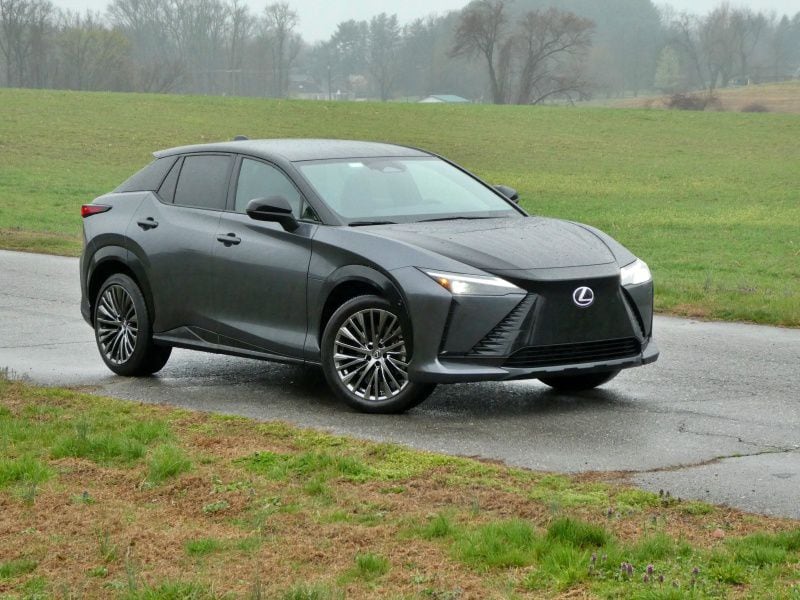 Photo by Brady Holt
Poshly Finished Interior
A common complaint about many EVs, particularly high-end models, is that their controls prioritize flashy modernity over everyday ease of use. Instead, the RZ 450e's dashboard could be any current-model Lexus suv's. It's richly finished and cleanly assembled, making a Tesla feel bare-bones in comparison. 
This conventionality also means you start the car by pressing a button, operate the headlights and windshield wipers via ordinary stalks, and turn knobs to adjust the audio volume and cabin temperature. The RZ has a big 14-inch touchscreen, but it's the same one you'll find in the Lexus NX and RX. One difference is an upcoming "yoke" that can optionally replace the steering wheel, but a traditional round wheel will remain an option. Now, we wouldn't say the RZ's controls are effortlessly easy. Lexus wastes space on the big screen, makes too many climate functions touch-only, and has fussy reconfigurable steering-wheel-control functions. Even the door latches and locks are fussy. But that's nothing EV-specific, and it's less extreme than the "look how different" attitude you'll find in a Tesla.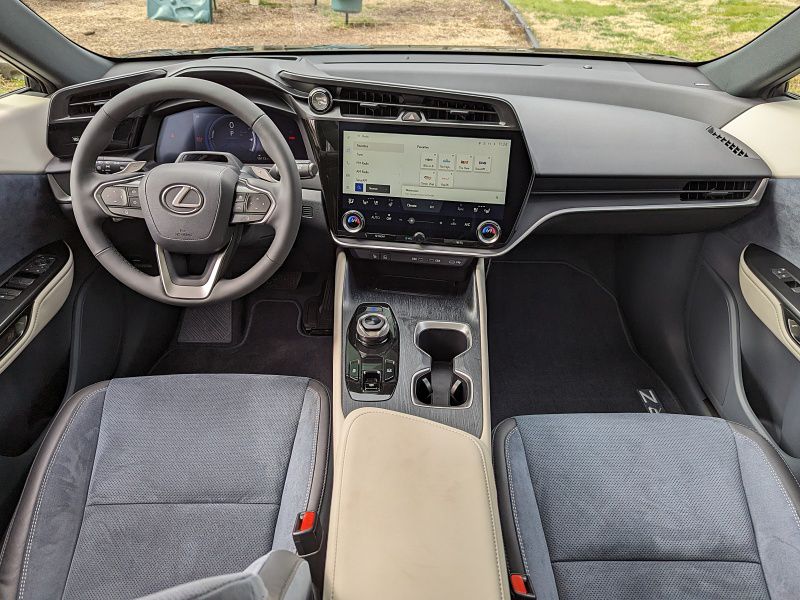 Photo by Brady Holt
Roomy and Comfortable
The RZ has a lower seating position than some SUVs, but it's still a roomy and comfortable vehicle with plenty of space to stretch out in the front and rear seats. A flat floor makes it easier to fit a third passenger in the back, too. 
For cargo, the RZ has up to 35 cubic feet of room behind its rear seat and 55 cubic feet with the rear seat folded (depending on how you measure its capacity). That's not the roomiest mid-size SUV out there, but it's more space than you get in a Lexus RX. We fit luggage for a family of four behind the rear seat without blocking the back windshield. And even if we had covered up the glass, the optional rearview camera mirror would have given us an unimpeded look at the traffic behind us. Also, when you need to carry bulkier items, the cargo cover can fold up and stow under the cargo floor. There is no front trunk (or "frunk"), though, like you'd find in a few EVs.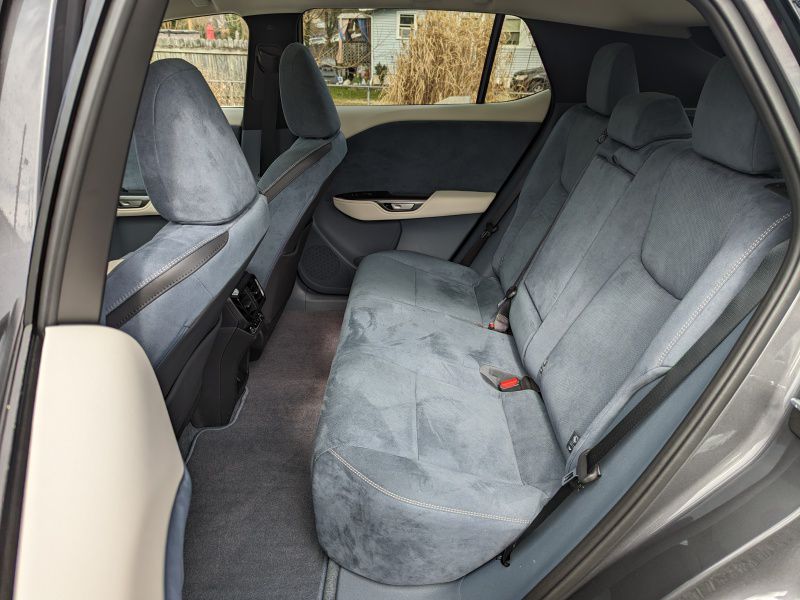 Photo by Brady Holt
Smooth Drive
Many modern EVs are optimized for sporty performance. The RZ 450e, meanwhile, prioritizes Lexus's normal focus on smooth comfort and quietness. Especially with the Luxury model's acoustic window glass, this is an effortless and comfortable luxury suv to drive. 
Even compared with a regular Lexus, the RZ 450e glides smoothly and near-silently down the road. You'll never hear a laboring engine, and the heavy electric battery gives the SUV a comforting solidity. The suspension soaks up bumps smoothly, yet its low center of gravity (that big battery under the floor) gives it a measure of agility, too. Even the accelerator and brakes feel natural and easy. Overall, the RZ 450e's driving experience epitomizes the Lexus ideal of prioritizing comfort without being overly soft and dull.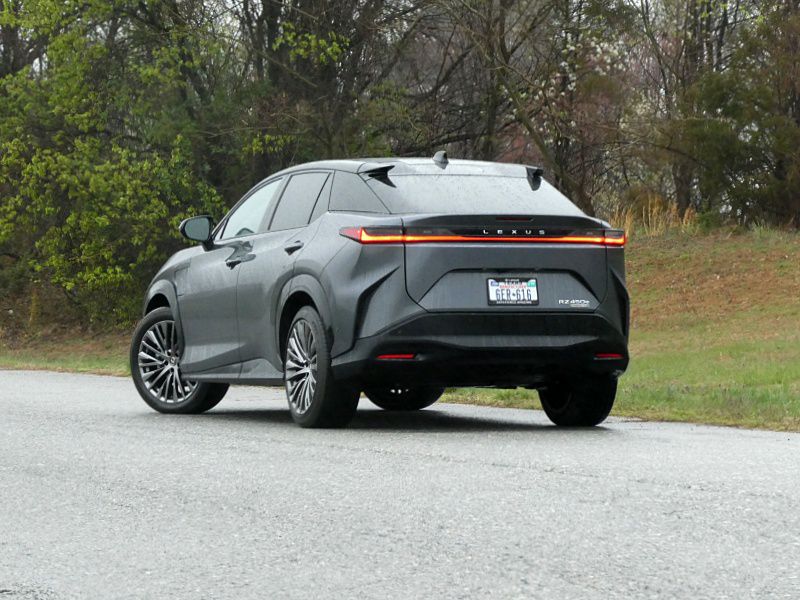 Photo by Brady Holt
Speedy Yet Efficient
One area where the RZ 450e keeps up with the competition is straight-line speed. It comes standard with a 308-horsepower electric powertrain, which can whisk the RZ 450e to 60 mph in just 5 seconds. Its speed is smooth and linear rather than whip-your-neck ferocious, and Lexus doesn't follow Tesla and some other brands in creating an ultra-high-performance model. But this is still respectable acceleration for an EV, and it's enough to outpace any other Lexus suv. It's also significantly quicker than its Toyota bZ4x cousin, which tops out at 214 horsepower. 
All the while, the RZ 450e beats most competitors' efficiency. In EPA testing, it gets the energy equivalent of 115 mpg in the city, 98 mpg on the highway, and 107 mpg combined with the base 18-inch wheels. With the 20-inch wheels, it dips by about 12 MPGe. That's better efficiency than nearly any other luxury-brand rival except for a low-power version of the Audi Q4 e-Tron. However, the exception is a big one: the 122 MPGe Tesla Model Y.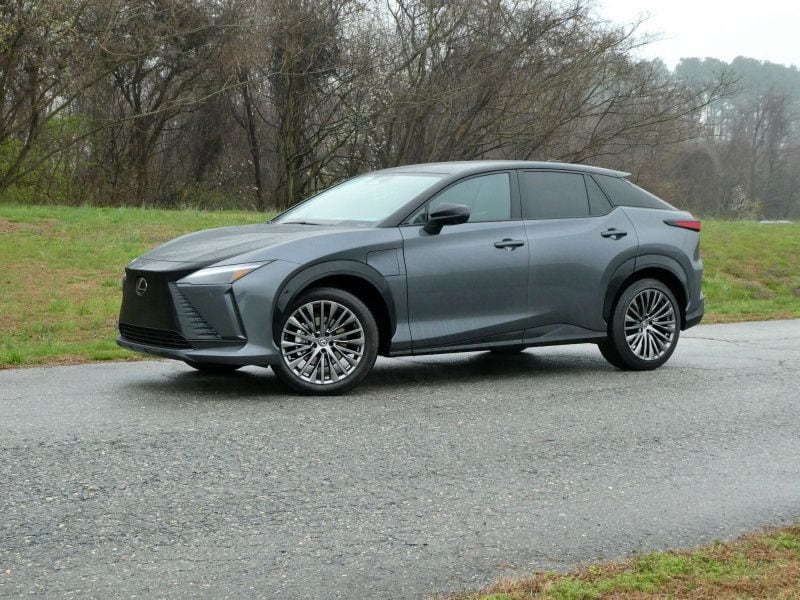 Photo by Brady Holt
Competitors to Consider
We'd name the RZ 450e's top electric rivals as the Tesla Model Y, Cadillac Lyriq, and Genesis GV60 and Electrified GV70, along with the mainstream-brand Nissan Ariya, Ford Mustang Mach-E, Hyundai Ioniq, and Kia EV6. 
The Lexus has richer interior materials and a smoother, quieter ride than most of these other EVs, along with above-average energy usage. However, they all trump its range, and all but the Genesis models cost less when factoring in federal tax credits (which are available on the Tesla, Cadillac, and Ford). Most of these other EVs also have nicely finished interiors and smooth, quiet rides, too, even if the Lexus does even better. The Tesla is the least opulent and least comfortable of our group, which it offsets with an unassailable combination of range, efficiency, speed, spaciousness, and value for the money.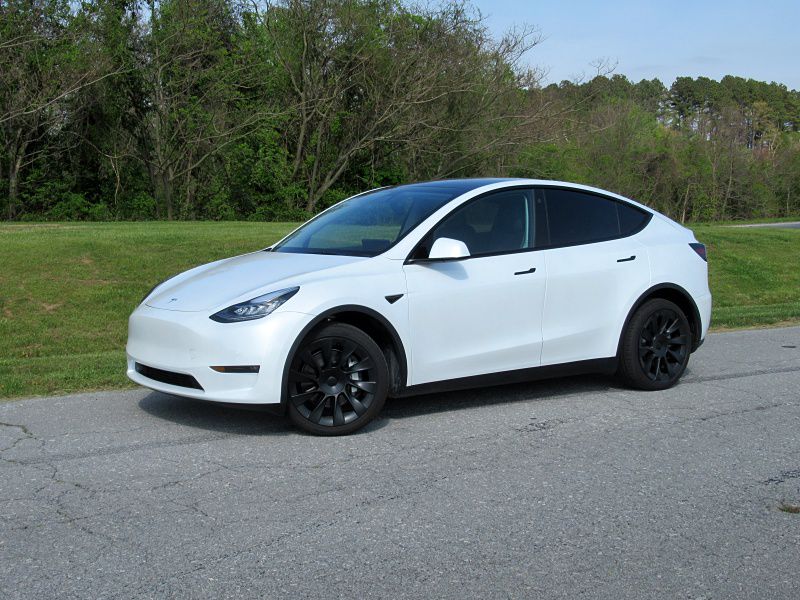 Photo by Brady Holt
Not a Better EV, But a Better Lexus
If you set out to buy an electric SUV, you'd likely bring home something other than a 2023 Lexus RZ 450e. We found it a pleasant, comfortable, and useful vehicle to tool around in, but it's hard to excuse its limited range at this price point. 
On the other hand, if you love Lexus's style and comfort yet are ready to switch to an EV, the RZ 450e is a natural starting point. It takes everything that people like about a Lexus RX, then makes it better in every way except a limited range per charge. It's quicker, quieter, more agile, roomier, and more economical. And while we found various parts of its interior frustrating, it shares those drawbacks with other Lexuses anyway. If you're looking for a comfortable, posh EV that doesn't look like a spaceship, the RZ 450e is worth your attention if you won't take it on many long trips.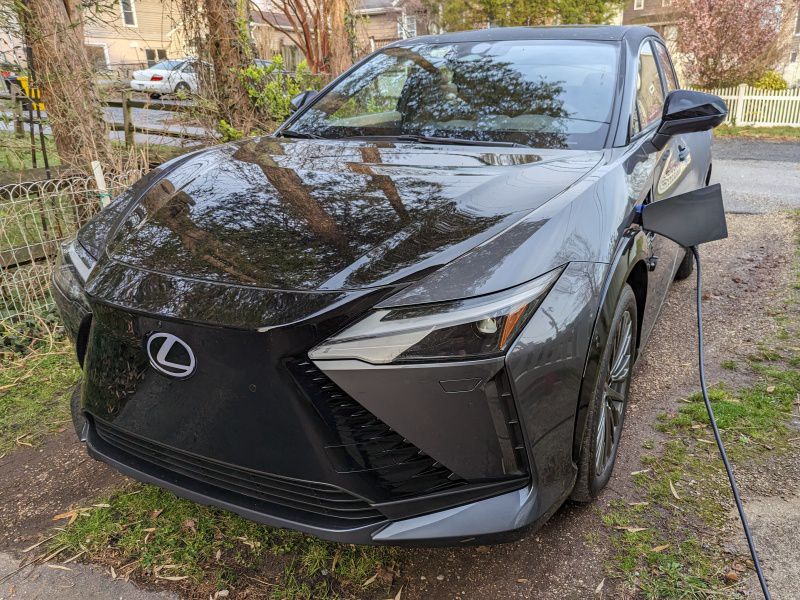 Photo by Brady Holt