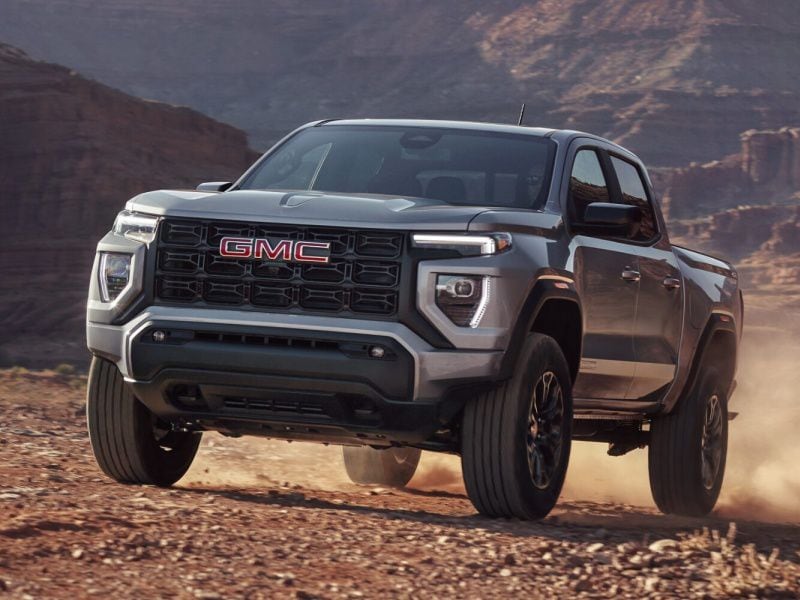 2023 GMC Canyon ・ Photo by GMC
The 2023 GMC Canyon is a mid-size truck that's all-new this year. It was completely redesigned with a new look inside and out, a more powerful turbocharged engine, and lots of new features. This model year introduces an off-road ready AT4X trim that offers impressive capability. There's also the luxurious Denali for those who want a more upscale truck experience.
The Canyon has a large infotainment screen with wireless smartphone connectivity and great standard safety along with plenty of premium features. There's a lot to like about this mid-size truck. Let's take a closer look at the all-new 2023 GMC Canyon to see if it's the right truck for your needs.
Impressive Off-Road capability With New AT4X
The existing AT4 trim, which targets off-road enthusiasts, is joined by an even more robust offering in the AT4X. Both can manage tough terrain, but if off-roading is a priority, then the AT4X is the trim for you. It has a 3-inch factory lift that increases ground clearance to 10.7 inches, which is the highest clearance in the lineup. This also gives it a 36.9-degree approach angle to further improve its capability. Skid plates, electronic locking front and rear differentials, and a Baja mode for high-speed off-road driving complete the package.
We had the chance to take the AT4X off-road on a challenging course in Asheville, North Carolina. The hills were steep and the mud was deep, but the Canyon handled it without complaint. It easily climbed its way out of the mud and proved that it's a great choice for those who plan to push to the extreme when off-roading.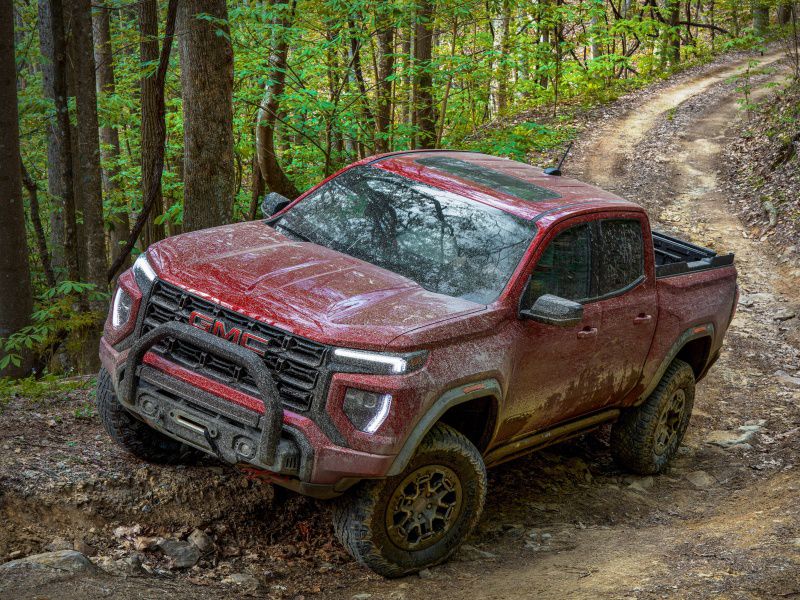 Photo by GMC
Luxury in Every Trim, but Especially the Denali
Though not a luxury brand, GMC is a premium brand, so the full Canyon lineup is nicely equipped. Even the base Elevation trim has standard features including a bedliner, cargo area lighting, an 11.3-inch infotainment touchscreen, an 8-inch digital instrument cluster, and multiple USB ports. Materials are high-quality and eye-catching to create a welcoming space.
Amenities increase as you move up the trim range. The Denali badge is used on the most premium trims in the GMC lineup, and the Canyon is no exception. While every trim is attractive and nicely equipped with good standard features, the Denali takes it a step further with 20-inch diamond cut wheels, 5-inch chrome Denali assist steps, MultiStow tailgate, 6.3-inch head-up display, 8-way power driver's seat, 6-way power front passenger seat, and premium leather seating surfaces. No matter which trim you choose, the Canyon delivers an upscale truck experience.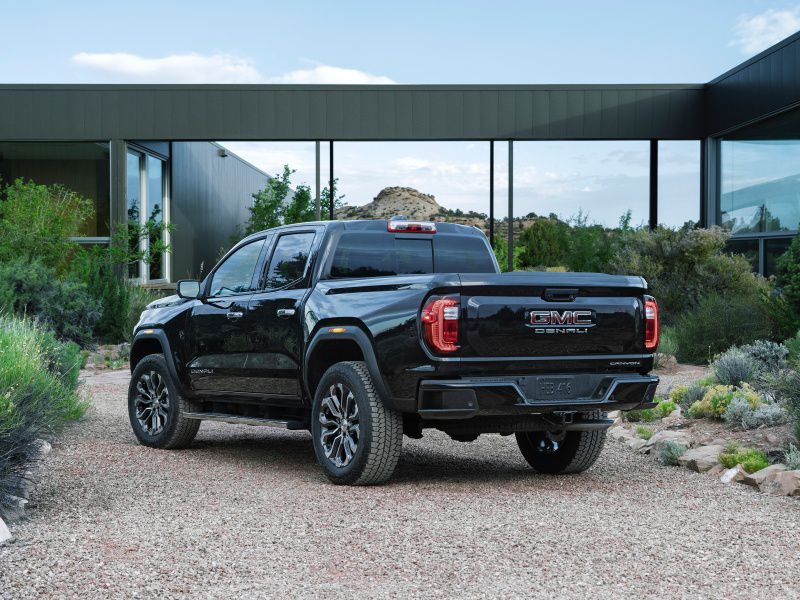 Photo by GMC
Infotainment Has a Large Touchscreen and Good Smartphone Connectivity
The premium experience of the GMC Canyon includes the infotainment system. Rather than having a smaller touchscreen on base trims, the full lineup has a large 11.3-inch touchscreen. Standard features include wireless Apple CarPlay and Android Auto, 6-speaker audio, two front USB ports, and two rear USB ports. Options include a 7-speaker Bose premium audio system and wireless smartphone charging.
The touchscreen is mounted horizontally on the dashboard and fits with the interior rather than dominating it like some of the massive vertical screens in other trucks. It's within easy reach of both the driver and passenger, graphics are crisp, and the screen is responsive. GMC makes full use of this screen, even showing a unique image for each drive mode as you spin the dial on the center console. It also displays technical off-road information that helps make driving over challenging terrain easier.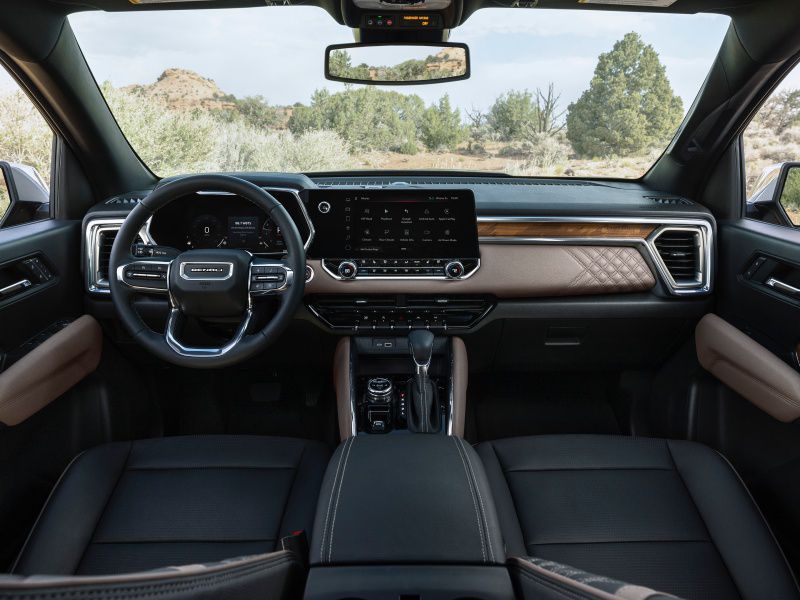 Photo by GMC
It's Ready to Get Work Done
This year, GMC simplified the lineup so there's only a crew cab and a short bed offered. It has maximum payload ratings from 1,010 to 1,640 depending on the trim you choose. There are also plenty of tie downs in the bed, so it's easy to secure cargo. Figures for towing run from 5,500 pounds for the ATX4 Edition 1 at the low end and up to 7,700 pounds for the Elevation, AT4, and Denali when properly equipped.
Standard on the Canyon is hitch guidance. It displays a guideline on the rearview camera whenever you're in reverse so it's easier to lineup the hitch with the trailer. It even uses that same camera to let you briefly check the trailer while driving. There's also a hitch view that gives a close-up look at the connection point and an available trailering app with additional features to make connecting a trailer easier.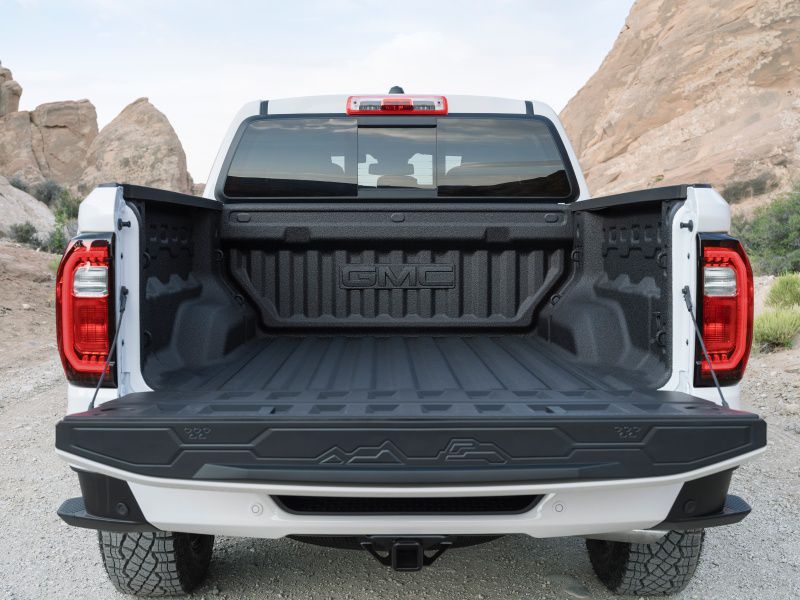 Photo by GMC
Only One Engine Option
In addition to offering only one cab and bed configuration, the GMC Canyon now offers only one engine. Power for this truck comes from a 2.7-liter turbocharged 4-cylinder with 310 horsepower and 430 lb-ft of torque. That's a solid horsepower figure and an impressive amount of torque. It makes it easier to tow a trailer and, as we discovered driving the AT4X off-road, makes powering through challenging terrain effortless.
There's no hesitation getting the Canyon up to speed although under hard acceleration there is a good bit of engine noise. It's not intrusive, but you will hear the engine working. Noise aside, it had no trouble merging into heavy highway traffic and was still easily able to pass slower vehicles. It's a responsive truck that delivers plenty of power when you hit the gas.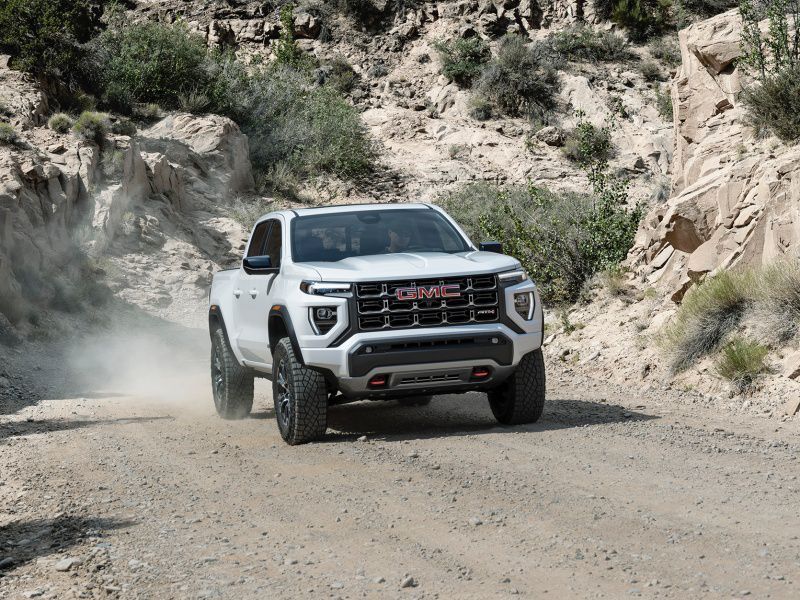 Photo by GMC
A Smooth Ride With Good Handling
The ride in the Canyon is surprisingly smooth. This is a truck, after all, and trucks aren't known for having great road manners. Especially when the bed is empty, they can be bouncy over rough surfaces, making them uncomfortable for passengers and difficult to control. The GMC Canyon, however, had quite good road manners with a smooth ride. Even over rough road surfaces, it maintained its composure.
It's also well-mannered off-road, delivering excellent control climbing up steep, rocky slopes. Driving on dirt is never as smooth as driving on pavement, but the suspension in the AT4X did a fantastic job of absorbing much of the roughness of off-road driving. A day of adventuring in the dirt won't leave the driver exhausted nor will it have passengers looking forward to a break.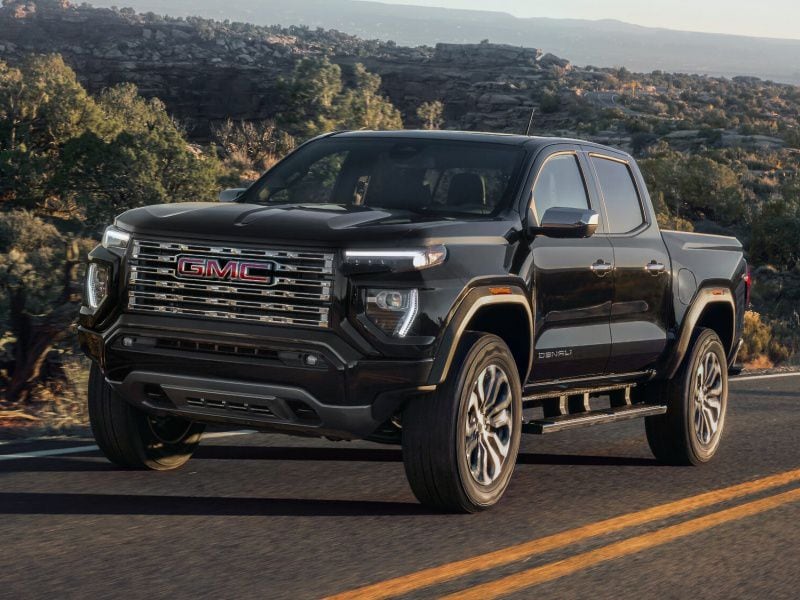 Photo by GMC
Drive Modes for Every Situation
There is a choice of five drive modes on the GMC Canyon. Each tailors the drive to current road conditions, adjusting throttle response and braking to provide you with the best possible control. Terrain Mode is for use during low-speed off-roading and rock crawling, while Off-Road Mode handles less technical surfaces. There's a Normal Mode for everyday driving, and a Tow/Haul Mode that makes it easier to tow a trailer.
The last option is Baja Mode, which is available only on the AT4X trim. This one is for use during high-speed off-road driving and is ideal for those who spend lots of time driving fast through the desert. No matter the kind of driving you're doing or the terrain you plan to tackle, the Canyon has the perfect drive mode for the moment.
Photo by GMC
Lots of Standard Safety Features
The 2023 GMC Canyon has lots of standard safety features to help keep you safe on road or off. These include automatic emergency braking, automatic high beams, front pedestrian and bicyclist detection, lane departure warning, lane keep assist, and forward collision warning. No matter which works for you, even the base Elevation, these features are standard.
There are additional features that are available through one of several optional packages. These include rear cross-traffic braking, blind-spot steering assist, rear pedestrian alert, adaptive cruise control, and HD surround vision. In addition, there are up to 10 available camera views that show views all around your truck — even under it — to make off-roading safer and easier. And since off-roading is messy, there are washers to automatically spray the dirt off the camera below the truck. It's a comprehensive offering that provides good standard safety with a nice array of available extras.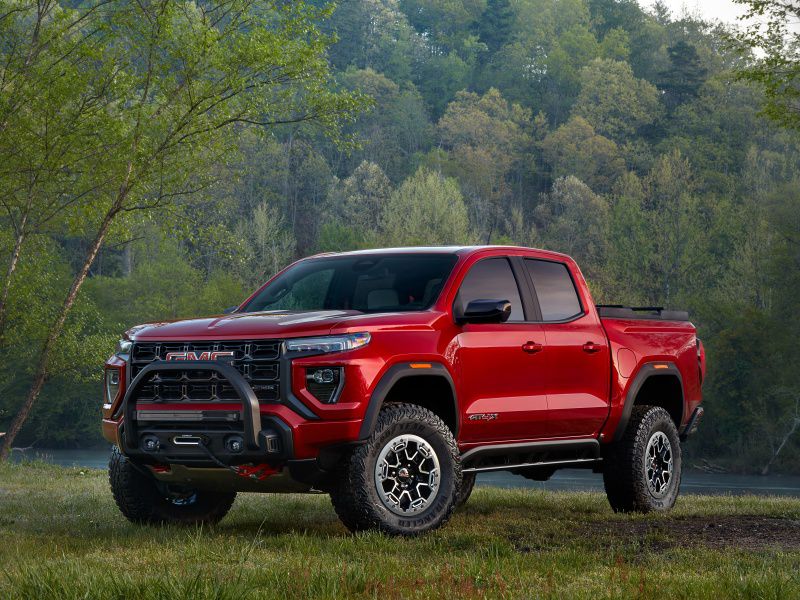 Photo by GMC
Final Thoughts
The 2023 GMC Canyon receives a thorough update that touches every part of this mid-size truck. It gets a new look with a sleek interior featuring upgraded materials for a more premium experience. While you can go off road in most any trim, the new AT4X provides the rugged capability that hardcore off-roaders crave. It's capable, and it looks good with striking red and white interior accents.
There's a powerful engine that easily gets the Canyon up to speed, along with great handling. Whether you're driving winding country roads or scaling muddy, rocky hillsides, there's plenty of power. There's also plenty of power to tow a trailer and good standard safety. Starting at about $40,000, the 2023 GMC Canyon is a great mid-size truck with good capability and a long list of standard features.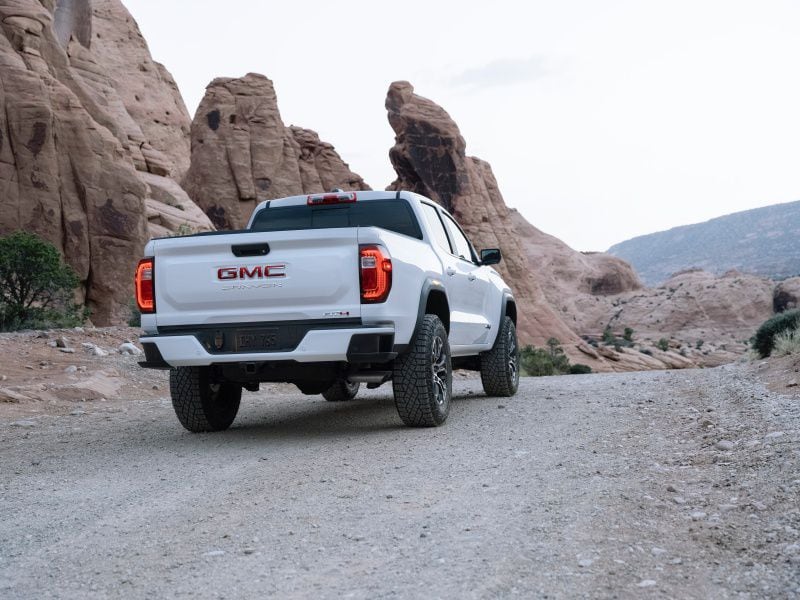 Photo by GMC