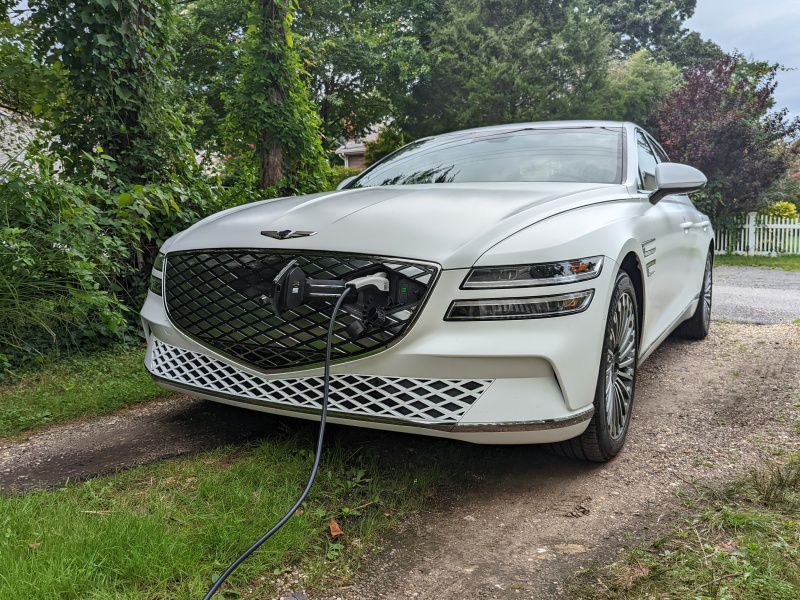 2023 Genesis Electrified G80 ・ Photo by Brady Holt
Tesla dominates the luxury electric-vehicle segment. Mercedes-Benz and BMW are ramping up their efforts to compete, as are the new Lucid and Polestar brands. And into that mix, Hyundai has swapped out the gas engine in its Genesis G80 mid-size luxury sedan to create the all-new 2023 Genesis Electrified G80. 
Automakers have trended away from EV versions of gas-powered cars, but based on a weeklong test of the Electrified G80, it's ready to join the ranks of the top electric luxury sedans. Fast, quiet, loaded with features, and packed with space, it's equal parts speedy, serene, and eco-friendly. Pricing and range per charge aren't officially finalized yet, and the market for a big, stately electric sedan is bound to be limited. Still, we enjoyed our time with the Electrified G80, and it's an especially great option if you want your EV to look and feel like a conventional luxury car. Keep reading as we share more about this new electric option. 
Hidden Electrification
The current-generation Genesis G80 debuted as a 2021 model, bringing fresh styling and a crisper driving experience to the Korean luxury brand's mid-level sedan. Every G80 wears vertically stacked headlights and taillights and a big, shiny, upright grille. A long hood and a graceful roofline that slopes toward the rear of the car make the G80 look big and imposing, though it's actually about the same size as a Tesla Model S or Mercedes-Benz E-Class. 
Nothing about the Electrified G80 screams "I'm electric," following the BMW playbook more than the Mercedes or Tesla approach. The design differences between the gas-only G80 are subtle: the diamond-patterned grille is a flat surface that hides a charging port on one side, and exhaust pipes disappear from the rear bumper. If you are looking for a conventionally attractive big luxury sedan — rather than a car-of-the-future aerodynamic pod like a Mercedes EQ model or a Tesla — the G80 is your EV. On the other hand, if you want to look and feel like you're driving the future, it's too subtle. There isn't even a badge to indicate it's electric.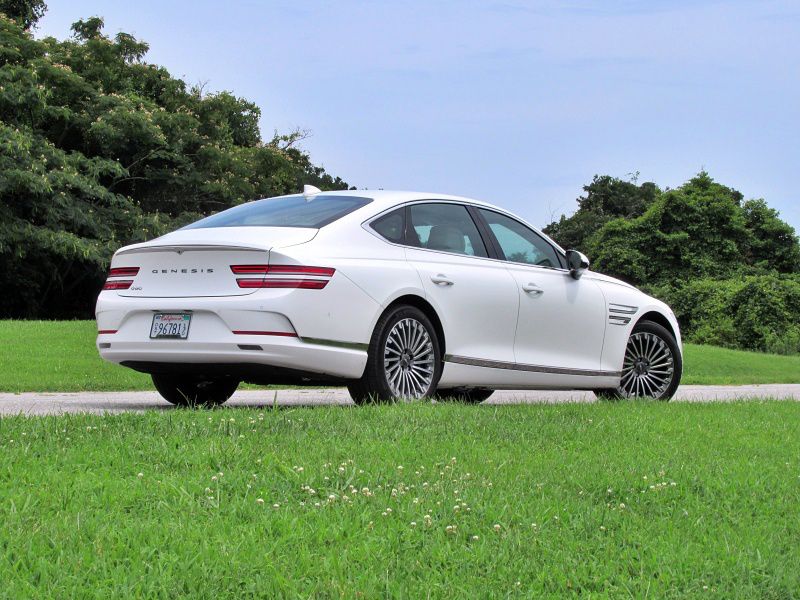 Photo by Brady Holt
Conservative Range Estimate
Genesis estimates that the Electrified G80 can travel 282 miles per charge. That's plenty for ordinary commuting, and extra-fast charging — 10 percent to 80 percent in just 22 minutes on a powerful enough charger — keeps road trips plausible. Still, it's subpar for an EV that will likely cost more than $70,000. 
But there's also good news: Our testing indicates that Genesis's range estimate is conservative. (There's no EPA data yet as of this writing.) Our test vehicle estimated it could travel 324 miles upon fully charging, or 331 miles if we switched off the air conditioning. After 160 miles of mixed driving, the battery charge was down to 52 percent, with remaining range estimated at 156 miles (or 165 with no a/c). Those figures still don't beat the best Teslas, and it's easier to find a fast-charging station for a Tesla than any other brand of electric car. But it's a respectable range at any price and much better than the company estimate. Our G80's trip computer also estimated exceptionally low energy usage of 3.9 miles per kilowatt-hour, which mean the equivalent of 131 mpg and an electricity cost of under 4 cents per mile.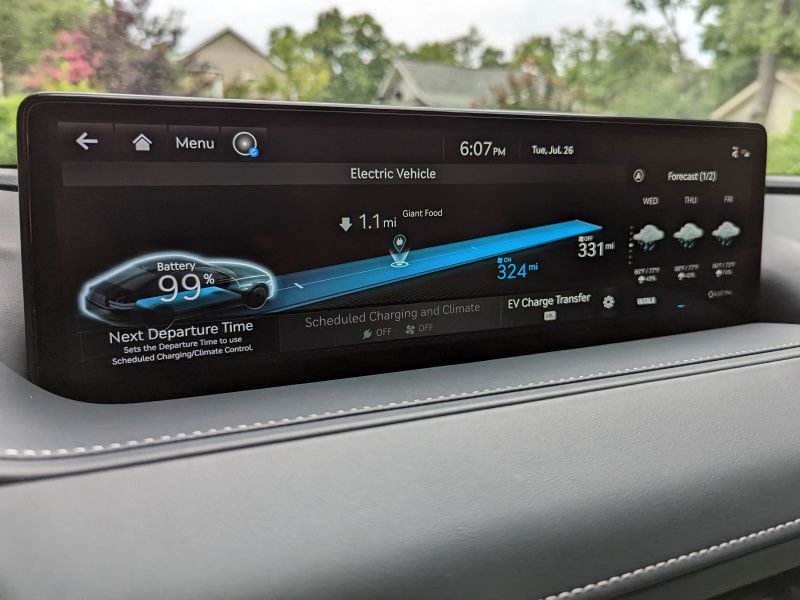 Photo by Brady Holt
Captivating Acceleration
The Electrified G80 has two electric motors that combine to produce 365 horsepower and 516 pound-ft of torque. Despite a 1,200-pound battery that pushes the car's total weight to more than 5,000 pounds (some 500 pounds more than the equivalent gas-only G80), it's the quickest member of the G80 lineup. 
Like other electric cars, the Electrified G80 delivers peak torque right off the line. And considering the scale of that torque, it's no surprise that the big Genesis rockets to 60 mph in about 4.5 seconds. This response is enough to chirp the all-wheel-drive sedan's tires and take your breath away, yet it blasts forward in near silence. Some high-end EVs are even faster, but this Genesis delivers the no-effort drama-free acceleration and — when you floor the accelerator — the ridiculous rush that folks have come to expect in this segment. And it's also easy to drive when you're trying to keep things gentle and peaceful.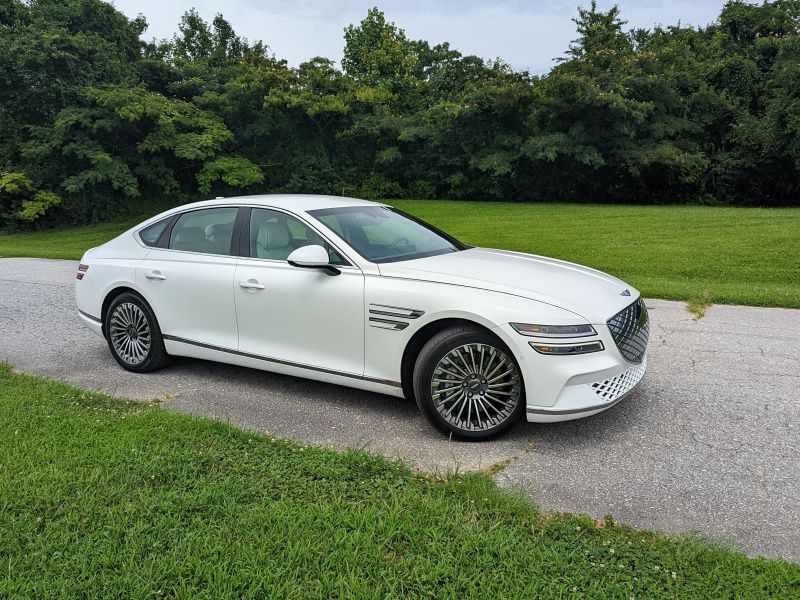 Photo by Brady Holt
Serene Ride
With no engine noise and a carefully hushed cabin, the Electrified G80 sails serenely down the road. And the car's weight gives it a further dose of solidity. In an era of efficiency-minded weight-reduction efforts, a 5,000-pound sedan is rare. 
This weight does cut into the G80's sports-sedan moves, though it was never the crispest luxury sedan you can buy. And that heavy battery is located under the floor, lowering the center of gravity. We found the Electrified G80 to be pretty agile, though the steering felt numb. The car responds quickly enough to inputs, but not with the precision and connection to the road that you'd find in a smaller Genesis G70. A selectable Sport mode adjusts the steering effort but doesn't make things appreciably sharper. This is a comfortable, quiet cruiser that can tackle a corner — not a lithe sports sedan. A choice of four levels of regenerative braking lets you choose along a sliding scale of "one-pedal driving" to "totally normal."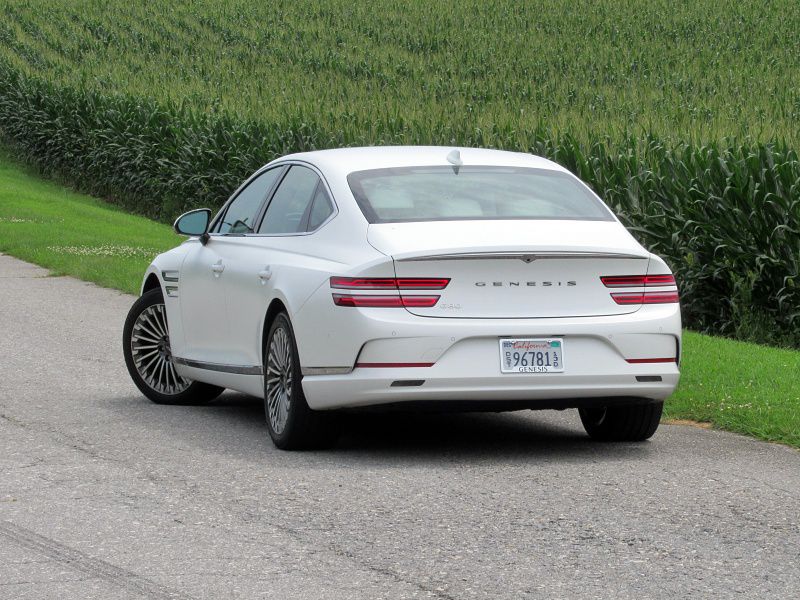 Photo by Brady Holt
Beautiful Yet Functional
In a world where most electric vehicles try to play up a car-of-the-future vibe, the Electrified G80 is more conventional. It shares its attractive and beautifully finished dashboard with the standard G80, including a 14.5-inch infotainment screen that provides a choice of touchscreen operation or console-based controls. With flowing curves; lots of wood trim (leftover marble-patterned birch recovered from furniture makers); and the subtlety of a low, wide touchscreen, it's a pleasing contemporary luxury sedan. And you can use your smartphone as a key, like with a Tesla. But if you're looking for something ultramodern, it might still be too traditional. 
We do greatly appreciate that it has conventional controls, unlike many electric cars. The latest Genesis interiors have far-from-perfect ergonomics, but it's on a plane of rationality. The infotainment system supports Android Auto and Apple CarPlay. There are physical buttons, knobs, and windshield-wiper stalks. There's a steering wheel. None of these are notable points in favor of the standard gas-powered G80, but in the luxury EV segment, you can't take these features for granted.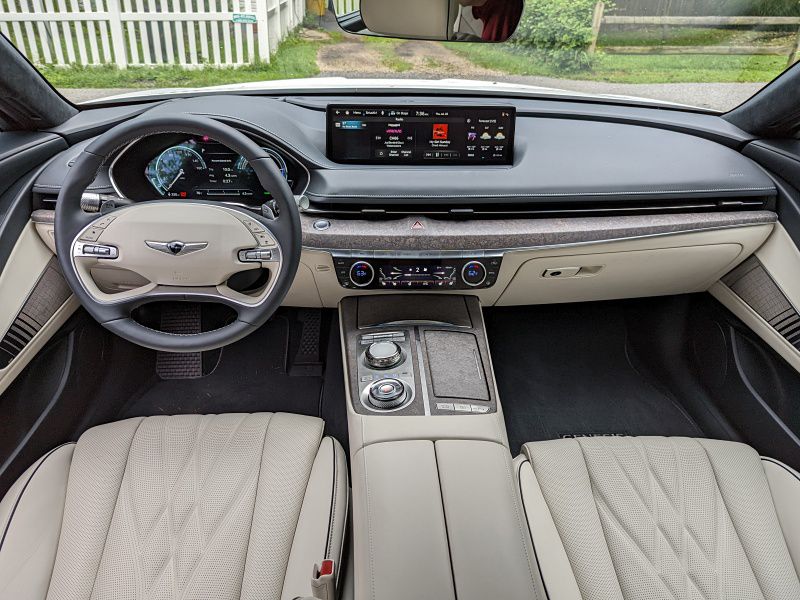 Photo by Brady Holt
A Bit Less Space
In the gas G80, you get a big-car feel from the front seats and plenty of rear legroom, but not much foot clearance under the front seats. The Electrified G80 raises the floor a bit to make room for the battery, cutting into a bit of rear leg and headroom, but two adults can still be pretty comfortable back there. And a third will fit in a pinch. This isn't a limo, but it's not a tiny EV, especially in the front. And passengers will appreciate the gentility of soft-close doors that pull themselves shut if you didn't slam them hard enough. 
The trunk might be a dealbreaker for some buyers, though, and it shows the limitations of electrifying a gas-powered car. Even the gas G80 doesn't have a huge trunk for its size — at 13.1 cubic feet, it's smaller than many economy sedans' — but the battery cuts the volume further to 10.8 cubic feet. There's no front trunk (or "frunk") under the hood, either. If you pick up your parents from the airport in your spiffy new Electrified G80, you'd better hope they shared a suitcase.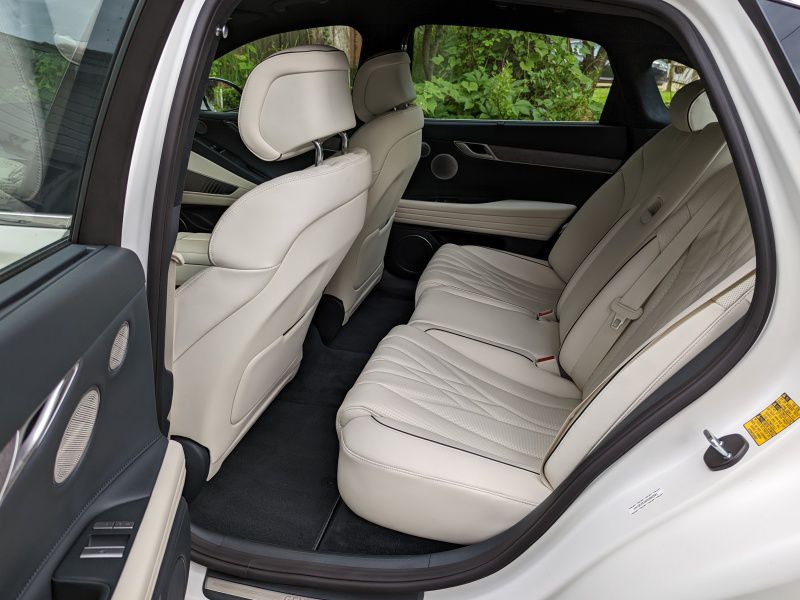 Photo by Brady Holt
Prices Won't Be Low
Genesis hasn't yet announced what the Electrified G80 will cost when it goes on sale this fall (starting in California, Connecticut, New Jersey, and New York, with nationwide availability to follow). But estimates are consistently between $70,000 and $80,000, and as of this writing, it no longer qualifies for a federal tax credit. This is a gracious and supremely refined electric luxury sedan, not a bargain. 
On the other hand, it's also loaded with features. Every Electrified G80 is the top Prestige model, which already costs around $70,000 with a gas-powered V6 engine (and about $60,000 with a gasoline four-cylinder turbo). Goodies include Nappa leather upholstery, a 21-speaker Lexicon stereo, a panoramic roof, the ability to use your smartphone as a key, a blind-spot camera view, a power trunklid, the soft-close doors, a GPS navigation system, a power rear sunshade, adaptive cruise control, and an adaptive suspension. There are no notable extra-cost options. So while you can't get the Electrified G80 at a low price, that's in part because Genesis will only yet you get a high-end experience.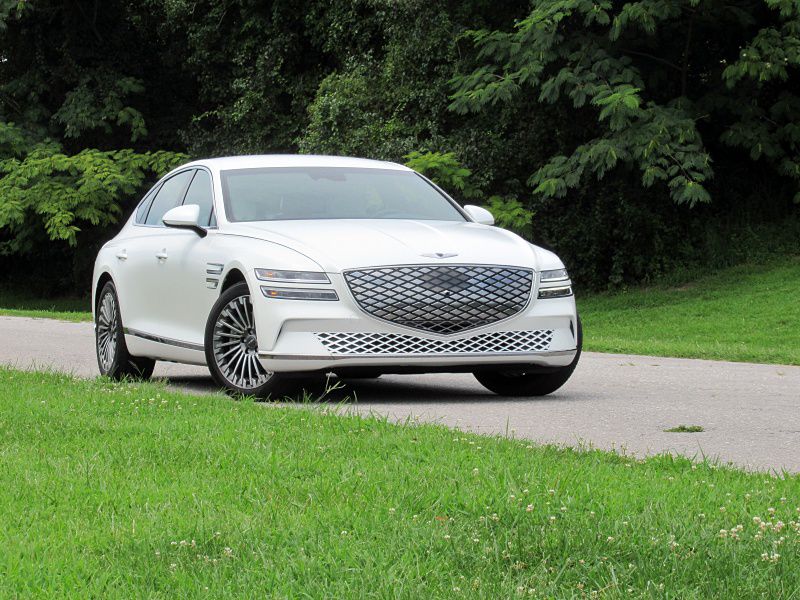 Photo by Brady Holt
But Rivals Are Expensive, Too
You can certainly find less expensive EVs than the Electrified G80, but its closest rivals are also pretty pricey. The Tesla Model S, which originated the idea of a sporty and luxurious electric car, is about the same size as the Genesis but costs more than $100,000 yet has a less posh interior. Similarly, the Mercedes-Benz EQS and BMW i7 start at $102,310 and $119,300, respectively. The sport-focused Porsche Taycan starts at $82,700, but its prices surge to six figures as you upgrade from its small base battery and start adding options like a sunroof and leather upholstery. 
Meanwhile, most other luxury electric sedans are compact cars like the Tesla Model 3, Polestar 2, and BMW i4. They're usefully roomy in the real world, but they lack the Electrified G80's full-size presence, cushy ride, and lavish interior details. Its closest rival is likely the upcoming Mercedes-Benz EQE, which has a similar projected base price but will likely have much less standard equipment. And while the Benz will rival the Genesis's marvelous interior, feel higher-tech, and likely have a longer electric range, its pod-like styling makes it looks smaller and stubbier than the G80.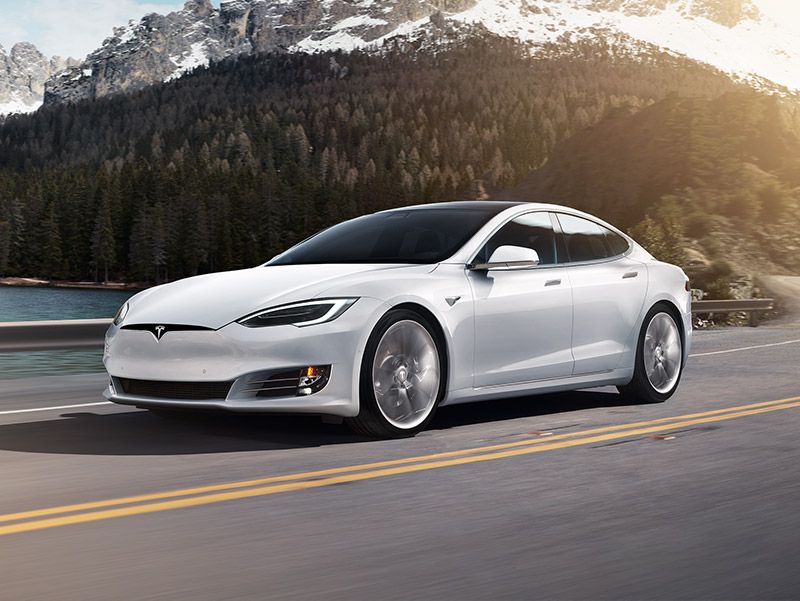 Photo by Tesla
A Fine EV for a Few People
If you're planning to buy the 2023 Genesis Electrified G80, we suspect you're in rare company. Big sedans are not a hot item these days, and most folks buying electric cars want something that departs more obviously from the norm. So it was an odd choice for Genesis to invest its money into creating this sedan. 
But maybe you would like to combine the merits of an EV — the eco-friendly elimination of tailpipe emissions, plus the instant slam of near-silent acceleration — with the approachability of a well-executed traditional luxury sedan. It has rocketship performance without looking like something from outer space. It's not the leader for electric range, all-out performance, or budget-focused affordability. And a small trunk is a notable demerit. But it's a fine luxury sedan that happens to be electric, and that might be just the thing for the right buyer.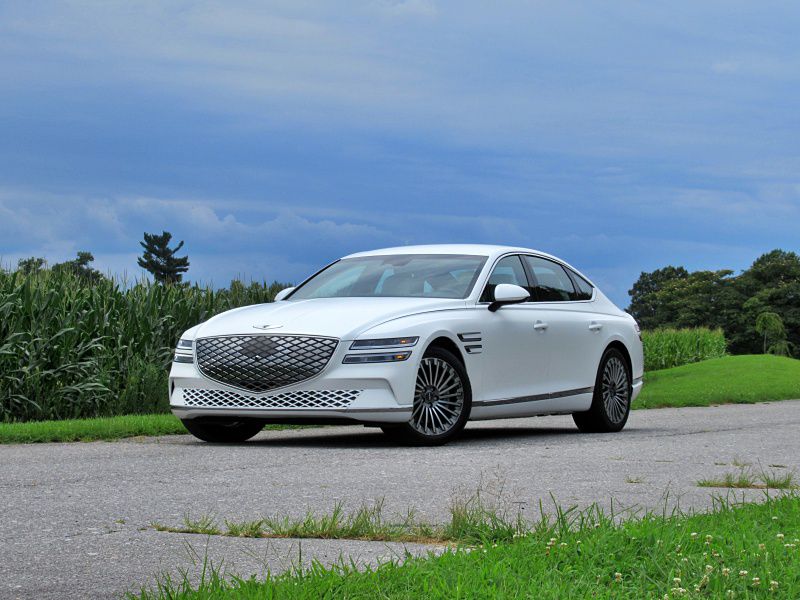 Photo by Brady Holt