2023 Cadillac Escalade-V ・ Photo by Cadillac
The Cadillac Escalade is a luxury SUV that sits at the top of the brand's vehicle range. It's impressive, both for its size and for its style. This isn't a mild-mannered vehicle. It demands the attention of everyone it meets with an aggressive grille, bold styling, and plenty of presence. As impressive as it is, Cadillac decided it needed a bit more, so it added the performance-focused Escalade-V to the lineup.
Escalade joins existing Cadillac vehicles that are a part of the V-Series range that takes all the luxury of the brand and blends it with high-horsepower engines and plenty of performance upgrades. In the case of the Escalade-V, this includes a 6.2-liter supercharged V8 engine with a whopping 682 horsepower and 653 lb-ft of torque. If you need a full-size luxury SUV but crave the power and handling of a performance car, then this could be the right choice for you.
A Single Trim Loaded With Features
While the full Escalade lineup includes a choice of five trims, there's only one trim of the Escalade-V. It's priced from $149,990, which makes it the most expensive option in the lineup, but it comes with an extensive list of standard features. The star of the show is the 6.2-liter supercharged V8 engine. Additional upgrades include V-Mode with customizable driver settings, unique front and rear fascias, quad exhaust outlets, and six-piston Brembo front brakes.
Unique V-Series badging adorns the door and liftgate and can also be found throughout the interior along with wood and leather trims. There's a 38-inch curved screen across the dashboard and a premium 36-speaker audio system, too. There might be only one trim from which to choose, and it does have a high starting price, but it's packed with features to deliver a true luxury experience.
Photo by Cadillac
That Supercharged V8
The Escalade-V is loaded with premium touches, but the most compelling reason for buying one isn't anything you see. Instead, it's tucked under the hood. Power for this SUV comes from a 6.2-liter supercharged V8 engine with 682 horsepower and 653 lb-ft of torque paired to a 10-speed automatic transmission. Press on the gas and you're rewarded with aggressive acceleration that easily gets the Escalade-V up to highway speeds with a 0-60 mph time of 4.4 seconds.
Since this is a luxury vehicle, it balances that aggression with refinement. The transmission delivers a smooth ride with no harsh shifts and manages power well even when you're heavy on the gas. You hear the engine, which is something to treasure in a performance vehicle, but it's not an intrusive noise. Instead, there's a healthy rumble combined with the performance exhaust for a balance of luxury and power.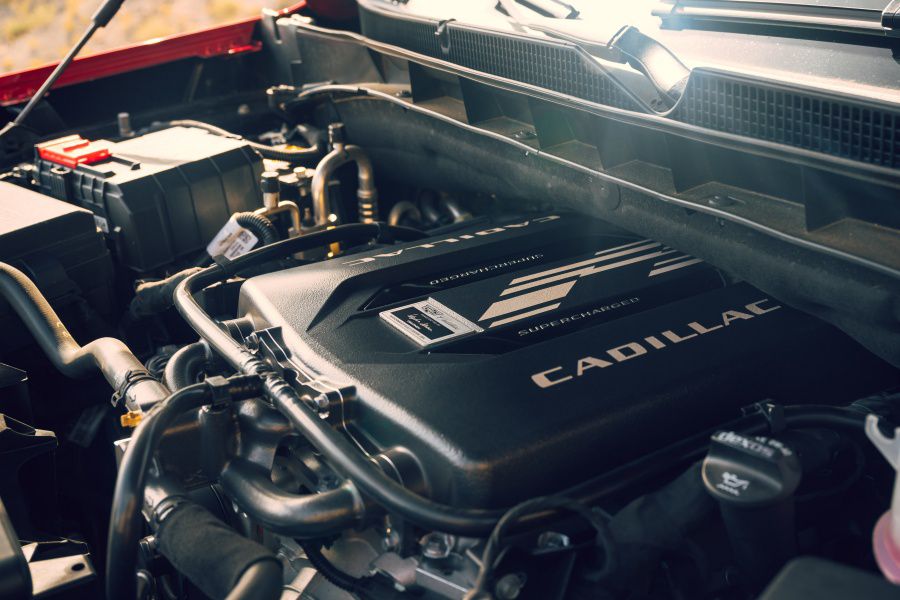 Photo by Cadillac
Customize the Drive With V-Mode
In addition to the engine, there are a slew of performance upgrades that enhance the driving experience. Standard all-wheel drive is complemented by Magnetic Ride Control 4.0, air ride adaptive suspension, and suspension components exclusive to the Escalade-V. They deliver the control you need to manage a vehicle of this size and power.
There's also V-Mode, which lets you customize the drive depending on your preferences and road conditions. Choose from Tour, Sport, or Snow/Ice to adjust the suspension, steering, brake pedal feel, engine sound, and engine performance for either a more leisurely or more spirited driving experience. Even the all-wheel-drive system adjusts with each mode to provide the handling and control you need for everyday driving with the ability to refine performance for those times when the weather is poor and the road is covered with snow and ice.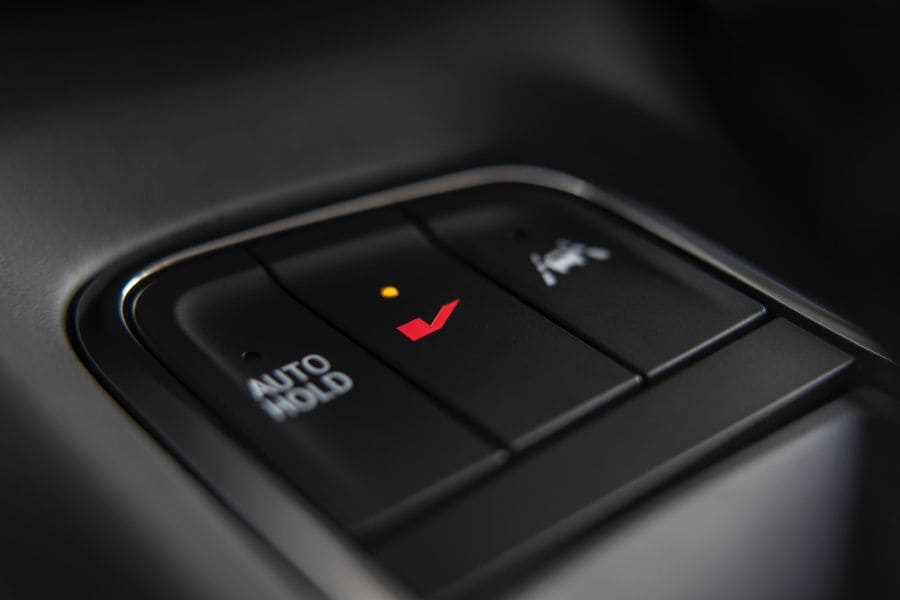 Photo by Cadillac
A Beautiful and Comfortable Interior
The Escalade-V pairs all that power and performance with a truly luxurious and upscale interior that coddles passengers no matter where they sit. There's room for up to seven people in a truly plush space that features standard semi-aniline leather seating surfaces. There are also heated and ventilated front seats with massage so even the longest trips are comfortable and relaxing.
Those seats are supportive with bolstering that holds you in place during hard corners without feeling tight when you simply want to sit back and relax on a leisurely road trip. There's ample space for even the tallest of passengers with plenty of headroom, legroom, and shoulder room. A smooth refined ride enhances passenger comfort with a minimum of noise intruding into the cabin. Add in the crisp, sporty handling that keeps this large SUV from being unwieldy and you have a fantastic combination of passenger comfort and driver engagement.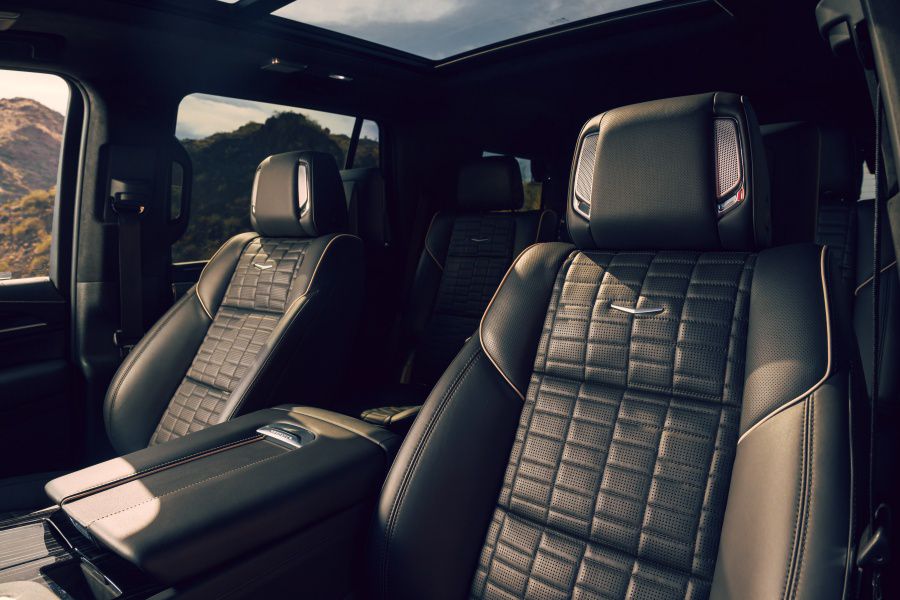 Photo by Cadillac
Room for All Your Cargo
In addition to being able to carry plenty of people in comfort, a large SUV also needs to be able to carry all their stuff. If you have lots of cargo, then you'll find the Escalade-V a great option. There's 25.2 cubic feet behind the third row, 72.9 cubic feet behind the second row, and 121 cubic feet behind the first row. This provides great flexibility for carrying cargo while still managing a full load of passengers.
If that impressive cargo capacity isn't quite enough, then you can also tow with the Escalade-V. Whether it's additional cargo or things that are simply too large to fit inside, you're covered with a maximum tow rating of up to 7.000 pounds. The Escalade-V is a do-it-all option with good interior cargo room and a high tow rating that makes it easy to take along everything you need for the trip.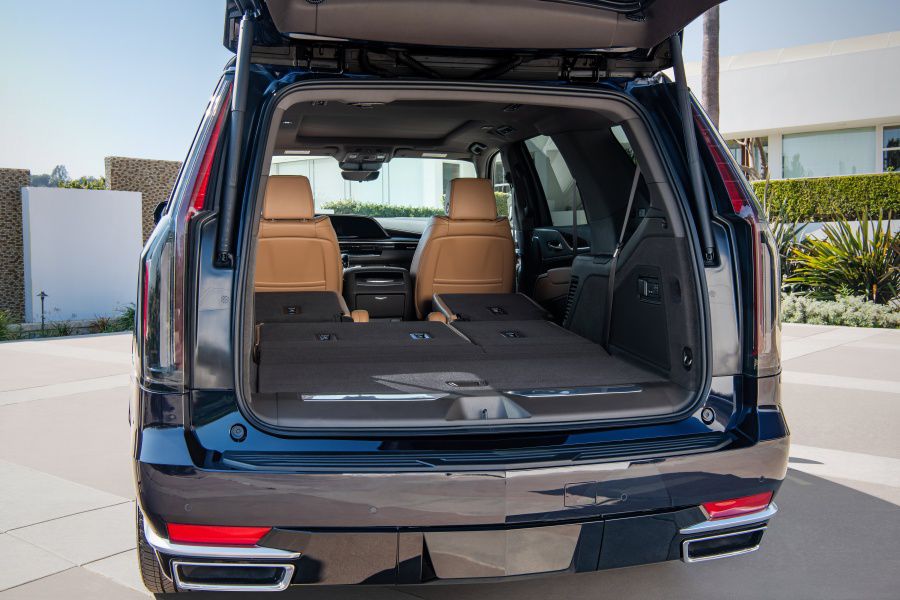 Photo by General Motors
More Room for Everyone and Everything With the ESV
The Escalade-V has a luxurious interior with plenty of room for people and cargo, but what if you need a little more? Cadillac has you covered with an extended wheelbase version of the full Escalade lineup, including the Escalade-V. It has all the features of the standard wheelbase, but with larger dimensions that make it even more versatile for families.
The standard wheelbase Escalade-V has a wheelbase of 120.9 inches. The long wheelbase Escalade-V ESV has a wheelbase of 134.1 inches. Passengers in the third row benefit with nearly two inches of additional legroom. There's also more room for cargo with an increase of 16 cubic feet of space behind the third row. This is especially key for large families who have road trip vacations planned and need every last inch of cargo room. All this extra room does come at a premium with a starting price of $152,990.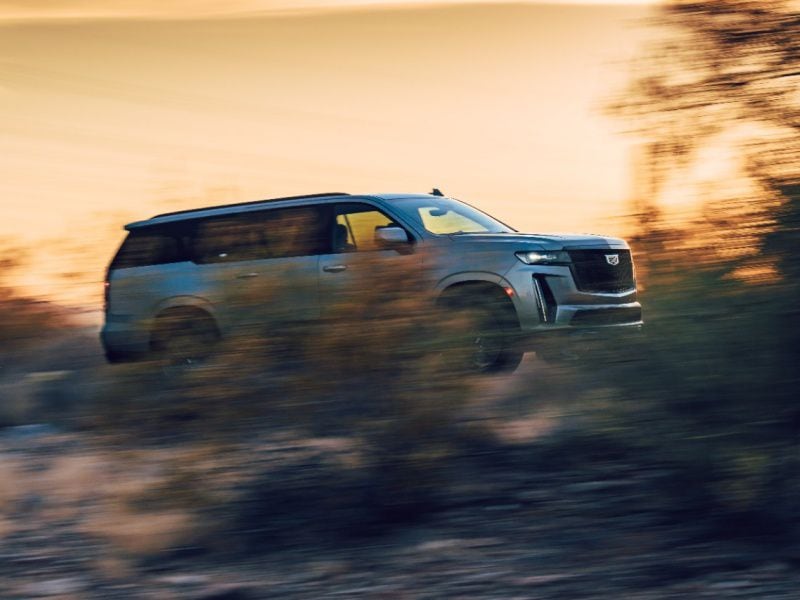 Photo by Cadillac
A Massive, Curved Infotainment Screen
Instead of an infotainment screen that stands on its own in the center of the dashboard, the Escalade-V has a single, curved OLED display that includes a 16.9-inch infotainment screen. It creates a tech-forward feel and adds an additional level of luxury to the drive experience. Standard features include wireless Apple CarPlay and Android Auto along with navigation. There's also an augmented reality feature. It displays a live image of what's in front of the car onto the 14.2-inch instrument cluster, including navigation when the system is in use.
It's an intuitive offering that's easy to use with its large screen size making navigation easier to follow. There's also a standard AKG Studio Reference 36-speaker audio system that delivers premium sound that easily fills the cabin. It's a fully featured infotainment system that is easy to learn and easy to use for both driver and passenger so everyone stays connected.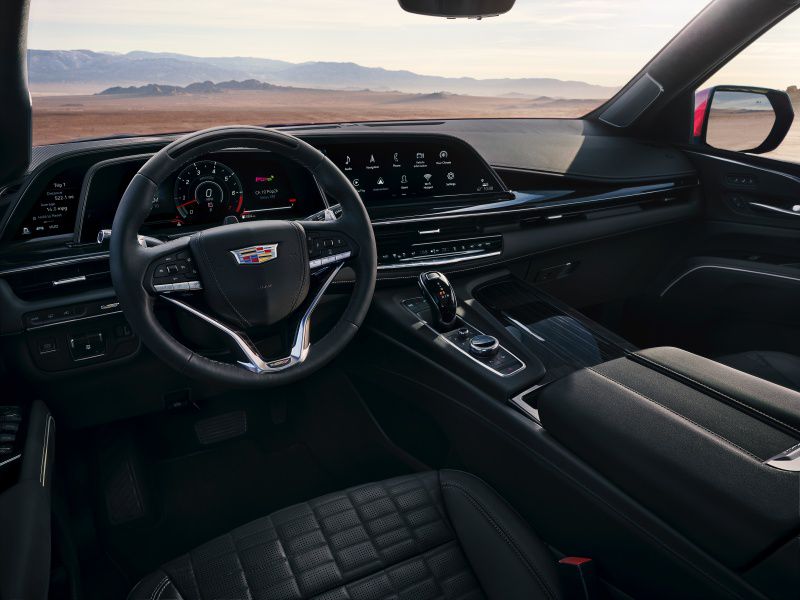 Photo by Cadillac
Ample Standard Safety
Standard safety is also comprehensive with automatic emergency braking, automatic parking assist, forward collision alert, front pedestrian braking, rear cross traffic alert, rear seat reminder, lane keep assist with lane departure warning, and lane change alert. Teen driver is also standard, which parents will appreciate as it offers the opportunity to both monitor and help coach teens toward better driving habits.
There's also the option for Super Cruise driver assistance technology. This accommodates handsfree driving on over 200,000 miles of roads in North America. The system can even automatically change lanes to safely go around slower vehicles. It does require the driver's attention at all times but makes driving in congested traffic and on long trips easier.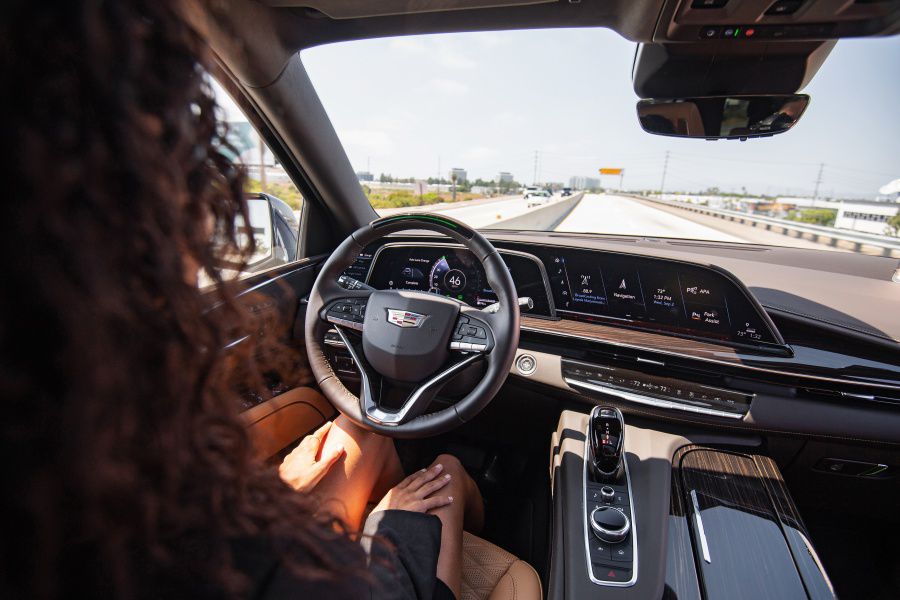 Photo by General Motors
Final Thoughts
The Cadillac Escalade-V is a unique choice when it comes to SUVs. It has the room for people and cargo that large families need, along with the capability to tow larger items. The long wheelbase variant makes it an even roomier option, but no matter which you choose, there's luxury everywhere you look with premium trims and comfortable seating.
It combines that luxury experience with a hefty dose of performance from its supercharged V8 engine. This provides strong acceleration with sporty handling to easily manage all that power. It's a no-compromise option that lets you have luxury, cargo room, passenger room, and an exhilarating drive experience all in one beautiful package.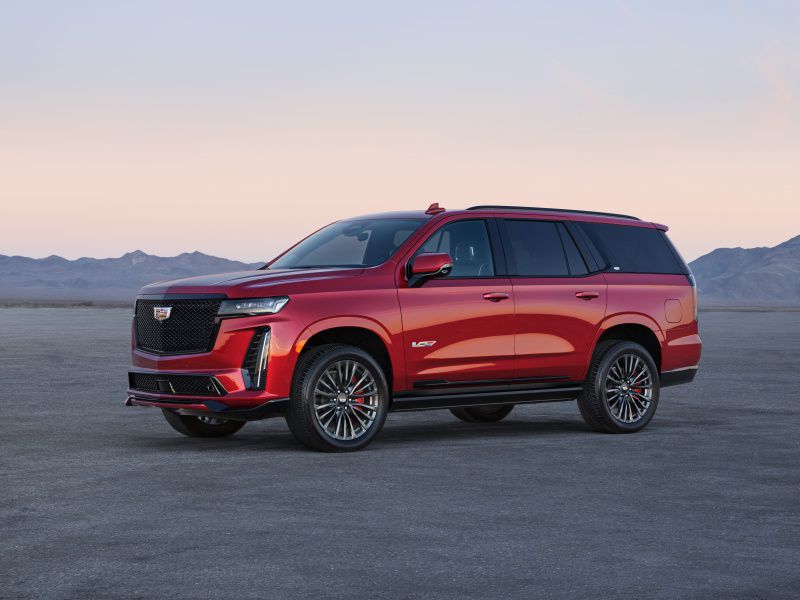 Photo by Cadillac