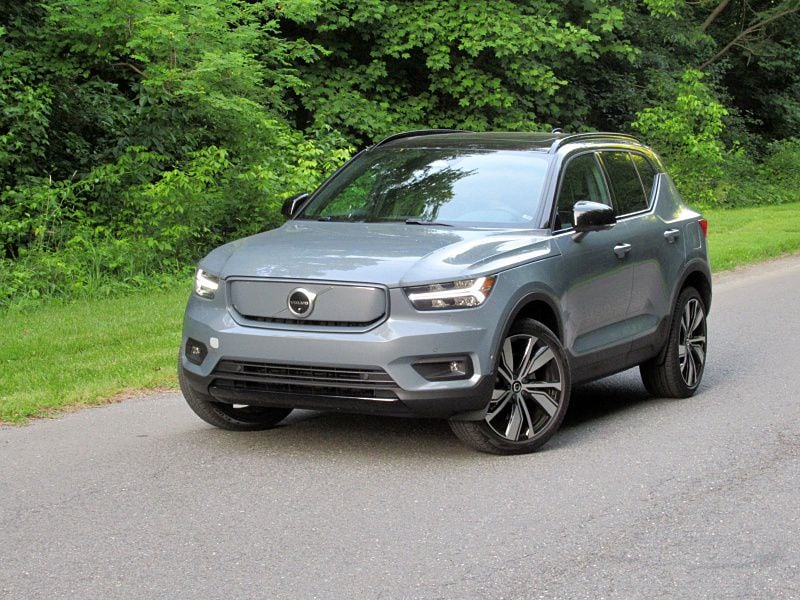 2022 Volvo XC40 Recharge ・ Photo by Brady Holt
The flashiest electric vehicles tend to be built from the ground up as EVs. Without needing to accommodate a gasoline engine, their designers are free to pursue a less conventional shape. An electric-only vehicle also gets more attention than a gas-powered car with an electric option.
The 2022 Ford Mustang Mach-E applies classic Mustang styling cues to an electric crossover SUV. It's not an EV that folks would overlook, and once they start paying attention, it's easy for them to come away impressed with the Mach-E's genuine performance, capability, range, and functionality. The 2022 Volvo XC40 Recharge, meanwhile, is easy to miss. It's an EV version of the XC40 subcompact luxury crossover, just with a plastic cover over its grille. Yet it brings its own perks to the segment, including more ferocious acceleration than similarly priced Mustangs. For this review, we tested both EVs to compare them in eight categories and name an overall winner. Keep reading to learn which one we chose and which electric crossover is right for you.
Pricing and Features
The Mustang Mach-E starts at $43,895, which is a great price if you consider that it qualifies for a $7,500 federal tax credit. It's also far below the cheapest XC40 Recharge, which starts at $51,700. 
What's more, Ford provides more standard features on the base model: leatherette upholstery instead of cloth and a full suite of advanced driver aids like adaptive cruise control and lane-keeping steering assistance. Still, Volvo counters with standard all-wheel drive (a $2,700 upcharge on the Mustang) and more standard horsepower ($6,000 extra on the Mustang). Equipped most comparably, you're looking at $57,475 for a Mustang Mach-E Premium versus $58,150 for an XC40 Recharge Ultimate. That's almost negligible, and the difference could evaporate or reverse depending on the price you get from your local dealership. But Ford still wins this category for providing a wider range of models for value-minded buyers. 
Ford Mustang Mach-E
Photo by Brady Holt
Range and Mileage
Every XC40 Recharge uses the same powertrain, which provides an EPA-estimated 223 miles of all-electric range while averaging the equivalent of 85 miles per gallon (MPGe). That's not amazing for a luxury EV, but it's plenty of range to cover most everyday driving with plenty of extra comfort margin. We didn't run our test vehicle to empty, but it was also on track to beat that estimate with about 265 miles of range on the charge. The trip computer also recorded energy usage of 113 MPGe, well above the EPA estimate. 
Still, most Mustang Mach-E models go farther. The base battery pack supports an EPA-estimated 230 miles with rear-wheel drive and 211 miles with all-wheel drive. However, you can also upgrade to a larger battery pack that pushes range to 300 or 305 miles (depending on the trim level) with rear-wheel drive and 260 to 270 miles with AWD. Rear-drive models average the equivalent of 97 to 101 mpg in EPA tests, while AWD yields 82 to 93 MPGe. Our AWD model with the largest battery back, rated at 90 MPGe and 270 miles per charge, averaged 104 MPGe and was on track for 298 miles of range. 
Ford Mustang Mach-E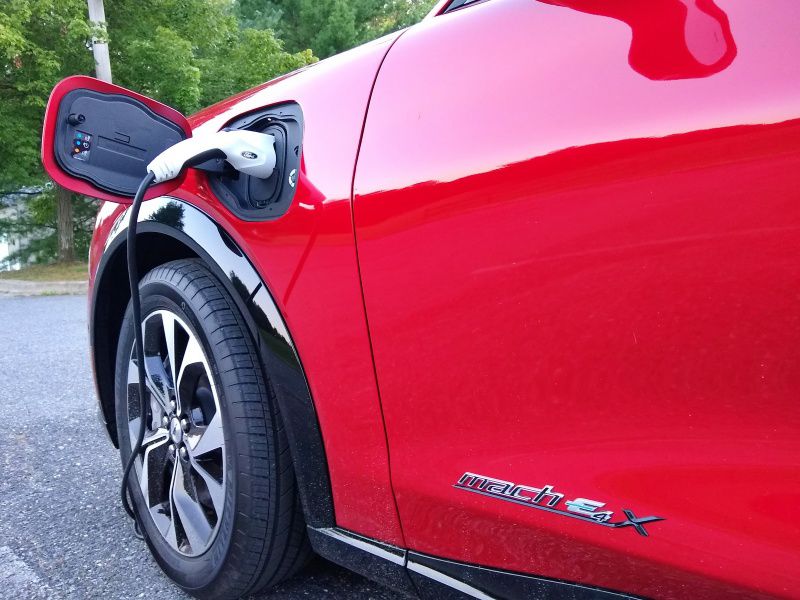 Photo by Brady Holt
Exterior Design
The Mach-E is a sleekly attractive five-door take on the classic Mustang coupe, a design that would have turned heads even without the novelty of electric propulsion. A blank grille and the front fender's charging port are the only clues that there's no engine under the hood. Mustang character is everywhere — details like the headlights and taillights, to proportions like the long hood, sloped roofline, and wide, low stance. Ford also smoothed out the Mach-E's body by eliminating physical door handles in favor of push-button entry. 
The XC40 Recharge is a more conventional upscale SUV. It's a stubby little box with upscale styling details. We're fans of the XC40, but it's nothing revolutionary. It won't turn heads. And as we mentioned, the only sign that it's electric is a piece of plastic over the grille. At the same time, maybe you don't want your new luxury electric SUV to evoke a '60s sports coupe. We'll name this category a tie between the subtly classy Volvo and the extroverted sporty-looking Ford. Note that you can now also get a slightly sportier-looking version of the XC40 called the C40. 
Tie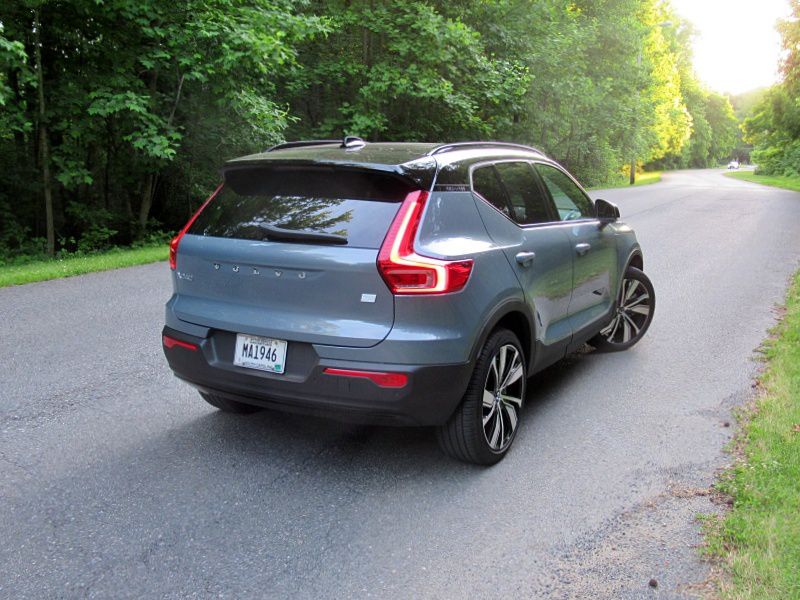 Photo by Brady Holt
Interior Design
The XC40 is Volvo's least expensive vehicle, but it shares its interior design with pricier models. It's a beautiful balance between modern technology and classic luxury; it's not aggressively high-tech, but it doesn't look stale and dated, either. A vertical 9-inch infotainment touchscreen occupies the center of the dashboard between two vertical vents. There's also a 12.3-inch digital gauge cluster. Most materials are high-quality and everything fits together perfectly and moves with precision, just what you'd expect from a luxury marque. 
The Mustang Mach-E is higher-tech but less upscale. A huge 15.5-inch vertical screen occupies the center of the dashboard, while a small digital gauge cluster hides behind the steering wheel. Aside from some fabric on the dashboard, the Mustang is finished with mainstream-grade plastics. It's nothing bad, but you wouldn't confuse it for a high-end luxury car. 
Volvo XC40 Recharge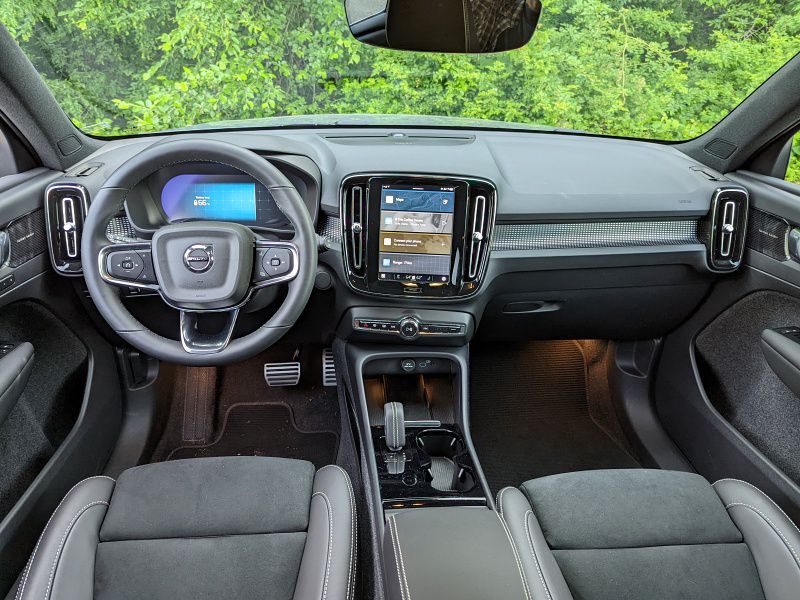 Photo by Brady Holt
Interior Space and Comfort
The Mustang Mach-E is a size larger than the XC40, measuring an extra foot long. But the tall, stubby XC40 holds its own for interior space. If you like an SUV-height seating position, you'll prefer the Volvo to the Ford; if you prefer to sit lower and be hugged by aggressive seat bolsters, the Mustang Mach-E comes out on top. But both crossovers can fit four adults comfortably and five in a pinch. 
For cargo, the Ford's extra length does result in more total volume despite its lower, gently sloping roof. The Mach-E has 29.7 cubic feet behind the rear seat and 59.7 cubic feet when you fold the rear seat down, plus a 4.7-cubic-foot front trunk ("frunk"). The XC40 has 20.7 cubic feet behind its rear seat and 57.5 cubic feet with the rear seat folded, and its 1-cubic-foot frunk doesn't fit much more than its charging cable. The Mach-E isn't rated to tow a trailer while the XC40 Recharge can handle up to 2,000 pounds. And the Volvo is more competitive with the bigger Ford than you might expect. Still, the Mach-E wins this category for its greater overall space. 
Ford Mustang Mach-E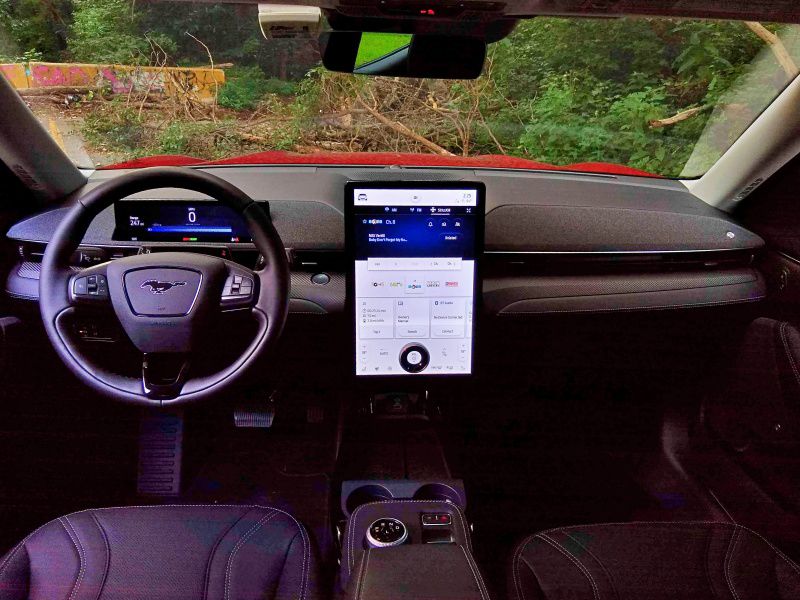 Photo by Brady Holt
Acceleration
You wouldn't expect this from the XC40 Recharge's styling, but it's ferociously quick. Its 402-horsepower electric motors quietly catapult you to 60 mph in a manufacturer-estimated 4.7 seconds. That's better than many sports cars. 
It's also better than most versions of the Mustang Mach-E. Its base powertrain makes 266 horsepower and can reach 60 mph in about 6 seconds. And our mid-trim 348-horsepower test vehicle needs about 5 seconds. However, when speed is a priority, you can spend extra for 480-horsepower Mustang Mach-E GT (priced from $61,995). Ford says it takes just 3.5 seconds to reach 60 mph. Between the quicker base Volvo and the Ford's greater performance potential, we'll call this category a tie.  
Tie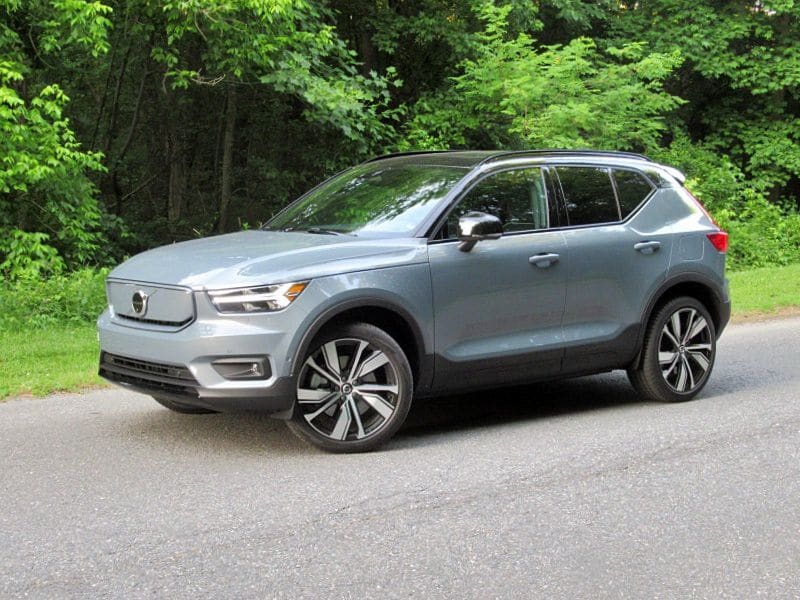 Photo by Brady Holt
Ride and Handling
We'd have also expected the sporty-looking Mustang Mach-E to trump the XC40 Recharge's ride and handling, but we came away preferring the Volvo. 
Both electric crossovers are easy to drive, with light low-speed steering and pleasant rides. And the Mustang has the higher handling limits that its name promises. Still, the Volvo's greater polish and refinement tips the scales for us. It has a smoothness and solidity that evade the Ford, which feels rougher around the edges. It merely drives down the road; the Volvo glides. Even our test vehicle's oversized 21-inch wheels didn't spoil its serenity, and we're sure the XC40 rides even better on its standard 19-inchers. What's more, the XC40 Recharge corners with agility as well, refusing to let the Mach-E embarrass it on a twisty road. We do prefer that Ford provides a wider range of selectable driving modes, but the Volvo wins this round overall. 
Volvo XC40 Recharge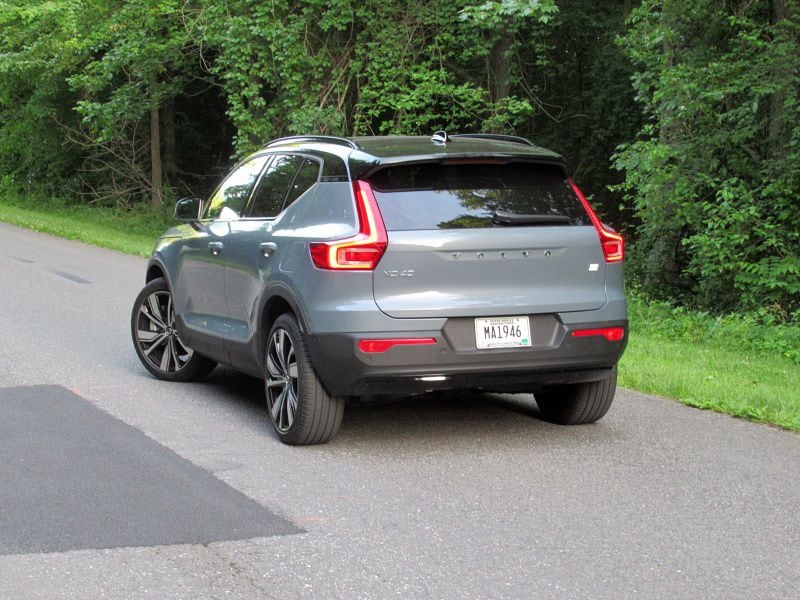 Photo by Brady Holt
Safety and Driver Assistance
Volvo is known as a paragon of automotive safety. But the Mustang Mach-E does even better than the XC40 Recharge. 
First of all, while both EVs earned excellent crash-test scores, the Ford's automatic emergency braking system stopped more adroitly than the Volvo's, according to the Insurance Institute for Highway Safety. Secondly, the Mustang Mach-E includes adaptive cruise control as standard equipment, while the XC40 Recharge limits the system to its top Ultimate trim level. What's more, the Mach-E offers Ford's Blue Cruise hands-free driving system, which Volvo has no answer to. 
Ford Mustang Mach-E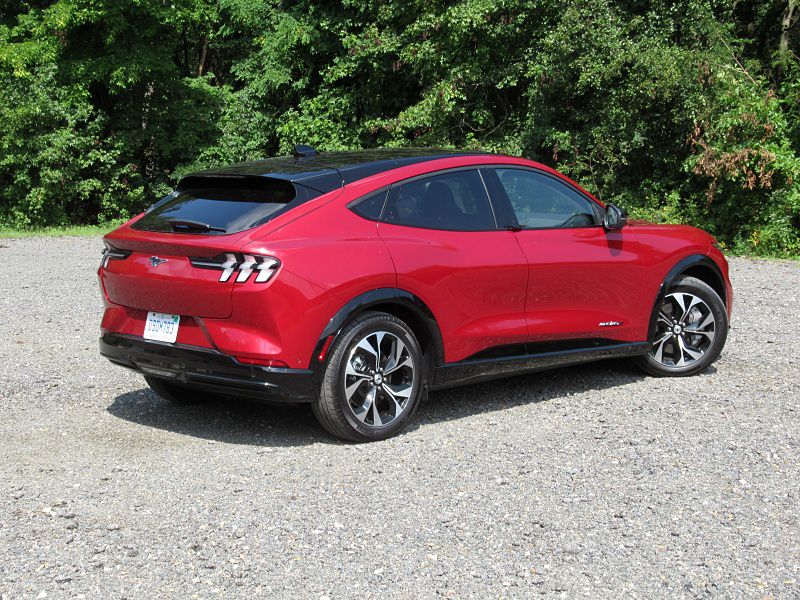 Photo by Brady Holt
Final Thoughts
The 2022 Volvo XC40 Recharge is a great EV for the right person. Fast but polished and no more expensive than a comparably equipped Ford, it proves that an eco-friendly SUV can still be fun and upscale. 
But the 2022 Ford Mustang Mach-E has broader appeal. With a wider range of powertrains and trim levels, it's able to offer a much more affordable starting price. It also provides more room, a more dynamic design, sportier handling, quicker available acceleration, more driver-assistance technology, and more range per charge (particularly in certain variants). Don't overlook the Volvo's high-end appeal, but the Ford has even more to recommend. 
Ford Mustang Mach-E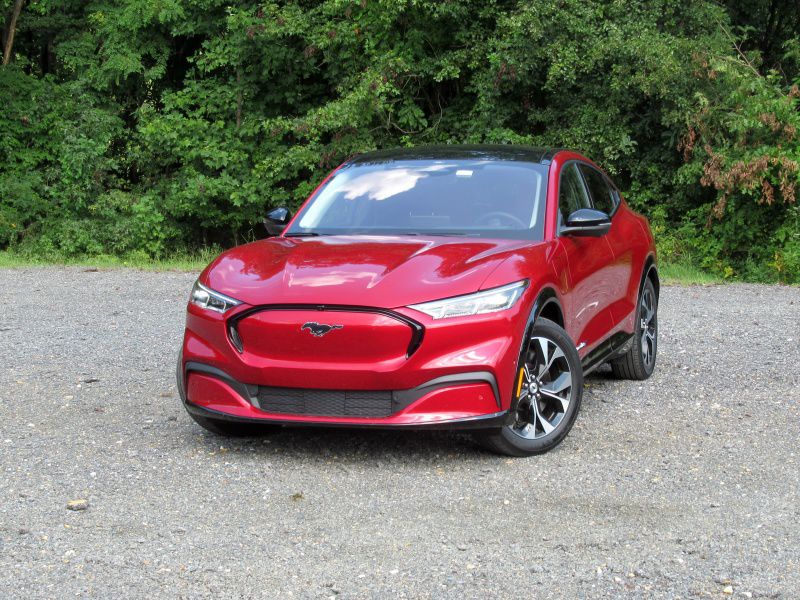 Photo by Brady Holt