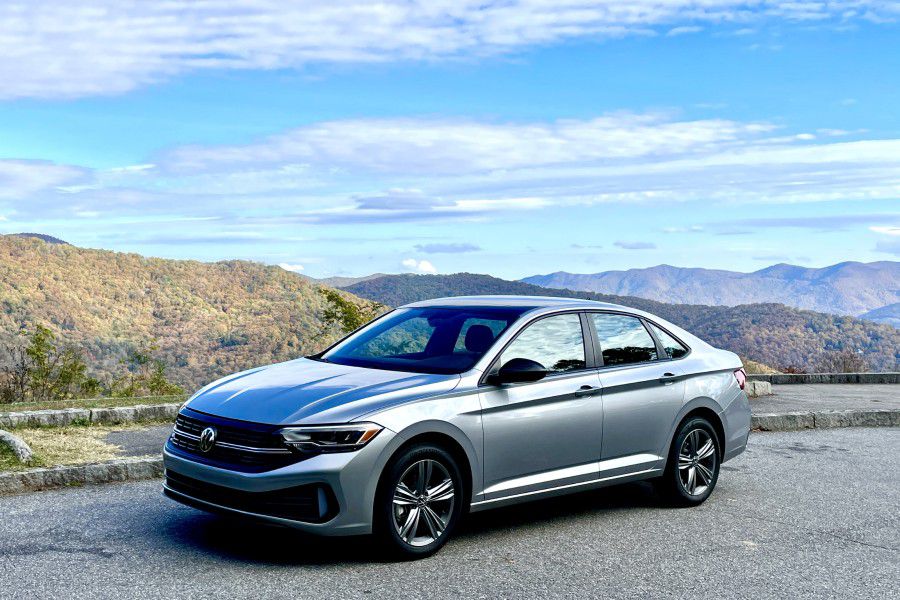 2022 Volkswagen Jetta Front ・ Photo by Nicole Wakelin
The 2022 Volkswagen Jetta is a compact sedan with seating for five people. This year, it gets a refresh with a host of changes. These include a new look inside and out, new safety and technology features, and a range of four trims from which to choose. There's a new Sport trim in the mix as well as a digital cockpit that lets the driver configuration information to their personal preferences.
The big news, however, is a new 1.5-liter 4-cylinder engine that's paired to your choice of either a 6-speed manual or 8-speed automatic transmission depending on the trim level. This engine is standard across the Jetta lineup, except for the sporty Jetta GLI, which is treated as its own standalone vehicle. Let's take a closer look at the 2022 Volkswagen Jetta to see if it's the right compact sedan to suit your needs.
Four Trims
There's a choice of four Jetta trims starting with the S at $20,195 which includes 16-inch wheels, heated side mirrors, cloth seating surfaces, and a 6.5-inch infotainment touchscreen with 4-speaker audio. The new Sport is priced from $21,095 with gloss black exterior accents, 17-inch two-tone wheels, XDS differential, and front sport seats. Both trims are available with an automatic transmission for an additional $800 while the SE and SEL are automatic only.
The SE starts at $23,795 with rain-sensing wipers, 17-inch aluminum-alloy wheels, a leather-wrapped steering wheel, 6-way power driver's seat, heated front seats, leatherette seating surfaces, and dual-zone automatic climate control. The top SEL is priced at $27,795 with a panoramic power tilt and slide sunroof, heated windshield, 17-inch two-tone wheels, 8-way power driver's seat, ventilated front seats, heated rear seats, leather seating surfaces, and an 8.0-inch infotainment touchscreen. There's a trim to suit every budget within the Jetta lineup.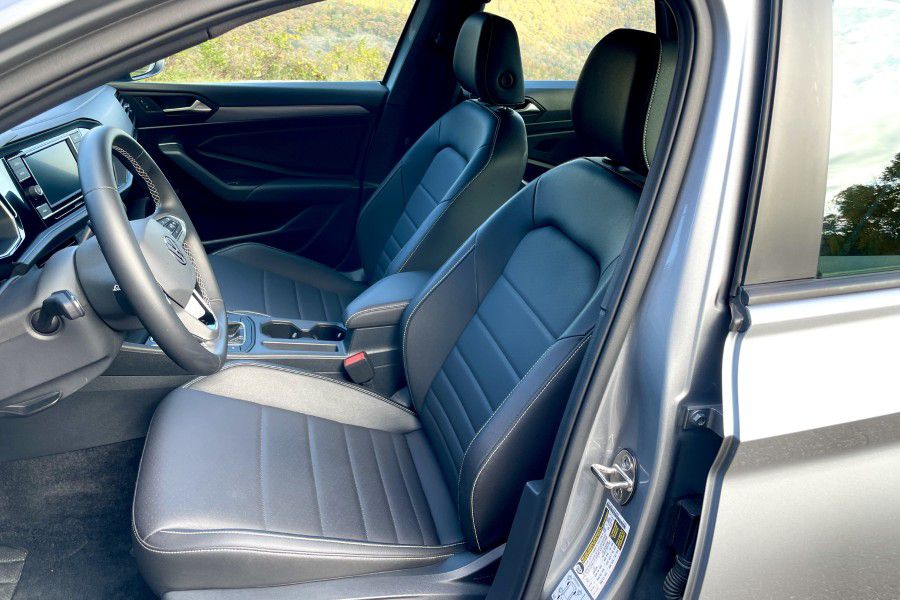 Photo by Nicole Wakelin
A Responsive Engine With Two Transmission Options
Power for this year's Jetta comes from a new 1.5-liter turbocharged 4-cylinder engine with 158 horsepower and 184 lb-ft of torque. This is paired to either a 6-speed manual or 8-speed automatic in base trims. The top two trims are automatic only. It's a responsive powertrain that easily gets the Jetta up to speed with a minimum of engine noise and smooth, well-timed shifts from the automatic.
There's power leftover for passing slower vehicles, but this is a modest powertrain. The fact that this is a turbocharged engine gives it extra get up and go, but it's not a sports sedan. It doesn't have an outrageous amount of horsepower. If you're looking for a sporty, aggressive drive from your compact sedan, then you'll want to move along to the more powerful Jetta GLI.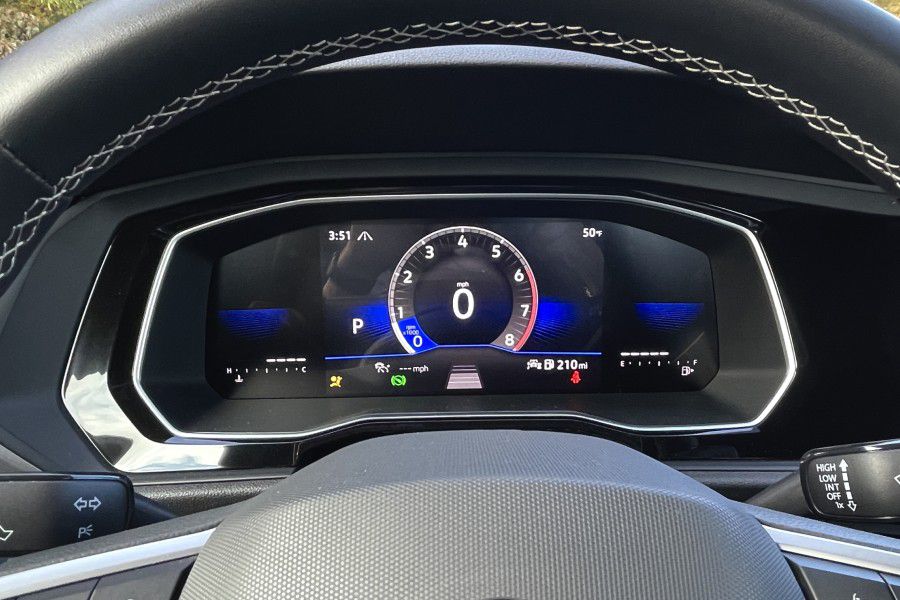 Photo by Nicole Wakelin
A Comfortable Ride With Relaxed Handling
The ride in the Jetta puts the focus on passenger comfort. Engine noise is nicely muted, and there's little road and wind noise intruding into the cabin. Rough pavement goes largely unnoticed by passengers and all but the worst potholes are soaked up by the Jetta's suspension system. It's a calm, relaxing ride that's ideal for long road trips or the daily commute.
Handling is responsive but not sporty or particularly engaging. The Jetta is an efficient, well-mannered compact sedan that doesn't demand too much of the driver. The available manual transmission offers more driver engagement for those who want the control of rowing through the gears rather than letting the car do that work instead. The Volkswagen Jetta handles well overall and won't tax the driver on longer trips.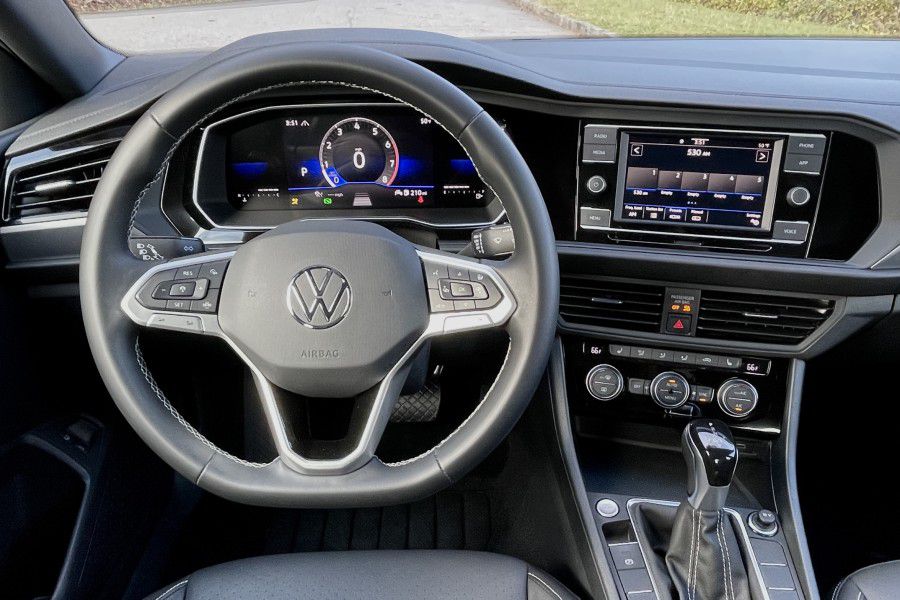 Photo by Nicole Wakelin
An Attractive Interior
The interior of the Jetta is surprisingly roomy for a compact sedan. It easily seats five adults. Only when the front seats are fully pushed back does rear legroom become compromised. There's ample headroom for rear passengers. Three will fit fine for shorter trips, while two adults will find it a comfortable place to pass the time even for more extended drives.
Front passengers get plenty of room, too, with supportive seats that offer good adjustability. Material quality is good, but base trims offer minimum features, as is to be expected. Move up through the Jetta lineup and the interior gets upgrades that include 8-way power seats, leather seating surfaces and trims for the gear shifter and steering wheel, ventilated front seats, and heated front and rear seats. It's a quiet and relaxing space that's ideal for passengers ,no matter how long the trip.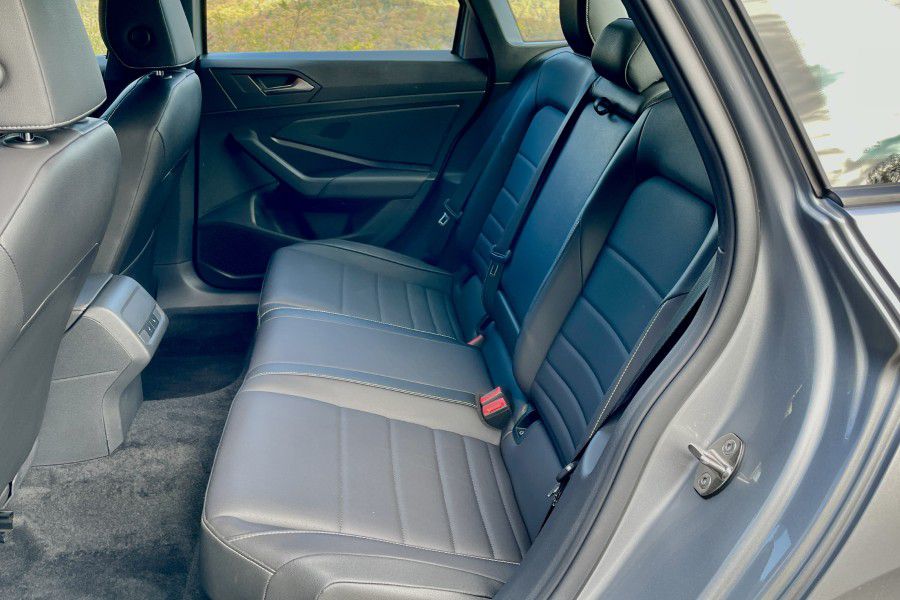 Photo by Nicole Wakelin
Room for Your Stuff
sedans, especially compact sedans, aren't known for being able to handle lots of cargo. Although it doesn't offer the versatility to carry as much as a crossover or SUV, the Volkswagen Jetta still has lots of room for all your stuff. There's 14.1 cubic feet in the trunk, which can easily handle a family's luggage for a vacation getaway.
There's a wide trunk opening so it's easier to fit in bulky items and a low load floor so it's less work to lift the heavy stuff. If what you must stow is longer, not a problem. The Jetta comes with a standard 60/40 split-folding second row. Flip it down completely if cargo is your focus or leave it partially folded so you can still accommodate passengers in the back seats. The Jetta might be compact, but don't count it out when it comes to cargo.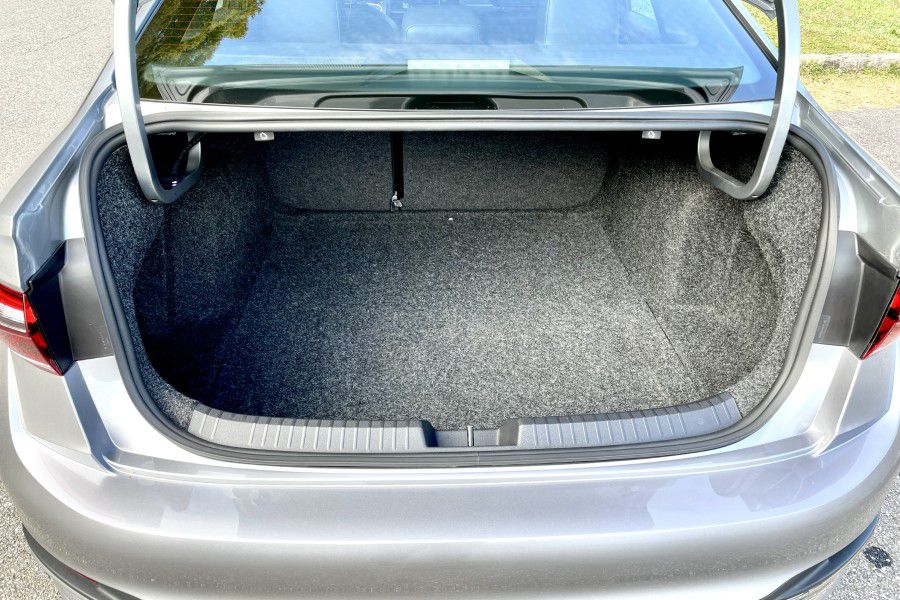 Photo by Nicole Wakelin
Stay on Budget With Good Fuel Economy
Improved fuel economy is one of the benefits to getting a compact sedan rather than going with something larger. The EPA estimates that the 2022 Volkswagen Jetta with the manual transmission will get 29 mpg in the city, 43 mpg on the highway, and 34 mpg combined. That's impressive fuel economy that makes the Jetta a great choice as a commuter car.
Equipped with the automatic transmission, the figures are even better. The S gets 31 mpg in the city, 41 mpg on the highway, and 35 mpg combined. The SE and SEL get 29 mpg in the city, 40 mpg on the highway, and 33 mpg combined. Driving the Jetta in any guise won't break your budget, even if gas prices rise. Whether it's the daily commute or a road trip, fuel economy for this compact sedan helps keep driving affordable.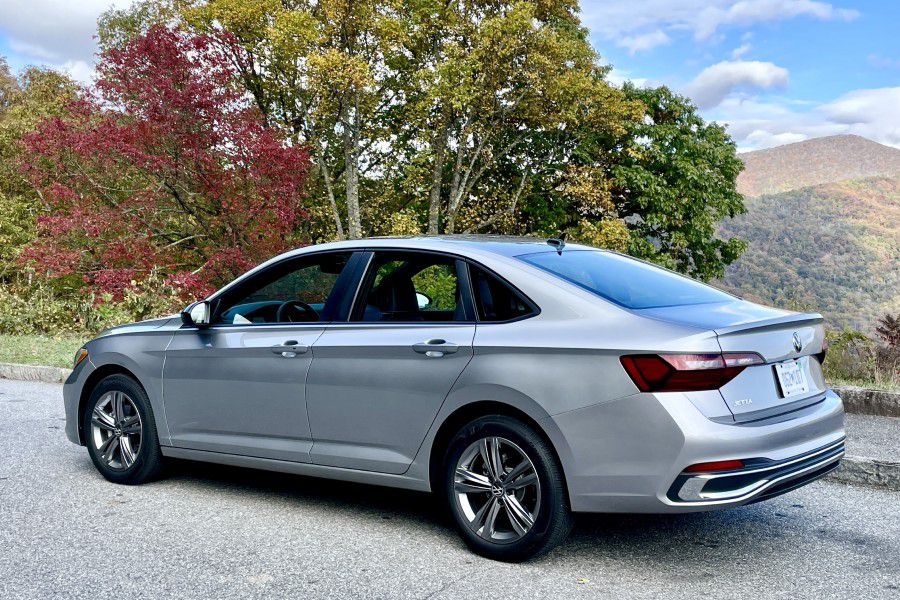 Photo by Nicole Wakelin
Infotainment With Key Features
Infotainment in the Volkswagen Jetta varies depending on the trim level you choose. The S, Sport, and SE all feature MIB2 with a 6.5-inch touchscreen, two USB ports, 4-speaker audio, Apple CarPlay, and Android Auto. The top SEL is updated with the more current MIB3 system along with an 8.0-inch touchscreen, navigation, three USB ports, 8-speaker BeatsAudio, and wireless charging.
Both versions provide a good range of features, though the smaller base screen size feels quite small given how large screens are getting in most vehicles. The system is responsive with logically organized menus that are quick to learn and easy to use even for passengers who might not be familiar with how it works. It's not the most advanced or fully-featured infotainment system available, but it does have key features including standard smartphone connectivity.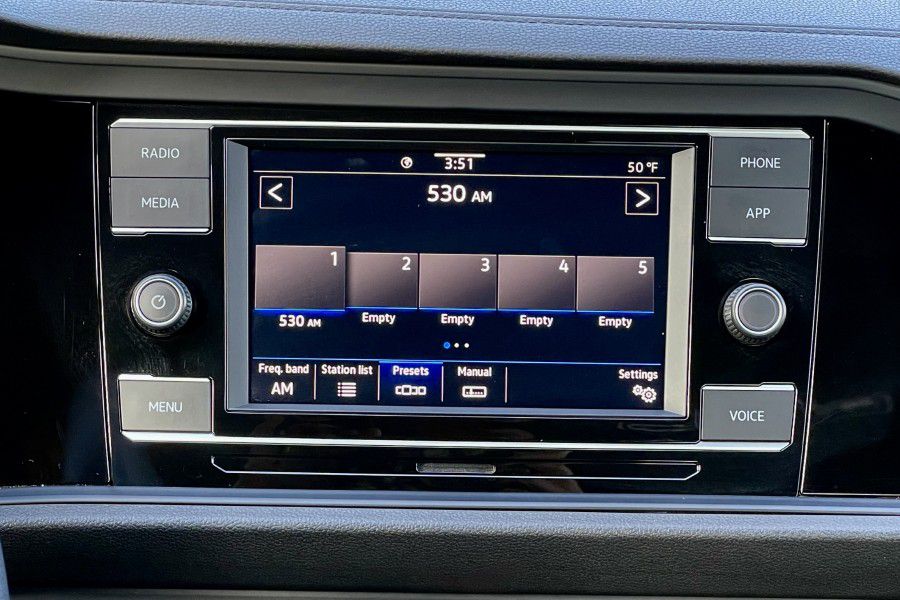 Photo by Nicole Wakelin
A Solid Range of Available Safety Features
The 2022 Volkswagen Jetta has not yet been tested by either the Insurance Institute for Highway Safety or the National Highway Traffic Safety Administration. It does, however, have a long list of standard and available safety features. Standard features include forward collision warning and autonomous emergency braking with pedestrian detection, blind-spot monitoring, rear cross-traffic alert, and post-collision braking.
Optional on base trims and standard at the top of the lineup are active blind-spot monitoring, adaptive cruise control, lane-keeping assist, high beam assist, and emergency assist. While there are some features not standard on base trims, they are available as part of a package. You can add those extras without having to move up to the next trim level so it's easier to stay within your budget.
Photo by Nicole Wakelin
Final Thoughts
The 2022 Volkswagen Jetta is an attractive and comfortable compact sedan. It has a roomy interior for the class and, while not upscale, features quality materials. The ride is smooth and quiet making it ideal for longer trips. There's also a good amount of room for cargo in the trunk when it comes time to pack up for a family adventure.
Infotainment includes key features, though the base touchscreen is on the small side. There's also good standard safety with the option for additional features, even on the base trim. The new engine makes the Jetta more responsive, but this is not a performance sedan. It's a fuel-efficient and comfortable compact car with affordable pricing that fits most budgets.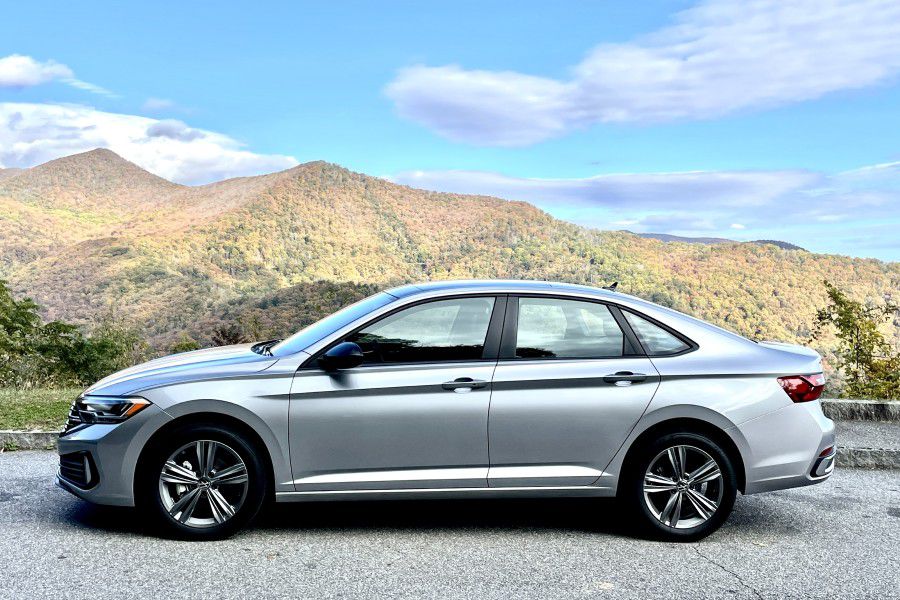 Photo by Nicole Wakelin