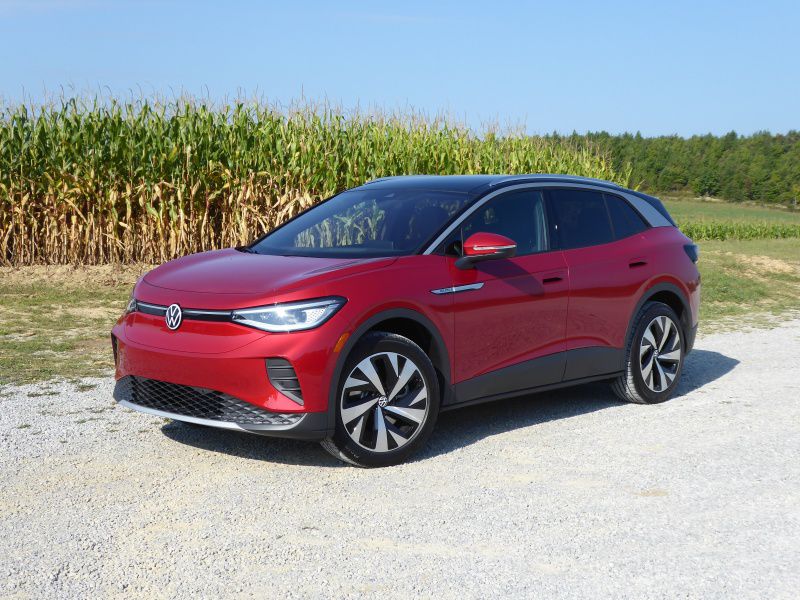 2022 Volkswagen ID.4 ・ Photo by Ron Sessions
Volkswagen's first-ever dedicated electric crossover SUV continues into its second year with production of U.S.-specification models beginning in Tennessee in mid-2022.
New-for-2022 ID.4 features include the convenience of Plug and Charge capability at fast-charge locations that eliminates fiddling with credit cards and touchscreens; an Auto Hold feature that prevents drifting back when the brake is released with the vehicle on an incline; faster DC charging speed that's upgraded from 125 kW to 135 kW; enhanced auto emergency braking for cyclists and pedestrians; and five years of free Car-Net Remote Access EV services now expanded to include roadside call assist, vehicle status checks, and the ability to search for destinations and points of interest remotely and send them to the vehicle. Volkswagen has also announced that 2022 ID.4 models will have an EPA-estimated driving range above the current 240 mile-260-mile figure.
Sizewise, the ID.4 slots in between the smaller gas-powered Volkswagen Taos and larger Tiguan SUVs.
The all-electric 2022 Volkswagen ID.4 continues with two well-equipped trims and a choice of rear- or all-wheel drive. Including the $1,195 destination charge, the 2022 Volkswagen ID.4 lineup consists of the $41,955 Pro rear-wheel drive, $45,635 Pro all-wheel drive, $46,455 Pro S rear-wheel drive, and the $50,135 Pro S all-wheel drive.
In addition to the Tesla Model Y, battery-electric competitors include the Hyundai Ioniq 5, Ford Mustang Mach-E, and the Kia EV6, plus the upcoming Nissan Ariya and Chevrolet Equinox and Blazer EVs.
Available All-Wheel Drive
Volkswagen added an all-wheel-drive version to the ID.4 lineup late in the 2021 model year. AWD models add a front-mounted 107-horsepower electric motor powering the front wheels. Combined with the rear-mounted 201-hp electric motor that powers the rear wheels on both rear- and all-wheel-drive models, the slightly adjusted maximum system output numbers for the 2022 AWD ID.4 are 295 horsepower and 339 pound-feet of torque.
In AWD models, the front motor has two purposes. In normal driving, it powers the front wheels only as needed to maintain traction if wheelspin is detected, or up to 12 mph if the driver selects the Traction driving mode. It also stays engaged permanently for maximum system power and torque in all traction situations when the driver selects the Sport driving mode.
While the instant torque and whisper-quiet response in both single- and dual-motor versions is satisfying, the dual-motor AWD ID.4's maximum acceleration from rest to 60 mph is a considerably more zesty 5.4 seconds compared to the 7.5 seconds it takes the single-motor RWD version to accomplish the task.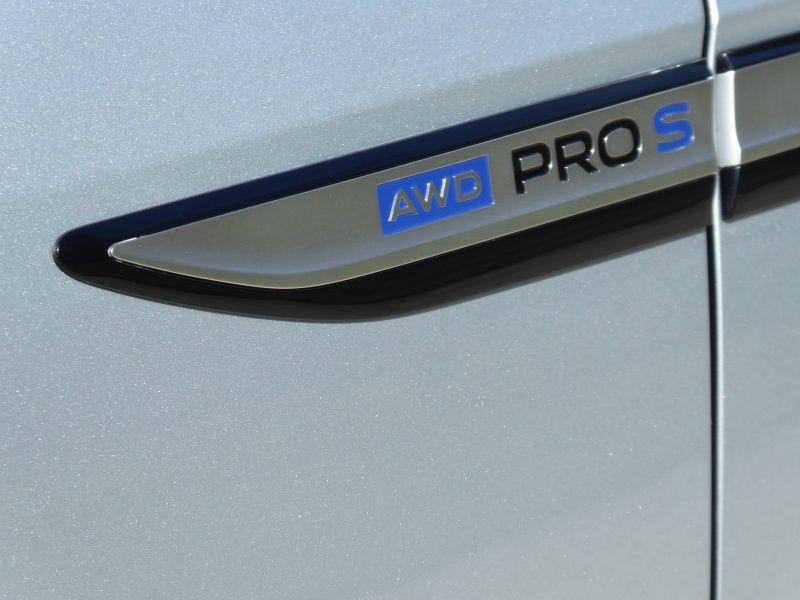 Photo by Ron Sessions
Modern, Spacious Interior
Opening any of the ID.4's four doors imparts a feeling of spaciousness. There's good outward visibility and ample room for five passengers and their luggage. The front seats, cloth covered in Pro models and faux-leather in the Pro S, are comfortable and supportive. The Pro's front buckets have an odd mix of power and manual controls, but the ones in the Pro S are full-power with lumbar, massage, and driver memory functions. Rear seat spread-out space is ample as well, thanks to a flat floor, and comparable to that offered in other electric compact crossover suvs.
Storage space is generous, too, with a large, reconfigurable center console that can accommodate multiple beverage containers, electronic devices, and snacks.
Switchgear with hard buttons is mostly gone, superseded with voice and touchscreen controls. The large center touchscreen now handles most climate control, seat heating and cooling, drive mode selection, and charging functions. A smaller, configurable screen that moves up and down with the steering column displays pertinent driver information such as vehicle speed, posted speed, gear selected, and driving range
There is no start-stop button. With the keyfob in the car or on the driver's person, the ID.4 wakes up when the driver sits down and depresses the brake pedal.
Some controls are tricky. There are just two switches to open or close the windows of the car's four doors. The driver must tap a small "back" button to configure the switches for rear window operation. Tiny Piano Black climate control temperature control touch sliders hiding beneath the infotainment screen against a Piano Black background are hard to see and operate.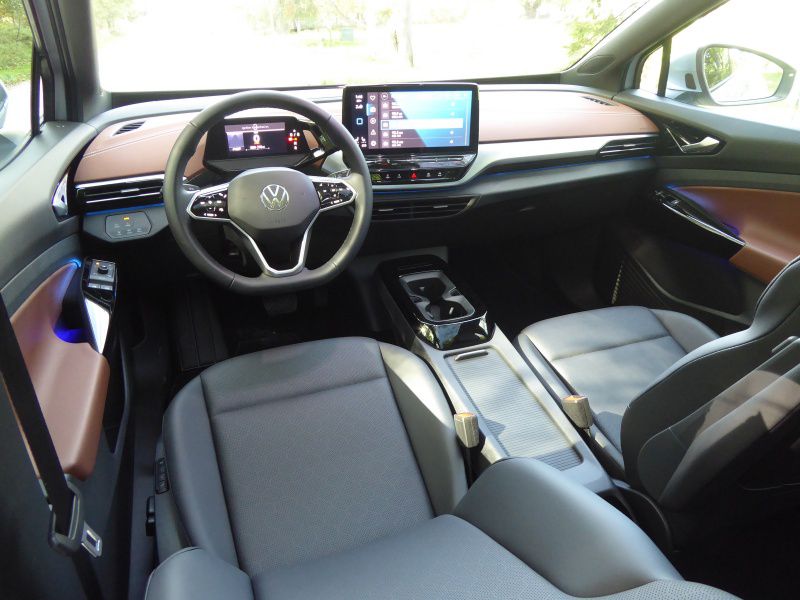 Photo by Ron Sessions
Infotainment
The ID.4 Pro is equipped with a 10-inch color infotainment touchscreen and the Pro S with a 12-inch one. Angled slightly toward the driver, both include embedded navigation, VW's App-Connect with access to wireless Apple CarPlay, Android Auto, and MirrorLink, natural voice recognition, four of the smaller but faster USB-C ports, a decent-sounding 7-speaker FM stereo with HD Radio and a 3-month trial of SiriusXM, wireless charging, and the ability to pair more than one phone.
The center infotainment screen works like a large smartphone with tap, slide, and pinch functions replacing all but a few hard buttons. There are no rotary volume or tuning knobs at the screen, but haptic arrows on the right steering wheel spoke deliver that functionality. A piano black touchpad slider, partially hidden against a piano black background under the touchscreen, gives the front passenger the ability to adjust volume as well. Using the infotainment screen means scrolling through numerous on-screen menus and submenus, which takes some practice until you find everything.
Many tasks can be accomplished using voice control via the steering wheel button or a system wake-up phrase like "Hey, VW." You can ask it to adjust the cabin temperature, change audio sources, search for destinations, and more.
In-car Wi-Fi for four devices is available with a $20/month Car-Net subscription.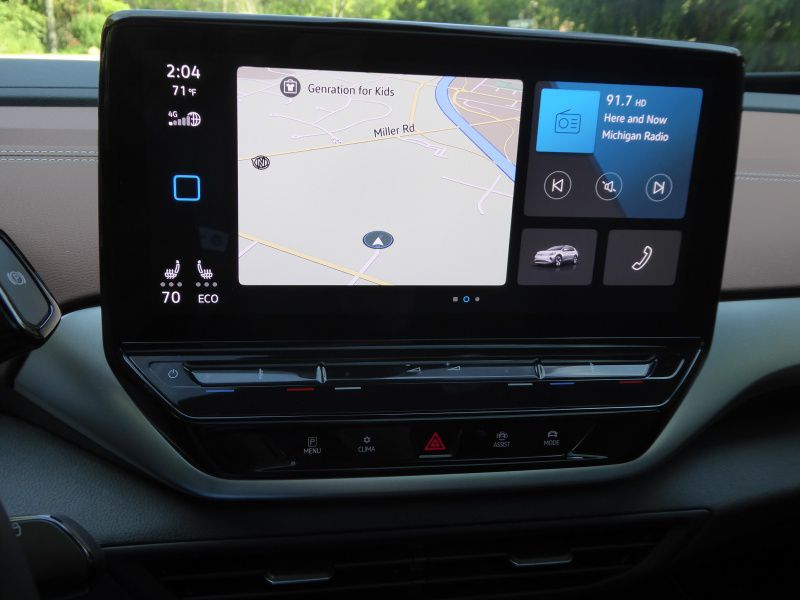 Photo by Ron Sessions
Panoramic Sunroof
Pro S models come standard with a huge, fixed-glass panoramic sunroof that extends nearly the full length of the roof. Great for stargazing the heavens, the large aperature cheers both front and rear seat passengers with natural sunshine vitamin D. An electrically powered retractable fabric sunshade protects passengers from the worst of the summer's rays on hot days, but the lack of insulation does reflect some heat into the cabin.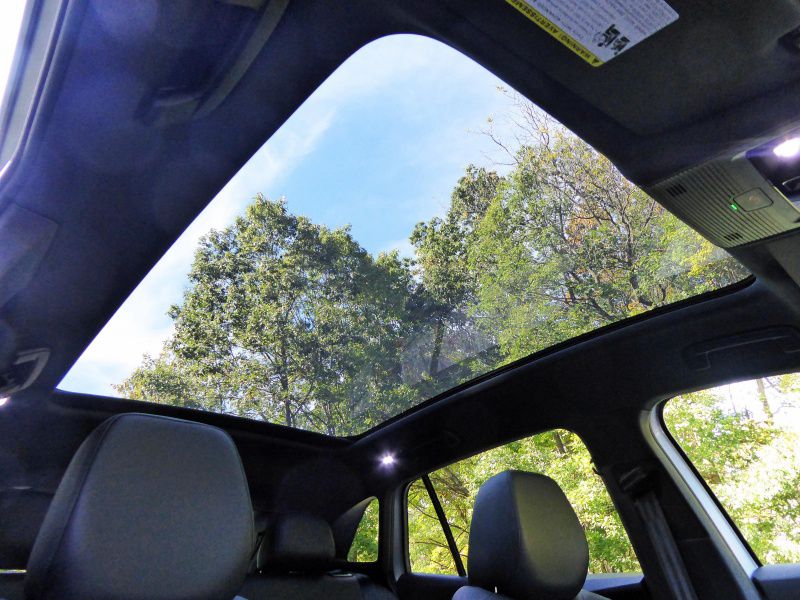 Photo by Ron Sessions
Ample Cargo Space
The 2022 VW ID.4 offers 30.3 cubic feet of cargo space behind the rear seat and 64.2 with the rear seat folded flat, which is greater than that available in the Hyundai Ioniq 5 and Ford Mustang Mach-E electric crossover suvs. Under the cargo floor, there's additional hidden space for the home charging cord and valuables you'll want to keep out of sight such as a purse, camera, or tablet. In the Pro S trim, the cargo floor height is adjustable and can be dropped down a few inches to make room for taller, bulkier cargo. Also ID.4 Pro S models come with a hands-free, power-operated lift gate that can be opened with a foot wave under the rear bumper if the remote key fob is on the owner's person.
Unlike some other electric SUVs such as the Hyundai Ioniq 5, Volvo XC40 Recharge, and Mustang Mach-E, there is no front trunk, or frunk.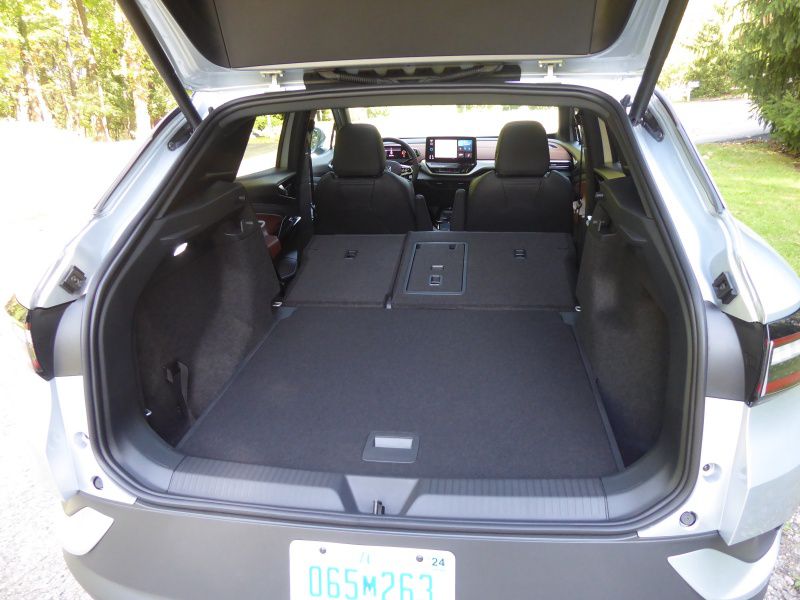 Photo by Ron Sessions
Safety and Driver-Assistive Tech
The Volkswagen ID.4 continues into 2022 with an impressive roster of standard advanced driving assistance systems (ADAS). The ID.4's IQ.Drive features include forward-collision warning with automatic emergency braking, lane-departure warning, lane-keeping, lane-centering, Smart adaptive cruise control with stop and go capability, Travel Assist (which combines adaptive cruise control and lane-centering assistance), and Emergency Assist (which can slowly bring the vehicle to a stop if the driver is unresponsive).
Also included with IQ.Drive are standard active blind-spot warning and collision-avoidance assistance (with countersteering to help prevent unsafe lane changes) and active rear cross-traffic warning and collision-avoidance assistance (with rear auto emergency braking if necessary).
Other standard ID.4 safety features include automatic high beam control, dynamic road sign display, front and rear park distance warning, and a 360-degree overhead-view camera monitor.
In testing, the National Highway Traffic Safety Administration (NHTSA) gives the 2022 ID.4 rear-drive model a full five out of five stars overall. NHTSA does not give the ID.4 AWD model an overall rating, but it achieves five stars for frontal- and side-impact performance.
The Insurance Institute for Highway Safety has not yet published crashworthiness ratings for the 2022 ID.4 but did give the 2021 model a Good score in all major categories and named it a 2021 Top Safety Pick+.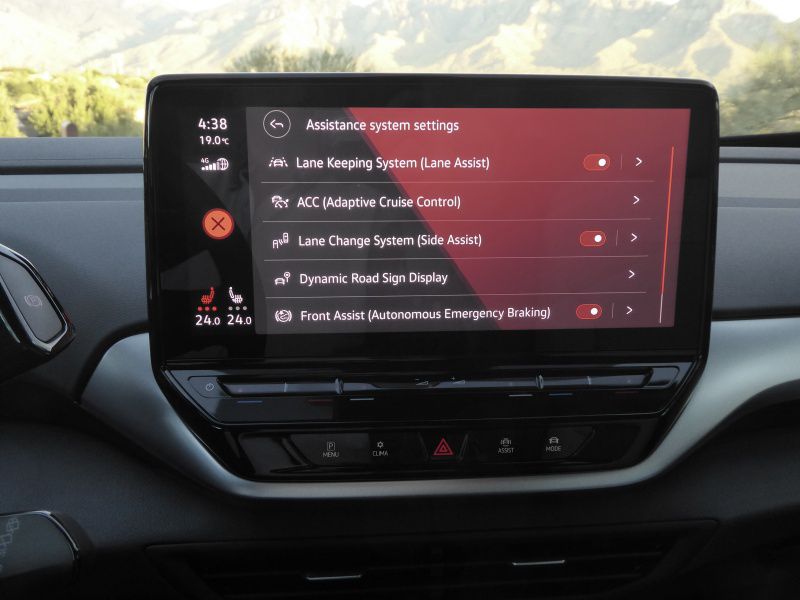 Photo by Ron Sessions
On the Grid
When fully charged, the ID.4's large, liquid-cooled 82 kWh lithium-ion battery provides an EPA-estimated driving range of 250-260 miles for single-motor rear-drive models and 240-249 miles for dual-motor all-wheel-drive versions. While not industry-leading, those numbers are competitive for the compact BEV segment. VW expects, but has not yet announced, increased driving range numbers for 2022 models.
Charging at home with the standard 11kW dual-level charging cord, topping off the battery with 120-volt AC house current can take several days. But using a Level 2 240-volt AC outlet drops the recharge time to about 7.5 hours, which is easily accomplished overnight. At a 125 kW or 135 kW DC fast-charging station such as those in the now 800-strong Electrify America's growing nationwide network, the ID.4's big battery can be charged from 5 percent to 80 percent in 40 minutes or less.
Via the mobile app, Car-Net Remote Access EV services can search for EV charging stations, and stop or start battery charging from miles away. The app is free to new ID.4 owners for the first five years.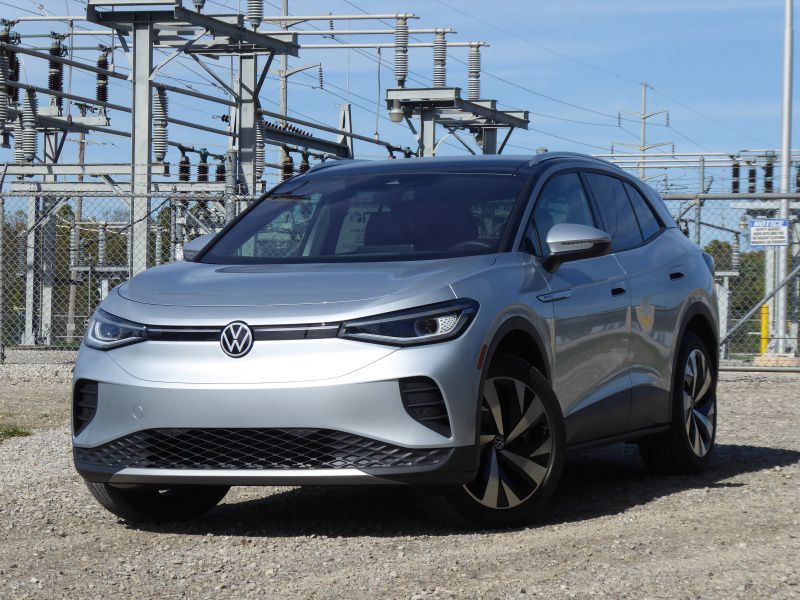 Photo by Ron Sessions
On the Road
The ID.4 offers smooth and whisper-quiet electric propulsion with a generous amount of torque available with a tap of the accelerator. A regenerative braking system charges the battery during coasting or braking. Regeneration is increased by rotating the dash-mounted transmission control from "D" to "B,"  providing increased retardation that will slow the ID.4 to a near crawl before the driver applies the hydraulic footbrakes.
Underneath, the ID.4's conventional electric power steering, MacPherson strut front/multilink rear suspension, and non-adaptive telescopic gas dampers deliver standard compact SUV fare. Considering that the big, underfloor EV battery adds about a half-ton of weight, handling and ride control are balanced. The low-mounted battery imparts a stabilizing dynamic, as well.
AWD versions get firmed-up springs, anti-roll bars, and dampers to handle their extra 250 pounds of mass, plus an added 0.7 inches of ride height. Also exclusive to AWD ID.4s is an XDS+ brake-based differential that works with the traction control system to slightly brake the wheels on the inside of a turn to help tighten the turning radius.
Considering the ID.4 is not a performance SUV, grip is good with the standard 19 or optional 20-inch all-season tires.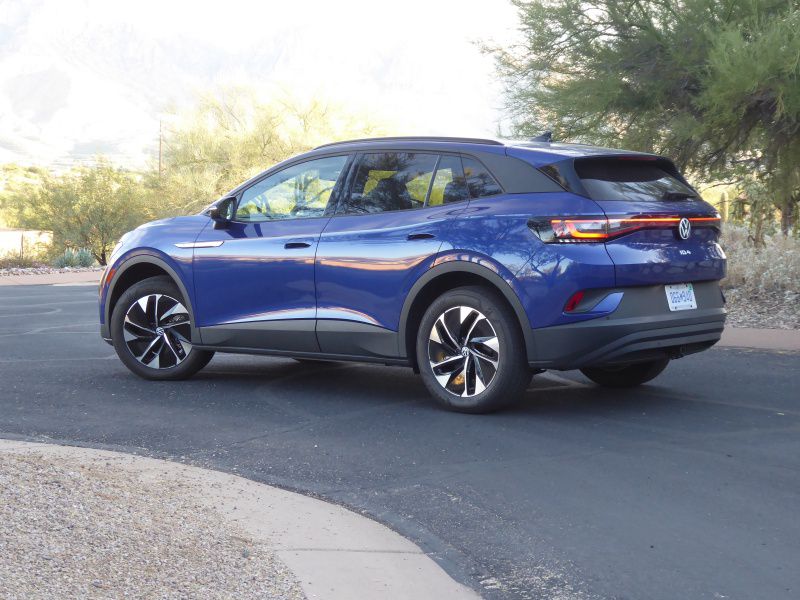 Photo by Ron Sessions
Electric Bargain
Offering reasonably competitive performance and range, plus a choice of rear- or all-wheel-drive electric propulsion, the roomy, modern-looking, and sensibly priced 2022 Volkswagen ID.4 is the lead act in what will be a steady stream of electrified offerings from the German automaker. The compact electric crossover offers a comprehensive roster of standard safety and driver-assistive technology and advanced infotainment interface, as well as a new-age control interface that will thrill some techies and frustrate others.
One big advantage the ID.4 has going for it is its eligibility for the $7,500 federal income tax credit. For buyers who qualify, the credit represents roughly a 16% effective price reduction on a $50,000 vehicle. Volkswagen is sweetening the offer with three years of free fast charging on the Electrify America network for ID.4 buyers.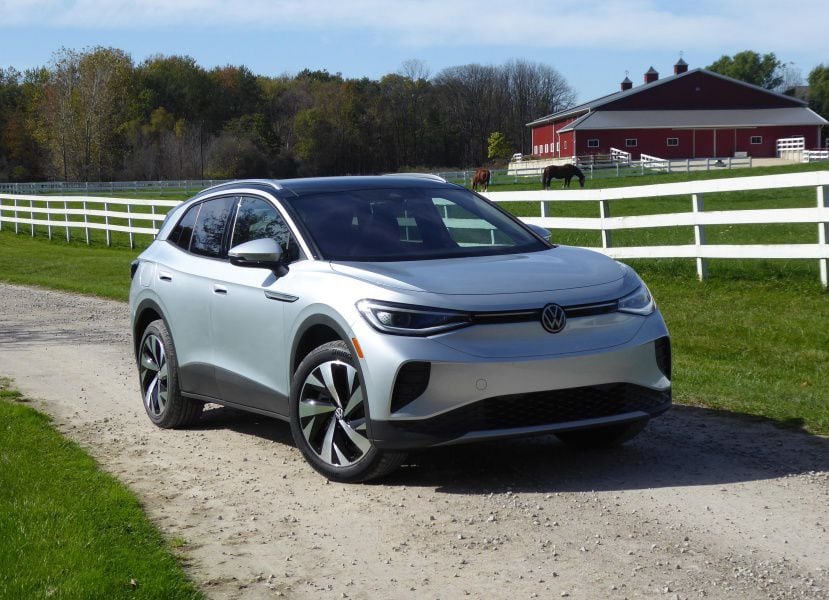 Photo by Ron Sessions